SPOT.ph's Top 10 Cutest Pinoy Political Candidates (2013 Edition)
We list the political animals who are easy on the eyes.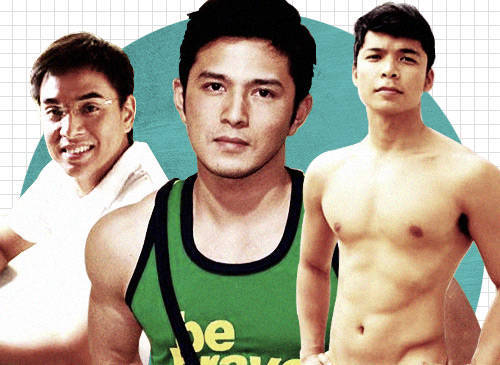 Image credits: The pictures used in this collage are credited individually in the article.
(SPOT.ph) Check your social consciousness, good sense, and tendency to overanalyze at the door. Brace yourself for another round of brainless fun with this list of the cutest political players in the country. We didn't consider their affiliations, platforms, and character flaws (real or imagined). We just looked at their pictures and judged them based on their appearance.
Take note: For this election year's installment, we decided to go for fresh faces. That means anyone who's ever been in any of of the SPOT.ph Cute Lists is disqualified. We've also automatically disqualified already-famous actors who became politicians.
Disclaimer: We realize that there are countless other cute Pinoy politicians whose pictures we didn't get to dig up or stumble upon. Politicians who have practically no decent photos online were at a disadvantage in this selection process. For God's sake it's 2013, set up your Facebook accounts and upload some good pictures! Those tarps aren't going to do it anymore. For the record, we do not personally know any of the politicians featured in this article and we were not paid in cash or kind to come up with this feature. Any encounters we may have had with any of the said politicians in the past happened in the course of performing our duties as purveyors of brainless fun. Truth be told, we can't even remember which political parties they belong to.

ADVERTISEMENT - CONTINUE READING BELOW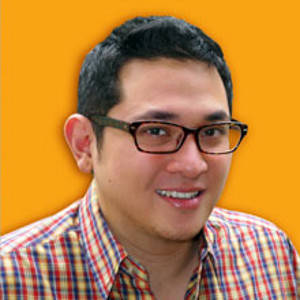 CONTINUE READING BELOW
Recommended Videos
Preppie all the way. Whoever is giving him style advice is doing it right. (Screenshot of photo from his Project Inspire profile, no additional credits provided)
10. BAM AQUINO. We know the family, we know the color, and we know the look. But, for some reason, the cuddly charm of this Senate aspirant has gained him some fans of his own. He looks so much like an innocent college kid who's always ready to help his classmates. Some women say his appeal lies in the fact that he's like a teddy bear. Well, minus the fur, of course.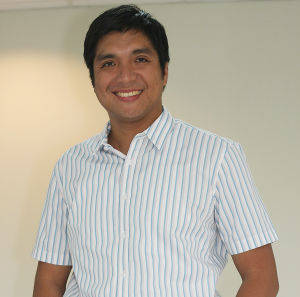 ADVERTISEMENT - CONTINUE READING BELOW
Prince Charming. His low-key vibe and pleasant looks put people at ease. (Photo courtesy of Moist Communicates, no additional credits provided)
9. RAMON GUICO III. We ran into this charmer when we featured the flight simulator of the WCC Aeronautical and Technological College. He owns the school and is also a licensed pilot. We were immediately struck by his pleasant demeanor and his even more pleasant face. He looks like the kind of man who would open doors for ladies, help them cross the street... You get the picture. He's up for reelection as mayor of Binalonan, Pangasinan.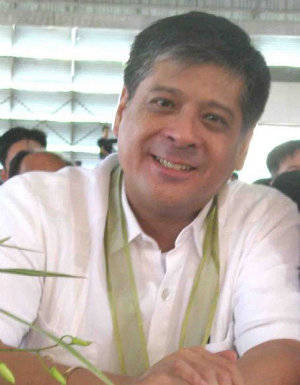 Salt-and-pepper sizzle. He looks better as an older man. (Screenshot of photo uploaded on the blog, Mindanao Newsmakers, no additional credits provided)
8. ANTON LAGDAMEO. The husband of actress Dawn Zulueta, this Davao del Norte 1st District congressman is one of those people who look better as they grow older. Call it the George Clooney Syndrome. He looks so dignified at all times and we go "Awww" when he's caught smiling at his wife. He's her real life leading man.
ADVERTISEMENT - CONTINUE READING BELOW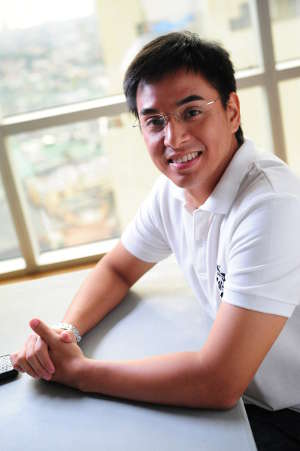 Keep the glasses on. His cuteness is amplified by his spectacles. (Screenshot of photo uploaded on the Multiply site of Girlie Rodis, no additional credits provided.)
7. JOHN REY TIANGCO. There are men who look great with glasses. This Navotas City mayor-who's running for reelection-is definitely one of them. We don't know what it is about the glasses that transform him from a generic tisoy to almost a movie star. With his glasses on, he looks like he should be cast as someone's nice-looking kuya or uncle. Heck, he can still pull off mature matinee idol if he wanted to.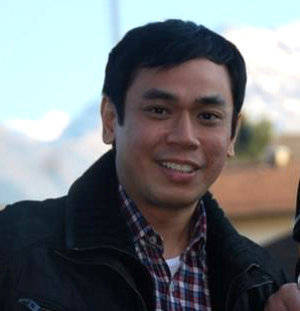 ADVERTISEMENT - CONTINUE READING BELOW
Muy simpatico. He's not drop dead handsome, but he really grows on you...and the next thing you know, you're swooning. (Screenshot of photos uploaded on what we presume to be his Facebook page)
6. JAY LACSON. Senator Ping Lacson's son and chief of staff is running for vice governor of Cavite. In contrast to his dad's good looks which often struck us as ruthless, his schoolboy effervescence is quite disarming. The more you look at him, the more you think, "Hey, this guy looks pretty good."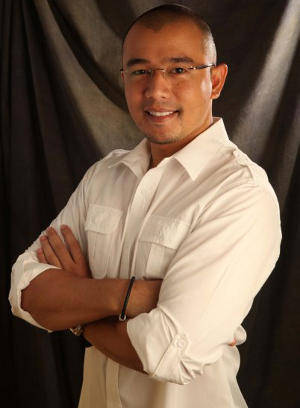 Rocking the near-baldie look. He was once linked to Katrina Halili and Nancy Castiglione. (Screenshot of photo from one of the many fan-created Bullet Jalosjos Facebook Pages, no additional credits provided.)
5. BULLET JALOSJOS. There's just something so overwhelmingly alpha male about Zamboanga del Norte's 1st District congressman. He projects the vibe of a man's man, the kind of guy that damsels in distress would flock to. We think his best features are his eyes. Their boyish twinkle is a nice foil to his otherwise serious vibe.
ADVERTISEMENT - CONTINUE READING BELOW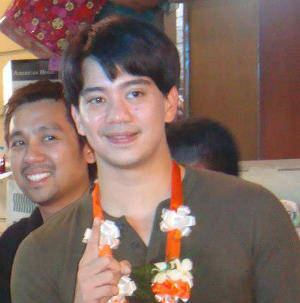 Congressional contender. We understand why they thought it was a good idea to put his face on packages of rice. (Screenshot of photo from the Jobo Magsaysay Facebook Page, no additional credits provided.)
4. JOBO MAGSAYSAY. He may be 28 years old, but this man still looks like the boy next door. The son of Zambales 1st District Rep. Mitos Magsaysay is running for the position that his mother will vacate. Mitos is running for senator. Admittedly, we first noticed Jobo when "calamity campaigning" became a hot topic. (We can explain it but it's much too deep for this list.) Apparently, Jobo's people had distributed packs of rice with packaging that highlighted his face. The packages were labeled, Jobo Rice. We beg to disagree. As they say, "Ulam na s'ya."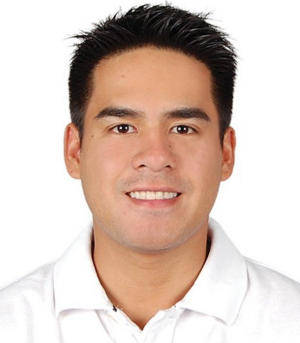 ADVERTISEMENT - CONTINUE READING BELOW
Hit me with your best shot. With a headshot that looks this good, who can resist him? (Screenshot of photo from the Onyx Crisologo Facebook Page, no additional credits provided.)
3. ONYX CRISOLOGO. The son of Quezon City 1st District Rep. Vincent "Bingbong" Crisologo, this adorable-looking tisoy graduated with a  BS Civil Engineering (Major in Structural Engineering) degree from De La Salle University in 2005. He's running for reelection as councilor of Quezon City's 1st District.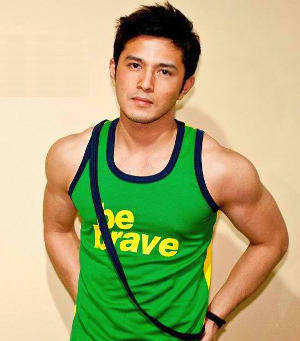 Dennis Trillo's doppelganger. But then you see this picture and go, "Dennis...who?" (Screenshot of photo from the Get It From Boy!, no additional credits provided.)
2. ALEX CASTRO. According to the info on his Facebook Page, this 26-year-old hottie started his political career when he got elected as Sangguniang Kabataan (SK) chairman and then councilor of Marilao, Bulacan. He then got into modeling and playing bit parts in movies like Desperadas 2 and Shake, Ratte & Roll 14. It turns out he can also sing, as he joined GMA-7's talent contest, Are You the Next Big Star? In the May 13 polls, he'll be starring in his own show called, Are You the Next Vice Mayor of Marilao, Bulacan? Well, if it were just based on his looks, he'd surely get top billing.
ADVERTISEMENT - CONTINUE READING BELOW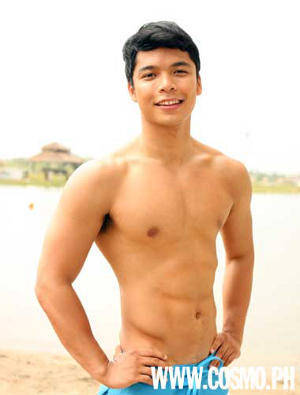 Does he look like a governor to you? Yes, a tall, dark, handsome, and shockingly young governor. (Photo by Mitch Mauricio, courtesy of Cosmopolitan Philippines.)
1. MIGUEL VILLAFUERTE. This 24-year-old University of San Diego graduate has been singled out by connoisseurs of male beauty as a Jericho Rosales lookalike. But, we dare say, this strapping young fellow-who's running for governor of Camarines Sur-seems more macho. It's as if he got an extra dollop of testosterone. As such, he's taken off his shirt for Cosmopolitan Philippines and has dabbled in modeling. Let's hope that his well-defined abdominal muscles can also get him votes. He needs all the help he can get, as he's going up against his very own grandfather, Luis Villafuerte Sr., in his province's gubernatorial race.
Share this story with your friends!
---
Help us make Spot.ph better!
Take the short survey
Load More Stories