Quitting Time: 10 Controversial Resignations
Some cut cleanly and some go out swinging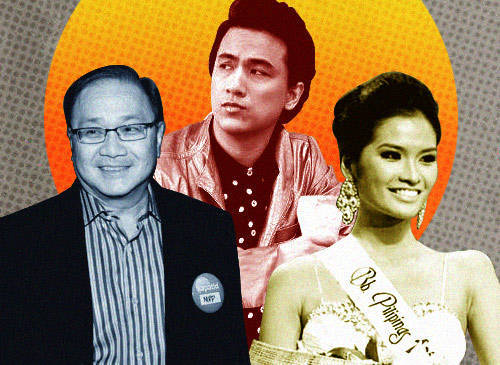 (SPOT.ph) Ask Pope Benedict XVI and he'll tell you: resignations are always complicated affairs. In most cases, one party is always happier than the other. After all, what else can you do when things aren't working out anymore? There's always some sense of relief when things end. The problem is that things tend to get really messy first. In this list, we look back on some of the most talked about resignations. There were some who cut cleanly and without fanfare, but there were others who put up a fight on their way out.
ADVERTISEMENT - CONTINUE READING BELOW
JUAN MIGUEL ZUBIRI
What went down: Amidst accusations caused by the electoral protest put forth by Aquilino "Koko" Pimentel III, Miguel Zubiri announces his resignation with a speech in the senate plenary on August 3, 2011. Zubiri cites the pain and anguish that his family is going through and will continue to go through if he lets the Senate Electoral Tribunal make a decision about his dignity and integrity. A bold move to save face before more dirt is thrown and more bones are unearthed. As an update, he recently admitted to "benefitting from cheating" albeit with a disclaimer that he had "no concrete evidence" that it was true.
Parting shot:"Sa harap ng Diyos at sa harap ng tao ay nais kong pagtibayin na hindi ako nandaya at wala akong kinausap upang mandaya para sa akin sa halalan. Ang lahat ng akusasyon laban sa akin ay pawang walang katotohanan. (I did not cheat nor ask anyone to cheat for me...and my family would never tolerate any form of electoral fraud)."
ADVERTISEMENT - CONTINUE READING BELOW
MERCEDITAS GUTIERREZ

What went down: In 2005, Gutierrez was appointed as Ombudsman by President Gloria Macapagal-Arroyo. She was the first female to ever hold the position. In 2009, civil society groups filed an impeachment case against her because she allegedly mishandled cases. That case was dismissed. However, in 2010 cases were once again filed against her for the same reason. Cases such as the Fertilizer Fund Scam and the pluder case against former military comptroller Maj. Gen. Carlos Garcia. The complainants accused Gutierrez of "inaction" when it came to the said cases. They implied that she was protecting the so-called persons of interest in the said cases. On March 22, 2011, the House of Representatives voted to impeach Gutierrez. Perhaps, sensing that she would not be given any mercy, Gutierrez responded by announcing on April 29 that she was resigning as Ombudsman. Her resignation took effect on May 6 that same year.
Parting shot: "There is much darkness for me now. In a few weeks the Senate trial on my impeachment will begin. Uncertainties all around me loom and at times they seem to carry me away. And there is always something more painful that accompanies those uncertainties, despite the brave front I construct for all the world to see [especially my immediate office staff], and it is supposedly the path that would lead me toward a win-win solution to the multitude of problems I face today. That is resignation. It is supposedly the better of few options available to me today. Because if I persist in fighting the charges levelled against me and I lose, I lose not only my retirement benefits, the opportunity to again serve government in equally dignified but less taxing capacities, but will also reap the shame of being the first Ombudsman to have been forcibly removed from office." (This was quoted by the Philippine Daily Inquirer from Gutierrez's column, The Essential, published in the Business Mirror.)
ADVERTISEMENT - CONTINUE READING BELOW
MARIA RESSA
What went down: The controversial coverage of the now infamous Manila Hostage Crisis of August 23, 201o put the big networks under great scrutiny and Maria Ressa punctuated the situation with a shocker. An internal letter was released by ABS-CBN Corporate Communications from Ressa, stating that she would not be renewing her contract with the company. Ressa was not only grilled in the senate for having a "conflict of interest" due to her position as a part-time contributor for CNN, she also received criticism for writing Noynoy Flunks First Test for the Wall Street Journal. She addressed none of these in her letter and elegantly proclaimed that her allegiance stays with "editorial independence."

Parting shot: "Journalism faces challenging days ahead. Value and protect your editorial independence. I wish you clarity of thought, stamina, and courage to fight for what is right and avoid the compromise of mediocrity."
VICENTE ROMANO
ADVERTISEMENT - CONTINUE READING BELOW
What went down: The public's reaction to the "Pilipinas Kay Ganda" campaign was initially lukewarm, but then things began to boil when netizens, like Spanky Enriquez, found it to have disturbing similarities to an old Polish advertisement. Vicente Romano initially fought for the new campaign but decided against it to defend the honor of Campaigns & Grey, the agency that handled the account. In his resignation letter, Romano pulls an Atlas and puts the weight of the entire controversy on his shoulders and also attempts a Superman by trying to save face for everyone.
Parting shot: "I now realize that an idea as big as a new country brand needs time to germinate and blossom. There are no shortcuts."
MANNY PANGILINAN

What went down: GMA News Online reported on September 21, 2012 that the tycoon "was cutting ties with the Ateneo de Manila University following disagreements over mining and the Reproductive Health (RH) Bill." The report noted that Pangilinan had been "one of the prime patrons of the school for nearly a decade" and "was also the main sponsor of the Ateneo basketball team." The report noted that Pangilinan's move was triggered by "a letter written by Rev. Fr. Jose Magadia, Jesuit Provincial of the Philippines, in which he referred Jesuit communities to a document entitled The Golden Mean in Mining: Talking Points." Needless to say, Pangilinan was not pleased by the said points. Prior to this incident, Pangilinan had already attempted to resign from the Ateneo de Manila Board of Trustees because he had inadvertently delivered plagiarized statements (attributed to his speechwriters, but he said sorry nonetheless) in his commencement speech at the school's 2010 graduation ceremonies. In fact Pangilinan referred to this incident in the resignation letter he sent to university president Fr. Jett Villarin.
ADVERTISEMENT - CONTINUE READING BELOW
Parting shot: "I must say that I am extremely distressed and saddened by this recent event. And in the context of two other gruesome incidents (i.e., plagiarism and the first mining blow-up) in the recent past, I believe we have come to the irretrievable point where it is best and appropriate to draw the line in the sand, to conclude that we have little or no common interest, and to say that I'd look like a fool helping an institution which opposes my conviction diametrically and unequivocally ("non-negotiable"). The logical consequences of this are: (i) each of us can pursue our advocacies freely without having to be sensitive with regard to each other's feelings; (ii) my complete and total disengagement from the Ateneo-something which, after reflection, I must confess I welcome with some relief at this stage. Time to call it a day." (In November last year, there were rumors of a Pangilinan-Ateneo reconciliation. But it wasn't clear just what such a reconciliation entailed.)
ADVERTISEMENT - CONTINUE READING BELOW
TIM CONE
What went down: In September 2011, one of Philippine basketball's most recognized coaches, Cone, announced that he was leaving the Alaska Aces, the team he had coached since 1989. GMA News Online, quoting Alaska Aces assistant coach Luigi Trillo, revealed that Cone "asked to be released"  from his contract so that he could "explore more options." Cone's contract was supposed to expire in 2013. This moved shocked everyone, including team owner Wilfred Steven Uytengsu, who admitted, "It really caught me by surprise."
Parting shot: "I discussed it with my family. This process actually started weeks ago. Maybe it's just a mid-life crisis but honestly, I want to do something different. I've reached my 50s and it seems there's more out there at this point. It didn't come to me like a lightning bolt, it came on gradually. Once the decision was made and that step taken, it's probably a point of no return."
ADVERTISEMENT - CONTINUE READING BELOW
Recommended Videos
Load More Stories