MOVIE REVIEW: A Good Day To Die Hard
How does <em> Die Hard </em> figure on its fifth reincarnation? Paul Daza finds out!
(SPOT.ph) Upon finding out that his estranged adult son Jack (Jai Courtney) is in a Russian jail for murder, trouble magnet John McClane (Bruce Willis) flies to Moscow to see how he can help. Alas, the hero of four previous Die Hard movies makes things worse when he shows up and screws up Jack's mission to protect a Russian whistleblower named Komarov. Why the screw-up? Because the elder McClane had no idea that Jack's incarceration was all part of an elaborate CIA plan to bring down a corrupt politician. With their lives on the line, the feuding father-and-son team must now get Komarov to safety and thwart an impending terrorist plot involving the "abandoned" Chernobyl nuclear plant and weapons-grade plutonium.   


MTRCB Rating: PG for intense (over-the-top) action.
Pluses
The slam-bang vehicular mayhem. If it took two weeks to film the climactic Manila chase from The Bourne Legacy, one can only imagine how long it took to shoot the much more elaborate scene of vehicular mayhem that A Good Day To Die Hard (a.k.a. Die Hard 5) unleashes in its first 20 minutes. Set in Moscow but reportedly filmed in Budapest, the sequence is thousands of times more complex (and preposterous) than the chase in Legacy, with numerous cars screeching and colliding, and a huge truck crashing down from an overpass like it was thrown by Megatron in a fight with Optimus Prime. If you think that's tough to beat, there's another action setpiece later in the movie where a truck is dangled...from a helicopter!  


ADVERTISEMENT - CONTINUE READING BELOW
The never-before-seen stunt work. Bad guys blown away by a booby-trapped building. Good guys falling through multiple floors of a crumbling structure as the camera falls with them.  If you watch Die Hard 5 simply to gawk at the stunt work and elaborate gun fights, these images and the thrilling spectacle in general might be enough to make you gloss over the film's many, many shortcomings...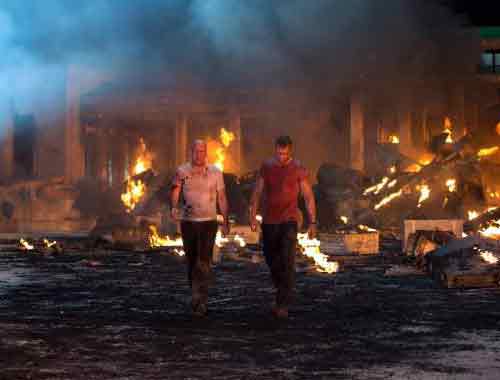 CONTINUE READING BELOW
Recommended Videos
Minuses

The sub-par scripting. Among the godawful ingredients that writer Skip Woods includes in his A Good Day To Die Hard screenplay are the following:


A confounding one-liner. John McClane repeatedly says "I'm on vacation" in the movie, but he flew to Moscow to see if he could help his son get out of a Russian prison. That's a vacation?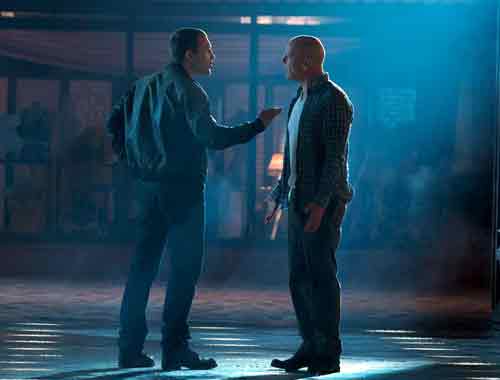 ADVERTISEMENT - CONTINUE READING BELOW
A headache-inducing plot. A Good Day's story is simple enough at first: the McClanes have to protect a whistleblower so he can retrieve the info that could bring down a corrupt politician. But as the story unwinds and switching allegiances and double crosses are piled on top of twists, the plot becomes such a chore to follow that it becomes easier to just tune out of the story and wait for the next explosive action scene.     


Decisions and behavior that defy common sense. If you were in a life or death situation while driving, would you still take a call on your cell phone even if it was from someone very dear to you? And if you were an American CIA agent trying to gain access to a Russian prisoner, is getting thrown into jail for cold-blooded murder the best way to do it?      


The reinvention of John McClane as an "unbreakable" superhero. One of my most vivid memories of the first Die Hard (1988) film is the shot where Willis' pained and grimacing McClane removes shards of glass from his bloodied feet after an encounter with the bad guys. It's a scene that humanized McClane tremendously. Four sequels and 25 years later, the Bruce Willis of the original Die Hard has been replaced in A Good Day... by the superheroic Bruce Willis of Unbreakable. With all that he goes through in Die Hard 5--being in a vehicle that turns turtle on a Moscow highway, being shot at repeatedly by high-powered ammo and plummeting through a crumbling building--all he gets are a couple of cuts on his face!
ADVERTISEMENT - CONTINUE READING BELOW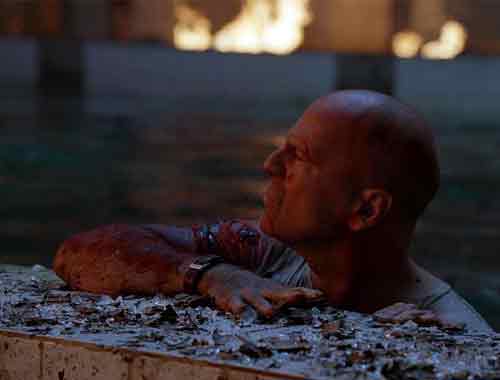 The underdeveloped father and son relationship. The John and Jack McClane relationship had the potential to reinvigorate the Die Hard franchise the way the Henry and Indiana Jones pairing in Indiana Jones and The Last Crusade turned it into a franchise high point. But Die Hard 5 squanders the opportunity by plunking the two McClanes in generic, forgettable action flick situations that are hardly conducive to the healing of a simmering, fractured bond. To be fair to scriptwriter Skip Woods, part of the problem is also due to the ho-hum portrayal of Jai Courtney as the younger McClane. It doesn't help either that Courtney looks more like a villain than a good guy, especially for those who've seen Jack Reacher.
IN BRIEF: Amateurish scripting makes A Good Day To Die Hard the worst film in the franchise. As a fan of the influential series, I'm hoping that  there'll be a Die Hard 6 only because I can't bear the thought of sending the series off into the sunset with this misfire. 

Rating: 2½ out of 5 spots ••.


ADVERTISEMENT - CONTINUE READING BELOW
Share this story with your friends!
---
Help us make Spot.ph better!
Take the short survey
Load More Stories