Hot on Spot: 10 Crazy Details About The Intellectual Property Code Amendments
An article by journalist Raissa Robles whips up the necessary frenzy over this alarming development.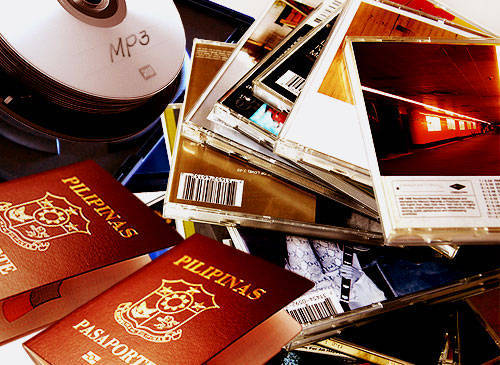 (SPOT.ph) In a country where copying is done all the time, it's almost shocking to know that we actually have such a a thing as The Intellectual Property Code or Republic Act No. 8293. On February 14, 2013, journalist Raissa Robles-who writes for the South China Morning Post and whose blog appears on ABS-CBNNews.com-posted her article, "Congress erased every Filipino's right to bring home music, movies and books from abroad." In it, she pointed out: "Congress has just passed a law erasing this right.  The law-a consolidated measure amending R.A. No. 8293, was sent to Malacañang Palace on January 29,  2013 and  just needs the signature of President Benigno Aquino III to become effective."
That said, we've listed 10 interesting, nutty details about the amendments.
Note: RAISSA ROBLES wrote a series of articles about The IP Code amendments. She broke the story on the subject. You may access them at her website, RaissaRobles.com. Her column, Raissa Robles: Inside Philippine Politics and Beyond, also appears on ABS-CBNNews.com. The main source of information for this article are Robles' IP Code series.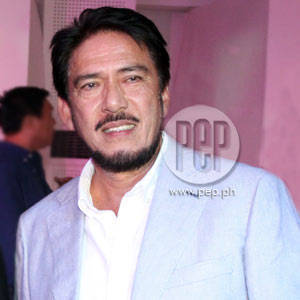 ADVERTISEMENT - CONTINUE READING BELOW
Very unlikely IP Code champion. My, my, my...look who we have here.
1. Senator Vicente "Tito" Sotto III wanted in on the action. Robles presented a document detailing the legislative history of the so-called amendments. The amendments are all contained in Senate Bill No. 2842 or "An Act Amending Certain Provisions of Republic Act No. 8293, Otherwise Known as 'The Intellectual Property Code of the Philippines,' and for Other Purposes." Anyway, the document recorded all the movements of the law-with Senator Manny Villar identified as the law's sponsor. The shocker is the fact that on December 7, 2011, Sotto manifested his intention to be the co-author of the law. Now, isn't that ironic?
CONTINUE READING BELOW
Recommended Videos
2. There were 17 senators who gave it a thumbs up. On November 5, 2012, the law was approved on third reading. The following senators-17 of them-were listed as "in favor" of the law: Sen. Ed Angara, Sen. Joker Arroyo, Sen. Miriam Defensor Santiago. Sen. Franklin Drilon, Sen. Jinggoy Estrada, Sen. Juan Ponce Enrile, Sen. Chiz Escudero, Sen. Gringo Honasan, Sen. Ping Lacson, Sen. Lito Lapid, Sen. Sergio Osmeña, Sen. Kiko Pangilinan, Sen. Koko Pimentel, Sen. Ralph Recto, Sen. Bong Revilla, Sen. Tito Sotto, and Sen. Antonio Trillanes IV. Now, this would be a good thing if it weren't for some baffling implications.

ADVERTISEMENT - CONTINUE READING BELOW
Jailbreak vs. prison break. The amendment that may spell doom for your desire for alterations.
3. Jailbreakers may go to jail. A collective groan was heard when Robles simplified one of the addendums to the IP Code: Section 171.12. (See screenshot of full segment text above.) Robles' interpretation was that the said section forbids people from altering their own electronic devices. In other words, if you jailbreak a device like, say, your brand new iPhone, you get jailed. As netizens fumed over the nutty points listed in Robles' February 14 article, IPO Director General Ricardo Blancaflor was featured in an ANC interview (as cited in David Dizon's ABS-CBNNews.com article)  that same day. He pointed out: "Jailbreaking is not a crime. It has never been a crime under the old law or the new law. The bottom line is-you have to have a formal complaint from the person being infringed and of course a finding of infringement. The mere fact that an act was done, I will not even refer to it as jailbreaking, it could be any other form, does not mean it is a crime already. If at all there is a finding to that effect, it will only be an aggravating circumstance but the main element of the crime which is infringing has to be proven first." However, Robles, in a February 15 article, pointed out that Blancaflor's statement was problematic, as her resource person, Prof. JJ Disini asserted, "My understanding is, that was the intention of the law. To prohibit it. When you circumvent technological measure, the purpose is to get access to the work in order to modify it. Why would you jailbreak something? You defeat the protection in order to change the code to make the device do other things. Modifications are an infringement of copyright." Robles mused that, perhaps, the law should have clearer wording on the subject, as it had been given opposite interpretations by Blancaflor and Disini.
ADVERTISEMENT - CONTINUE READING BELOW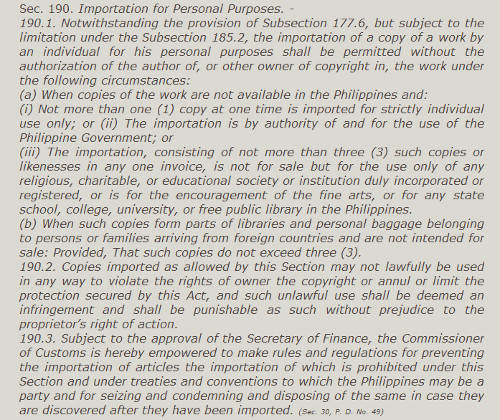 Yesterday, all this trouble seemed so far away. This is the old segment, before the amendment.
4. The balikbayan bunch can't buy much. According to Robles, it's all because of the removal of this phrase: "personal use." The amendment removed the segments which granted balikbayans or tourists the right to bring in DVDs, CDs, and books into the country without getting stopped at the airport and getting into trouble with the Bureau of Customs. (See screenshot of full segment text above.) The current version-due to the deletion of Sections 190.1 and 190.2-has become so confusing that it's bound to cause some arguments at the airport. (See screenshot of full segment text below.)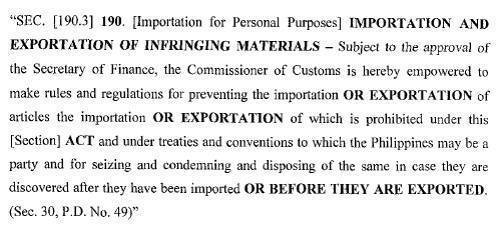 ADVERTISEMENT - CONTINUE READING BELOW
Say, what!? It's so confusing that you may fall asleep before you're even halfway through reading it. Our summary: "Basta, bawal na." We saw the words "prohibited" and "Customs" and we tapped out.
5. You're obliged to be your brother's keeper. To illustrate just how nutty the law is, Robles cites this example: "If you happen to be leasing out space-for instance, if you're a mall or building owner-to someone who infringes copyright, you could be held liable." (See screenshot below.) That's all thanks to the amended Section 216.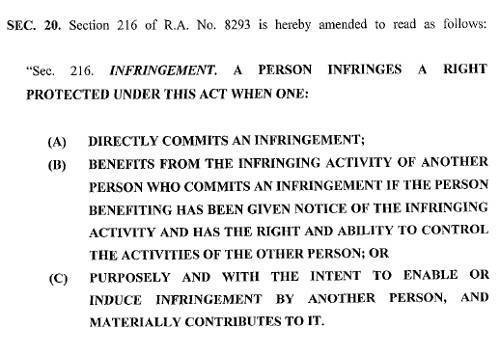 We're all in this together. You're going to get in trouble by mere association.
Blancaflor's defense. It was Valentine's Day and the poor guy must have been so tense.
6. An entire section protecting individuals was altered so much that it might as well have been deleted. In the past, Section 212 of the IP Code had served as a sort of safety clause for individuals, particularly those like us who get confused by the wordings of our laws. Section 212 had made one thing clear: It's OK if it's for your personal use only and you don't plan to distribute bootleg goodies for profit. (See screenshot below.) The amended Section 212 reads: "The provisions of Chapter VIII shall apply mutatis mutandis to the rights of performers, producers of sound recordings and broadcasting organizations." Huh?
ADVERTISEMENT - CONTINUE READING BELOW

Safe haven. We'll always have Section 212...in our memories.
7. At least one amendment was done to please another country. Robles, in her February 16 article, "Amended IP Code 'disadvantageous' to students, teachers, researchers - says copyright expert-lawyer Ping Peria," made a very significant revelation. She wrote: "I just learned Friday night (February 15) that one of the IPO's underlying reasons for asking Congress to delete Section 190.1 was in order to persuade the US government to drop the Philippines from the 301 Watch List."  The said list is tagged as the US Trade Representative's "Annual Report on Intellectual Property Rights." (There are just no words for this.)
8. You may have to quit your music-sharing habit. Blancaflor, in a statement posted on the IPO website (as cited by Robles), emphasized: "Downloading pirated music has always been illegal, and especially detrimental to our local artists. In fact, all organizations of Philippine singers, performers, composers, artists, and producers, have been pushing for the amendments because they have been severely affected by music piracy. However, even before the E-Commerce Act provision against piracy and hacking, downloading pirated music has already been penalized by R.A. 8293, enacted as early as 1997, which punishes copyright infringement or the reproduction of a work without authorization by the copyright owner (Sec 177, IP Code)." Robles, however, argued: "I never said downloading pirated music was legal. What I wrote was: 'If someone else had downloaded music from the Internet and shared the file with you, and you then uploaded it onto your technological device and listened to it, you could also be held liable if the download site was one that the US recording and movie companies have been trying to shut down.'" What that means for us: Yikes!
ADVERTISEMENT - CONTINUE READING BELOW
Warning to copyright criminals. The only crime here is the fact that this public service ad was shot in the first place. We love Wally and Jose, but this ad sucks. The parting shot, "Hindi masaya manood ng sine sa kulungan (It's not fun to watch a movie in jail)," doesn't even make sense. Please, tell us which Philippine prison has a cinema.
9. The law is selfish. In Robles' February 15 article, "Reply to Ricardo Blancaflor, Intellectual Property Office Director General," Prof. Disini pointed out: "The purpose of copyright, intellectual property (IP) rights is to enhance public domain-the works that are freely accessible to everyone. Because we want culture to flourish we give exclusive rights to people who make cultural works so that they can make a living from it. But only for a limited period of exclusivity. But when the exclusivity is gone, the public can enjoy it. Even without IP, the people are going to make songs. We want more songs and the only way for them to produce more is to give them exclusive rights. The end goal is to enhance culture. These works enter the public domain so we don't have to pay anymore. The Spoliarium copyright is gone. So now I can take a picture of it, make a song about it, that further enhances the culture. How come there is no provision in the IP Code that tells us how to donate to the public domain. The IP Code is all about creating and protecting property instead of enhancing culture."
ADVERTISEMENT - CONTINUE READING BELOW
10. The penalties are quite harsh. Robles pointed out: "Penalties for 'jailbreaking' and other forms of copyright infringement range from three years in jail and at least ?150,000 for the first offense, and up to nine years in jail and ?1.5 million pesos for the third and subsequent offenses." We know there are worse criminals out there who don't have to suffer or pay that much to remain free.
Art by Warren Espejo
Share this story with your friends!
---
Help us make Spot.ph better!
Take the short survey
Load More Stories