Revolutionary Words: Sound Bites From EDSA I
We recall the glory days of the People Power Revolution of 1986 with the quotes of its most prominent players.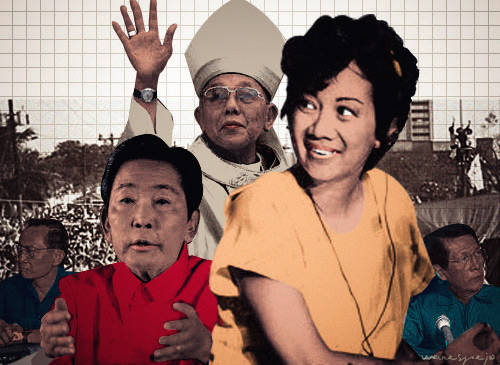 (SPOT.ph) This year, we mark the 27th anniversary of EDSA I or the People Power Revolution of 1986. Despite what critics say, it can't be denied that the event is one of the defining moments of the country's recent history. We commemorate the milestone with quotes from some of EDSA I's most prominent players and eyewitnesses.
Sources: Angela Stuart-Santiago's chronology, "1986: The Original People Power Revolution," published on StuartXChange.com, EDSAPeoplePower.com, and EDSARevolution.com.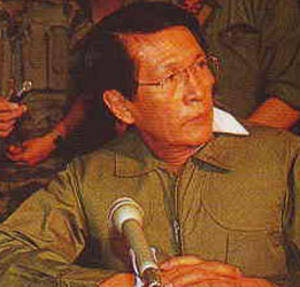 ADVERTISEMENT - CONTINUE READING BELOW
"We have no intention of harming anybody. We are here to take a stand. If anyone of us will be killed, I think...all of us must be killed. We'll stay here until we are all killed." -Minister of National Defense Juan Ponce Enrile, upon his defection from the administration of President Ferdinand E. Marcos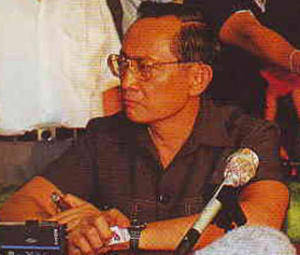 "I would like to appeal to the fair and to the dedicated and people-oriented members of the AFP and the INP (Integrated National Police) to join us in this crusade for better government." -Vice Chief of Staff of the Armed Forces of the Philippines General Fidel V. Ramos, upon joining forces with Enrile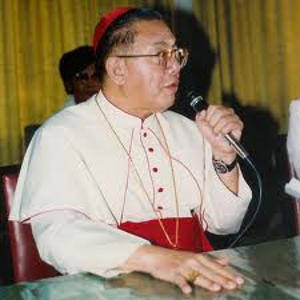 ADVERTISEMENT - CONTINUE READING BELOW
"Our two good friends have shown their idealism. I would be very happy if you would help them. I wish that bloodshed will be avoided. Pray to Our Lady that we will be able to solve our problems peacefully. I am sorry to disturb you at this late hour, but it is precisely at a time like this that we most need your support for our two good friends." -Archbishop of Manila Jaime Sin, over Radyo Veritas, asking people to assist Enrile and Ramos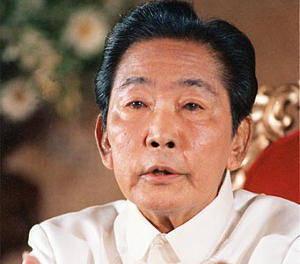 "I am appealing to the citizenry not to believe in this illicit, illegal, and immoral third force." -President Ferdinand E. Marcos, telling the public not to heed Enrile and Ramos' call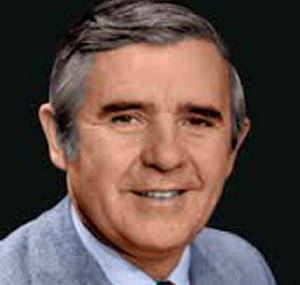 ADVERTISEMENT - CONTINUE READING BELOW
"I think you should cut and cut clean." -U.S. Senator Paul Laxalt, in a phone call with Marcos, who had asked him, "Should I step down?"
Bloodless revolution. A recollection of the events that transpired in 1986, aired on EDSA I's 22nd anniversary.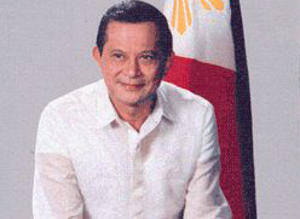 "Johnny, there is no problem about security there. I've taken care of that. I have about 300 Batangueños ready to protect us. We cannot show any fear at this time." -Salvador "Doy" Laurel, running mate of Cory Aquino in the 1986 snap elections, to Enrile at the height of EDSA I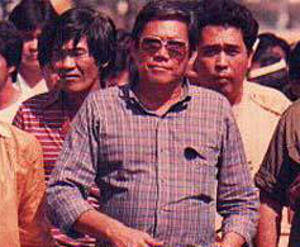 ADVERTISEMENT - CONTINUE READING BELOW
Image from a photo by Nino Sinco
"General, you say higher authorities gave you the order to disperse us. Well, the higher authority...the chief of staff we recognize is General Ramos and the commander-in-chief we recognize is Cory Aquino and we know they didn't order you to disperse us. Besides, we are fighting for our freedoms and if it's necessary to die, we're prepared to die." -Butz Aquino, brother of slain Senator Ninoy Aquino, to General Artenio Tadiar, who had been ordered to "disperse" the crowd that had massed at Camp Crame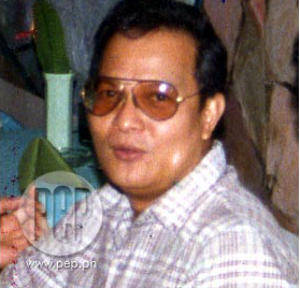 Photo courtesy of PEP.ph

"Sugod paabante, sugod paatras. Umuulan ang bato mula sa Marcos loyalists na nakulong sa loob ng Malacañang. Walang malay na tinakbuhan na sila ng presidente nila. Pero, Manay, nakakahiya bang sabihin, di mo yata maaalis sa Pinoy, sa gitna ng batuhan at stampede, tuwing may camera lights, tigil kami, kuntodo luhod 'yung mga nasa harap para 'wag matakpan ang mga nasa likod, sabay ngisi at L sign! Pa-picture! Kuha yung mga nakatingala. Kuha yong nasa tabi ng tangke. Cut to cut na ganyan. Tapos, ayan, umuulan na naman ang mga bato, putok ang ulo ng iba, duguan, ang gulo! Tapos, dating ang mga madre, may dalang tatlong karosa, kumakanta, 'Ama Namin.' Sabi ko, wala na si Makoy! Panalo na! (At Malacanang, it was now advance and now retreat. Stones were raining from the Marcos loyalists trapped inside the Palace grounds; they didn't know their president had made a run for it. What's embarrassing to mention is the vanity you just can't take away from the Pinoy. In the midst of all that stoning and stampede, the moment camera lights flashed, we all froze, those in front kneeling down so as not to cover those behind, and everybody grinning and flashing the L sign. Pa-picture! Afterwards, on with the rain of stones, on with the broken heads, on with the blood, on with the riot! How brave really is the Pinoy, with a gun or without)." -Lino Brocka, award-winning director, recalling how people had stormed Malacañang

ADVERTISEMENT - CONTINUE READING BELOW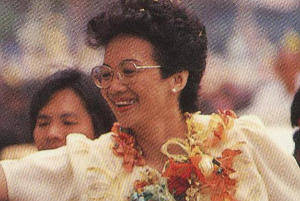 Image from a photo posted on CoryAquino.ph
"And now, I would like to appeal to everyone to work for national reconciliation, which is what Ninoy came back home for. I would like to repeat that I am very magnanimous in victory. So I call on all those countrymen of ours who are not yet with us to join us at the earliest possible time so that together we can rebuild our beautiful country." -Cory Aquino, upon being proclaimed President of the Republic of the Philippines at the Club Filipino, San Juan, Metro Manila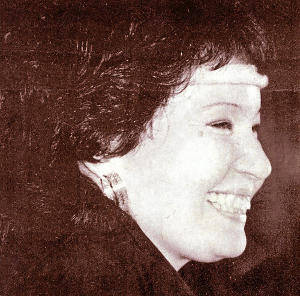 ADVERTISEMENT - CONTINUE READING BELOW

Scanned image from the book, People Power: An Eyewitness History, which was also used by the Philippine Daily Inquirer and Inquirer.net

"Until now, marami ang nagsasabi, 'June, propaganda lahat 'yon, nagpagamit ka lang.' Sabi nila, at that specific time when I announced the news na umalis na si Marcos, kakaunti ang tao sa EDSA. Marami ang natakot lumabas dahil nagti-teargas na sa Libis. Pero, on hearing the news of Marcos's departure, nagsidatingan na lahat ng tao. The crowd not only doubled, but tripled. And then came the news na hindi pa nakakaalis si Marcos. And so these people daw were trapped in EDSA to become a bigger buffer force between the Marcos military and the rebels (Until now I am told, 'June, that was all propaganda, you were used.' They say that when I announced the news that Marcos had left, there were not too many people in EDSA. Most people had stayed home because of the teargassing in Libis. But on hearing of Marcos's departure, the people started pouring in. The crowd not only doubled, it tripled. Then came the news that Marcos hadn't left yet. By then the people were trapped in EDSA and had grown into a bigger buffer force between the Marcos military and the rebels.)." -Radyo Veritas broadcaster June Keithley, on people who don't believe in EDSA I

<>  <>Art by Warren Espejo <>Image credits: Unless otherwise indicated, all images are screenshots from video clips of various news agencies or from publicly available profiles

ADVERTISEMENT - CONTINUE READING BELOW

<>

Load More Stories