ASAP set to be placed under "gender sensitivity investigation" by MTRCB due to Anne Curtis' now-controversial "wet look" num
In this instance, it looks like the MTRCB gave in to the dictates of some dirty-minded netizens.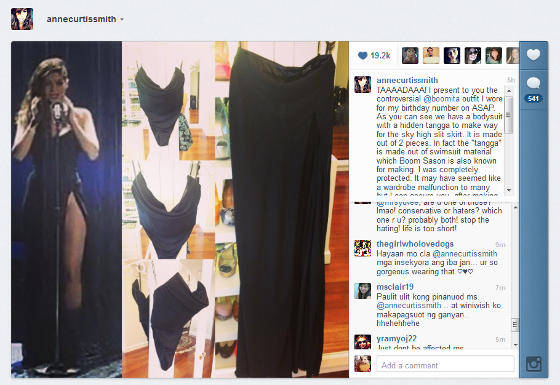 Yes, folks, the issue about Anne Curtis' "Diamonds" number in ASAP 18 February 24 broadcast has gotten bigger than one could ever expect out of a topic that's so painful to discuss. But, discuss it we must as it has become a "hot topic." (Click this link to  read "Anne Curtis' 'Diamonds' number on ASAP 18 fuels netizens' debate over her undergarments.")
As netizens continued to debate over whether Curtis had gone "commando" for the said number, Nerisa Almo of PEP.ph reports that the Movie Television Review and Classification Board (MTRCB) had no choice but to get in on the action, so to speak. Almo further revealed: "On its official Twitter account, the MTRCB (@MTRCBgov) summoned the staff of the weekly musical-variety show a gender-sensitivity investigation over alleged provocative number."
Meanwhile, ABS-CBNNews.com reports that on Tuesday, February 26, "Curtis told ABS-CBN News Tuesday that the outfit by designer Boom Sason was meant to offer an 'illusion.'" The report quoted Curtis, who diclosed, "Boom of course knows what I was wearing, and that's actually what our theme was. Because when I said I was going to get wet, (there really had to be a hidden swimsuit) because it has to have that illusion (of having a) high slit, (which we achieved). At least the illusion worked, right?"
ADVERTISEMENT - CONTINUE READING BELOW
ABS-CBNNews.com also noted: "Curtis also posted photos (seen above) of her outfit, which show its two parts-a 'bodysuit' which is worn underneath the dress with the high slit."
That said, this is the moral of this tale: "The mob may rule, but the mob is not always right." In this instance, it looks like the MTRCB gave in to the dictates of some dirty-minded netizens.
For more on this story, log on to PEP.ph and ABS-CBNNews.com.
Load More Stories