Going Green: 10 Easy Ways to Show Your Love for the Planet
Saving the planet one tip at a time
(SPOT.ph) More than saving the other species, allow yourself to be a little selfish and think of who will suffer most when the earth starts being a crappy place to live in: you. If you've noticed, as we have, the weather is getting a little screwed up. Last December, we had the warmest Christmas we've had in a while. We had exactly one month of chilly air early this year and then we went back to scampering to the nearest place with air conditioning. Not to ring unnecessary alarms or anything like that, but life's been getting tougher if you've bothered to look up from the glowing screens in your hands (we mean smartphones). Prices are higher, money is harder to get,  this heat is about to become unbearable, and we have a problem with garbage that has gone on for decades.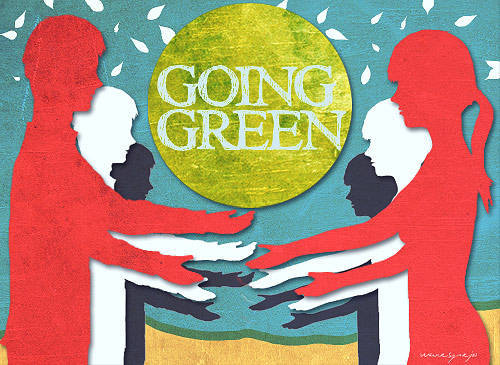 "What do you want us to do about it?" mumbles the apathetic few and in celebration of Earth Hour on March 23 at 8 p.m., we thought of a few things that can answer that question. This might sound preachy but really, each hour is earth hour because we're all kind of stuck here for the moment.
ADVERTISEMENT - CONTINUE READING BELOW
1. Use a power strip
Too lazy to unplug? Buy a power strip (more popularly known as extension cords). Plug in the TV, the decoder, the DVD player, and instead of having to go through all that trouble pulling the cable from the socket, you can just turn off the switch and voilà! You've stopped being a powersuck! You can buy strips with single switches for each plug too and have the option of just having the TV and the DVD player on, if that's all you're really using.
2. Bring your own utensils
Buy one of those fork and spoon kits from Daiso and keep it in your bag always. Some fast food restaurants give you plastic cutlery and not only are they tricky to eat with if you want to slice meat, they're single use and there's no guarantee that they will be recycled. Hand the plastic back.
CONTINUE READING BELOW
Recommended Videos
If you have a fizzy drink with your meal, don't reach for the straw. That's extra waste as well. We highly suggest bringing your own water with you always. Think of all the plastic water bottles that end up not getting recycled.
3. Buy in bulk, use a lunch box

If you want to have crackers or cookies in your bag or as baon for the kids and you're tempted to buy a pack of single serves, don't. That's a lot of extra packaging, a lot of extra plastic, and a lot of extra trash. Buy the big bag. You'll save some extra coins and you can just put the crackers, cookies, biscuits, chips, or whatever else into a small reusable container. That way, you also prevent them from being crushed.
ADVERTISEMENT - CONTINUE READING BELOW
4. Make a bathroom playlist
Reduce the use of water. Not only should you keep the tap off when you're not using it (either in brushing your teeth or washing dishes), try to keep track of how long you keep the water running. You can always go for a bucket and a tabo to measure how much water you're using but if you must use the shower, have a playlist to go with it. Make a fifteen- to thirty-minute mix in your smartphone, sing your heart out, and be done once the last song ends.
5. Prolong the life of razors
Lifehack, it's an Internet treasure. They have this really useful tip for extending the shelf-life of your razors. All you need is a pair of jeans. Run the razor on one direction 10 to 20 times and then run it on the opposite way to keep the blade sharper longer. Reduce the stuff you dispose!
6. Get a box
All those small things like keyrings, rubber bands, twist ties, Post-Its, and pens keep getting lost and you keep buying new ones.  It might look cluttered if you keep storing things in it but just throw those knick knacks in and when you're looking for something, check the contents of the box first before deciding to purchase a bunch of items you already have.
7. Silver cleaning at home
Silver cleaners are kinda toxic. They cost money to make and even if you have some lifetime guarantee that the shop will clean your silver for you, you'll use up gas and money getting there. For small pieces of jewelry (rings and earrings, plus bracelets and necklaces that aren't stiff), clean them at home using a stainless steel egg holder, salt, and hot water.
ADVERTISEMENT - CONTINUE READING BELOW
Heat a very small amount of water with a kettle (not the microwave, don't be lazy) and once it's hot, pour it in the egg holder. Add about half a teaspoon of salt and then throw in a few pairs of earrings. Watch the dirt leave the silver and be amazed with SCIENCE!
The Internet suggests using a bowl wrapped with foil but foil costs money and it'll be rubbish after, so go for stainless steel bowl-shaped kitchenware. And remember to use a rag to dry your silver after.
8. Drop that air freshener. Use charcoal.
That's right, use good old uling. The fancier version, activated carbon, acts as a great air filter but local and cheap uling works as a great scent absorber too. Grab an old shoebox or an old tub of ice cream, fill it with charcoal and place it in whichever room you need to keep weird odors away from.
While we're on the subject, there are packets of scent absorbers being sold out there but the main ingredient is baking soda, so just keep a box of baking soda in your cabinet or fridge. You're saving money and you're not disposing cans and cans of air freshener.
9. Buy and sell
You've got old mobile phones, earphones, shoes, clothes, a yoga mat, weights you never lifted, and other things that are just gathering dust in your house. Open up an account in eBay or Sulit and just put up an ad for them, to dispose of them with kindness.
ADVERTISEMENT - CONTINUE READING BELOW
With that in mind, see if an old classic book you want is up for sale out there instead of purchasing a new one. Keep checking if someone is selling a slightly used (nowadays referred to as "pre-loved") version of what you have  a hankering for at the moment and go for that.
10. Repurpose
For the things you can't sell, repurpose. It's like recycling but a lot easier. Old receipts and bus tickets? Keep them in a box on your desk as quick memo pads. Old stockings? You can use them as pet hair remover from your clothes. The cardboard of a toilet paper roll? Give it to your hamster, use them as a way to organize your cables in a box (just coil them up and slip them in), or use them as poster-cuffs. There is a lot of information out there on the Internet, just Google away and you'll see a lot of amazing ways to use old items. Because, to be honest, that's the best way to save the planet: Be informed.
Art by Warren Espejo.
Share this story with your friends!
---
Help us make Spot.ph better!
Take the short survey
Load More Stories