DO THIS, NOT THAT: The MRT Rush Hour Edition
Because "rush hour" should actually be called "crushed hour"
(SPOT.ph) Just this year, the Department of Transportation and Communications opened up its live MRT-3 CCTV feed to the public, so you can check out, in real-time, how crowded the train platform really is.
It's a neat idea, and a cool one to boot, but we have doubts about whether it's actually useful. After all, would you really change your train-riding schedule based on what you see on the station security cameras? All the live feed does is confirm what you already know: the MRT during rush hour is a nightmare.
To help you survive, we compile a list of five best practices for surviving the MRT rush hour that are way more useful than voyeuristically peeking at people lining up in boarding platforms.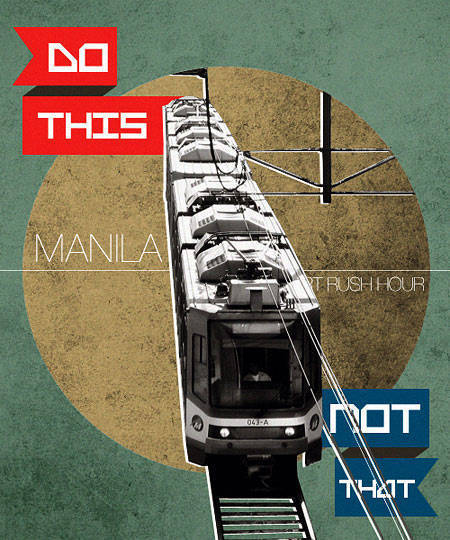 DON'T DO THIS: Line up to go to the counter and buy your ticket there.
DO THIS INSTEAD: On your commute home, right after exiting your train, line up right away at the ticketing counter to buy two stored value cards. Use those stored value cards to the last centavo.
ADVERTISEMENT - CONTINUE READING BELOW
Queuing up in the MRT ticketing counter is a guaranteed +10 minutes to your commute time. You'll be sweaty even before you hit the boarding platform lines. Our best advice is to buy two prepaid tickets ahead of time. At a max of P15 per ride, it should last you the better part of two weeks. Buy it right after you exit the train; taking that extra time to line up will save you a lot of hassle in the long run.
DON'T DO THIS: When transferring from the MRT-3 to the LRT-1 or LRT-2, you take the outside routes.
DO THIS INSTEAD: Take the mall routes.
CONTINUE READING BELOW
Recommended Videos
In relation to its sibling train services, the MRT-3 is rather inconveniently placed-there's a fair bit of walking involved to switch lines. You might make the mistake of going down to street level and hoofing it to the next station, which is great, if running into crowds, inhaling smog, or being propositioned by prostitutes (especially in the corner of EDSA and Aurora Boulevard) is your thing.
Good news: convenience, peace of mind, and air-conditioning all await when you go through the mall routes. If you're moving to the LRT-1, take Metropoint Mall to your right when you exit Taft Station, and if you're moving to the LRT-2, go through New Farmers Plaza on the right side of Edsa when you exit Cubao station. It may take a bit longer-seriously, the Farmers Plaza-Araneta bridgeway-Gateway Mall walk is a calorie cruncher-but well worth it.
DON'T DO THIS: Move to the center of the train every time you ride.
DO THIS INSTEAD: Depending on where you want to get off, take strategic positions aboard the MRT.
ADVERTISEMENT - CONTINUE READING BELOW
We hate to say this, but when riding the public train, check your altruism at the yellow boarding lines. If you let your innate good nature rule, you would automatically move to the center of the train (so other passengers can also board), and thus miss your stop when you suddenly find, two stations down, that you're trapped inside an impenetrable pack of sardines.
If you're getting down at the terminal stations (North or Taft), or one of the high volume stations (Ayala, Shaw, and Cubao), then by all means, find a spot at the center of the train. There will be enough people going out that you'll be able to exit easily.  But if you're getting off at any of the other stations, plant yourself near your exit door and don't give it up. Hey, it's a dog-eat-dog world.
DON'T DO THIS: As a girl, you line up in the women-only carriage. It's your privilege as a member of the fair sex after all.
DO THIS INSTEAD: Things are slightly better in the non-women cars.
We said in an earlier article that the first carriage isn't really that bad. But anecdotal evidence suggests that riders in the women-elderly-disabled car are truly a vicious lot. They elbow each other right below the boobage, erupt into arguments, and assault your nostrils with all kinds of perfume. On the other hand, the "boy" carriages are just as crowded, but still slightly in awe of womanhood. Take advantage of their stupefaction. Stand in front of a seated rider, and there's a likely chance that the guy will get up and offer his seat. Unless, of course, he employs the old con classic of pretending to be asleep.
ADVERTISEMENT - CONTINUE READING BELOW
DON'T DO THIS: Ride the MRT with packages.
DO THIS INSTEAD: Take the bus, or a taxi.
It's almost common sense: don't ever ride the MRT when lugging around a bulky gift-wrapped package. The hassle you'll experience (and create) may not be worth the 15 minutes you cut from a Bus A or Bus B commute along Edsa. And if you just bought a washing machine or mini-refrigerator, surely you can find some room in your budget for a cab fare home, right?
Other stuff to avoid bringing, straight from MRT's guidelines:
Unsealed food or drinks (sorry, no train picnics)
Deadly weapons (your exceptional smile doesn't count)
Bulky and long objects (*insert easy-to-make green joke here*)
Inflatable balloons (sorry, Boyoyong clowns, you are not welcome)
Quantities of flammable, poisonous, and/or harmful products (fuels, paints, pesticides, etc.) (Leave it to bureaucratic regulations to craft a line that's so long, so specific, yet so vaguely ambiguous at the same time.)
---
Help us make Spot.ph better!
Take the short survey
Load More Stories