Hot on Spot: The Silver Linings of "Being Gay"
It's our humble way of showing our support for the LGBT community.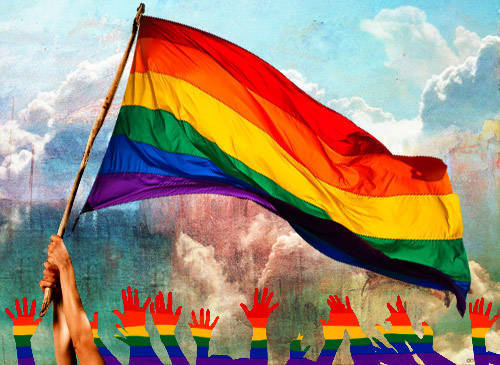 (SPOT.ph) On March 11, Christine "Tintin" Bersola-Babao, one of the hosts of TV5's Good Morning Club, became a "firestarter." That was the day Parentin Talk, her column for The Philippine Star, featured her take on "Being gay." In it, she earnestly asked questions about raising a gay child and quoted the answers of psychologist Dr. Camille Garcia. Garcia is a regular on TV5 shows, among them Face to Face, which features go-for-broke confrontations of stressed-out people.
Garcia's answers, which she later claimed only reflected her personal convictions, made a lot of people gasp. After all, this is the age where the LGBT community is fighting for the right to be recognized and respected. When Bersola-Babao asked how parents should deal with gay kids, Garcia said, "Make sure you discuss with your child openly. 'Alam mo anak, hindi namin gusto yung ginugusto mo (You know, son, we don't like what you like).' Explain that he is a boy and therefore, as boys, they grow up as men and their partners are women. 'Hindi kasi tama ang makasama sa buhay at magpapamilya ay parehas na lalaki. Kung ayaw mo itama ang ginugusto mo, hindi namin matatanggap yun (It's not right for two men to have a relationship and be a family. If you don't want to correct your behavior, we can't accept it).'" What made her answer shocking to many people was that she did not even suggest measures like family counseling. Her suggestion encouraged the parents to repress the child. She didn't even say, "Just leave the kid alone." She came off as a bigot.
ADVERTISEMENT - CONTINUE READING BELOW
Bersola-Babao did herself in when she shared, "As a mom who has a three-year-old son named Nio, my personal take on the matter is this: Nio, when curious, plays with his big sister's toys. But we always point it out to him that those are toys for girls, and these are toys for boys. We compare toys so that he will understand. Before he turned three, he was fully aware and could already distinguish the girls' toys from the boys' toys. We realized that playing with his big sister's toys is his loving way of bonding and playing with his Ate Antonia. When big sister is not around, Nio doesn't touch the girly toys." Of course, Bersola-Babao is entitled to her own parenting style. But whether she intended it or not, her statements also came off as bigoted.
CONTINUE READING BELOW
Recommended Videos
Both Bersola-Babao and Garcia have since expressed that they were sorry for the furor that their informal collaboration had caused. Sadly, their take on the matter only tells us that a lot of people can espouse bigoted thoughts even when they think they don't. That's the real tragedy there.

The silver lining in this case doesn't come from Bersola-Babao or Garcia, it came from the reactions to "Being gay." We've gotten snippets from some of them.
1. In her opinion piece, "Nothing wrong with homosexuality," Dr. Margarita Holmes pointed out: "Bersola-Babao's 'disclaimer' that she has limited knowledge of the politically correct language of the LGBT community misses the point entirely. Can anyone really think that the LGBT community and the Psychological Association of the Philippines (PAP) are up in arms simply because of a term or phrase wrongly used? If the LGBT community and the PAP are really that mababaw or shallow, then by all means, claiming one's 'profound love and respect for gays' will probably be enough to mollify the superficial. However, a wrong choice of terms is not what this is about. This is about coming across as an expert in parenting and mouthing statements (advice even!) with no research in developmental psychology, neuroscience, and family therapy to back it up; simply one's own, private sense of 'morality.'"
ADVERTISEMENT - CONTINUE READING BELOW
***In the first part of her article, which was published on Rappler, Holmes disclosed that she was friends with both Bersola-Babao and Garcia. In fact, when "Being gay" came out, Holmes said she sent a private message to Garcia, asking her to clarify her statements. Holmes assumed Garcia may have been "misquoted." Holmes said Garcia didn't respond to her. Holmes later confirmed that Garcia had been quoted accurately.
2. Singer Lea Salonga, in her Philippine Daily Inquirer column, said, "I cannot categorically make blanket statements about homosexuality, as I am not an expert armed with scientific facts that state the whats, hows and whys of it. Is it genetic, or circumstantial? If a little boy plays with a Barbie doll, does that make him gay?" Salonga then goes on to say, "For the record, I never liked playing with dolls, always opting for books and my brother's toys. I liked assembling remote control cars that Gerard would then take to Greenhills and enter in races (he may have won one with the Hornet). I took things apart and put them back together. Thankfully, my mother never once discouraged this behavior, and instead allowed me to just be me. Which, at the end of the day, is what we as parents, grandparents, teachers and mentors have the responsibility to do for our children: Let them discover their true selves. That's what gay people ultimately are-men and women on this adventure we call life, navigating it with much uncertainty, fear, anxiety, and hope. They are our friends, lovers, mothers, fathers, sons, daughters, aunts, uncles, nephews, nieces, coworkers, rock stars, doctors, lawyers, lawmakers, teachers, artists, actors, writers, directors, musicians, authors, businessmen, store owners, designers, athletes, singers, dancers, and students. They are all ultimately human. It's time to think of gay people differently."
ADVERTISEMENT - CONTINUE READING BELOW
3. Ron de Vera, in "A thank you letter to for Tintin and Camille," which was published on the Digital Journal, wrote, "You've proven that there are real experts out there who will expose your misguided truths. And you've also proven that we will no longer take this sitting down, that this ignorant and hateful attitude shall no longer go unnoticed with impunity. You made me feel good because after all these years of fighting for equality, there are still tireless LGBT activists and allies willing to stand up for what is right. You made me wonder what greater challenges we can overcome. You made me believe that my children (if I decide to have them) might actually be in good hands when they grow up. You made me believe that a future without people like you might be closer than I thought. You made me look forward to that. That's what you've done. And for that, from the bottom of my homosexual heart, thank you!" De Vera then signed his open letter thus: "A gay son with a loving, informed, and educated mother."
4. On InterAksyon.com, Dr. Liane Peña Alampay answered the very same questions that Bersola-Babao asked Garcia in "Parenting gays: A developmental psychologist takes Ms. Babao's questions and gives a second opinion." She said, "Despite possible feelings of disappointment, parents should address the issue with sensitivity and continuous efforts to communicate support and unconditional love to the child. All children, straight or gay, need this from their parents. If gay children find the care and strength they need from their parents and families, they have greater chances of leading healthy, happy, dignified lives. On the other hand, parents who respond to their gay child with criticism, rejection, harshness, or abuse communicate to the child that he or she is not accepted; that to be valued, the child must change something fundamental in his or her self that cannot be controlled nor denied. As with positive parenting, harsh and rejecting parenting has the same results for gay and straight children: they are at risk for emotional and behavioral problems such as depression, self-harm, and delinquency." Alampay also emphasized: "The Psychological Association of the Philippines upholds the position that homosexuality is a moral and rightful way of life and a healthy and normal form of sexuality."
ADVERTISEMENT - CONTINUE READING BELOW
5. In an official statement posted on its Facebook page, Ang Ladlad stated: "While Ang Ladlad Party-List appreciates the efforts by media personalities to discuss LGBT issues more openly, these discussions should be enlightened and respectful of the equal rights of LGBT persons. Outdated and destructive gender stereotypes are not helpful and can have adverse effects on children's sexual orientation and gender identity development. Mrs. Bersola-Babao's moral condemnation of same-sex relations is unfortunate, and her advice to parents on how to deal with their effeminate sons is wrong-headed, woefully inadequate, and potentially damaging. In our view, it makes questionable her role as a dispenser of good parenting advice. Ang Ladlad can only hope that media personalities writing on LGBT issues would do their homework and read up on the latest available research in order to be agents of greater acceptance and understanding of LGBT persons in our society today."
Because being macho is so yesterday. Gloc-9 and Ebe Dancel rap and sing their support for the gay community. Some of the most recognizable Pinoy gay personalities also make an appearance in the video.
6. In a Facebook note that's made available to the public, Lorraine Marie T. Badoy, wrote, "No Dr. Garcia, good parenting does not 'structure the role of a person.' Whatever do you mean by that? A good parent is someone who loves her child mightily, completely, fully, without conditions so the child is able to see who she truly is and love, without fear, the person she sees in the mirror. Children are not property, not automatons we 'structure.' Parents do not get to choose what role their children will play in life. Good parents know that really and truly, our children are not our own. That as Kahlil Gibran says, 'They come through us but not from us.' I only need look at my children and see the amazing things they are to know that surely I am not the hand that chooses the way they will go. They each march to a beat only they hear-a beat I have the deep privilege of hearing once in a while. For the most part, I can only love them with all I've got and cheer them on as they make their way into this world. Good parenting is activism at its forward-thinking, courageous best."
ADVERTISEMENT - CONTINUE READING BELOW
7. Journalist Rina-Jimenez-David, in her Philippine Daily Inquirer column, pointed out: "In fairness to Bersola-Babao, who has already tweeted her apologies to those offended by her column, she does say that while she may not encourage gay behavior, 'a mother will always accept her child...in the end, being a kind human being is more important than what your gender is.' She also says at the close that "a parent must be there to support and love [her] children all the way, no matter what. We all deserve to be happy and free." So parents, love your children-straight, gay, lesbian, bi, trannie or still searching." The best part of Jimenez-David's column entry? It's titled, "Love your children."
8. The Psychological Association of the Philippines (PAP) reiterated what is written in their position paper entitled "Non-Discrimination Based on Sexual Orientation, Gender Identity and Expression." It reads: "Lesbians, Gay and Bisexuals and Transgendered individuals confront social pressures to hide, suppress or even attempt to change their identities and expressions as conditions for their social acceptance and enjoyment of right. This anti-LGBT prejudice and discrimination tend to be based on a rhetoric of moral condemnation and are fueled by ignorance or unfounded beliefs associating these gender expressions and sexual orientations with psychopathology or maladjustment." PAP President Dr. Gina Hechanova also weighed in on Bersola-Babao's "Being gay." She said, "The article presents a view of homosexuality that is clearly misinformed."
9. A blogger who only indentifies herself as Steph, a Filipina who is currently working as a software developer in California, posted her reaction to "Being gay" on her blog, inQuoherence. She wrote, "It is out of respect and love for our parents that we follow their wishes, but I believe that cases like these are exceptions. It's just not right for anyone (especially loved ones) to deny a person's being and reality. Just like how you can never force someone to feel what they don't, you can't make a person be what he/she isn't. I understand that it is hard to encourage such a thing, but it isn't right to completely discourage and forsake it. Remember, homosexuality isn't a choice, a sickness, a fad, or a phase, it's who and what they are as a person; just as you are a heterosexual."
ADVERTISEMENT - CONTINUE READING BELOW
10. U.S.-based Shakira Sison also wrote about Bersola-Babao's "Being gay," on her blog. In the post titled, "Being gay. Really," Sison wrote, "I want to tell parents who are worried about having gay children that most of us are happy. We are successful, educated, and treat others the way we would like to be treated - with respect. For one, I proved my teachers wrong, because I did find love. I'm legally married now to my female partner of 10 years. I've always tried to maintain long-term, caring and monogamous relationships. I don't have children (I could have them. If I wanted to), but instead I take part in the upbringing of the many children my gay friends are raising. I have a full-time job, a house, two dogs, one cat, hobbies, sports, vacation destinations. I have a fabulously boring life and I feel like the luckiest person in the world. That's not so miserable, is it? Maybe if parents heard more happy endings they would think twice before interfering with how their children play or act, and instead provide the love that children need so they know that no matter who they become, they will be loved. Maybe parents would panic less about physical appearances and their children's perceived choices, and trust more in the God whose guidance they claim to follow."
As a follow-up to her piece, we also asked Sison this question: "What's the best part of being gay?" She replied, "The best part about being gay is being different. You're told early on how you should be and what the consequences are of staying yourself. You're forced to either blend in skillfully or to stand up for yourself. You find alternative ways of living and doing, ways that are not in pop culture or in your surroundings, and role models that your parents, your friends, or your church may not support. Being gay usually means you're born thinking outside the box. Despite the pain and isolation it causes, this exclusion is actually a gift. It tells you right away that you are unlike any other, that your path has not been carved, and that you have a chance to live and love in the most unique of ways. Being gay means you have a chance to change the world, but only if you're brave. If not, the world will keep trying to change you."
ADVERTISEMENT - CONTINUE READING BELOW
***Sison had also revealed: "There weren't a lot of dolls in my house growing up, and most of those that existed were presents. There were, however, lots of puzzles, microscopes, toy cars, airplanes, aliens, planets, animals, books, and tools. My father, having a physical disability, never horsed around with my brother. The girls were never immersed in pink princess worlds. Still, my parents managed to raise two straight women, one straight man, and a lesbian (me, FYI, in case you're so lost in the sauce). Following Bersola-Babao's logic, how could that happen?"
Art by Warren Espejo
---
Help us make Spot.ph better!
Take the short survey
Load More Stories