Hot on Spot: The Sorrowful Mysteries of Kris Aquino
The Queen of All Media is also the Queen of Love-Related Sorrows.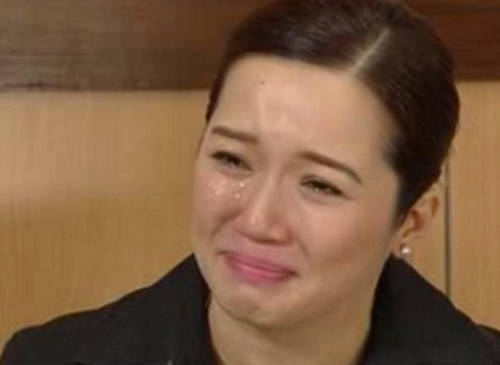 Now a familiar sight. Kris sheds tears in her latest explosive TV interview. (Screenshot from a TV Patrol video clip)
(SPOT.ph) Once again, Kris Aquino's love life-or what passes for it at this point in her saga-is the subject of national headlines. So far, at 42, Kris has only reaped sorrow from her hearty leaps of faith. Since it's the start of the Holy Week, we present to you the five most significant sorrowful mysteries of Kris. In each of these instances, she shed tears on national TV. We must also point out that three of the four men involved in these tearjerker moments in her life were basketball players. Then again-despite her river of tears-it seems that the ball always ends up in her court. It's only over when she says it's over.
Moving on. Kris uses her relationship with Phillip as an example for exes who become friends.
The First Sorrowful Mystery: Kris Runs Away to Live in Unwedded Bliss with Phillip Salvador
In 1994, Kris was tapped to be Phillip's leading lady in the action film Nandito Ako. At the time, Kris was 23 and Phillip was 41. Though reports said that he was estranged from his then-wife, Asuncion "Sony" Dabao, they were still legally married. Nevertheless, he and Kris hooked up. She had their son, Joshua, in 1996. Kris and Phillip called it quits in 1999. Phillip went on to marry Emma Ledesma. Phillip and Kris have remained friends.
It must be noted that when they hooked up, Phillip-who had made a name for himself in critically acclaimed films like Jaguar (1980) and Orapronobis (1989)-was no longer in his prime. His career was on the wane, Kris' was on the rise. Kris became the breadwinner of their household. Pundits also pointed out that she wasn't so tactful about correcting Phillip's grammar in public.

ADVERTISEMENT - CONTINUE READING BELOW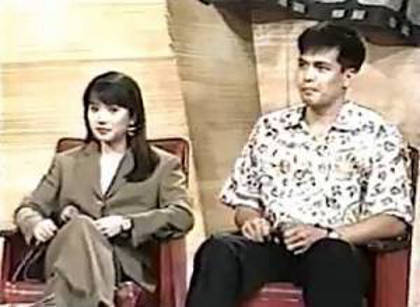 CONTINUE READING BELOW
Recommended Videos
Shoulda, Woulda, Coulda. Kris and Alvin before it got ugly.
The Second Sorrowful Mystery: Kris Almost Becomes the Other Woman in an Not-Quite-a-Relationship with Alvin Patrimonio

When she was 18, Kris revealed in an interview with the late Inday Badiday on Eye to Eye that Alvin, the 6'3" basketball player, was her "ultimate crush." Kris and Alvin went on to star in Tasya Pantasya. But, despite constant teasing from showbiz reporters, they never formally hooked up. Alvin married longtime girlfriend Cindy Conwi.
In 2000, when Alvin and wife Cindy were briefly estranged, the Alvin-Kris coupling nearly happened for real. According to Kris, she and Alvin had some pseudo-dates. Unfortunately, she soon ended up in tears on The Buzz when Alvin went back to Cindy. Kris had said, "If there is one woman who has behaved with so much dignity through all this, that is Cindy Conwi Patrimonio. And if she can behave so much like a lady, ano ang karapatan ko ngayon na manisi ng tao (what right do I have to blame others)?" In his Philippine Star column, "Alvin, how could you?," Ricky Lo revealed that Alvin actually had another girlfriend (not Kris) during his estrangement from Cindy.
ADVERTISEMENT - CONTINUE READING BELOW
The aftermath. Kris and Joey in two separate interviews. His segment begins at 6:05.
The Third Sorrowful Mystery: Kris Decides to Live in Unwedded Bliss with Joey Marquez

The ill-fated Kris-Joey affair started in 2002, when Joey was Kris' interview subject on The Buzz. That was when he had just broken up with Alma Moreno. The two became an item sometime after the interview. They then lived together. It seemed cool for a while, as Kris became a glamorous mother figure to Joey's other kids and Joey served as a father figure for Kris' son, Josh. However, it turned out that all wasn't well.
In 2003, Kris and Joey broke up. It wasn't just any break-up, it was the Mother of All Bad Breakups. Kris accused Joey of infidelity. She also said that he had pointed a loaded gun at her. Her escape from their love nest was a scene straight out of telenovelas. In an interview with Korina Sanchez about her split with Joey, Kris admitted, "Sinasabi nila that I grabbed at his genitals. I did. I wanted to crush it. Then, sinabi ko, 'Ano pa ba ang kulang sa akin?' Ilang beses mo ba akong kailangang gaguhin?'" Thanks to that incident, the whole nation learned a little bit more about "chlamydia." For his part, Joey denied that he had battered Kris and claimed that she had threatened to use her family's influence to ruin him.
The other women. Kris accuses James of infidelity.
The Fourth Sorrowful Mystery: Kris Briefly Lives in Wedded Bliss With James Yap, But Later Announces She Can't Take it Anymore

ADVERTISEMENT - CONTINUE READING BELOW
Kris wed basketball player James in 2005. She was 34 and he was 25. She had their son, Baby James, in 2007. Many critics dismissed the marriage right from the start, saying that Kris and the unassuming James were mismatched. It didn't help when, later on, James' alleged involvement with Hope Centeno and Mayen Austria were publicized on national TV. Kris admitted that she had gone to Mayen's residence and had confronted her. The public thought that this time around, Kris would stick with James no matter what. They were wrong.
In 2010, Kris announced that she was giving up on their marriage. In an interview on The Buzz, she said, "James and I really tried to make this work. On my part, with finality, I can say ako ay sumuko na (I give up). Kung anuman ang dahilan (As for the reason) why, this marriage, on my part, I'm saying it's over. The only person I will owe an explanation to and the only person who can demand from me, 'Bakit kayo naghiwalay (Why did you break up)?,' is my son." But, right after their marriage was annulled, Kris said that she regretted paying a settlement "in the millions" to James.
The final straw. Kris seems overwrought from the strain of her latest smackdown with James. She brought her sisters for support.
The Fifth Sorrowful Mystery: Kris Accuses James of "Overt Sexual Advances," Files a Temporary Protection Order Against Him, and Then She Resigns Fom All Her Shows

ADVERTISEMENT - CONTINUE READING BELOW
On March 20 this year, Kris sought a temporary protection order (TPO) against James, whom she accused of making "overt sexual advances" when he visited her home to fetch their son, James Jr. or "Bimby"  in December 2012. Kris said James had tried to force himself on her. She also said that this happened in full view of her son. James, meanwhile, said that Kris had staged the encounter in order to make their son see him as the bad guy. James also claimed that Kris had threatened to use the influence of her brother, President Noynoy Aquino, to make sure that he would be put in his place.
On March 21, Kris, in a TV Patrol interview, announced that she was quitting all her ABS-CBN shows (KrisTV, Kailangan Ko'y Ikaw, and Pilipinas Got Talent) because she was shielding her son, Bimby, from the controversy. Also present during the interview were Kris' sisters Ballsy Cruz, Pinky Abellada, and Viel Dee. Kris cried and said she had really been afraid of James. On the other hand, according to a News5 report, James' counsel, Atty. Lorna Kapunan, speculates that there's only one motive for Aquino's TPO request. She cited James' refusal to sign adoption papers that would strip him of any rights to his son.
---
Help us make Spot.ph better!
Take the short survey
Load More Stories