What Would Jesus Do In Metro Manila?
We think the Son of God needs a break from saving our good-for-nothing souls.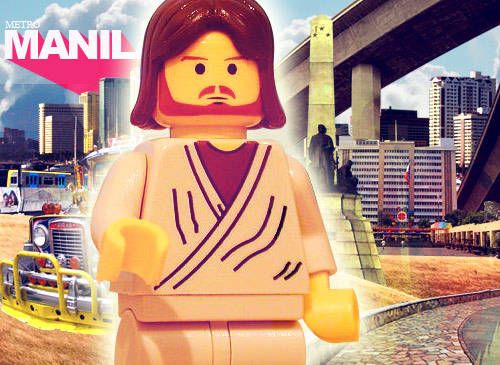 Image credit: Screengrab of Lego Jesus from The Brick Bible
(SPOT.ph) Holy Week is truly upon us. We know that many Catholics take their religion seriously-but we also know there are a few who have a sense of humor about the whole thing. So, for the irreverent members of the flock, we thought we'd make a list of things Jesus Christ would do if he had a one-day pass from being the Lamb of God who takes away the sins of the world. God knows, the guy needs some downtime. But, of course, Jesus would still go for things that remind him of who he is. After all, he can't veer that far away from being The Good Shepherd.
1. He'd be manager of the foot spa service at a nail salon in Makati.
Biblical reference: In John 13:1-17, Jesus washes his disciples' feet so they would be cleansed in more ways than one. This was around the time when his time on Earth was running out.
Divine fun: As it turns out, the Bible scholars of yore did away with the part where his disciples praised Jesus to the high heavens for the way he washed their feet. It felt so good that their faith was renewed. Judas actually wanted a foot massage as well, but Jesus could not accomodate his request. Had he done so, perhaps Judas would not have become a snitch.
2. He'd cast out demons from Malacañang.
Biblical reference: Nobody can bust demons like Jesus. Among his stints as an exorcist includes the exorcism at the synagogue in Capernaum (Mark 1:21-28, Luke 4:31-37) and the exorcism of a boy possessed by a demon (Matthew 17:14-21, Mark 9:14-29, and Luke 9:37-49). There are so many more instances where Jesus showed demons who the boss was, so to speak.
ADVERTISEMENT - CONTINUE READING BELOW
Divine fun: There is no shortage of exorcism in the passages concerning Jesus, which pairs well with the plague of devils we have here and there. Around Manila, Christ the Savior would go around each government agency, eventually ending up in Malacañang where he'd vanquish the demons lurking about. For the record, President Noynoy Aquino himself has said that he feels "bad vibes" there. Certainly, Jesus can clean up the joint in record time. After all, he doesn't need to form a study group to make decisions.
3. He'd audition for a part in a Jesus-themed TV show that's being shot in Quezon City.
CONTINUE READING BELOW
Recommended Videos
Biblical reference: In John 20:24-29, Jesus proves to Thomas that he is, in fact, the real deal. Well, we can hardly blame Thomas for doubting that Jesus rose from the dead. Let's face it, if someone told you that today, you'd laugh. Or, if you're a Walking Dead fan, you'd get yourself a crossbow.
Divine fun: Jesus knows that he'd just get branded as crazy if he openly declared himself as the Son of God. In this country, there's always some joker claiming to be the Messiah. Heck, there are even grown men who claim to be the Santo Niño. But, since he already has those crucifixion marks, he might as well make use of them by playing Himself (though people won't know it) in a TV show. Make that a primetime soap: May Bukas Pa (Book 2): Santino and Bro sa Call Center.
ADVERTISEMENT - CONTINUE READING BELOW
4. He'd play a prank on all supermarkets in Mandaluyong by turning water into wine.
Biblical reference: In John 2:1-11, Jesus ensured that a wedding reception would continue to be a hit by coming up with wine ASAP. His mother had made the request so he couldn't refuse.
Divine fun: Because he is the Son of God, Jesus has not really enjoyed being just one of the guys. If we know anything about guys, they love pranks. Jesus deserves to have a little bit of impish fun. We certainly wouldn't complain if our bottled water turned out to be white wine. (Why Mandaluyong? Well, guess where our office is.)
5. He'd recruit additional disciples for his holy posse in Catholic schools.

Biblical reference: Jesus, of course, had 12 disciples with whom he worked to spread Big Daddy's word. Unfortunately, some of them failed him at crunch time. One of them betrayed him for 30 pieces of silver...and that really sucks.
Divine fun: This time around, Jesus should really pick the people who can help him disseminate his message digitally. (Maybe he should also give them a generous stipend for being his disciples so they won't be tempted to sell him out.) Since the current Pope is Jesuit, Jesus' first stop would be the Ateneo de Manila University. Truth be told, Jesus needs a killer website with rich multimedia content, as well as active social media networks. He should also set up an online store. People are crazy about Jesus trinkets. Hey, the most hardcore Catholics would welcome Jesus-endorsed gadgets.
ADVERTISEMENT - CONTINUE READING BELOW
6. He'd walk on the murky water of esteros.

Biblical reference: In Matthew 14:22-30, Jesus shocked the disciples when he suddenly walked on the lake. The segment reveals: "When the disciples saw him walking on the lake, they were terrified. 'It's a ghost,' they said, and cried out in fear." Jesus calmed them down, but Peter indirectly demanded proof of Jesus' identity when he said, "Lord, if it's you, tell me to come to you on the water." So, Jesus (probably amused), asks Peter to walk on water, too.
Divine fun: Jesus can give his God-the-Father-granted superpowers a break for this one. After all, with the amount of trash clogging up our esteros, even Peter of little faith can easily walk across our so-called "bodies of water." If Jesus had dropped by during the 90s, he could have even dropped a coin or two for the Piso Para sa Pasig campaign.
7. Jesus spends 40 days in the concrete desert and gets tempted by the Devil.

Biblical reference: Jesus was on Survivor even before there was Survivor. In Matthew 4:1-4, he goes into the wilderness and fasts for forty days and forty nights. The damn Devil was always daring him to do stuff, saying, "If you are the Son of God, tell these stones to become bread." Jesus refused to take on the cheap trick.
Divine fun: With the kind of weather we're having in Manila right now, the desert is practically all around us. In the daily commute to get from Preaching Point A to Preaching Point B, Jesus would probably need to take public transportation...and the devil would be there to tempt him to hop onto an EDSA Bus B even though the bus stop clearly indicates that only Bus A types can be boarded there. But Jesus will master the temptation, and will board the blue-stickered bus and not the red-stickered one, and tell the Devil, "It is written: 'Bus B can only be boarded at Kamuning, Monte de Piedad, Main Ave., POEA Ortigas, Pioneer, Estrella, and Ayala.'"
ADVERTISEMENT - CONTINUE READING BELOW
8. Jesus drives away Quiapo vendors from the church.

Biblical reference: Bible scholars refer to Jesus' driving away of vendors as the cleansing of the temple, an episode recounted every Holy Monday of holy week. He lashes out at money changers and those selling livestock. This, scholars say, is the only time that Jesus demonstrates some sort of physical force. Your quick reference for this superb "action hero Jesus" moment is Matthew 21:12.
Divine fun: There might not be cattle or sheep in Quiapo, but, heck, it's got everything else. Before you get to the Quiapo Church, you must go through a maze of vendors selling balloons, cell phone chargers, cell phone cases, pranela, fans, shoes, pamparegla, amulets, what-have-you. There are so many things you can see in Quiapo that Jesus driving out the merchants may be the only thing yet unseen there.
9. Jesus gives out unlimited bread and fish.

Biblical reference: There are two versions of this story. There's "The Feeding of 5,000," when John the Baptist died and Jesus went all emo to some remote place but 5,000 folks followed him (Matthew 14:13-21). Armed with just five loaves and two pieces of fish, Jesus fed the crowd. In "The Feeding of 4,000," some large crowd followed Jesus to one of his three-day walking trips (Mark 8:1-21). He asked his disciples to donate their baon of seven loaves and some few fish, gave thanks, and proceeded to feed the crowd.
Divine fun: We can see Jesus doing his impromptu feeding program from a Pan de Manila outlet, where, apart from all sorts of bread sold (whole wheat ensaymada, anyone?), Spanish sardines are readily available, too.
ADVERTISEMENT - CONTINUE READING BELOW
10. Jesus recovers from death by chilling out somewhere in Bonifacio Global City.

Biblical reference: After three days of being thought dead, Jesus rises (Mark 16:5-7) and acts as if nothing happened. However, he may be in need of a pick-me-up, as being dead for three days is a tough job.
Divine fun: The ultimate miracle must happen, surely, for it is what drives our faith in Him. After a whirlwind of activities in Manila, the Lord might perhaps succumb to exhaustion but He has already died for our sins and risen! He cannot die again and therefore, instead of being resurrected, He just needs to recover! Recovery Food is open 24 hours for you, Jesus Christ, Our Lord and Savior. A horde of people shall wait as Jesus gathers His strength before He ascends once more to great, great heights.
Art by Warren Espejo
---
Help us make Spot.ph better!
Take the short survey
Load More Stories