Love Is a Battlefield: Moms vs. Their Daughters' Boyfriends
Moms think they know best even when it comes to their offspring's love life.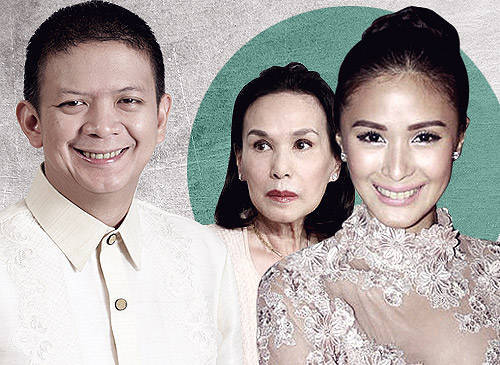 (SPOT.ph) In the past weeks, the media has had a field day covering the feud between actress Heart Evangelista and her parents, specifically her mother Cecile Ongpauco. Cecile is convinced that Heart should not be involved with Senator Chiz Escudero, whom she has accused of being an arrogant man who's allegedly too fond of liquor. Escudero has refuted the said accusations and Heart has stood by him.
Of course, this isn't the first time that this sort of mommy-versus-boyfriend drama has entertained or shocked us. Check out some of the mom-boyfriend smackdowns that got have gotten publicized over the years. Sometimes the moms are wrong, sometimes they're right. But, yes, they always think that they know best.
10. Albert Martinez vs. Amalia Fuentes, mom of Liezl Sumilang-Martinez
Conflict areas: In the mid-80s, Amalia made it known that she wasn't too keen on her unica hija Liezl hooking up with Albert. The couple ended up eloping to the U.S. to escape her wrath.
ADVERTISEMENT - CONTINUE READING BELOW
Mommy's objection: Amalia wanted her daughter to end up with someone "better." Given her temper and propensity for dishing out scathing one-liners, you can just imagine what kind of verbal arrows she shot at Albert. Fortunately, he just kept quiet.
Current status: Liezl and Albert have been married for 28 years now. He proved to be the best possible man for Amalia's daughter. Over the years, mother and daughter have had tiffs that made it to the news. Albert has wisely stayed out of those smackdowns. (Best. Strategy. Ever.)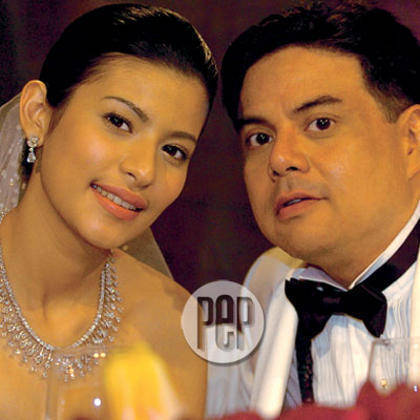 CONTINUE READING BELOW
Recommended Videos
ADVERTISEMENT - CONTINUE READING BELOW
9. Jules Ledesma vs. Nenita Schiavone, mom of Assunta de Rossi
Conflict areas: In 2002, the public was shocked when actress Assunta, then only 19 years old, hooked up with businessman-politician Jules, a widower who was 22 years her senior. Assunta's mom, Nenita, was beside herself when Assunta moved out of their home and promptly married Jules in civil rites that same year. The couple wed in a lavish church ceremony in 2004.
Mommy's objection: Nenita was sure that Assunta's life would be ruined by her move. In a Philippine Daily Inquirer article, she was quoted as saying, "I'm afraid that Assunta might not know what she's doing. She's confused and there are pressures from all sides. She's only 19. She'll still change her mind." Unfortunately for Nenita, Assunta didn't change her mind.
Current status: Assunta is still married to Jules-and if they still have tiffs with Nenita they're doing a good job of keeping them private. The public is still baffled by the Assunta-Jules pairing but since the two seem to be happy with their relationship, they've been left alone.

ADVERTISEMENT - CONTINUE READING BELOW
8. Phillip Salvador vs. Cory Aquino, mom of Kris Aquino

Conflict areas: When Kris was only 23, she caused a scandal when it was revealed that she had gotten pregnant by Phillip, who was 41 and still legally married to his estranged wife Sony Dabao. Cory, a former president of the Philippines and a known devout Catholic, was naturally saddened by the turn of events.
Mommy's objection: Cory addressed the public sometime after the Kris-Phillip scandal broke out. She said, "I have not heard of a mother talking about this particular kind of problem publicly, but this is the price of fame or infamy. It just upsets me so much, and it really gives me so much pain, but now I think I can talk about it." She then made it clear that while she was willing to take back Kris and her child, she was not welcoming Phillip to the family anytime soon...or ever.
ADVERTISEMENT - CONTINUE READING BELOW
Current status: Kris left Phillip in 1999 and went on to have other ill-advised relationships. She recently accused her ex-husband James Yap of making "overt sexual advances" toward her in full view of their five-year-old son.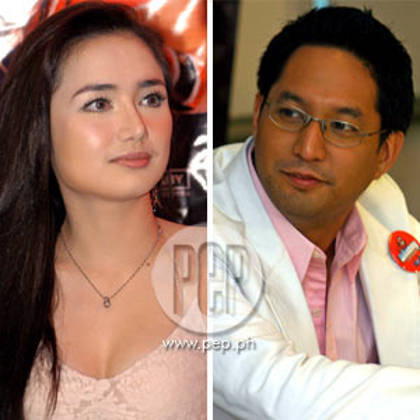 7. Paolo Bediones vs. Beth Jones, mom of Angelica Jones

Conflict areas: In 2007, Beth was reportedly fuming mad about the fact that Paolo refused to admit that he had been in a relationship with Angelica.
ADVERTISEMENT - CONTINUE READING BELOW
Mommy's objection: Beth had this to say about Paolo: "Ang masasabi lang namin, cheap siya at siya mismo ang nagpapababa ng dignidad niya (The only thing we can say is he's cheap and he's got no dignity)!" In short, she objected to his rejection of her daughter.
Current status: The whole fiasco blew over even as Beth continued to be mad at Paolo, who kept mum throughout the brouhaha. In 2012, Angelica became a single mom, giving birth to her son by a Batangas-based politician who allegedly bailed out of marrying her.
6. Piolo Pascual vs. Sharon Cuneta, mom of KC Concepcion
Conflict areas: Throughout 2012, it seemed as if the Megastar was on a mission to take down Piolo, who, by that time, had already broken up with KC. In any case, Sharon was not shy about making veiled remarks (via Twitter or during interviews) against Piolo. She said he took KC for granted and didn't act "like a gentleman."
ADVERTISEMENT - CONTINUE READING BELOW
Mommy's objection: At one point, Sharon addressed Piolo in a tweet, which read: "Punong-punong puno na ako! Akala nila basta lang namin papalampasin to? Sorry pasensyahan na lang. At pag nagsalita kami, Piolo, dahil sa fans mo (I'm fed up! Do they think I'll let this pass? You have to forgive us if we talk, Piolo, because of your fans)!"
Current status: It looks like Piolo and KC are never ever, ever getting back together. Sharon has since stopped slamming Piolo and his fans.
5. Kean Cipriano vs. Daisy Romualdez, mom of Danita Paner

Conflict areas: In 2007, Danita ran away from home (which she referred to as "hell") and accused Daisy of being a control freak. Romualdez appeared on The Buzz and revealed that Danita was mad at her because she (among other things) didn't like her alleged boyfriend Kean Cipriano, the frontman of the band Callalily.
ADVERTISEMENT - CONTINUE READING BELOW
Mommy's objection: In her The Buzz interview, Daisy angrily said, "Sinungaling ka, Kean (You're a liar, Kean)!" Daisy believed that Kean was keeping Danita's whereabouts secret.
Current status: As far as we know, Danita and Kean have since broken up. Danita has also patched things up with Daisy.
4. John Lloyd Cruz vs. Annabelle Rama, mom of Ruffa Gutierrez

Conflict areas: In 2009, as reports about Ruffa's dates with actor John Lloyd Cruz heated up, Annabelle got exasperated over the fact that John Lloyd (despite various paparazzi sightings) didn't really acknowledge his relationship with Ruffa.
Mommy's objection: PEP.ph quoted Annabelle, who said, "John Lloyd, magpakalalaki ka, okay? Kung in love ka sa anak ko, umamin ka in public! Kasi, I don't think nakakahiya si Ruffa kung... Nakakahiya yun kung hindi mo siya inaamin, di ba? Para naman siyang kept woman, di ba (John Lloyd, be a man, okay? If you're in love with my daughter, admit to it in public. I don't think Ruffa is someone you'd be ashamed of. It would seem that you're ashamed of your relationship if you don't admit that you're together, right? That would make her like a kept woman, right)?"
ADVERTISEMENT - CONTINUE READING BELOW
Current status: The Ruffa-John Lloyd love story ended abruptly. John Lloyd went on to date Shaina Magdayao. He is currently with Angelica Panganiban. Ruffa seems to be lying low on the love life front.
3. Jolo Revilla vs. Rosanna Roces, mom of Grace Adriano

Conflict areas: In 2009, Rosanna angrily admitted to the press that she didn't like how Jolo was treating Grace. By then, Jolo and Grace had already broken up. However, they were still in each other's lives because they had a son.
Mommy's objection: In a PEP.ph report, Rosanna addressed Jolo, saying, "Apat na taon nasa amin yun [Gab, Grace and Jolo's son]. Nakasama mo lang sandali, e, akala mo mabuting ama ka na, hindi ba (Gab has been with us for the last four years. You're with him for a little while and you think you're already a good father)?"
ADVERTISEMENT - CONTINUE READING BELOW
Current status: There haven't been any Rosanna-versus-Jolo reports for ages. Grace got married to a non-showbiz guy.
2. Gerald Anderson vs. Divine Geronimo, mom of Sarah Geronimo

Conflict areas: Up until early this year, fans were still hoping that the Gerald-Sarah pairing would be given a chance to bloom. However, there was no way that would happen with Divine around, as she had always told the press that she wants a non-showbiz guy for her daughter.
Mommy's objection: Divine's verbal attack is very subtle. She said in a PEP.ph interview, "Sobra naming pinagpe-pray kay Lord na, this time, kung bibigyan siya talaga ng partner o boyfriend in the future, sana hindi showbiz (We're really praying to God that, this time, if He plans to give her a partner or boyfriend in the future, it wouldn't be someone from showbiz)." She also added: "Gusto naman namin na mentally, emotionally, ganun. Siyempre, financially, masusuportahan din ang anak ko. (We want a person who's mentally and emotionally ready, and of course, financially able to support my daughter.)"
ADVERTISEMENT - CONTINUE READING BELOW
Current status: The Gerald-Sarah pairing is no more. Mommy Divine's preventive boyfriend-busting tactics are being studied by future showbiz mamas. Cock-blocking has never been done so ruthlessly or so efficiently.
1. Chiz Escudero vs. Cecile Ongpauco, mom of Heart Evangelista

Conflict areas: PEP.ph reported that on March 19, Cecile and Rey Ongpauco, Heart's parents, held a press conference to force their daughter to rethink her relationship with Chiz. Cecile called Chiz "arrogant" and accused him of being "an alcoholic." Cecile also had issues with the fact that Heart was 28, while Chiz is 43 and had already gone through an annulment.
Mommy's objection: In another PEP.ph report, Cecile said, "[He is] claiming that he is caught in the middle of a family feud; when the truth is, Chiz is the very source of our family feud." She also added, "We don't have a problem with Heart. We've never had a problem with Heart. We're very, very close. It's just that Mr. Escudero, I guess, has some kind of power that he can totally manipulate [Heart]." It's worth noting that this isn't the first time Cecile has stepped in to slam the man in her daughter's life. Actor Jericho Rosales was also the object of her ire in the past.
ADVERTISEMENT - CONTINUE READING BELOW
Current status: Heart is standing by her man. Cecile can only do so much. Maybe this time Heart really will follow her heart.
Art by Warren Espejo, with photos from PEP.ph
Share this story with your friends!
---
Help us make Spot.ph better!
Take the short survey
Load More Stories