Who You Gonna Call: A Handy List of Manila Emergency Numbers
Some helpful numbers to put on speed dial
(SPOT.ph) Apart from being a nice, quick break from the rat race each year, Araw ng Kagitingan commemorates courage and self-sacrifice. In remembrance of that, we've put together a list of organizations, both government-funded and not, that make it their business to respond to calls for help in the event of emergencies. Get ready to add to those numbers on your speed dial.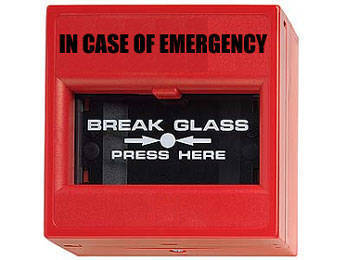 FIRE
Bureau of Fire Protection (BFP)
The BFP is an organization that aims to prevent and suppress destructive fire in buildings, houses, and other structures. It is also responsible for investigating causes of fire incidents and for assisting in times of national emergencies.
Address: Ermin Garcia Street, Pinagkaisahan Cubao, Quezon City
Phone Number: 729-5166, 410-6254, 413-8859, or 407-1230
Association of Philippine Volunteer Fire Brigades (APVFB), Inc.
The APVFB started out with five fire-fighting groups. Since then, it has helped in saving lives and properties during fire disasters and providing the community with free and voluntary service. The organization also has a foundation that provides the needed care and assistance for its volunteers.
ADVERTISEMENT - CONTINUE READING BELOW
Address: 2142 Leveriza St., Quirino Avenue, Manila
Phone Number: 522-2222
Association of Volunteer Fire Chiefs and Firefighters of the Philippines (AVFCFP), Inc.
The AVFCFP is composed of 35 volunteer fire brigades that are manned by 1, 500 firefighters and paramedics. Calls for assistance are answered on a 24/7 basis. The organization aims to improve the effectiveness of the volunteer fire service and to minimize the harmful effects of fire incidents.
Address: Harbour Centre, Road 10,Vitas, Tondo, Manila
Phone Number: 16016
Website: http://www.philippinefirefighter.org
CALAMITIES (EARTHQUAKES, FLOODING)
National Disaster Risk Reduction and Management Council (NDRRMC)
The NDRRMC is the highest policy-determining body for major disasters. Its function is to monitor the status of national disaster preparedness programs, disaster operation, and rehabilitation efforts. They are the people you see on TV during times like, say, last year's Habagat, coordinating with and answering directly to the President.
Address: Camp Aguinaldo, EDSA corner Boni Serrano, Quezon City
Phone Number: 911-5061 to 64
Website: http://www.ndrrmc.gov.ph
Philippine Red Cross (PRC)
The PRC is a non-profit organization whose services include blood donation, disaster management and safety, community health, and volunteer service.
Specific concern: assistance on disasters and natural and man-made hazards, and health concerns
Address: Bonifacio Drive, Port Area, Manila
Phone Number: 143 or 527-0000
Website: http://www.redcross.org.ph
EMERGENCY RESPONSE/CRIME
Philippine National Police (PNP)
The PNP is responsible for enforcing the law, preventing and controlling crimes, maintaining peace and order, and ensuring public safety and internal security. Can you hear your druken neighbor shouting on the street and causing trouble? Call the PNP. It is also responsible for firearms and explosives control, as well as the training and operations of security agencies.
ADVERTISEMENT - CONTINUE READING BELOW
Address: Camp General Crame, Quezon City
Phone Number: 117
Website: http://www.pnp.gov.ph
PNP Task Force Limbas
The PNP Task Force Limbas is a branch of the Philippine National Police that is focused solely on carnapping and stolen motor vehicles and license plates. It is a project that is in partnership with the DILG-DOJ Anti-Carnapping Task Force.
Specific concern: highway robbery and other motor-vehicle-related crimes
Address: Camp General Crame, Quezon City
Phone Number: 722-4068 or 725-1133 local 4359
Website: http://www.pnp.gov.ph
Citizens Anti-Crime Assistance Group
The Citizens Anti-Crime Assistance Group provides support to the PNP and other related agencies in its drive to prevent crime through the use of radio communication system. It also assists in times of emergency and civil-military operations, as well as monitoring, coordinating, and dissemination information against crime.
Specific concern: reports of crimes or abusive law enforcers
Address: Balintawak, Quezon City
Phone Number: 359-5303
Metropolitan Manila Development Authority (MMDA)
The role of the MMDA is to assist in effectively addressing the challenges of transport decongestion, climate change, waste management, and disaster prevention, among others, in Metro Manila.
Specific concern: vehicular accidents and traffic situations
Address: MMDA Building, EDSA corner Orense St., Guadalupe, Makati City
Phone Number: 882-4154 to 74
Website: http://www.mmda.gov.ph
ABUSE OR MALTREATMENT
Bantay Bata
Bantay Bata is a media-base child protection and welfare organization that is primarily concerned with the children's development and full potential. Its services include child protection from abuse, educational and medical assistance, counseling and family services, and community support services, among others.
ADVERTISEMENT - CONTINUE READING BELOW
Address: ABS-CBN Foundation Building, Mother Ignacia Avenue corner Eugenio Lopez St., Quezon City
Phone Number: 163
Website: http://www.bantaybata163.com
GABRIELA
GABRIELA is a Filipino organization that advocates for women's issues and rights. It fights abuse of human rights, poverty, violence, health, and sex trafficking, among others. It promotes female empowerment, justice, and equality.
Specific concern: domestic violence, health, maternal, and child care services, sexual harassment, and other related incidents
Address: 161 Kamias Extension, Quezon City
Phone Number: 332-7551
Website: http://www.gabrielawomensparty.net
Load More Stories