Fake It Like You Know it: Talking Sports
You're not a sports fan but you always find yourself in the middle of a sports conversation. Well, well, here's how you can survive that.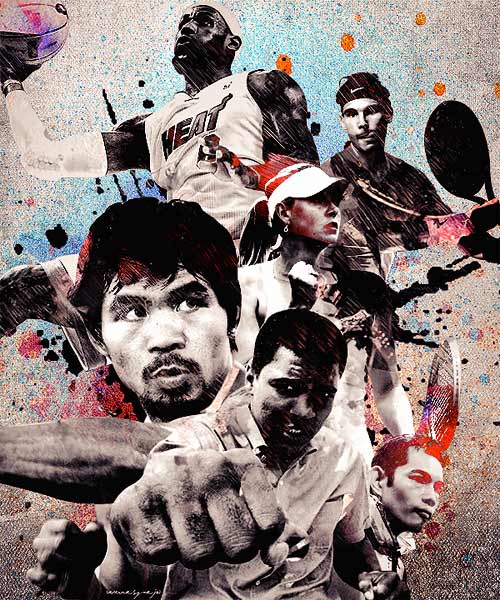 (SPOT.ph) How many times has it happened that you casually bring up Rafael Nadal's beautiful behind, only to have the person you're conversing with begin a long monologue about his solid left-handed topspin? And you want to keep talking because the Spaniard is your new favorite Tumblr discovery but alas, you're already lost in a sea of terminology. Do you just shrug and tell you friend, "Hey, I'm no sports commentator?" Of course not. You're going to wing it and sound like you know it.
Says Spin.ph Editor in chief Dodo Catacutan: "Sports involve so much intricacies and technicalities that trying to pretend knowing about it during a conversation is like walking through a football field filled with land mines. One slip and you're out." So, now that the NBA Playoffs have begun, and Ginebra has just made it into the semis-not to mention Donaire's recent loss, and the upcoming Tennis action, a little survival guide for the casual sports fan.
ADVERTISEMENT - CONTINUE READING BELOW
Conversation Coach Tip 1: Believe in yourself. Be confident, and when you say something, say it with sureness. You won't always be correct, so when your friend points something else out, just acknowledge it, clarify and ask questions.
In Basketball, the noob will say:  "That Lebron James sure is good."


He's the hottest player in the NBA right now. The big names always get big reactions, and mentioning such a player increases chances of other big-time players you've probably heard about, being thrown into the discussion.
The same goes for all-time PBA favorites, Ginebra. Still the gold standard for Philippine basketball fandom, the smart play for any non-expert is to stick to this rule: Thou shall not put the name of Ginebra in vain. Otherwise, you're giving Barangay diehards a reason to bring out the pitchforks, and say that you're a fool for not believing that this storied never-say-die team was not going to make it to this year's Commissioner's Cup semis. No unnecessary risks, my friend.   


CONTINUE READING BELOW
Recommended Videos
ADVERTISEMENT - CONTINUE READING BELOW
If you want to go to pro level, you can try talking about players who aren't of the elite caliber. This will show that you go beyond what the highlights show. Learn about these role players, specifically what one thing he contributes best to his team. Say something like: "The Heat's point guard Mario Chalmers is lucky he's on a superstar-filled team. Otherwise, he wouldn't have a ring on that finger."


Now, when you take the historic route and start tossing a few numbers here and there, the pals will respect you for having "respect for the game." Doesn't matter that all it took was a bit of Wikipedia surfing. "If the Heat can topple the decades-old 33-game win streak by the '72 Lakers, the team has a chance of being mentioned in the same breath as Jordan's 72-win team in 1996."
As it turned out, no win record was toppled to the dismay of Heat fans. So in light of the ongoing Playoffs championship chase, say this instead: "If Lebron is ever going to be in the same conversation as the all-time greats, he's going to have to secure his second championship this year, and validate what was still a remarkable achievement in winning 27 straight, second only to the decades-old 33-game win streak by the '72 Lakers." As you see, standings in sports change all the time, and the only real remedy is to not be totally oblivious. Really, that's the only way you'll be able to state your lines with a measure of certainty.


ADVERTISEMENT - CONTINUE READING BELOW
Just be confident. Say it with sureness.



Conversation Coach Tip 2: The dog who barks too much loses his bite. The goal is not to dominate the conversation; it's to keep things flowing with just the right amount of response to get those who are more informed talking more. Remember, sports fans are passionate about their sports. "They'll know instinctively if the other guy isn't much into sports. Sports involve so much intricacies and technicalities that trying to pretend knowing about it during a conversation is like walking through a football field filled with land mines. One slip and you're out," Catacutan says.


For instance, boxing. The noob will say a very conservative line, like: "Manny Pacquiao is multi-talented." Here's the deal. Pacquiao is a subgenre of his own in any boxing discussion. The possibilities are limitless: from his private affairs, showbiz and political aspirations to appearances on late night shows, everything he does can ultimately take you to the group-pleasing conclusion, "Ayan, kaya natatalo 'yan eh!"


ADVERTISEMENT - CONTINUE READING BELOW
If you feel like showing off, you can say something like: "Either way, Nonito Donaire's going to decimate Abner Mares or Guillermo Rigondeaux sticking to his peerless counter skills."

This will then prompt your friend to point out that hey Donaire actually lost the Rigondeaux fight and his "peerless counter skills" are not so peerless after all. This now is a lesson why showing off is not recommended. To recover from that knockdown, acknowledge your misstep, and let your friend get his opinions in.

That you brought up Philippine boxing's second favorite son will have scored you points, nonetheless. From here, let the talk flow into which boxer he might be fighting next and other knockout topics such as the raging subject of oh-no-why-the-hell-are-our-boxers-losing-all-of-a-sudden.


Sports are full of trivia bits that could be interesting, even to the most casual of observers. You might not be able to scientifically differentiate between a puncher, a slugger or a swarmer, but  you can steer the conversation about how sports idols also have quirky, almost human-like habits: "Did you know that when George Foreman became the oldest boxer to win the heavyweight championship at 45, he wore the same pair of shorts he wore when he lost to Muhammad Ali in the '70s?"
ADVERTISEMENT - CONTINUE READING BELOW
Just remember:  The goal is not to go for the winning punch. Otherwise, you'll end up like Pacquiao on the business end of a Marquez counter.





Conversation Coach Tip 3: Eyes open, ears alert-knowing when to speak is important in any conversation, sports or otherwise. Don't cut in. When you don't have anything interesting to add, perhaps you can simply listen and observe. At the same time, like a defensive player studying the opponent, pick up key points that you can then translate to a somewhat intelligible argument when your turn arrives. Catacutan advises for you to "speak in generic terms, avoid going into specifics, and listen. Hardcore fans can go on and on about the sport. Next thing you know, two hours of 'meaningful' conversation have passed."


For a sport like MMA, don't blurt out the oldest joke in the book: "MMA is a sport where two sweaty men roll around in a tight embrace." MMA fans will hate you for it, and it will make you look like a homophobe. Among fans, it's regarded the same way as a bad joke about how "Muhammad Ali shakes like a Polaroid picture," or that "Kobe will soon eclipse Jordan's six rings." You will give yourself away.


ADVERTISEMENT - CONTINUE READING BELOW
When your turn arrives, we suggest you go for a local tilt: "Thanks to URCC and PXC, the local MMA scene has grown at an excellent rate. Soon, we might just have more contenders in the UFC." Do not forget to toss out various organizations involved in any sport. For more hardcore points in MMA's case, mention how much you miss the Japanese league Pride FC's brutality, and its rules which allowed for stomping an opponent when he's down.


Conversation Coach Tip 4: Know your strengths. Maybe you aren't a fan of the entire sport, but are absolutely enchanted by (and know a lot about) one player. Steer the conversation towards what you know, and let the talk branch out from there to the various other points of the game.
Let's go back to tennis. You blurt out, "Ang pogi ni Nadal." Discussing a player's looks is always fair game. If you're an all-boys party though, it might be better to jabber endlessly about Sharapova's TV-friendly skirts.


ADVERTISEMENT - CONTINUE READING BELOW
Point out a new development in the game, say, like having a new number one: "Novak Djokovic has shaken up the tennis hierarchy."The rise of a new number one in a sport, as the fiery Serbian player did, gets tongues flapping about a) how other players may be more deserving, b) how other up-and-coming players can overtake, or c) how other former number ones have gotten old. It's always a good thing to keep the conversation going.


While you might know shitloads about tennis, making a comment on the state of the game will make you sound like a Wiki scribe. Hold your tongue when you feel like saying something similar to this: "The physically-taxing modern power baseline game will likely make it harder for players to hold on to the number one spot for record-setting stretches."



Conversation Coach Tip 5: Get the last shot in. If you've been listening hard, you can attempt to "steal the ball" as the conversation dials down, and summarize the good points that have been raised-your own and theirs. Restating these thoughts not only make you look smart, your friends will also notice how awesome a listener you are! Now here, enjoy this trophy!


Next time the Azkals-God forbid- lose, perhaps you can just mutter a vaguely cool, "Man, they sure could use some kung-fu skills right now."


In football, it's quite difficult to keep up with all the qualifiers and tournaments. But goals, since there are only a few in a game, are easier to keep track of. Focus on those, the same way you'd scream about a knockout punch or a basical player getting posterized. "What a goal by (insert player name here)!" Summarize the good points.


ADVERTISEMENT - CONTINUE READING BELOW
Share this story with your friends!
---
Help us make Spot.ph better!
Take the short survey
Load More Stories