Hot on Spot: Political Feuds of the Moment
Which politicians are at each other's throats these days?
(SPOT.ph) With less than a month to go before Election Day, politicians are intensifying their pitches to the people. Hyperbole aside, they're simply saying, "Pick me, choose me, love me." (With apologies to Grey's Anatomy.) Naturally, a number of them have gotten carried away in the heat of the moment.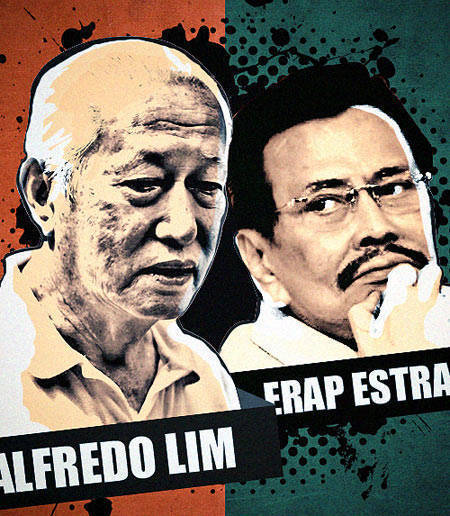 The hottest politicial feuds of the moment involve the entire cast of Pinoy political personalities-from veteran heavyweights to fairly new lightweights. (Heck, even people who aren't directly involved are included.) Naturally, they're all giving it as good as they've got.

 

 

Let the games begin. Isko Moreno and five other Manila City councilors get nabbed for hosting a bingo game.

 

In February, before the campaign period for local elections officially started, re-electionist Manila vice mayor ISKO MORENO (real name Francisco Domagoso) got arrested for hosting a bingo game on Tambunting Street in Sta. Cruz, Manila. Moreno, along with five other city councilors, was brought to the police station. Moreno was initially accused of violating campaign rules. However, he was later cleared by the Commission on Elections (COMELEC). Moreno and his allies accused reelectionist Manila mayor ALFREDO LIM of orchestrating the arrest. Moreno believed that Lim was after him because he had chosen to run for re-election alongside former president JOSEPH "ERAP" ESTRADA. Lim denied the accusation.

ADVERTISEMENT - CONTINUE READING BELOW

 

Clash of the city titans. Tough guys Erap and Fred pull no punches.

 

Despite Lim's claim that he was not the so-called mastermind of Moreno's arrest, Estrada didn't believe him. Shortly after the bingo fiasco, the two entertained crowds with their word war "series." In their TV appearances, Estrada taunted Lim for being a traitor, saying that the latter abandoned him when he was being ousted as President. Lim, on the other hand, referred to Estrada as "a liar and a drunk."

 

Sibling tension? Though they say they're OK, reports allege that Jinggoy and JV aren't feeling the brotherly love. Reports of their supposed rift started last year and have persisted since.


 

In any case, Estrada also had to contend with problems in the family. His sons JINGGOY (who will be in the Senate until his term ends in 2016) and JV EJERCITO (who is a Senate hopeful) are allegedly fighting. The half-brothers' spat was the subject of reports late last year and the tiff appears to be continuing. Case in point: ABS-CBNNews.com recently reported: "Senator Jinggoy Estrada on Thursday, April 4, said he was hurt by his half-brother, Rep. JV Ejercito's alleged snubbing of his daughter during the proclamation rally of local candidates of the United Nationalist Alliance (UNA) in San Juan City. During the rally, Ejercito was seen on video shaking hands with all UNA candidates on stage except for JANELLA ESTRADA, who's running for councilor of San Juan." San Juan, of course, is considered one of the bailiwicks of Erap's family.

ADVERTISEMENT - CONTINUE READING BELOW

 

No love lost. Senate hopeful Rep. Mitos Magsaysay readily shares her scathing observations about Sen. Franklin Drilon.

 

Speaking of the Senate, aspirant Rep. MITOS MAGSAYSAY didn't hesitate to tell the public exactly what she thought of Senator FRANKLIN DRILON. Back in February, ABS-CBNNews.com reported that in her interview on ANC's Headstart, Magsaysay described Sen. Franklin Drilon as "super balimbing." The report revealed that "Magsaysay noted Drilon kept switching sides depending on who is sitting in Malacañang." Drilon, whom Magsaysay had slammed in the past for presumably calling her a "fake Magsaysay," refuted her balimbing allegation. For the record, Drilon also denied ever calling her a "fake Magsaysay."

 

 

<>Battle of the Bisayas. Senator Koko Pimentel and former senator Migz Zubiri have some family ties, but they sure don't act like it. <>  <>Perhaps, the Magsaysay-Drilon feud can only be topped by the conflict between Senator KOKO PIMENTEL and former senator MIGZ ZUBIRI. The rift between the two started when Pimentel accused ZUBIRI of getting elected because of election fraud in 2007. Amid the investigation in 2011, Zubiri resigned from the Senate. He said he had been clueless about any irregularities in the 2007 polls and he was resigning in order to remove the perception that he had participated in any wrongdoing. <>  <>Pimentel hasn't quite forgiven Zubiri for taking away a good number of his Senate years. It looks like their feud will run for years more. In an exclusive report published last March, ABS-CBN News highlighted this statement from Zubiri: "(Pimentel's) estranged wife (Jewel Lobaton) is my cousin and she herself confided to me that she is a battered wife." Pimentel denied the allegation and Lobaton later issued a signed statement saying the same thing. Nevertheless, Zubiri said he was standing by his accusation.

ADVERTISEMENT - CONTINUE READING BELOW

<>  <> <>Holy war. The Church isn't so forgiving when you're an RH Bill supporter.
<>  <>But, of course, when it comes to domestic issues, nobody beats the CHURCH going up against the PRO-RH BILL LAWMAKERS, whom they had lumped together as "Team Patay." In particular, the Church is urging its members not to vote for Aurora Representative Juan Edgardo Angara, Bayan Muna Representative Teodoro Casiño, Paolo Benigno Aquino IV, Senator Alan Peter Cayetano, Cagayan Representative Jack Enrile, Risa Hontiveros, Senator Francis Escudero, Senator Loren Legarda, and former Senator Jamby Madrigal. Party-lists Gabriela, Akbayan, Bayan Muna, and Anakpawis are also on the "hate list." The Diocese of Bacolod was identified as the "ringleader" of the Team Patay concept. The COMELEC later order them to remove the tarpaulin hanging at San Sebastian Cathedral. <>  <>  <> <>Kris and State. Retired Archbishop Oscar Cruz seemed to be alarmed by rumors that Kris Aquino was planning to run for vice president in 2016. <>  <>Then again, the Church's people work in mysterious ways. Early this month, it was reported that Retired Archbishop OSCAR CRUZ seemed to have gotten agitated by rumors that KRIS AQUINO (Do we need to explain who she is?) was planning to run for vice president in the 2016 national elections. Malacañang, where Aquino's brother is the head honcho until 2016, told Cruz to "leave Kris alone." Clearly, preemptive feuds are not allowed. <>  <>In light of all these smackdowns, we can be sure that more of them will come to light as Election Day approaches. Will there be anything good resulting from these hostilities? The short answer is, "No." But at least we know the rules of mudslinging haven't changed.

ADVERTISEMENT - CONTINUE READING BELOW
Load More Stories