MOVIE REVIEW: Oblivion
Will <em>Oblivion</em>'s dream-like experience save it from its narrative weaknesses?
(SPOT.ph) Oblivion is set in the year 2077, when most of humanity has fled Earth for one of the moons of Saturn following an invasion by alien Scavengers. Though mankind won the war against the invaders, the conflict's nuclear fallout made most of the planet uninhabitable. Jack Harper (Tom Cruise) and his lover Victoria (Andrea Riseborough) are the pair assigned to monitor what was once the US East Coast for alien stragglers and to maintain the equipment needed to keep human beings alive near Saturn. One day, however, Jack comes upon the hibernating Julia (Olga Kurylenko) and saves her from an encounter against hostile machines that nearly kill them both. What Julia tells Jack after she wakes up from her decades-long slumber is a mind-bending revelation that makes Jack question everything he knew about himself and his mission.
PLUSES

The resplendent set design and striking cinematography. Oblivion is the second feature film of director Joseph Kosinski, the architect-turned-moviemaker whose first film was the visually stunner, Tron: Legacy. But where Kosinski's sequel to Disney's cult 1984 film merely updated the world of Tron for the 21st century, Oblivion allows him  to apply his gifted imagination to a much more expansive world. His background in architecture is evident in the sleek and sumptuous design of Jack and Victoria's living space perched high above the earth, where they can go night swimming in a transparent, to-die-for swimming pool illuminated by the shattered moon. But the sets aren't all about futuristic chic. Elsewhere in the film, there's also a homey retro cabin stuffed with vinyl records and leather-bound books that anyone would be lucky to do some R&R in. Making it even more gorgeously inviting is the lensing and lighting of Claudio Miranda, who won the Oscar for cinematography two months ago for his enchanting work on Life of Pi.
ADVERTISEMENT - CONTINUE READING BELOW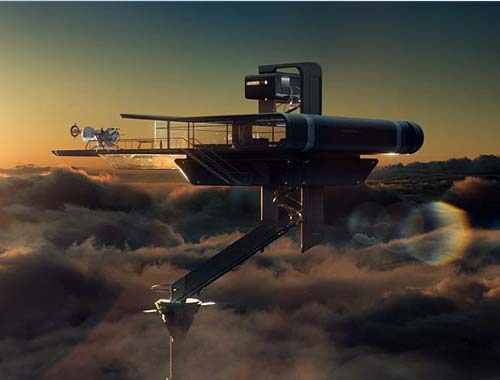 CONTINUE READING BELOW
Recommended Videos
The nods to iconic sci-fi movies. Aside from being an intriguing work of science fiction/speculation,  Oblivion also tips its apocalyptic hat to the genre itself. Among the great (and not so great) flicks it makes geeky, nostalgic references to in its action setpieces and story twists are 2001: A Space Odyssey, Star Wars, Wall-E, Minority Report, Total Recall, Blade Runner, Inception, AI: Artificial Intelligence and even Mad Max: Beyond Thunderdome! The polished craftsmanship surrounding these homages- particularly the amazing visual effects- more than make up for last week's dull and dreary misfire, The Host.
ADVERTISEMENT - CONTINUE READING BELOW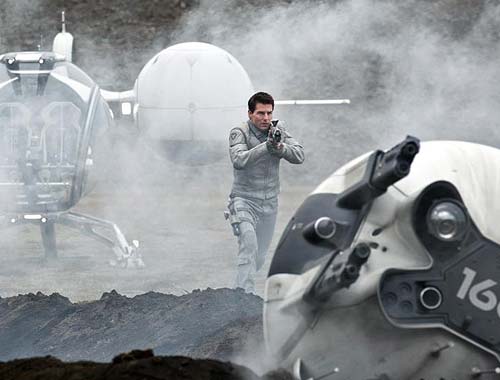 The multi-faceted music. Though the engaging score which French band M83 composed for Oblivion never quite reaches the level of throbbing electronic perfection achieved by Daft Punk in Tron: Legacy, the music for Tom Cruise's latest foray into sci-fi still stands heads and tails above other motion picture scores in melodiously and evocatively separating the many characters, moods, and locations from one another.

MINUSES

The complicated story. I've seen Oblivion twice as of this writing, and there are still elements of the babushka-like, lie-wrapped-around-a-secret plot that I have trouble making sense of.   


ADVERTISEMENT - CONTINUE READING BELOW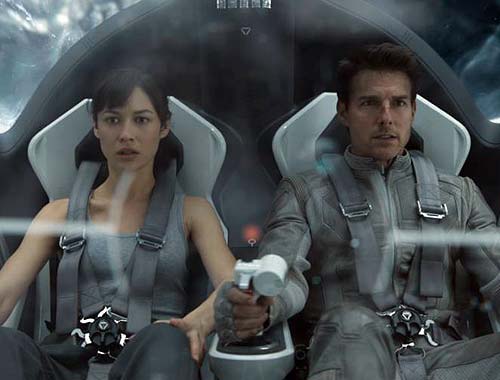 The silly climax. Remember the absurd ending of 1995's Independence Day, which saw an advanced alien race being defeated by a computer virus? Well, the climax of Oblivion has a similar, forehead-slapping moment where a superior intelligence is outsmarted by Tom Cruise using one of the oldest tricks in the book.              

IN BRIEF: Like Kosinski's Tron sequel, Oblivion is beguiling and sonorous, a dream-like experience that's both a visual and aural treat. Unfortunately, however, Oblivion also has the narrative weaknesses that clipped Tron: Legacy's wings and prevented it from soaring to stratospheric heights.  

Rating: 3½ out of 5 spots •••
ADVERTISEMENT - CONTINUE READING BELOW
Share this story with your friends!
---
Help us make Spot.ph better!
Take the short survey
Load More Stories