2013 Election Guide: Automation Nation
We can't tell you who to vote for but we're here to answer questions on the literal how-to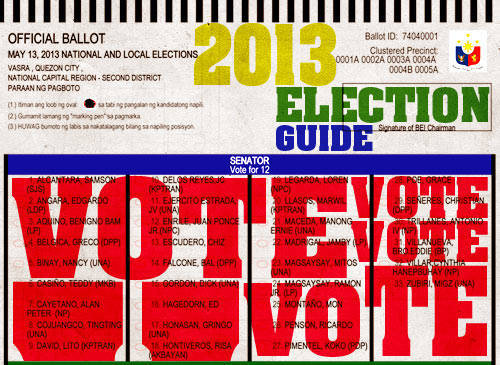 (SPOT.ph) Welcome to the age of the automation. Some of us have been here for a long time and if you feel like you already know what you're doing, then you can skip this. But for those who need a little help, we're here for you. And so is Comelec. This is a mini celebration of their attempts to make our elections a little more bearable. Some of it is in vain, some of it we can work with.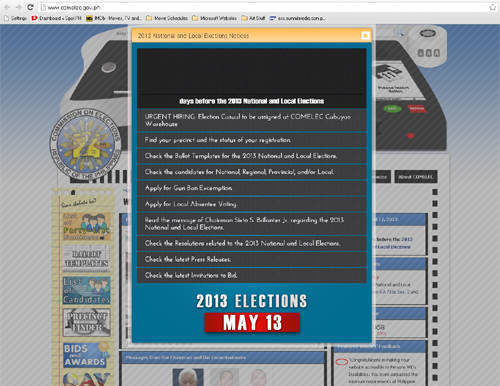 ADVERTISEMENT - CONTINUE READING BELOW
Start preparing by checking Comelec's official website. When it opens, a pop-up with pertinent information will appear.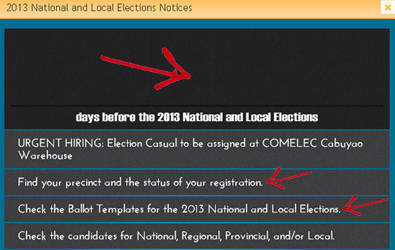 CONTINUE READING BELOW
Recommended Videos
Where the big red arrow is pointing, Comelec indicates the number of days left before the election. Below it, we've pointed out sections that you may want to check out before May 13.
ADVERTISEMENT - CONTINUE READING BELOW
1. Find your precinct and the status of your registration
Registered voters can click the Precinct Finder and verify their status. While this seems redundant, it might come in handy in the event that your right to vote is challenged. This seems unlikely, but you never really know what will happen come election day.
Under the Omnibus Election Code:
(b) No voter shall be required to present his voter's affidavit on election day unless his identity is challenged. His failure or inability to produce his voter's affidavit upon being challenged, shall not preclude him from voting if his identity be shown from the photograph, fingerprints, or specimen signatures in his approved application in the book of voters or if he is identified under oath by a member of the board of election inspectors and such identification shall be reflected in the minutes of the board.
This means that you should go out and vote even if your Voter's ID hasn't been printed. Your name and all your other biometric information are in the Comelec's records, thus you should be allowed to vote. That being said, do bring a valid ID to be sure.
ADVERTISEMENT - CONTINUE READING BELOW
2. Check the Ballot Template for the 2013 National and Local Elections
Comelec has a PDF of ballot templates at hand and this will come in handy for first time voters. When you click the link, you will be redirected to this page that lists all the regions of the Philippines. You'll find your area if you check the precinct finder. Simply select your area and it will lead you to your specific ballot template.
The PDF will look something like this: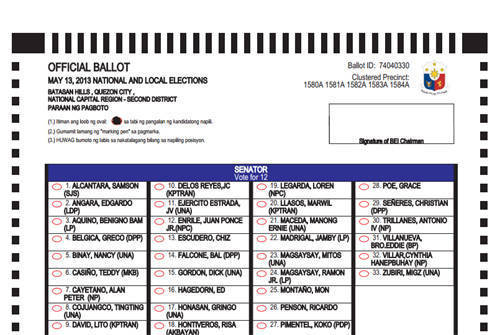 ADVERTISEMENT - CONTINUE READING BELOW
It will contain the names of all the candidates and you can now start doing your research on them, if you haven't done so yet. Another important part of the ballot is this:

Comelec clearly asks that you color within the line and don't over-vote. They indicate under each section how many circles you should shade, so pay attention.
ADVERTISEMENT - CONTINUE READING BELOW

It is also mandated by the Omnibus Election Code that the precinct should have all the right equipment, meaning pens will be provided for you. It is wise to bring a "cheat sheet" when you vote so you don't get flustered. Don't overestimate yourself because like a pageant contestant, we all tend to get nervous come Question and Answer portion.

3. Who should be in the polling place?
We'll say it again, bring a valid ID and a cheat sheet. Bring a lucky charm or some small religious item that makes you feel safe because we recognize that these are trying times. Do what you can to feel at ease.

ARTICLE XVII, Section 192 of the Omnibus Election Code specifically permits only the following people in the polling place:
Members of the board of election inspectors
The watchers, who must stay in a space designated for them
The representatives of the Commission
The voters casting their votes
The voters waiting for their turn to get into the booths, whose number shall not exceed twice the number of booths
The voters waiting for their turn to cast their votes whose number shall not exceed 20 at any one time.
ADVERTISEMENT - CONTINUE READING BELOW
Unless they are voting, military personnel and police officers are not allowed in the polling place. Even your friendly neighborhood barangay tanod is only allowed inside to vote.
Also keep in mind that the campaign period officially ends on May 11, 2013 and that there should not be any "unofficial campaigning" after that. Nobody is allowed to hand out any sort of pamphlet encouraging you to vote for anyone.
Regarding exit polls:
Exit polls should be conducted 50 meters from the polling place
People conducting it should wear visible identification cards issued by the organizations they represent
You, the voter, has the right to refuse to answer
4. Voting schedule
The casting of votes starts at 7 a.m. and ends at 3 p.m. People who are within 30 meters of the polling place will be allowed to cast their vote after voting hours officially ends. Simply put, if you're still in line after 3 p.m., you are still allowed to vote. However, we do advise people to get to the precincts early, especially those who live in populous areas.
ADVERTISEMENT - CONTINUE READING BELOW
5. Practical tips for the day itself
We are being redundant but rightfully so. This is a matter of national importance and we cannot stress that enough. Bring a valid ID, bring a cheat sheet, and get there early. Charge your media players and smartphones, bring water, bring an abaniko because it's summer and it's hot, hot, hot.
Do not talk to anyone about who you're voting for within the polling area or even outside it. This is not only for your own safety, you might get your candidate disqualified. There will be people assisting you as you enter the polling place. You should be directed to the table that has the list of registered voters. Once you are confirmed, you will be handed a ballot.
Keep your hands clean when you are voting, keep the paper smooth, and color within the lines. After you've filled out your ballot, go to where the PCOS Machine is located. Someone might assist you at this point but you are to feed your ballot to the machine on your own. You are not to hand it to anyone.
ADVERTISEMENT - CONTINUE READING BELOW
Once you're done with the PCOS Machine, you'll be assisted to the table where your fingernail will be stained with indelible ink. Congratulations.
Leave there with a smile on your face and don't be grumpy. These are teachers who aren't getting sufficient appreciation for what they are doing for the country. Thank them as you leave the polling area. Do not linger, just head on home, and be safe.
Share this story with your friends!
---
Help us make Spot.ph better!
Take the short survey
Load More Stories