Hot On Spot: A Love Letter to Nancy Binay
Here's a missive that may or not make the Senate hopeful laugh.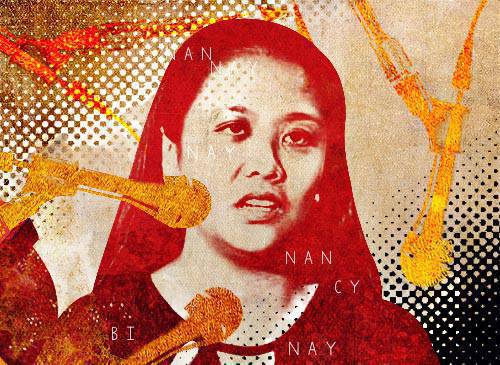 Dear Nancy,
First of all, let me tell you that you're not black. You're actually very dark brown with a grayish tinge. You don't use bronzer, do you? Why don't you try some? Still, it's really great that you haven't gone nuts over whitening products like so many others who wish to be white. I tried papaya soap myself, but only on my elbows, knees, and singit. Maybe you should do the same. I believe that some spots on your body really need to be lighter-not kabuki or SM-salesladies'-face white but just light enough so people don't think you've recently emerged from the sewer.
But enough of this talk about whitening and gray areas.
I was really disturbed when so many people made you lait for being a personal assistant to your mommy when she was Makati mayor from 1998 to 2001 and your daddy when he became the country's Vice President in 2010. What's wrong with that? At least, you didn't go out and make a nuisance of yourself in the job market after you graduated with your Tourism degree from UP in 1997. There's no need to compete for jobs with other people who may need it more. Keeping it in the family is also Earth-friendly. Your mommy and daddy don't have to waste so much energy training you to adapt to their working styles.
ADVERTISEMENT - CONTINUE READING BELOW
Your bio says you quit working for your mommy when you got married. There's a woman named Domini Torrevillas, who writes for The Philippine Star, who seems to be your fan. She wrote in her column's January 31, 2013 entry, "Who is Nancy Binay?," that "Nancy and 'Pito' Angeles look so alike they're mistaken for siblings." She also revealed the charming story about you not having any maid or yaya when you were a newlywed. You've truly learned well from your daddy, who showed everybody that he's still got masa soul by being filmed eating rice and sardines with his hands. Maybe you should get filmed doing the laundry as well. It's a smart move that will definitely warm so many voters' hearts. Because, really, we should all just use our hearts to decide whom to vote for. The brain is so overrated. It's not even a cute body part. Hearts are way cuter than brains, 'di ba?
CONTINUE READING BELOW
Recommended Videos
ADVERTISEMENT - CONTINUE READING BELOW
But you probably already know that. That's exactly why I understood your reasons for not agreeing to engage in a debate with your fellow Senate hopeful Risa Hontiveros. There's no need to argue and bring out all that negativity. Especially with this crazy summer heat. Let's leave nasty debates to Koko Pimentel and Migz Zubiri because they really can't help it; they are testosterone-based life forms.
So, yes, I applaud you for not engaging in debates. It's a waste of time. You don't have to prove that you can keep up with anyone else when you're already popular. Your name already sounds familiar so people will vote for you.
Don't mind those people who wrote a spoof-y satirical report about your daddy getting a temporary protection order to ensure that you don't participate in debates. That fake report was just so hilarious. I couldn't help but laugh and share it, like, 100 times via Facebook. What made it even funnier was that so many people thought it was real. That's when I realized that the funny faux report was so cruel pala. Sorry. Forgive me na, I said 50 Our Fathers to repent.
ADVERTISEMENT - CONTINUE READING BELOW
'Di bale na your haters. I think you have a great chance of becoming senator. I just have a good feeling about you. Although I have to confess that I really hate your slogan. "Serbisyong Binay ang inaalay?" It sounds so...old. So traditional. So trapo. Why can't you use cooler slogans like "Nancy is no pansy," "Nancy drew a great plan for the Philippines," "Get ready for democ-Nancy," and "Nancy is a busy bee nanay"? Or, if you really want to use "Binay," why not this: "Once you go Binay, you never go hinay-hinay." Anyway, it's too late for that. If you lose, blame it on your slogan.
Lastly, I want to greet you happy birthday in advance. You're turning 40 a day before the elections. That must be exciting. I thought of sending you a birthday cake, but then I'm sure you're sick of birthday cakes by now. I had also wanted to tell you that I'd give you my vote as a birthday gift...but I can't. I won't be able to cast my vote on May 13, as I am scheduled to undergo brain surgery on that day. I shall just vote for you in spirit. It's the thought that counts and what-not. Just remember that I "heart" you even if I have no damn idea what your platform is all about. I'd Google it-but what's the point?
ADVERTISEMENT - CONTINUE READING BELOW
Stay extremely tan!
Your "fan,"
Alex
[Ed's note: We asked Alex Evangelista to write another piece for SPOT.ph after the response to Hashtag Your Face. Evangelista matriculated from the University of the Philippines, took graduate studies abroad, has worked in two national publications, and is currently involved in public governance.]
Share this story with your friends!
---
Help us make Spot.ph better!
Take the short survey
Load More Stories