MOVIE REVIEW: Iron Man 3
<em> Iron Man 3 </em> pulled out all the stops, including an army of iron men and killer one-liners.
(SPOT.ph) Iron Man 3 begins with Tony Stark (Robert Downey Jr.) confessing that he may be headed for a nervous breakdown after the events depicted in The Avengers. When a terrorist bombing orchestrated by the mysterious Mandarin (Ben Kingsley) injures Stark's former bodyguard Happy Hogan (Jon Favreau), Stark vows to bring The Mandarin to justice, catalyzing a series of events that will not only destroy the billionaire industrialist's personal world, but threaten the life of the woman he loves, Pepper Potts (Gwyneth Paltrow). And though Stark has good friend Rhodey (Don Cheadle) to help him and a fleet of cutting-edge iron men at his disposal, the Mandarin may not be as easy to vanquish because of his alliance with the brilliant scientist Aldrich Killian (Guy Pearce), a figure from Stark's past.


PLUSES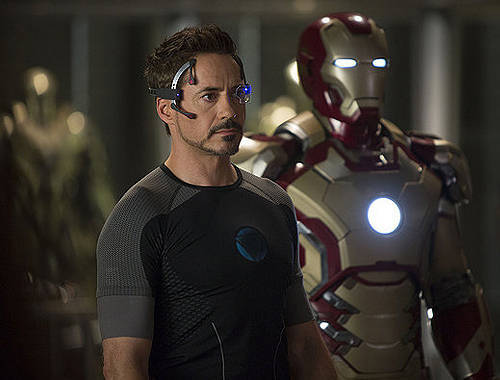 ADVERTISEMENT - CONTINUE READING BELOW

Robert Downey Jr. as Tony Stark. Downey reportedly walked away with $55 million in salary and bonuses from The Avengers. With his syncopated line delivery and uncanny ability to make moviegoers relate to and root for a billionaire playboy, he's worth every penny.    


Ben Kingsley as The Mandarin. Only the guys at Marvel would have the audacity to cast the actor who won an Oscar for playing Gandhi, as a terrorist mastermind. Portraying  a fearsome madman of unclear ethnicity sporting the facial hair of Osama bin Laden, Kingsley excels in a villain role that's unlike any ever seen in a superhero movie.
CONTINUE READING BELOW
Recommended Videos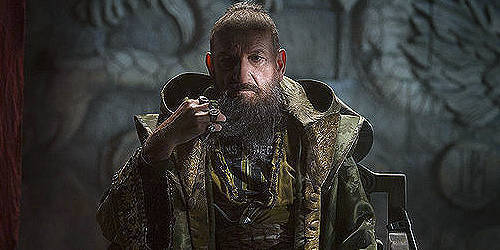 ADVERTISEMENT - CONTINUE READING BELOW

Tony Stark and Harley, the cute kid. As he tries to bring The Mandarin to justice, Stark finds himself in the town of Rose Hill, Tennessee, where he meets an eight-year old boy named Harley (Ty Simpkins). More than the Tony-Pepper, Tony-Rhodey or Tony-Happy relationship, it's the bond that Stark forges with the precocious Harley that is this three-quel's freshest ingredient. It's probably the pairing that Iron Man 3 co-writer and director Shane Black had most fun scripting and putting onscreen, reminiscent as it is of the Mel Gibson-Danny Glover repartee from the Lethal Weapon movies that made Black one of Hollywood's hottest scriptwriters in the late 80s. In fact, the funniest line in the movie is delivered not by Robert Downey Jr., but by Ty Simpkins.  


The eye-popping 3D action and ethereal computer simulations. There are many spectacular scenes in Iron Man 3 that are made even more stunning in 3D. Among them are the destruction of Stark's Malibu mansion and the explosive finale featuring lots of iron men. But my favorite setpiece of all is the mid-air assault on Air Force One. Seen in vertiginous 3D, it'll give viewers an idea how exhilarating or terrifying skydiving is, depending on how brave or chicken they are. As for computer-generated visual effects, I adored the scene where Guy Pearce takes Gwyneth Paltrow "inside" a 3D simulation of his brain's activity. Jaw-dropping and fascinating, it's a theme park attraction waiting to happen.
ADVERTISEMENT - CONTINUE READING BELOW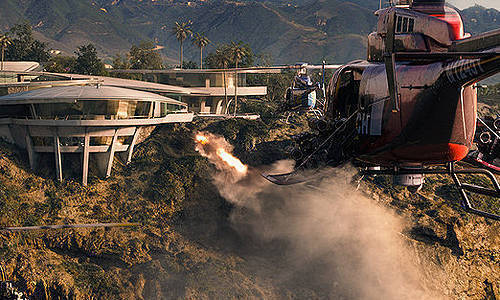 The numerous twists and surprises, including the one after the end credits. In weaving its tale of vengeance and retribution, Iron Man 3 offers narrative twists of fate and startling revelations involving damsels in distress and megalomaniacal villains that you won't see coming. When it's all over, wait till the end credits are over for a surprise cameo that will have you exiting the theater with a smile on your face.       


ADVERTISEMENT - CONTINUE READING BELOW
MINUSES


The slow start. Because it doesn't begin with the Paramount or Marvel logo but rather with darkness accompanied by the voice of Robert Downey, you might not even know that Iron Man 3 has begun. After this unusual and gutsy start, however, and it becomes apparent that what you're hearing is the voice of a troubled Tony Stark, the movie flashes back to New Year's Eve 1999 where nothing particularly exciting happens. So much for grabbing the audience's attention in the first five minutes of screen time.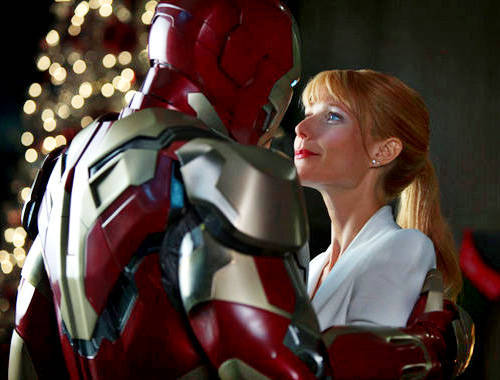 ADVERTISEMENT - CONTINUE READING BELOW

The contrived situations and characters. Not everything in the Rose Hill scenes is easy to swallow. Coincidences and contrivances involving a woman at a bar, a guy guarding a TV news van, and even the aforementioned cute kid diminish the story's impact by providing short-cut answers to looming problems. Scriptwriters Shane Black and Drew Pearce lose pogi points for relying too much on luck to move the story forward.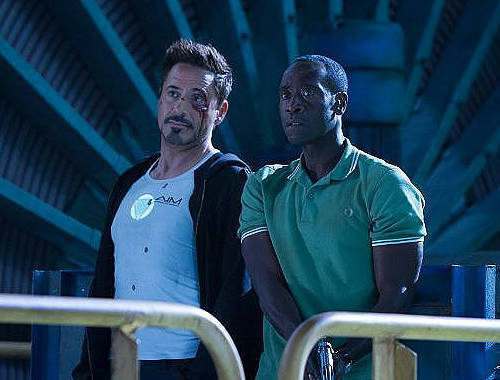 ADVERTISEMENT - CONTINUE READING BELOW

The overwritten banter. The quips that writer/director Joss Whedon used in The Avengers emerged seemingly effortlessly from his script and were delivered flawlessly by the actors portraying Earth's mightiest heroes. Thor's "He's adopted" comment about Loki and Tony Stark's "Doth mother know you weareth her drapes?" dig at Thor were still being quoted by fans long after they saw the movie. With Iron Man 3, you get the feeling that scriptwriters Black and Pearce tried to "out Joss" Joss Whedon by giving their characters what they hoped were lots of cool one-liners. Sadly, though, none of these lines are very memorable, save perhaps for The Mandarin's quote about fortune cookies and the line, "I'm cold," which is my favorite from the film.  


IN BRIEF: Way better than Iron Man 2 and more action-packed than Iron Man, Iron Man 3 is an efficiently entertaining popcorn popper that has everything viewers want in a superhero flick. Overwritten dialogue and other script flaws, however, prevent this three-quel from joining the ranks of such exuberant, totally exhilarating superhero flicks as The Dark Knight, The Amazing Spider-Man, and The Avengers.


ADVERTISEMENT - CONTINUE READING BELOW
Rating: 4 out of 5 spots for 3-D release ••••; 3 ½ out of 5 spots for 2-D release •••
Share this story with your friends!
---
Help us make Spot.ph better!
Take the short survey
Load More Stories