The Barretto Family Feud: A Timeline of Pain
Who needs <em>telenovelas</em> when we have this?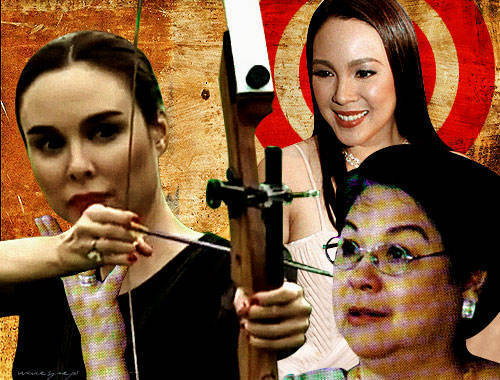 (SPOT.ph) For the past few days, the Barretto family feud has grabbed headlines. Until this year, reports of the clan's spats only mentioned actresses Gretchen, Marjorie, and Claudine. This time around, their whole family seems to have joined the fray-with each member taking sides. Their mother Estrella "Inday" Barretto may have shocked the public with her April 22 open letter, which was published in Ricky Lo's column-but it looks like this clan conflict has been brewing for decades.
To try to make sense of the family smackdown that has more subplots than any telenovela saga, we've come up with a timeline of sorts that will help the morbidly curious understand what the hell is going on. It won't explain everything, but it'll help you keep up with the tsismis debates.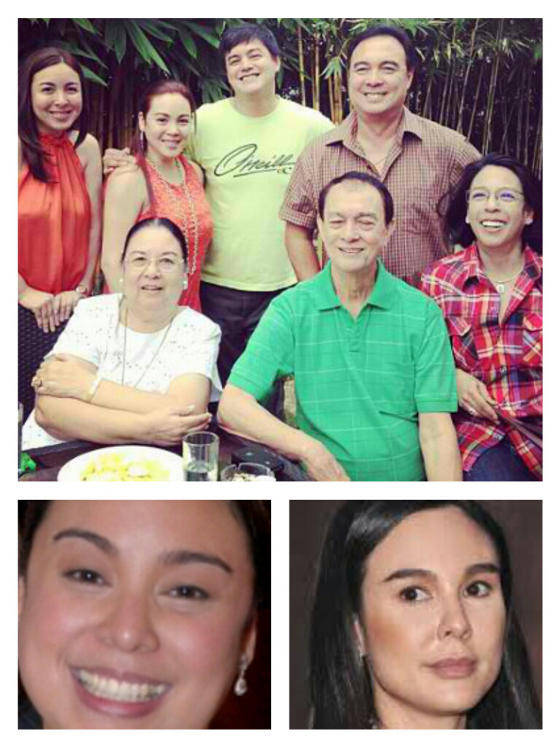 ADVERTISEMENT - CONTINUE READING BELOW
One big happy family? Marjorie and Claudine with Jay-Jay (in yellow), Mito (in checkered polo), and Mitch (in plaid) with their parents Inday and Miguel. Not in the main picture: Gia (left) and Gretchen (right).
THE MAIN CHARACTERS
Estrella "Inday" Barretto - The mother of actresses Gretchen, Marjorie, and Claudine. She has four other children, Mito, Michelle or "Mitch,"  Joaquin or "Jay-Jay," and Gia. In order of birth, her children are: Mito (No. 1), Mitch (No. 2), Jay-Jay (No. 3), Gia (No. 4), Gretchen (No. 5), Marjorie (No. 6), and Claudine (No. 7).

Miguel Barretto - The Barretto clan patriarch.
CONTINUE READING BELOW
Recommended Videos
Gretchen Barretto - The first Barretto to join showbiz, she is the partner of tycoon Tonyboy Cojuangco. They have one child, a daughter named Dominique, 18. Throughout her life in the spotlight, Gretchen has also had public tiffs with Imelda Cojuangco (Tonyboy's mom), Dawn Zulueta, and Nadia Montenegro.

Marjorie Barretto - A councilor of Caloocan City, she is the mother of 16-year-old Julia Barretto, who's one of the young stars being groomed by ABS-CBN. Julia is Marjorie's child with comedian Dennis Padilla. They have two other kids: Claudia and Leon. Marjorie also has a daughter with actor Kier Legaspi, Dani, her eldest child.
ADVERTISEMENT - CONTINUE READING BELOW

Claudine Barretto - The youngest of Inday Barretto's children. She is married to actor Raymart Santiago. They have two children: Sabina and Santino. Claudine's recent travails include her "weepy" episode at a bank, her smackdown at the NAIA with journalist Ramon Tulfo, and her marital woes.


Julia Barretto - The 16-year-old daughter of Marjorie Barretto, who is said to be one of the causes of the feud. Her aunt Claudine is being accused of making threats to cause trouble that would derail her showbiz career. Claudine has denied the allegation.

PICKING SIDES
Team Gretchen - Jay-Jay, Mito, Michie, and Marjorie*
Team Claudine - Inday, Miguel, and Gia*
*This is according to Jay-Jay's PEP.ph interview.
HEATED PAPER TRAIL
To understand the latest Barretto blow-up, you have to read the following explosive missives:
1. Inday Baretto's April 22 letter entrusted to Ricky Lo, which came out in Lo's The Philippine Star column on April 24
ADVERTISEMENT - CONTINUE READING BELOW
2. Joaquin "Jay-Jay" Barretto's April 24 letter, which was published by ABS-CBNNews.com and various media outlets on the evening of that same day
3. Gia Barretto-Reyes' letter, which came out on April 26
4. Inday Barretto's statement to The Buzz, which was read on air on April 28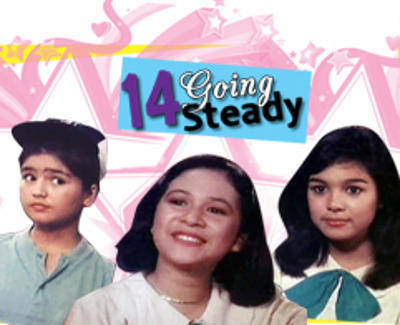 ADVERTISEMENT - CONTINUE READING BELOW
Teen dreams. Gretchen was really 14 years old when she starred in this 1984 movie along with Janice de Belen and Nadia Montenegro. Janice was 16, while Nadia was about a year younger than Gretchen. Nadia's older sister Tanya was Gretchen's batchmate at Colegio San Agustin.

THE TIMELINE OF PAIN
1982 to 1983. At age 12 to 13, Gretchen reportedly takes on modeling stints and eventually joins showbiz in order to help her family. Regal Films matriarch Lily Monteverde confirmed this. In an April 26 interview with ABS-CBN, she related: "I cannot speak on this issue (on whether Gretchen was forced to work by her parents at a young age), but she (Gretchen) started with me (as a Regal talent) at 12 or 13. She really strived hard to work for her family. It was the mom [handling the finances], 'yung kinikita (what she earned). Basta I know she always mentioned, every time she gets paid, that she's excited to give it to her family." Monteverde also added: "But in my heart, I know who Gretchen Barretto is. I really love Gretchen. Kung ano ang mga intriga sa kanya (Whatever intrigues may hound her), I will be the first one to defend her, because I know her very well."
ADVERTISEMENT - CONTINUE READING BELOW
1984 to 1987. Gretchen stars in her first film, 14 Going Steady. Then, as her mother Inday recalls, "By the time she changed into adult roles and earning better, she was already living in with (basketball player Joey) Loyzaga and our family were already in Iloilo to spend little time with my 90-year-old mother. And Daddy wanted to go into prawn farming."
1988 to early 1990s. Gretchen is tagged as one of the "Sex Trip" or ST Queens for her daring roles in a series of movies for Seiko Films such as Tukso Layuan Mo Ako (1991). The films have forgettable plots, but Gretchen is at the top of her showbiz game.
Gretchen the celluloid temptress. La Greta seemed ready to take on the sizzling scenes in Seiko Films productions. She even plays a demon in the 1991 movie Tukso Layuan Mo Ako.

1992. Marjorie snags her first film project, Pacifico Guevarra: Dillinger ng Dose Pares. She plays a supporting role. The movie stars Raymart Santiago in the title role. That same year, Claudine also snags a part in the long-running sitcom Home Along Da Riles.
ADVERTISEMENT - CONTINUE READING BELOW
1995. Gretchen's relationship with Tonyboy Cojuangco becomes public. She gives birth to their daughter, Dominique.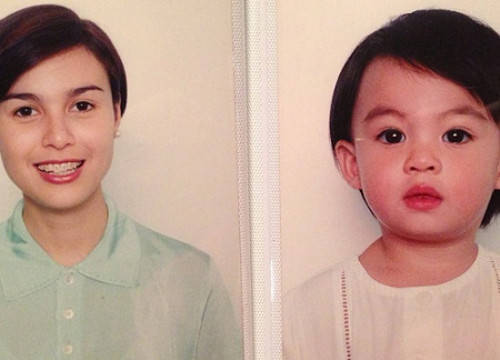 Gretchen's, pride and joy. Dominique Cojuangco, who turned 18 this year, shared this image of herself as a toddler and her mom, Gretchen, via her Instagram account.

1997 to 2007. Claudine's reign as ABS-CBN's Teleserye Queen starts with her role as Via in Mula sa Puso. Her last ABS-CBN teleserye was Walang Kapalit, with Piolo Pascual as her leading man.
ADVERTISEMENT - CONTINUE READING BELOW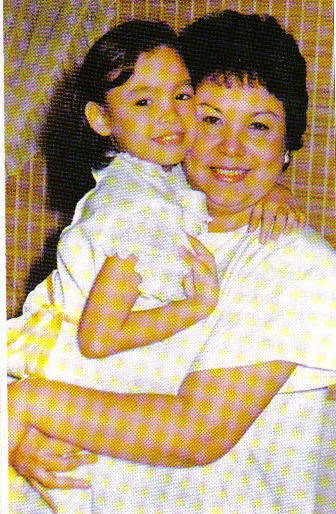 Mommy's girl. Inday says it's Claudine who has been helping the family, not Gretchen.

2002. Claudine gets flak after boyfriend Rico Yan dies. Her sisters Gretchen and Marjorie defend her. Claudine begins seeing a psychiatrist, a fact that she confirmed in 2011.
2004. According to a PEP.ph report, Marjorie and Gretchen reportedly had a falling out in 2004 because "ABC-5-which was then owned by Gretchen's partner Tonyboy Cojuangco-hired Willie Revillame to host the show Puso o Pera?. It was said that Dennis, Willie's former co-host in Masayang Tanghali Bayan (MTB) on ABS-CBN and husband of Marjorie, had a heated conversation with Gretchen. Dennis questioned Gretchen why the station hired Willie, whom he blamed for the cancellation of MTB." Claudine took Marjorie's side. Dennis later clairfied (in 2007), that the "Willie Revillame issue" wasn't true. He didn't elaborate on the real reason, but he said, "I'm sorry Gretchen. I don't know if she will accept my apology, pero if she does not, at least I have released the pain. It's a big thorn in my heart 'cause she's the sister of my wife. I consider her the auntie of my children. And I know that Gretchen misses my children because she loves my children like her own-the way Claudine loves my children. Gretchen loves them so much. I know she misses them."
ADVERTISEMENT - CONTINUE READING BELOW
March 2006. Claudine marries Raymart. Gretchen does not attend the event. Reports say it's because Claudine took Marjorie's side when the latter had a tiff with Gretchen.
2007 to 2008. Marjorie breaks up with Dennis. Rumors later link her to Caloocan City Mayor Enrico "Recom" Echiverri. Marjorie denies the rumors, saying that she doesn't have a relationship with the mayor. In any case, she runs for Caloocan City councilor and wins. Dennis himself was a councilor of the same city from 2001 to 2007. On the bright side, the Barretto sisters are on speaking terms again. In 2008, Claudine even mediates between Gretchen and actress Nadia Montenegro.
2009 to 2010. There's talk that Gretchen and Claudine will be working together in an ABS-CBN teleserye, which would also star Derek Ramsay. Claudine presumably drops out of the project, which later turned out to be the popular Magkaribal. Claudine signs up with GMA-7. Gretchen ends up with the runaway hit. Claudine's GMA-7 projects are more or less well-received by her fans, but they didn't get as wildly popular as her past teleseryes. Gretchen admits she and Claudine are not in good terms again. Their tiff stems from the fact that Gretchen's Maalaala Mo Kaya episode on ABS-CBN is airing on the same night of her drama anthology's debut episode on GMA-7.
ADVERTISEMENT - CONTINUE READING BELOW
July 2011. Gretchen and Claudine reconcile anew. Claudine says the reconciliation with Gretchen is the "biggest present" she received for her 32nd birthday.
October 2011 to May 2012. In October 2011, Claudine cries in front of a TV crew right outside a bank. She claimed she had just learned that P5 million was missing from a savings account where her husband Raymart was her co-depositor. The public assumes the couple have split up. In May 2012, Claudine figures in the NAIA brawl, where she, Raymart, and their friends tangled with journalist Ramon Tulfo. The public assumes Claudine and Raymart are together again.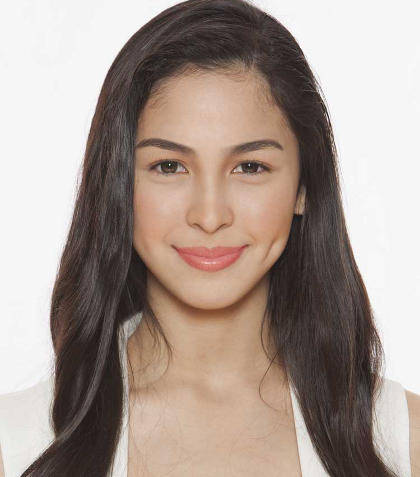 ADVERTISEMENT - CONTINUE READING BELOW
Leave the girl out of it. Marjorie's 16-year-old daughter Julia has been cited as one of the reasons for the latest Barretto Blow-Up, though she isn't really directly involved in the fight.
April 2013. Inday Barretto's open letter reveals to the public that her daughters Gretchen and Claudine are once again feuding. Inday calls Gretchen "evil" and defends Claudine. Inday believes that Gretchen is the one responsible for a web of lies that include the claim that Claudine is out to bring down niece Julia Barretto. Inday's son Jay-Jay defends Gretchen, while daughter Gia takes Claudine's sides. (Note: Click the links in the Heated Paper Trail segment to see for yourself the vitriol that the clan has unleashed against each other...so far.) Inday's letter also reveals that Raymart is not living with Claudine at the moment.
In her latest statement, Inday once again addressed Gretchen, saying: "Just remember that my house, which you call less than your criteria, was what gave you a roof over your head, food (in) your stomach, clothes on your back when you were a nobody and had nothing! All you wanted was to hitch your wagon to a star and the world gave you the moon as well."
ADVERTISEMENT - CONTINUE READING BELOW
Three together. Gretchen, Marjorie, and Claudine back when they all got along.
Meanwhile, Gretchen's friend Tanya Montenegro refutes Inday's statements, saying that Gretchen really had to be the Barretto family's de facto breadwinner because her father had heart problems. Tanya, in her April 28 interview with The Buzz, related a story wherein Gretchen (around Grade 5 or Grade 6) was not allowed to take exams at the Colegio San Agustin because she had been unable to pay her tuition. Tanya and Gretchen were classmates so Tanya says she recalls the incident and was in the classroom when Gretchen was summoned and notified that she would not be able to take the test.
The picture that Tanya paints is a far cry from Gia Barretto-Reyes' claim that Gretchen didn't need to work because their family lived a comfortable life, where they slept in air-conditioned rooms and had a chauffer. Tanya says, "It was Jay-Jay who drove them to school." Tanya claims she has chosen to defend Gretchen simply because of their friendship. Gretchen's mom, Inday, however, isn't buying it. She has alleged that Tanya was "paid" by Gretchen so that she would make the said statements.
ADVERTISEMENT - CONTINUE READING BELOW
Gretchen, Marjorie, and Claudine have chosen to keep mum about their family feud for now.
Art by Warren Espejo, with screenshots of photos from publicity stills, Facebook fan pages, entertainment news videos, TV show clips, and fan sites.
Note: For the spelling of Tanya Montenegro's name, we chose to go with the spelling used by ABS-CBN News and IMDb.

Share this story with your friends!
---
Help us make Spot.ph better!
Take the short survey
Load More Stories