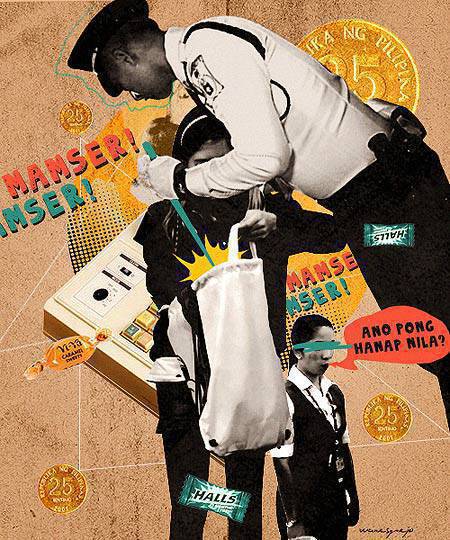 (SPOT.ph) Raise your hand if you don't love shopping! You may go now. Leave us consumerists to our happy hobby of walking the halls of malls and tiangge around the metro. Even when we can't afford to buy anything, looking at cute little knick-knacks and other curiosities isn't such a bad way to detoxify after a week's worth of stress.
Even without the tangible novelties, the Pinoy shopping experience is made truly wonderful and unique by the people-the hardworking and exceptionally dedicated people of retail stores and kiosks. Hats off to each and every one of you for making our trip to places of purchase an interesting experience. We listed some of our favorite Pinoy shopping experience, from entering the mall to making the purchase, as homage to you all.
Let's Get Physical!
Ah, Pinoys. Sometimes, we look like one homogenous blob of happy huggers who are eager to greet everyone with warmth. Before you get into a mall, the guard gives you some quick pats of reassurance or on good days, something akin to a lingering hug. You have to love the welcoming frisk, made more magical by some gentle but brief poking about of a wooden wand inside your bag.
If you have issues with touching, be prepared. Just remember that mall security is doing this for your safety.
"Mamser"
The contraction of "ma'am" and "sir" into "mamser" speaks very well of how far we've come in our crusade for egalitarian living. No longer are we speaking a language that categorizes people based on genitalia, we've evolved into simply being... consumers ready for some sales talk.
ADVERTISEMENT - CONTINUE READING BELOW
Sales Stalkers
There's nothing like going into a department store to make you feel like a celebrity, worthy of intense attention and adoration. The moment you step into an aisle, someone will attend to you and ask you, "Anong hanap niyo?"
They will hover over you as you smile politely and check the shelves. They will follow you as you walk to the next area. They will casually throw in suggestions. They will keep talking to you after you've put on your headphones. They will start running after you if you try to walk away. Don't make any sudden moves.
Promodiser (Promotions + Merchandiser)
Merchandiser. Such an awkward thing to say but then again "merchant" has such an archaic feel to it. We're not actually sure if merchandiser is any better but let's face it, language is limited. That said, our Pinoy ingenuity shines as we take two slightly similar concepts with minute differences and smash them together to create "Promodiser." You'll hear this term over the intercom, followed by the polite platitude "plez".
We're sure there's an overlap of duties with regular sales attendants but promodisers hold a very dear place in our hearts. There's just something so terribly Pinoy about redundancy and bureaucracy. It makes us feel like home.
What You See is What You Get
You've gone through every square inch of the store, trying to find... that thing that you're looking for. Lucky for you, one of the sales-stalkers notices and asks you, "Ano pong hanap nila?"
CONTINUE READING BELOW
Recommended Videos
You answer the question, breathing a sigh of relief but then, you watch the person look at the same area you've already checked (thrice). Before you can even try to save them the trouble, they're already rushing to get their superior without even sparing a moment to check the inventory (which we're sure all stores have). Now the three of you are looking in the same area for the fifth time. Huddle up!
The Next Best Thing Offer
After bonding in the aisle where you were unsuccessful in locating the item that you really want to buy, sales-stalker and the superior casually grab something off the shelf.
"Ito ma'am, baka okay na po 'to"
It's an item that's a size too small or a size too big. It can be an item that's not exactly the kind of color that would make your beauty radiate. Sometimes, it's not even remotely close to the item that you wanted but hey, it's the thought that counts. We're endeared by the earnest effort to make a sale.
You English Me, I English You!
There are days when sales stalkers feel like vultures picking at your eyeballs. But some days, for some reason (e.g. you look poor), they're all gabbing on one corner about the latest celebrity meltdowns and feuds. You try to ask for help but they're all being wild and carefree. Where's that good old Pinoy hospitality?
Put on your best Amalayer accent and see how fast things change. We really wish it weren't so and perhaps, actual research needs to be done on the subject but the thing is, English gets you the consideration you need for when you're not particularly, uh, worthy of attention.
ADVERTISEMENT - CONTINUE READING BELOW
Buena Mano
This only happens in bazaars or outlets, but the buena mano effect is the cult of divi retailers. Desperate salesladies who haven't had as much as a window shopper take the prices down notches just for that one ripple of a sale that will hopefully trigger a wave. Even more exciting than the discount is the post-purchase ritual where the salesperson spreads your money like a fan and starts slapping the rest of the merchandise with it. It's like magic!
We All Want Change
We take to the streets and fight for it because what's harder to find than change? So what's to stop the people behind the cashier from demanding it too? Exact change please! Hide your large bills; they don't want to make a sale with that. Brace yourself for "Wala po ba kayong smaller bill?" or perhaps the arguably more annoying, "May fifty cents na lang kayo?"
You can immediately inform them that you really don't have it but you'll have to grit your teeth as they purse their lips or click their tongue in annoyance. Have some courtesy and pretend to dig around your bag first even though we all know that if you had a P100 instead of a P500, you would've handed that.  After "checking" again, shake your head forlornly and, with more authority, say no. You can even fish out your wallet and show them. This might lead to them saying, "Ok lang bang kulang kami ng piso?"
ADVERTISEMENT - CONTINUE READING BELOW
You almost want to respond, "Ako, ok lang ba kapag minsan kulang ako ng piso?"
But instead, let's take the high road and just direct our attention to Senate Bill No. 1775 or the Exact Change Act. Because until that becomes law, using your crisp new bill might make you fall prey for the next retail experience.
Pwedeng candy na lang?
In some convenience stores, you'll find a small box of candy on the counter. As you hand over a large bill, the cashier punches things into the little machine and it dings as the tray of money pops out. Paper bills are grabbed but instead of going for coins, the person on the counter grabs a piece of candy and hands it to you. You're not allowed to say no or be diabetic. We're back to bartering! Next time, bring a chicken and see if they'll accept it as cash.
Share this story with your friends!
---
Help us make Spot.ph better!
Take the short survey
Load More Stories