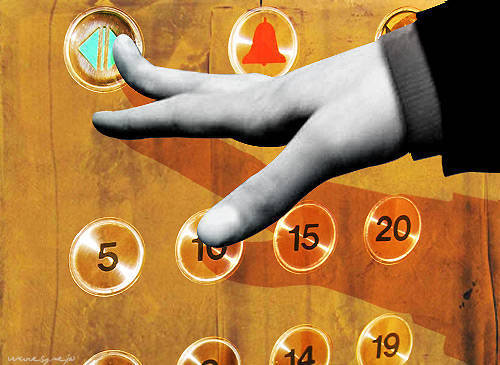 (SPOT.ph) As the country marks Labor Day-paying homage to workers who toil to earn their keep-we put the spotlight on the most "unsung" of the lot. They're the ones with the jobs that most of us never even knew existed. We spoke to five individuals who practice the oddest professions.
Dog session. It's not a glamorous job, but the promise of puppies makes it all worthwhile.
Justin Guce, The Shooter
A shooter is someone who helps dogs make puppies. A veterinarian can do the job, sure, but a shooter provides the service minus all the jazz, which means a shooter is cheaper than a vet.

What does a shooter do?
Ang shooter ang nagpapadali ng pagtatalik ng aso. Ginagawa ito upang hindi maubos ang lakas nila, 'di naman agad nagki-click ang aso, nakikita mo na lang, magkadikit na. Sinisigurado din nito na makapagpunla ang lalaking aso nang semilya sa babaeng aso. (A shooter facilitates the mating of dogs. This is done because, in some cases, some dogs are not physically capable of mating on their own. The presence of a shooter ensures that the mating is successful.)


How much do you earn?
Hindi ito ang primary na trabahao ko; nagshooter ako para sa sarili kong aso. Tapos nung natuto na ko, may nagpapashoot na sa akin ng mga aso nila. P150 to P300 per [session]. (This isn't my primary job. I used to just be a "shooter" for my own dog. Then, when I was more comfortable with it, people called me up and asked me to do it. I earn P150 to P300 per session.)


What's the best and worst things about your job?
Worst? Matatalsikan ka ng semilya ng aso at malansa ang ari ng aso kailangan mo kasi hawakan un sa lalaking aso para maitutok ng ayos sa babaeng aso. Best? Pagka sinabi nung may ari na buntis yun aso. (The worst part of my job is when the dog's fluids stain my clothes. Of course, the male dog's penis has that very strong scent, but I need to hold it so I can make sure it gets into the female dog's vagina. The best part of my job is when I'm told that a dog is expecting a litter.)
ADVERTISEMENT - CONTINUE READING BELOW
The upside of going up and down. If you think about it, the boredom that comes with operating an elevator isn't so bad.
Mylene, The Elevator Operator
An elevator operator sits in command of the elevator buttons.
How did you get into becoming an elevator operator?
I looked for a job that wasn't too stressful but still allowed me to meet new people.

How long are your shifts?
Ten hours. Right now, I'm doing it from 11 a.m. to 9 p.m.

What's the best and worst things about your job?
I like that it doesn't pressure me to reach a certain goal. The worst is that the job can get really boring.

How long have you been holding up then?
Six years! I really like it when people talk to me.
De-stressing by dominating. It's simply one of the ways that people chill out and let themselves temporarily "check out" of real life.
Domina A, The Dominatrix
A Dominatrix is someone who gives men a good spanking. Our resource person is being paid to do so, which makes a professional, which makes this, a profession.
What are the hours like?
Irregular and unpredictable... parang men (chos!). Because kink is something most people can only celebrate behind closed doors, those who explore submission with professionals have limited time for sessions.  I'm independent and have never worked for a dungeon, so I don't know what it's like there.

How is the pay like?
Pretty good. I get paid $150 an hour.

And the best and worst part of the job?
[The best part is] you're basically your own boss. You enforce the rules, the protocols, the tribute (talent fee). And, parang costume party lang, [you can be a] psychiatrist, nurse, guidance counselor, disciplinarian, sex therapist, theater actress, fetish model,Wonder Woman, so and so forth. You're earning wages from being "worshipped."

The worst? Same as the best. Imagine the responsibility and the psychological strain it whiplashes on your soul to be, and to do all of that. While it's consensual power exchange, when it comes down to being a professional dom (as opposed to doing it for free), you're really just a performer collecting tips and the client still has a greater sense of control over you and the fantasy scenario. And even if no actual (traditional) sex occurs, it's still an illegal line of work that has the same or even more stigmas than prostitution.
CONTINUE READING BELOW
Recommended Videos

What's something you wish you knew before you got into this profession?
While most "slaves" are turned on when they're being bossed around-which is actually where most of the trill and the enjoyment comes from-you cannot dominate anyone out of misogynistic, hardcore feminist douchebaggery. Ironically, you must love men. BDSM is in many ways cathartic and you could say Dom/mes are some kind of healers but we are all human, regardless of where we stand on the power spectrum and as such, need healing too.
Nifty skill. Making sure that a wardrobe malfunction doesn't happen is an art form.
Raffy Tesoro, The Boob-Taper
A boob-taper is someone who makes sure the breasts of women are secure before hitting the stage, the show, or the set.

How'd you get into the job?
Actually, no.  It's not a job-job.  It was just one of my duties and functions while I was doing event production for beauty pageants and fashion shows. It's easier to fix it on site than have to photoshop them in, for one.


What is the best and worst part for the job?
It isn't as fun as it seems!  You're under a lot of stress since you have to fix them puppies in 5 minutes or less, especially when you're in pageants.  I once did a pageant where I was doing up one girl and then I glanced over my shoulder and saw the entire roster of candidates lining up behind me to have themselves fixed up. The worst thing about this is that it completely removes the mystery.  You see tits as a problem to be solved, not as something to enjoy. The best part is freaking guys out when you just go up to a girl and put your hand right on their breasts. They'd be like, "Feel anything? " I'm like, "Nope. That's why I'm a professional. "
ADVERTISEMENT - CONTINUE READING BELOW

What do you wish you were told before starting this?
That it would take all the fun out of lusting after the other sex. I'm straight. I just end up throwing out the physical part and go straight to, getting to know them better.  It's a direct flight, non-stop to the friend zone.  You don't even get an in-flight meal.
The not-so-quick fix. In the movie Argo, some members of the rescue team pretended to be "fixers." (Sort of.)

Tess Rivera, The Fixer
Like the fixer you encounter at LTO offices, a professional fixer is someone who helps foreign productions with local logistical needs.

How did you get into being a Fixer?
After graduating from film school, one of the first jobs I had was Wardrobe Master for a Discovery Channel Shoot, where I met producer Inky Nakpil. She runs Fixer Ink Philippines. A year later, she asked me if I would be interested in "fixing" - that is, to help foreign productions with their local logistical needs (which includes permits, press passes, translations, finding contributors, scheduling, sourcing equipment, transport arrangements, accommodations, cargo assistance, fielding local crews, etc). I gave it a go, and my first assignment was to accompany a crew shooting a documentary in prison. We had to stay there for a month! It was a hairy but very fulfilling experience, and so I carried on with becoming a fixer. It was really a matter of meeting the right people at the right time.  


What are your hours/days like?
Most production crews that come in have a strict 12-hour working day rule. As a fixer, you might have to be up earlier to set things up for them or stay up a bit later to prep for the next day. Most crews also like to spend their evenings having a drink (or 22) after work, so this also factors in. However, it's not uncommon for them to break the 12-hour working rule when they are behind schedule and are under pressure to get everything done before they fly back. There are projects where we literally drive straight to the airport after wrapping.


What's the best and worst thing about the job?
The best part would be the diversity of projects we get. They take you to so many different places - mountains, beaches, prisons, factories, deserted islands, volcanoes, landfills - the list goes on. Even if they're all not "beautiful," each place has a manner of broadening your understanding of the world. You also get access to places and information that most people wouldn't be able to get to. We get to work with an interesting variety of crews from all over the world. We've met several producers, cameramen, and directors who are among the best in their field. There is also the occasional celebrity host that comes in.

If I had to find a downside of this job, it would probably be the time you spend away from family and friends. Since our crews are based abroad, they usually stay in country for extended periods of time to make sure they have enough days to get everything they need. This would take us across the Philippines and very far away from Manila for weeks at a time. You miss a lot of social and life events, but as long as loved ones understand then it's ok. It's all part of the job.


ADVERTISEMENT - CONTINUE READING BELOW
What is it you wished you were told before you started this job?
To brush up on my Philippine History and knowledge of pop culture. Foreign crews are usually very curious about local behavior and are interested in knowing how a country came to be. Being able to give them a proper answer is my duty as a Filipino citizen. Also, I wish someone had told me that my liver had to brace itself for the epic after-work drinks.
Share this story with your friends!
---
Help us make Spot.ph better!
Take the short survey
Load More Stories