Celebrating Labor Day: 5 People With Odd Jobs
It goes to show, you shouldn't judge a job by its title.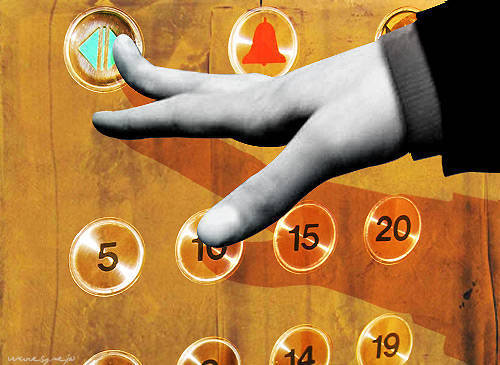 (SPOT.ph) As the country marks Labor Day-paying homage to workers who toil to earn their keep-we put the spotlight on the most "unsung" of the lot. They're the ones with the jobs that most of us never even knew existed. We spoke to five individuals who practice the oddest professions.
ADVERTISEMENT - CONTINUE READING BELOW
Dog session. It's not a glamorous job, but the promise of puppies makes it all worthwhile.
Justin Guce, The Shooter
A shooter is someone who helps dogs make puppies. A veterinarian can do the job, sure, but a shooter provides the service minus all the jazz, which means a shooter is cheaper than a vet.

What does a shooter do?
Ang shooter ang nagpapadali ng pagtatalik ng aso. Ginagawa ito upang hindi maubos ang lakas nila, 'di naman agad nagki-click ang aso, nakikita mo na lang, magkadikit na. Sinisigurado din nito na makapagpunla ang lalaking aso nang semilya sa babaeng aso. (A shooter facilitates the mating of dogs. This is done because, in some cases, some dogs are not physically capable of mating on their own. The presence of a shooter ensures that the mating is successful.)


How much do you earn?
Hindi ito ang primary na trabahao ko; nagshooter ako para sa sarili kong aso. Tapos nung natuto na ko, may nagpapashoot na sa akin ng mga aso nila. P150 to P300 per [session]. (This isn't my primary job. I used to just be a "shooter" for my own dog. Then, when I was more comfortable with it, people called me up and asked me to do it. I earn P150 to P300 per session.)


What's the best and worst things about your job?
Worst? Matatalsikan ka ng semilya ng aso at malansa ang ari ng aso kailangan mo kasi hawakan un sa lalaking aso para maitutok ng ayos sa babaeng aso. Best? Pagka sinabi nung may ari na buntis yun aso. (The worst part of my job is when the dog's fluids stain my clothes. Of course, the male dog's penis has that very strong scent, but I need to hold it so I can make sure it gets into the female dog's vagina. The best part of my job is when I'm told that a dog is expecting a litter.)
ADVERTISEMENT - CONTINUE READING BELOW
The upside of going up and down. If you think about it, the boredom that comes with operating an elevator isn't so bad.
Mylene, The Elevator Operator
An elevator operator sits in command of the elevator buttons.
How did you get into becoming an elevator operator?
I looked for a job that wasn't too stressful but still allowed me to meet new people.

How long are your shifts?
Ten hours. Right now, I'm doing it from 11 a.m. to 9 p.m.

What's the best and worst things about your job?
I like that it doesn't pressure me to reach a certain goal. The worst is that the job can get really boring.

How long have you been holding up then?
Six years! I really like it when people talk to me.
De-stressing by dominating. It's simply one of the ways that people chill out and let themselves temporarily "check out" of real life.
ADVERTISEMENT - CONTINUE READING BELOW
Domina A, The Dominatrix
A Dominatrix is someone who gives men a good spanking. Our resource person is being paid to do so, which makes a professional, which makes this, a profession.
What are the hours like?
Irregular and unpredictable... parang men (chos!). Because kink is something most people can only celebrate behind closed doors, those who explore submission with professionals have limited time for sessions.  I'm independent and have never worked for a dungeon, so I don't know what it's like there.

How is the pay like?
Pretty good. I get paid $150 an hour.

And the best and worst part of the job?
[The best part is] you're basically your own boss. You enforce the rules, the protocols, the tribute (talent fee). And, parang costume party lang, [you can be a] psychiatrist, nurse, guidance counselor, disciplinarian, sex therapist, theater actress, fetish model,Wonder Woman, so and so forth. You're earning wages from being "worshipped."

The worst? Same as the best. Imagine the responsibility and the psychological strain it whiplashes on your soul to be, and to do all of that. While it's consensual power exchange, when it comes down to being a professional dom (as opposed to doing it for free), you're really just a performer collecting tips and the client still has a greater sense of control over you and the fantasy scenario. And even if no actual (traditional) sex occurs, it's still an illegal line of work that has the same or even more stigmas than prostitution.
ADVERTISEMENT - CONTINUE READING BELOW

What's something you wish you knew before you got into this profession?
While most "slaves" are turned on when they're being bossed around-which is actually where most of the trill and the enjoyment comes from-you cannot dominate anyone out of misogynistic, hardcore feminist douchebaggery. Ironically, you must love men. BDSM is in many ways cathartic and you could say Dom/mes are some kind of healers but we are all human, regardless of where we stand on the power spectrum and as such, need healing too.
Recommended Videos
Load More Stories