(SPOT.ph) Boracay virgins, beware: Labor Day weekend on the island (or, as the hashtag suggests, "laBORAcay") is not for sissies. The white sand beaches will be ground for lots and lots of sandaled feet walking around and it's party, party, party everywhere. It's teeming with an overwhelming amount of people and the heat will leave your skin inconsolably sore if you're not careful, but despite that, the Berocca Performance team wasn't daunted. They set up camp during one of the busiest days in Boracay to prove the power of those little orange tablets.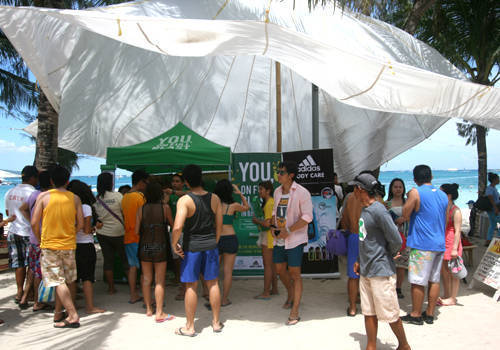 LaBORAcay weekend with Berocca
As early as 8 a.m., SPOT.ph saw that the booths were already prepared for the daylong competition that people on the beach would be invited to join, with the tagline "You, on Full Blast" at its heart. The plan was to have people running back and forth from Stations 1 to 3 in the blistering summer heat. Don't worry, they weren't heartless and thus, no dangerous acrobatics were involved. All they wanted to test if Berocca can really give you the nutrients you need to perform all tasks under intense weatherwith the help of Berocca Performance, which is all vitamins and minerals in a glass.  That means no caffeine, no sugar,  and no artificial stimulants.
ADVERTISEMENT - CONTINUE READING BELOW
Curious onlookers were offered a cup of the fizzy neon drink and as they sipped and, if they presented a Berocca tube (empty or recently purchased), they get to sign up for a dynamic game on the beach. And sign up they did! From then on, it was a race to complete nine items on their "task card."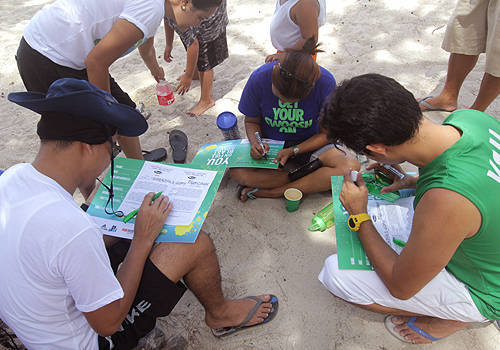 Peace before a flurry of running as the locals and tourists signed up for the games
Since it is the age of Wi-Fi and smartphones, a good portion of the challenges involved lifting your dominant hand and taking photos. You know what they say, "Pics or it didn't happen!"
The participants were asked to take shots (and upload-of course!) of a man with a Berocca tattoo, the Berocca Paraw sailing around Station 2, and the stars. Not the gaseous celestial bodies but the nonetheless hot celebrities on the beach! We found Victor Basa, Saab Magalona, Sanya Smith, and Kim Marvilla joining in the Berocca activities. On full blast, of course!
ADVERTISEMENT - CONTINUE READING BELOW
Recommended Videos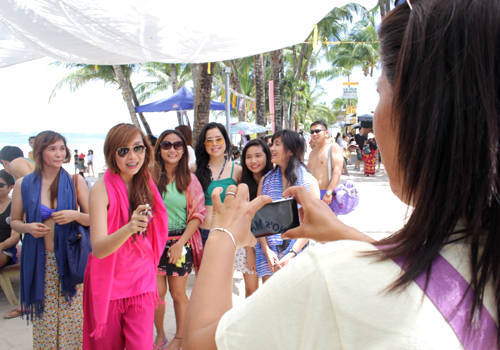 Saab Magalona immediately caught the attention of the crowd
Caught up in the excitement, the celebrities found themselves participating in the competition as well. Victor Basa, who might've wanted something refreshing to drink to beat the heat, played the "The Berocca Shot" game where you have to guess which glass contains Berocca. We're not surprised he aced this test. The man knows his Berocca. Smart move, Victor!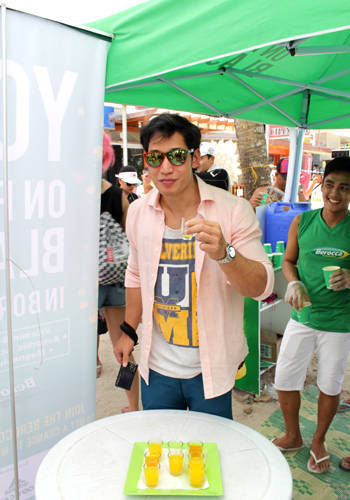 ADVERTISEMENT - CONTINUE READING BELOW
Right on the first try and he even went for seconds.
We had to hand it to Sanya and Kim for getting all gung-ho on the tasks... right up until they had to do some math. Yes, that's right. Berocca, being the vitamin drink that it is, threw in a couple of mental exercises like solving a math problem, playing Tic-Tac-Toe, and assembling a kite.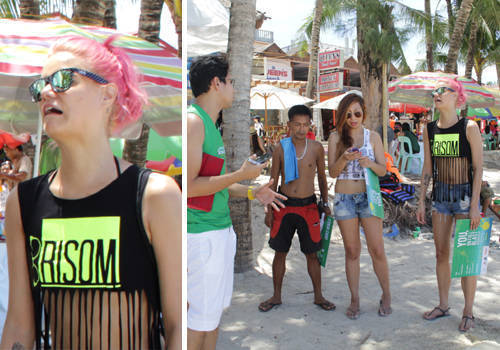 The look on Sanya's face when she found out that she had to solve a math problem was priceless
One of the more difficult tasks involved solving a riddle. The riddle itself wasn't that complicated but the answer would lead you to the task of finding a Berocca-outfitted man who was in charge of handing out bandanas. He was pretty elusive, like a Chancey from the earlier Pokémon series.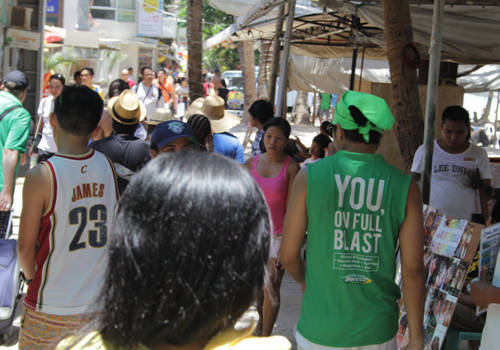 ADVERTISEMENT - CONTINUE READING BELOW
The elusive bandana man!
The Twitter raffle winner and all-around Berocca fan Ernest "Nestey" Gamilla breezed through that challenge and even found time to flash us a smile as he took on the next one. Must be all the Berocca.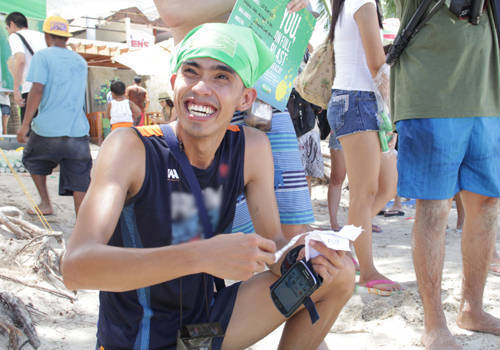 We were quite impressed by the eagerness of some of the participants as they completed task after task and we too found ourselves grabbing a cup after seeing this picturesque moment.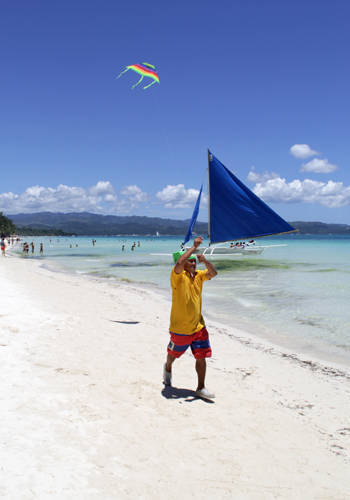 ADVERTISEMENT - CONTINUE READING BELOW
Middle of the day with sun up so high and he was running like it was nothing! We'll have what he's having!
Check out more of the celebrities and challenges. Day-long activities can only be told in photos!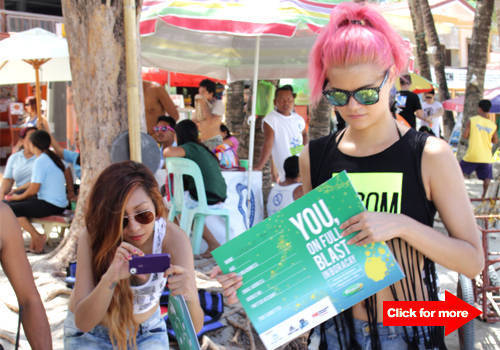 Boracay and Berocca! Click for more!
We weren't surprised to see Nestey back in Station 3 with stickers all over his task card, unofficially making him the champion. The announcement came later during the evening when Boracay transformed into a completely different island filled with booze and lights.  Monster Radio DJ Rico Robles, who hosted the awarding, drew instant laughs from the crowd with mental agility. Gotta love a man with humor.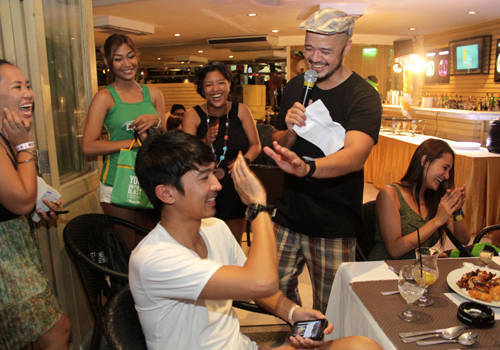 ADVERTISEMENT - CONTINUE READING BELOW
Witty is sexy! Keep your mind sharp and drink your vitamins!
The organizers breathed a sigh of relief as the day concluded with dancing at Epic. The day was long but everyone made it and it left us wondering how the Berocca Team would top an event that spanned the entire White Sand Beach.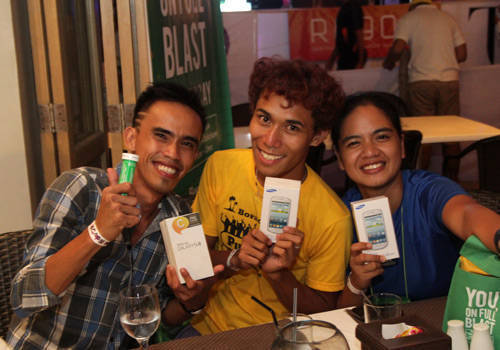 The winners, from left to right: Ernest Gamilla, Billy Sambilan, and Irish Joy Atienza. Better load up on vitamins, guys, we smell another massive undertaking in the next Berocca event
Photos by TJ Tantiangco
Share this story with your friends!
---
Help us make Spot.ph better!
Take the short survey
Load More Stories