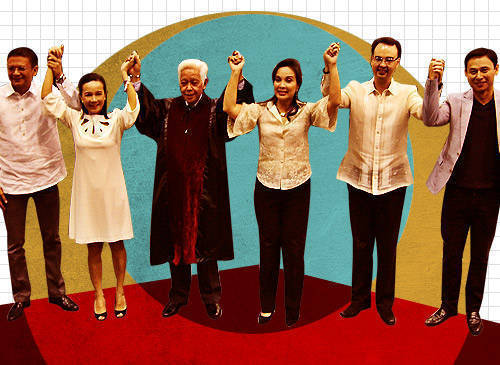 (SPOT.ph) The dust from the May 13 polls hasn't quite settled yet, but the 12 winning Senate candidates-five new faces and seven reelectionists-can now breathe easy. They have all been proclaimed as winners and are set to take their oaths on June 30. By now, political analysts have presented their theories on why each candidate won. So, if you like your news all serious and no-nonsense, you better stop reading right now. However, if you're interested in our screwed-up take on why each candidate won, then by all means, scroll down.
Note: We're presenting the senators-elect as depicted in the SPOT.ph Senatoriables Cards for easy reference. The cards show their ballot numbers. They may come in handy for your lotto combination picks.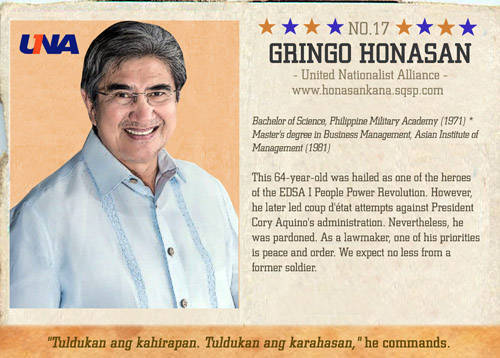 12. GRINGO HONASAN

His target audience: Alpha males and the women who love them, as well as people who think that a man who could allegedly stage so many (unsuccessful) coup d'etat attempts is cool. Then, of course, let's not forget that he's the father-in-law of musician Barbie Almalbis (she's married to his son Martin) so he has an added "hip" factor. As for us, we're calling him "The Dick Blocker," as he took the spot that would have made all the #ipasoksidick fans very happy.
ADVERTISEMENT - CONTINUE READING BELOW
Why we think he won: The little girls who remember him as the dashing hero of the EDSA I People Power Revolution are now of voting age and they still think he's hot.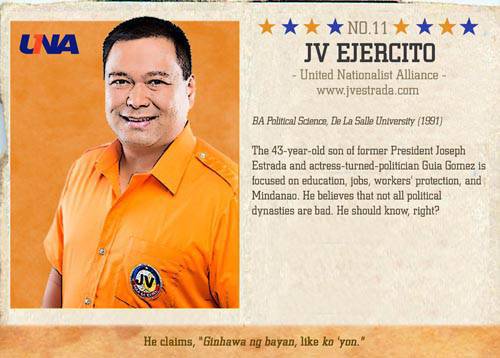 11. JV EJERCITO

His target audience: He's reaping the benefits of his father Joseph "Erap" Estrada's charisma. Keep in mind that Erap, who was ousted from being the country's president in 2001, is now back in the game as the mayor of Manila. That goes to show how much faith (the extra blind variety, if you please) his followers are putting in him and his family. JV (Erap's son by his former partner, actress-turned-politician Guia Gomez) is part of that big happy bunch.
Why we think he won: Erap's followers thought it would be adorable if JV joined his half-brother Jinggoy (Erap's son by wife Dr. Loi Ejercito, who was once a senator herself) in the Senate. It would give them a lot of time to bond.
CONTINUE READING BELOW
Recommended Videos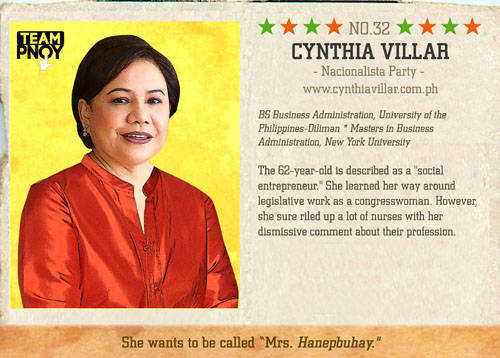 10. CYNTHIA VILLAR

Her target audience: There's no doubt that she's a big hit among those who were satisfied with her performance as Las Piñas congresswoman, her husband Senator Manny Villar's followers, and her TV-host daughter Camille Villar's fans.
Why we think she won: People who think she's a martyr for staying married to someone na naliligo sa dagat ng basura (who bathes in garbage). Love can make burak (muck) smell like Chanel No. 5. She's also replacing his Senate spot, as his term ends this year.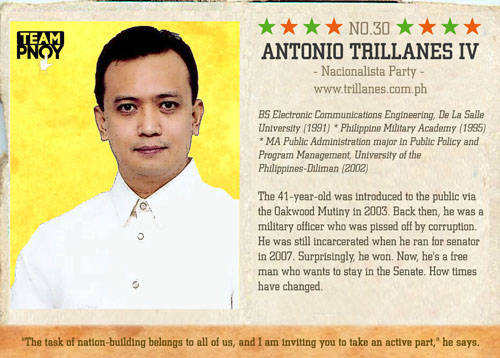 ADVERTISEMENT - CONTINUE READING BELOW
9. ANTONIO TRILLANES IV

His target audience: Think of Honasan's target audience-and just make them a couple of decades younger.
Why we think he won: Despite the fact that those in the hotel industry are wary of him (he was involved in two separate coup d'etat-ish moves that were staged in Makati hotels-The Oakwood Mutiny in 2003 and the Manila Pen Incident in 2007), there are those who think he's some kind of hero. Plus, as Senator Miriam Santiago pointed out, he's easy on the eyes. We're all suckers for that. But we wish he would consider updating his lumang tao hairstyle.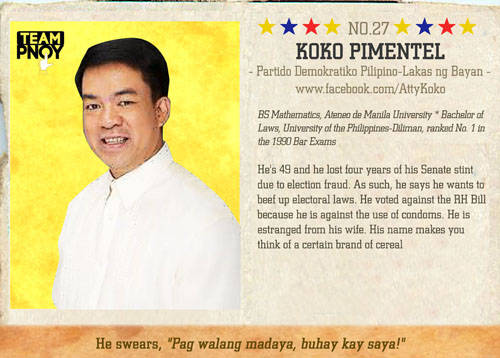 8. KOKO PIMENTEL

His target audience: His dad former Senator Aquilino "Nene" Pimentel Jr.'s followers, men who are trying to fix their marriage issues, and nerds who want to marry beauty queens. Bar topnotcher Pimentel married Bb. Pilipinas Universe 1998 Jewel May Lobaton.
ADVERTISEMENT - CONTINUE READING BELOW
Why we think he won: He raised a ruckus because he believed he was cheated out of his Senate years due to election fraud. People thought, "He has to win this time. Kawawa naman, may pinagdadaanan pa sila ng asawa n'ya (The poor thing, he and his wife are also gong through a rough patch)."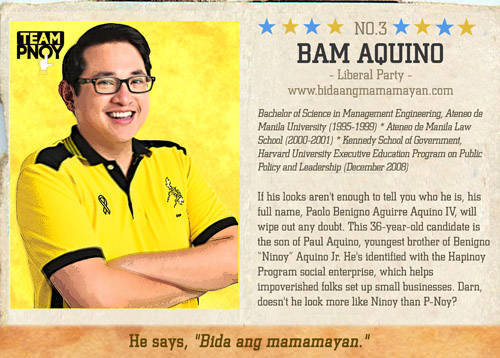 7. BAM AQUINO

His target audience: People who think that the Aquinos are "The Kennedys of the Philippines," the beneficiaries of his social entrepreneurship ventures, and yuppies.
Why we think he won: His campaign "props" included a martyred senator whose look he emulates, a celebrated former president, the current president, and a top taxpayer showbiz cousin whose mouth makes millions. We don't think we need to tell you who they are.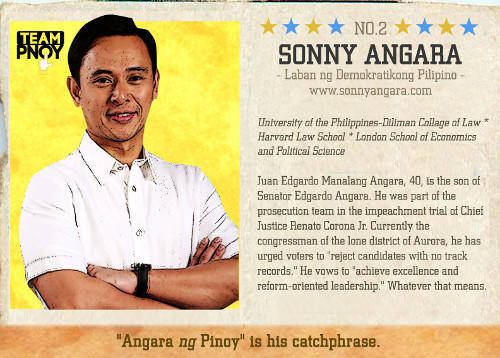 ADVERTISEMENT - CONTINUE READING BELOW
6. SONNY ANGARA

His target audience: The constituents who liked him as the lone district of Aurora's congressman, his dad Senator Edgardo J. Angara's followers, the A and B crowds, as well as college students.
Why we think he won: He gained more fans during the impeachment trial of Chief Justice Renato Corona. On top of that, his lawyerly skills are complemented by his matinee idol looks, which certainly convinced more women to vote for him. As one gushing fangirl confessed, "He's not that tall but, God, he's so gwapo (handsome)." Yes, dear readers, there are those who vote based on cuteness. (At least, they voted, right?) Sonny takes over his dad's Senate spot, as the older Angara's term ends this year.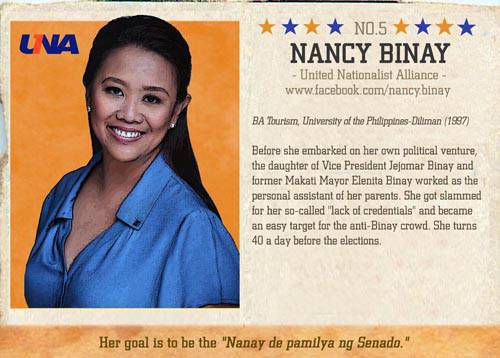 5 . NANCY BINAY

Her target audience: The people who are satisfied or impressed with what her clan has done for Makati City, her father Vice President Jejomar Binay's followers, and anyone who's fond of playing the underdog card.
ADVERTISEMENT - CONTINUE READING BELOW
Why we think she won: There are a lot of people in this country who love underdogs and she mastered the art of playing the api (downtrodden) even when she isn't. Anyone who has the backing of a powerful political machinery is not an underdog. Period. That's the real reason why she could take the tasteless jokes that were thrown her way. In fact, she herself unwittingly gave credence to the complexion-related quips by saying, "Black is beautiful." She then wisely shunned debates that would have exposed her weaknesses and reportedly followed her dad's other suggestions to the letter. Now, doesn't that make her one hell of a politician? (Look out, world!)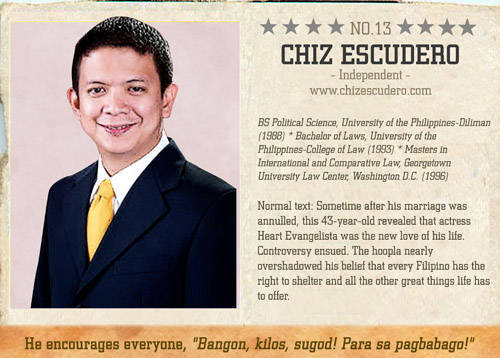 4. CHIZ ESCUDERO

His target audience: The fans of Bamboo (because many say he looks like the singer), the fans of his girlfriend Heart Evangelista, and the fans of his friend and hosting mentor Kris Aquino. Then, there are the single dads who see him as an inspiration to starting a new life.
ADVERTISEMENT - CONTINUE READING BELOW
Why we think he won: In true telenovela fashion, Heart Evangelista's parents branded him "unworthy" of their daughter. So, as expected, voters took pity on him because they could relate to being slammed by "rich people." Is it that easy to forget that Escudero is rich, too? (Sure, he's been tagged as "the poorest senator," but we all know that doesn't exactly mean that he's dirt poor.) It's worth noting that Escudero didn't rank higher among the Senate candidates because he lost the votes of middle-aged men who hated him for hooking up with Evangelista. There's a thin line between admiration and envy. But, hey, at least he got the girl.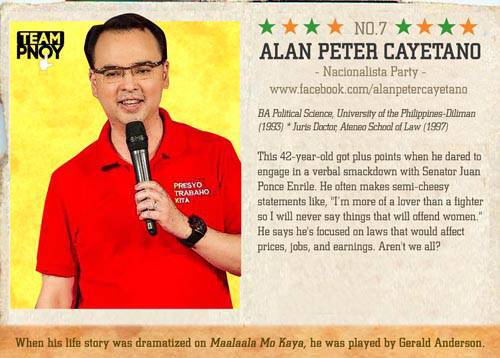 3. ALAN PETER CAYETANO

His target audience: His family supporters in Taguig, his late father Senator Rene Cayetano's followers, and, perhaps, his fellow Fil-Ams. Cayetano's mother is an American named Sandra Schramm.
ADVERTISEMENT - CONTINUE READING BELOW
Why we think he won: People wanted two Cayetano siblings in the Senate. In case you missed it, his sister is Senator Pia Cayetano. They're like the Little Twin Stars of the Senate. Simply adorable.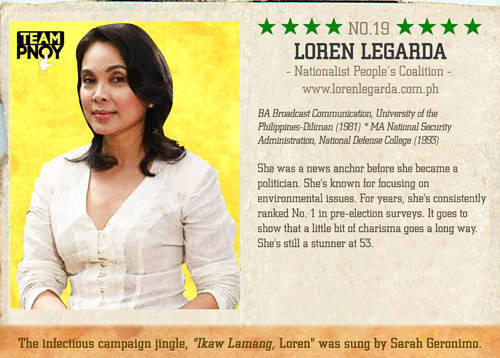 2. LOREN LEGARDA

Her target audience: Broadcasters (she was one before), models (she was also one before), eco-conscious single moms, ex-wives of incarcerated husbands, and women who look good in white blouses.
Why we think she won: Well, she looks trustworthy and has become sort of a permanent fixture in the Senate. She's like the SM of politicians, she has to be there in order for the populace to feel complete.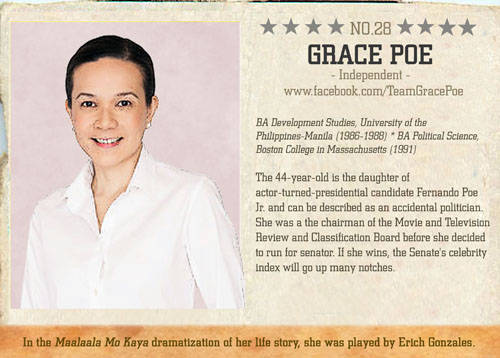 ADVERTISEMENT - CONTINUE READING BELOW
1. GRACE POE

Her target audience: She admitted that she relied on the legions of supporters of her late actor-politician dad Fernando Poe Jr. She also got help from her mom Susan Roces' fans, as well as the fans of her showbiz friends.
Why we think she won: She's got all the qualities of the underdog we want to root for, complete with a movie-worthy story about how she got adopted by the Action King and his equally-popular wife. Even those who aren't her fans have to concede that her dignified vibe is admirable. It doesn't hurt that she actually has a degree that's relevant to being a lawmaker. Pinoys hail women like her as classy. Never mind that her campaign strategy was, "Speak softly and bring in Daddy's big-ass movie poster." Well, it worked.
Art by Warren Espejo, with screenshot from a GMA News video.
Share this story with your friends!
---
Help us make Spot.ph better!
Take the short survey
Load More Stories