(SPOT.ph) New York, 1922. While pursuing the American Dream, Midwestern bonds salesman Nick Carraway (Tobey Maguire) finds himself living next door to Jay Gatsby (Leonardo DiCaprio), a mysterious millionaire who throws lavish parties at his palatial Long Island mansion every weekend. After Gatsby invites him to one such party, Carraway becomes a willing pawn in Gatsby's plan to reclaim the love of Daisy (Carey Mulligan), Carraway's cousin who is inconveniently married to wealthy philanderer Tom Buchanan (Joel Edgerton). But as Gatsby tries to win Daisy back with Nick's help, tragedy looms on the horizon...
PLUSES
The innovative presentation of Fitzgerald's words. Though I haven't read the book on which the film is based, a friend of mine who has read the classic says the movie has many of the book's quotable quotes. These include the immortal opening line, "In my younger and more vulnerable years...," and Daisy's quip about girls having not much to hope for beyond being "a pretty little fool." What's striking about Baz Luhrmann's adaptation, however, is that it doesn't just make you hear Fitzgerald's words as they are spoken by the actors, it also makes you READ them. In a couple of instances, important words composed by Carraway as he's recalling his memories of Gatsby coalesce from a sea of hundreds of letters, forming words and phrases that dance onscreen in a variety of fonts and colors. It's an innovative device I haven't seen before, one that allows the viewer to read the movie like it was a book and savor-however briefly-Fitzgerald's immortal words.
ADVERTISEMENT - CONTINUE READING BELOW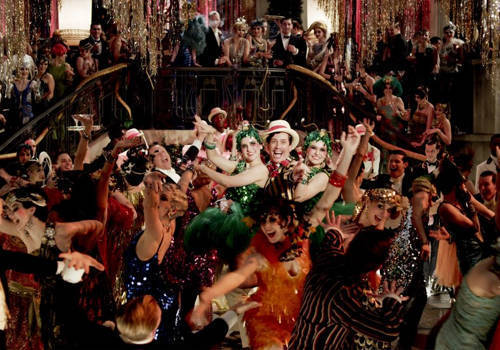 There ain't no party like a 1920's party!
The party scene. No one throws a cinematic soiree quite like Lurhmann, and the tools he pioneered in his game-changing Moulin Rouge-the anachronistic use of modern music in period pieces, the beautiful costumes, the sparkling cinematography, the lavish production design, etc. - weave their combined magic in the scene where Tobey Maguire's Nick Carraway attends his first Gatsby party. It's an intoxicating, showstopping sequence whose decadent details are underscored by the music of Beyonce and Jay-Z, one that climaxes with our first good look at Jay Gatsby as fireworks illuminate his face to the romantic strains of George Gershwin's Rhapsody in Blue.
The period 3-D. Whereas most films use 3D to immerse viewers in fantasy worlds such as Oz or witness the amazing superheroics of  The Avengers, The Great Gatsby is one of only a few films (like the Oscar-winning Hugo) that dare to take us back to the more grounded past. Among the 3D treats which the film offers for those willing to pay the 3D premium are majestic aerial views of New York and Long Island in the 1920s, the aforementioned party scene, and a couple of scenic road trips, all of which are given even more beguiling depth by sparkling confetti, floating snowflakes, and billowing curtains.
CONTINUE READING BELOW
Recommended Videos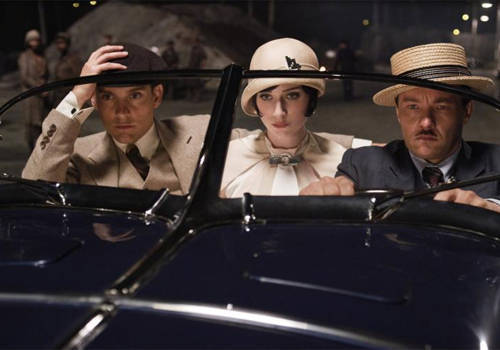 Why yes, we would love to see those hats in 3D. Whatever happened to hats?
MINUSES
The passionless DiCaprio/Mulligan pairing. In all of The Great Gatsby's bloated 143-minute running time, there's only one instance where you'll feel the sparks coming off of Leonardo DiCaprio and Carey Mulligan as star-crossed lovers Jay Gatsby and Daisy Buchanan: the scene where they're reunited after five years in Carraway's cute and cozy cottage. It's a lovely sequence, one that makes humorous and tender use of such romantic signifiers as rain and flowers. After this, though, it's downhill all the way for the central couple. For while DiCaprio consistently wears Gatsby's obsession with Carey Mulligan's Daisy on his sleeve, Mulligan never radiates any alluring qualities (beyond her obvious beauty, of course) that merit his infatuation with her. We accept that Jay and Daisy are in love because we have been told by the script, and not because we are feeling it in the actors' performances.
ADVERTISEMENT - CONTINUE READING BELOW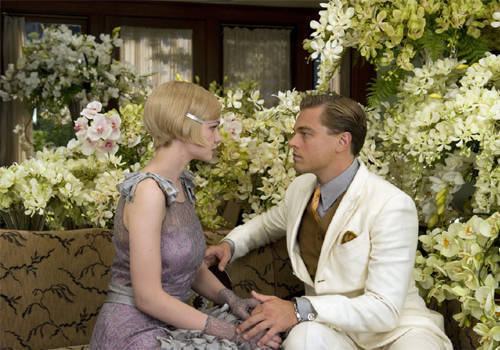 There's an obscene amount of flowers here. Compensating for something?
IN BRIEF: While Baz Luhrmann brings his signature brand of mesmerizing, party-till-you-drop élan to the scenes depicting the decadence of the film's wealthy characters, he isn't as successful in his handling of the film's love story. In the end, The Great Gatsby turns out to be not as great as Luhrmann's other tragic love story, Moulin Rouge.
Rating: 3 out of 5 spots  •••
Share this story with your friends!
---
Help us make Spot.ph better!
Take the short survey
Load More Stories