Profiling Grace Poe: 10 Things That Make Her Who She Is
We case the soft-spoken senator-elect.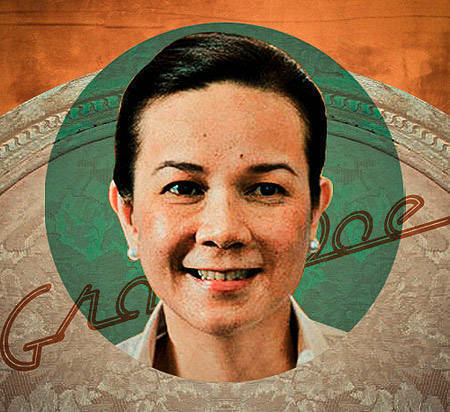 (SPOT.ph) When Grace Poe-Llamanzares emerged as the surprise No. 1 Senate bet in the recent polls, political analysts immediately attributed her seemingly meteoric rise to her father, action star-turned-political aspirant Fernando Poe Jr., who had lost his presidential bid in 2004 and died that same year.
FPJ's loved ones and his legions of supporters believed he had been cheated out of the presidency by Gloria Macapagal-Arroyo. In fact, Grace revealed that she was inspired to go into public service and politics in order to vindicate her father. For her first ever political venture, she also chose to use her maiden name, banking on the strong recall of "Poe." Her husband, Neil Llamanzares, supported the move. Grace explained, "I spoke to my husband abut this. He's not offended because I guess he's secure in our relationship."
That said, we figure there must be more to the soft-spoken and low-key senator-elect than her glamorous lineage.
ADVERTISEMENT - CONTINUE READING BELOW
Note: We thought this would be a good time to revive SPOT.ph's Profiling series, which, in the past, featured personalities like President Noynoy Aquino, Gretchen Barretto, Vice President Jejomar Binay, Carlos Celdran, Willie Revillame, Imelda Marcos, and other newsmakers.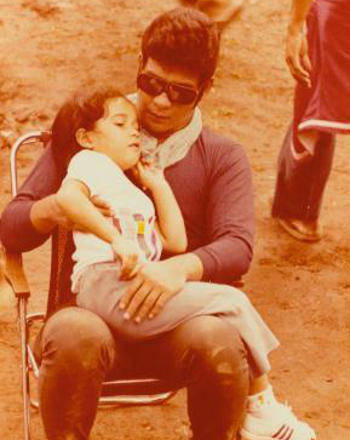 Daddy's girl. Grace Poe and her famous father in an undated photo, which a fan had posted on her Facebook page.
1. She's the firstborn. She was legally adopted by Fernando Poe Jr. and Susan Roces. They raised her as their only child. FPJ had biological kids with other women, but Grace was recognized as his firstborn. A Parents.com article quotes a child and family therapist named Michelle P. Maidenberg, Ph.D., who says, "Firstborns tend to be type A personalities who never cut themselves any slack. They often have an intense fear of failure, so nothing they accomplish feels good enough. They tend to stick to the straight and narrow."
ADVERTISEMENT - CONTINUE READING BELOW
2. She's adopted. The fact that her mother, Susan Roces, was very open about revealing the extraordinary circumstances of her birth made Grace aware that she was very lucky. This is most probably why she never became a brat. She does not have that infuriating sense of entitlement that's become typical of so many children from privileged backgrounds.
3. She's a Virgo. With her birthday on September 3, Grace is a Virgo. According to the specialized astrology site VirgoPersonality.net, "People of this sign are extremely determined, practical, and critical. Once they take responsibility for a project, they will go with it until the end. They examine every aspect of an issue; before making sure there are unseen features, they will make a decision. They don't like complexity and tend to make everything clear and understandable." On the flip side, Virgo's can be "distant" and "aloof."
4. She's an Earth Monkey. Born on 1968, Grace is classified as an Earth Monkey in Chinese astrology. According to the write-up on FamousBirthdays.com, "Earth Monkeys allow compassion, conventional thinking and a caring attitude to dominate their lives. The Earth Monkey is capable of controlling their emotions and have a special ability to rise above distractions. Not sharing in the mischievous qualities of their sign, the Earth Monkey is known for being honest and dependable. They have a genuine concern for others and personal ambition. The Earth Monkey has the potential to contribute great things to society." However, Earth Monkeys are also known to be "overly cautious and practical" so they "miss out on exciting, worthwhile opportunities."
ADVERTISEMENT - CONTINUE READING BELOW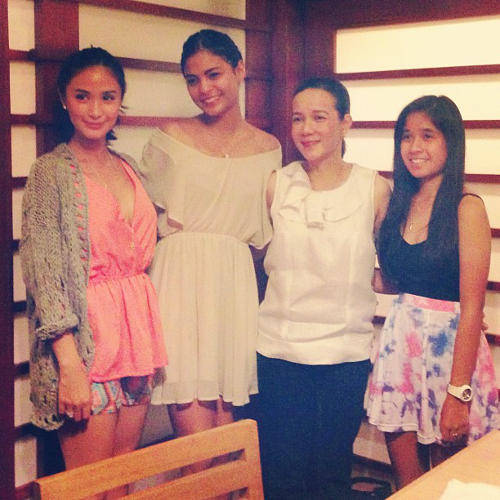 The sisters. Sometime before the May 13 polls, Grace and sister Lovi Poe had lunch with Grace's family and some of their mutual friends. Also in the photo are actress Heart Evangelista and Grace's daughter Hanna Llamanzares. (Screenshot of photo posted on Lovie Poe's Instagram page.)

5. She's a self-confessed "Daddy's girl." Grace revealed that when she was growing up, she was intimidated by her mother's image. Susan Roces, in her prime, was hailed as the Queen of Philippine Movies and was praised for her flawless beauty. Thus, Grace said she chose to copy her father's style. Grace grew closer to her mom when she was older. Still, it's clear that her father still influences all her decisions. An article from the Dialectical Psychology website explains: "It's easy to recognize a woman with a positive father complex: she is the one who better gets along with the system. She fits without troubles in the job market and is successful with boyfriends and husbands. She's trained to be compatible with a world oriented by masculine values."
ADVERTISEMENT - CONTINUE READING BELOW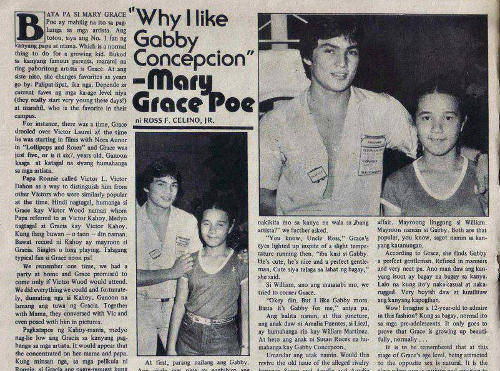 Fan girl moments. Grace Poe was a big fan of Gabby Concepcion. According to writer Ross F. Celino Jr., Grace also sometimes picked FPJ's leading ladies. One of her favorites was actress Marianne de la Riva. The screenshot of this magazine page was posted by a fan on Grace Poe's Facebook page.

6. She was raised by a "cool" mom. Susan Roces is known to be very articulate and well-read. She speaks her mind. In an interview with The Philippine Star columnist Wilson Flores, she talked about how Grace was raised. "She's a papa's girl. Grace has always been a smart, good, and honest person even in her youth. She has a very inquisitive mind and she articulates her views. Ronnie and I, we treated her as an equal, even as a kid. She had the right to ask questions and we talked to her like an adult, we didn't baby talk her. That's how my parents had brought me up, maybe that's also how Ronnie was brought up by his mother." For her part, Grace describes her mother as "the voice of reason" and her fiercest ally.
ADVERTISEMENT - CONTINUE READING BELOW
7. She's a "celebrity magnet." As if it weren't enough that she was adopted by Da King and the Movie Queen, it turns out that one of those who were involved in Grace's adoption was Cardinal Jaime Sin. When she was an infant, Grace was abandoned at Jaro Church in Iloilo. At the time, Sin was the bishop of Jaro. Grace revealed in an ANC interview it was Sin who convinced the woman (identified only as "Sayong") who found her to allow FPJ and Susan Roces to formally adopt her. What are the odds of such a movie-worthy connection?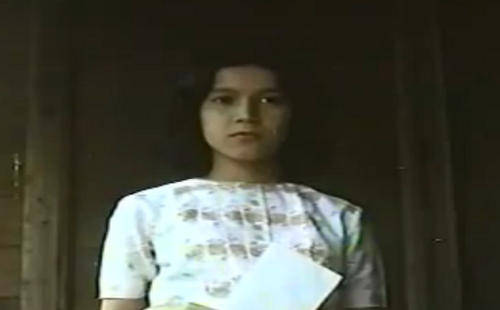 Cameo turns. Grace Poe reportedly played bit roles in her dad's films. Her roles were mostly uncredited. This screenshot is from a scene in the 1980 movie Aguila.


 

 

8. She's looking for meaning. Based on Dr. Erik Erikson's stages of psychosocial development, Grace, at 44, is in the "Generativity vs. Stagnation" stage. At this point in her life she is asking, "Can I make my life count?" Erikson explained: "During middle age the primary developmental task is one of contributing to society and helping to guide future generations."

ADVERTISEMENT - CONTINUE READING BELOW

 

 

 

The Susan and Grace show. Grace Poe and her family moved back to the Philippines permanently more than six years ago. In this clip from the TV show, Moments, she and her mom Susan Roces let the TV crew into their home.


 

 

9. She's duty-bound. Based on the Myers Briggs classification of personalities, Grace is a "Duty Fulfiller." People with this personality type are described thus: "Serious and quiet, interested in security and peaceful living. Extremely thorough, responsible, and dependable. Well-developed powers of concentration. Usually interested in supporting and promoting traditions and establishments. Well-organized and hard working, they work steadily towards identified goals. They can usually accomplish any task once they have set their mind to it. "

 

<>  <>10. She's independent. This doesn't just refer to the her political stance. Grace has always been determined to call the shots even if she hardly raises a ruckus to get her way. When she was younger, she wanted to get away from the constant comparisons to her parents by going to the U.S. for college. She left UP Manila and transferred to Boston College.  Then, right after she graduated, she got married to Neil Llamanzares despite the fact that her father was, as she put it, "pikon na pikon sa akin." FPJ was against her getting married so soon. Nevertheless, Grace followed through on these life-changing decisions. <>  <>Art by Warren Espejo
Load More Stories