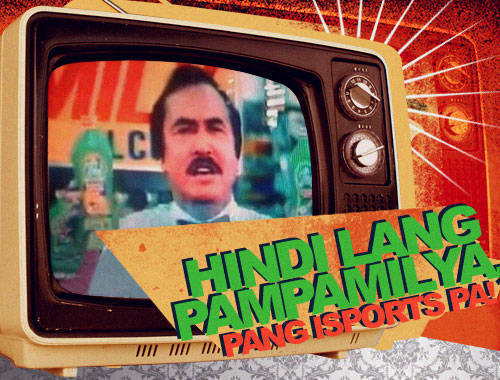 (SPOT.ph) What would TV be like without ads? Great, actually. Just your favorite program with no interruptions and then another one after that.
That painful truth aside, we do recognize the art of a good break. While some are bland enough for us to be able to use the five-minute disruption to empty our bladder before settling on the couch again, there are those that make us want to sink further into the cushion, impressed by the amount of wit distilled in such a short amount of time.
Some commercials infect by song and some enter our brains via one-liners. Now we list those that deserve medals for surprising us, amusing us, and at times, confusing us.
1. Lifetime Achievement Award for Family Rubbing Alcohol
It's always good to start with a classic! Family Rubbing Alcohol's "Hindi lang pampaliya, pang isports pa!" commercial has been around long before some of us were even born. We wouldn't be surprised if it's still on air when the Pacquiao vs. Marquez Golden Anniversary Fight happens.
ADVERTISEMENT - CONTINUE READING BELOW
2. Fastest Fingers: Efficiency in Advertising for Western Union
The commercial has two lines and runs for less than 1o seconds but it says a lot. We really do commend Western Union for their clever way of saying that they have branches everywhere. This is probably the only serious award in our list.  Good job!
3. Best Use of Patola for Oh My Gulay featuring Cristine Reyes
Because really, Cristine Reyes holding that is not suggestive. At all.
4. Best Use of Face for BioLink
BioLink earns points for the creative use of the element of surprise and also, for addressing the needs of guys rocking long locks. It also scores for being grounded. The promise is to bring glory to your hair, not make you look like Toni Gonzaga or KC Concepcion. Sadly, that promise was not enough since people want their shampoo to make them look spectacularly enchanced.
5. Award for Discovering How to Go Back to the Dark Ages for Snickers
We must find a way to get in touch with the geniuses who made this commercial! How they managed to send us back to the olden days when women were seen as weaker than men, we must know! How fun it must be to be time travelers!
Also, we wonder if Gina Carano ate a lot of Snickers.
Runner-up: Clear Anti-Dandruff Shampoo, seen here.
6. Big Buddha Award for Propagating Enlightenment for BioFlu
Men with feelings? Practically unheard of and almost obscene for some but BioFlu cares not for conventional ideas of machismo. They live in a world where one doesn't need to have a uterus in order to care for another human being.
7. Happy Buddha Award for Achieving Enlightenment with HUMOR for Chippy
There are many reasons why this commercial deserves merits. The female character is both attractive and fun, she's hanging out with boys in a non-sexual way, the look on her face when she rips the Chippy package...but mostly, it wins for showing that gender equality is fun. We like fun.
ADVERTISEMENT - CONTINUE READING BELOW
8. Rainbow Medal for Sunkist
We love gay people being openly gay in macho roles. This guy is the MVP and although his motives are somewhat dubious, we love that he's excelling in sports. You go, sister!
9. M. Night Shamalamalama Twisted Laurels for Nestle All-Purpose Cream
This commercial deserves an award for being scarier than most full-length features playing in cinemas.
10. Best in Sampalan for Dragon Katol
Don't you ever have that urge to slap someone's face for no good reason? This mosquito coil commercial is the epitome of that. The man is a cowboy for no good reason, riding a horse for no good reason, and the slapping is just gratuitous.
Runner-up: Greenwich, which can be seen here. Greenwich also shares an award with the next commercial.
11. Best in Pinoy Pride for Pepsi Pinas
It can't elicit a laugh from everyone but it damn well tries. It's packed with Pinoy action movie stereotypes, so much so that we forget that it's actually trying to sell us sweetened carbonated drinks.
ADVERTISEMENT - CONTINUE READING BELOW
Runner-Up: As we mentioned, Greenwich's "Paborito ng" series shares this award with Pepsi.
12. Best in Feelings for PCSO
There's just so much feeling in this song. Such an unexpected use of the words haplos and dampi, evoking the image of people nuzzling against their precious lottery tickets passionately, with the same intensity as this song is sung.
13. Best in Dance for Sting
That man's face. We think this is what "swag" looks like.
14. Hit and Miss Award for Sky Broadband
First, we give Sky Broadband a thumbs up for the clever demonstration of what life is like when things move fast.
Then, we raise an eyebrow at The Story of Will.
We're all for the suspension of disbelief in favor of telling a story...but really? He went missing for 20 years, last seen in his own home, and his parents never looked for him? How thick is that wall that he couldn't be heard if he screamed for help? Or was he living alone at 12 because he's some kind of super genius attending college at a tender age? His living quarters looks like a dorm and a very neat one, too. We're not even going to ask what he ate or how he managed not to die of suffocation but wouldn't being stuck inside a wall for 20 years encourage you to develop some form of mental disorder, even if it's just mild paranoia? We need to know!
ADVERTISEMENT - CONTINUE READING BELOW
15. Best in Public Service Announcement for Sky Cable
It doesn't really unleash the man in anyone so we're not sure how effective it is an advertisement for the macho channels but we love the lessons you can learn from this commercial:
Picking up someone in a place where you can't hear anything properly? Not a good idea.
Picking up someone without a wingman? Bro, that's risky. Not always bad but definitely risky.
Judging people by the way they look? Not a good idea.
Jumping to the conclusion that the girl is a guy just because her voice is low and she likes cars? It's a valid assumption but it wouldn't hurt to ask her first before you turn her into a him.
Inviting someone you just met into your car? That's how people die in movies, bro. Your call.
SPECIAL AWARDS:
ADVERTISEMENT - CONTINUE READING BELOW
Three Gold Stars for PLDT
We give one gold star for demonstrating a friendzone moment before the term "friendzone" was even coined, another gold star for having a non-flamboyant gay character, and we give it the last gold star to make it feel better. We feel your pain, man.
Leadingest of Leading Men for John Lloyd Cruz, for all of his commercials
Is Lloydie a ladies' man? Or is he just so much of a leading man that he's a leading man even for men? We don't think he can turn it off. It's just who he is.
Share this story with your friends!
---
Help us make Spot.ph better!
Take the short survey
More Videos You Can Watch
Load More Stories