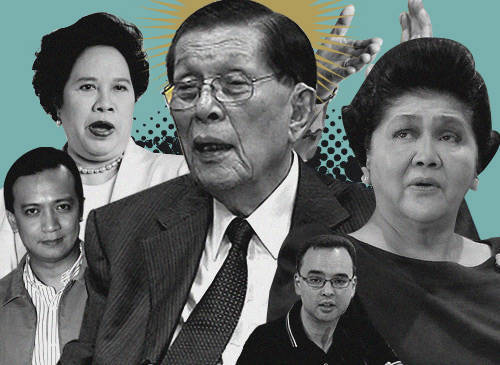 (SPOT.ph) At 89, most people would be enjoying retirement. But not Senator Juan Ponce Enrile. He's still as feisty as ever, getting into some heated verbal scuffles with his colleagues-some of whom are younger than his children. Enrile doesn't back down from the inevitable controversies that come his way-most of which arise from his job and his long history of wheeling and dealing in the country's seat of power.
Just last week, Enrile made another strategic move when he resigned as Senate President. Pundits allege that he did it so he wouldn't have to go through the ordeal of being ousted. In his privilege speech, he alluded to some of his more recent enemies. Yes, the man will go down swinging.  Then again, he's managed to be in power for decades-outlasting and outliving the presidents that he has served. Love him or hate him, you have to admit that his wily willfulness has served him well. To paraphrase Kenny Rogers' words in "The Gambler," Enrile knows when to hold his cards close to his chest and when to fold them.

ADVERTISEMENT - CONTINUE READING BELOW
The 10 smackdowns featured on this list are testimonies of Enrile's tenacity. They also showcase his various moves against those who irk him or get in his way.
Jack says he and JPE have a better relationship now. We can only imagine the time when they were on the outs.
10. Juan Ponce Enrile vs. Juan "Jack" Ponce Enrile Jr.

It's no secret that, at some point in their lives, father and son were not speaking to each other. The younger Enrile was not as driven as his father. In an April 2013 Philippine Daily Inquirer article, journalist Jerome Aning wrote: "Jack said he once roamed the United States on a Harley-Davidson motorcycle, seeking to find the purpose of life. Having aborted a plan to become a missionary in Africa and never return to the Philippines, Jack was called home by his father. They had not spoken for years. Jack reconciled with his father, took over the family business, and got roped into politics (sometime in 1997)."
JPE was Jack's most loyal supporter in his Senate bid. Jack failed. "My heart bled for him," JPE said. Then again, Jack had also revealed in a January 2013 interview by The Philippine Star's Wilson Lee Flores that JPE had once advised him, "Never trust anybody, not even your own father."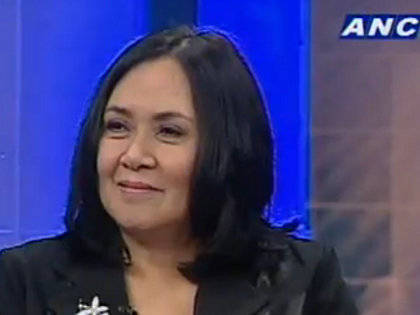 ADVERTISEMENT - CONTINUE READING BELOW
Yoly Ong got sued by JPE...and she sued him right back.
9. Juan Ponce Enrile vs. Yoly Ong

In December 2012, ABS-CBNNews.com reported: "Senate President Juan Ponce Enrile has filed a P31.5-million lawsuit against columnist Yolanda Villanueva Ong over an article she wrote that was published in The Philippine Star on October 16, 2012." Enrile filed the complaint before the Pasay Regional Trial Court. He pointed out that Ong-a veteran advertising executive-depicted him as a "liar, fraud, and manipulator," as well as insinuated that he had also "committed the crime of smuggling of cars."
For her part, Ong said she believed in what she wrote and that she was merely correcting what she saw as mistakes in the book, Juan Ponce Enrile: A Memoir, which had come out in 2012 as well. On January 2013, Ong filed a counterclaim suit asking a Pasay court to dismiss Enrile's damage suit and to make him pay her instead a total of P88 million in damages and P1 million in attorney's fees.
ADVERTISEMENT - CONTINUE READING BELOW
As far as anyone knows, this issue has not yet been resolved.
It seemed that JPE had no sympathy for Renato Corona.
8. Juan Ponce Enrile vs. Renato Corona
On May 22, 2012, during his own impeachment trial, Chief Justice Renato Corona asked to be excused and abruptly walked out even though he had not yet been discharged from the witness stand. GMA News Online reported that Senate President Juan Ponce Enrile ordered a lockdown of the Senate building in Pasay City. Enrile had ordered the court personnel to close the doors, then he announced, "Nobody can get out of this Senate. I order all the doors closed. I don't want any defiance of the powers of this impeachment court."
Corona reappeared on the Senate floor a few minutes later. He was seated on a wheelchair because he had supposedly gotten dizzy because his blood sugar levels had dropped. Enrile wasn't buying it. A Philippine Daily Inquirer article took note of Enrile's take on Corona's walkout, "I think in practical terms, that was contrived." Corona was eventually ousted from his position.
ADVERTISEMENT - CONTINUE READING BELOW
Joey de Venecia was supposed to run for senator in the May 2013 polls, but he changed his mind.
7. Juan Ponce Enrile vs. Joey de Venecia

In 2007, at the height of the hearings about the controversial $328-million National Broadband Network (NBN) contract, businessman Jose "Joey" de Venecia III was tagged as a whistleblower. De Venecia-son of former House Speaker Jose de Venecia Jr.-had accused then-President Gloria Macapagal-Arroyo, her husband Mike Arroyo, and their cronies of orchestrating the deal. However, De Venecia suddenly decided to stop showing up for the Senate investigation hearings. This incensed Enrile.
A Philippine Daily Inquirer report quoted Enrile, who said, "Why the complete turnaround from his earlier boast that he is always ready to appear at the Senate? His refusal to appear again, especially after dragging the names of other private individuals into the controversy, shows his cowardice and inability to substantiate his accusations? It does not bode well for his earlier testimonies before the Senate, which to me were nebulous to say the least."
ADVERTISEMENT - CONTINUE READING BELOW
Unfortunately (or fortunately), De Venecia didn't respond to Enrile's scathing words.
JPE's relationship with then-First Lady Imelda Marcos was very complicated.
6. Juan Ponce Enrile vs. Imelda Marcos

In his memoir, Enrile naturally discussed many of the events that transpired during the 20-year rule of President Ferdinand Marcos. He depicted Marcos' wife, Imelda, as a meddlesome, mecurial, and, at times, a mean individual.
An ABS-CBNNews.com article noted: "Enrile [depicted] Mr. Marcos as almost saintly, compared to how he described former First Lady Imelda Marcos. An example is Enrile's account of how Imelda supposedly made top security officials wear skirts, bras, and dance the hula after the declaration of martial law." The report added: "For Enrile, the scene was 'pathetic, ridiculous and disgusting.' He said he could not comprehend how top military officials could be made the object of a joke by Imelda." Enrile had written: "It seemed to me that the First Lady wanted to impress her guests that she was that powerful-that even under martial law, everyone, including the generals of the military, would kowtow to her whims."
ADVERTISEMENT - CONTINUE READING BELOW
Enrile, of course, later broke away from the Marcoses. He became one of the key players of the phenomenon that unseated them-the 1986 EDSA People Power Revolution. Ironically, when his memoir was launched, Imelda was in attendance.
In 1986, Cardinal Jaime Sin asked the public to support JPE and Fidel V. Ramos.
5. Juan Ponce Enrile vs. Cardinal Jaime Sin

Enrile revealed that he had a beef with the late Cardinal Jaime Sin, whom he accused of lying about what happened during the 1986 EDSA People Power Revolution. In the book People Power-The Revolution of 1986, Sin was quoted as claiming that Enrile's wife, Cristina, had called him and asked him to help her husband. Then, Sin added that Enrile himself called him and said in a "trembling" voice, "Cardinal, I will be dead in one hour. I don't want to die. But if it's possible, do something. I'd still like to live." Both Enrile and his wife denied making the calls or saying those things to Sin during that time.
ADVERTISEMENT - CONTINUE READING BELOW
Enrile had gotten in touch with the book's publisher, The James B. Reuter, S.J. Foundation and had asked them to make the correction. Enrile related that Father Reuter himself was embarrassed by the gaffe and wrote a letter of apology to him and his wife. Enrile still didn't pull any punches when he pointed out: "Everyone just took for granted that Jaime Cardinal Sin, the Prince of the Holy Catholic Church, was not capable of distorting the truth-that he would tell the whole truth and nothing but the truth."
Senator Miriam Defensor Santiago has said some harsh words about JPE.

4. Juan Ponce Enrile vs. Miriam Defensor Santiago

In January this year, controversy erupted when it was revealed that JPE had distributed the Senate's savings among the rest of the senators. He had reportedly given ₱1.6 million to each of 18 "nice" senators and ₱250,000 to their four "naughty" colleagues. The ones of the so-called "nice" list were supposedly his allies, while the ones on the "naughty" list were those who had allegedly irked him in some way. Senator Miriam Defensor Santiago was on the "naughty" list. Santiago had revealed that she supposed that she was part of the "naughty" list because she had supported the RH Bill. Enrile is  against it.
ADVERTISEMENT - CONTINUE READING BELOW
According to a Philippine Daily Inquirer report, Santiago lambasted Enrile for his distribution of the Senate funds in a dzBB interview. Santiago brought up what she thought were Enrile's past sins against the nation-which included his involvement in the implementation or martial law, his coup attempts against President Corazon Aquino after the ouster of Marcos in the 1986 Edsa People Power Revolution. Santiago even questioned Enrile's wealth. "(He) should now answer for the crime of plunder. Why is he that wealthy? He should answer for the crime of causing what the Spanish call desaparecidos. He should be held accountable for that," she had raged in the radio interview.
For the record, the Commission on Audit (COA) saw nothing wrong with Enrile's distribution of the Senate savings. However, this certainly didn't stop the senators who were presumably not on his good side from accusing him of malicious intent. Santiago gave back the P250,000 that had been given to her office. Then again, she also revealed that Enrile had also returned the biscuits she had sent him for Christmas.
ADVERTISEMENT - CONTINUE READING BELOW
Enrile responded to Santiago's accusations by also bringing up the fact that she had worked for the late Ambassador Kokoy Romualdez, brother of former First Lady Imelda Marcos. Then he quipped, "I will probably not reply to what she said. We will just let the public decide who is right."
The Enrile-Santiago tiff is even made more ironic by the fact that Santiago had asked Enrile to be a "godfather" at the renewal of her wedding vows to husband Jun Santiago in 2011.
Antonio Trillanes IV has become one of JPE's most vocal critics.
3. Juan Ponce Enrile vs. Antonio Trillanes IV

In September 2012, Enrile and fellow senator Trillanes engaged in a word war over a legislation that was supposed to create the fourth district of Camarines Sur (which would then be named Nueva Camarines). Trillanes claimed that Enrile was pressuring senators to back the bill, which he claimed would benefit the son of former President Gloria Macapagal-Arroyo, Dato. Dato is currently the congressman of Camarines Sur's 2nd District. Trillanes announced his suspicions via a privilege speech. He also said he was bolting from the Senate majority coalition because he had lost respect for Enrile.
ADVERTISEMENT - CONTINUE READING BELOW
After Trillanes' privilege speech, Enrile went to the podium and made a revelation of his own. According to the InterAksyon.com transcript, he began by saying, "I can very well understand the purpose of this privilege speech. Today somebody in this chamber was in the headlines for meddling in foreign affairs and probably this is one way to camouflage it." He eventually ended up telling Trillanes: "I do not know how many times you have been to China. My understanding is you have been to China talking to the Chinese government for six times already." Enrile accused the latter of "working for China" and "backchanneling" at the height of the territiorial dispute.
Trillanes protested that Enrile was making irrelevant statements. However, ended up walking out of the Senate. Enrile then quipped, "My God, this guy is a fraud." He also referred to Trillanes as the "Phantom of the Opera" of Philippine politics.
ADVERTISEMENT - CONTINUE READING BELOW
With Enrile's recent resignation as Senate president, Trillanes has made statements calling the older senator "a bitter man." He also said he believes Enrile's resignation was just full of theatrics. Trillanes, of course, was reportedly part of Enrile's "naughty" list.
JPE and Sen. Alan Peter Cayetano discussed each other's supposed unpaid debts.

2. Juan Ponce Enrile vs. Alan Peter Cayetano

Senator Cayetano, who was also on Enrile's "naughty" list got irked when, according to an ABS-CBNNews.com report, the chief of staff of Senate President Juan Ponce Enrile, Gigi Reyes, called him and other senators "hypocrites" for not returning the ₱250,000 they received from Enrile. Only Senator Miriam Defensor-Santiago returned the sum.
In a privilege speech delivered in January 2013, Cayetano enumerated what he though were Enrile's acts against him such as, according to a GMA News Online report, "preventing him from getting a seat in the Commission on Appointments and withholding promised committee chairmanships from him."
ADVERTISEMENT - CONTINUE READING BELOW
Enrile responded to Cayetano's rant by claiming that Cayetano's late father, former Senator Renato Cayetano, still owed him ₱37 million. Enrile also made a quip about the lumber used for Cayetano's house. Cayetano then slammed Enrile for "getting personal." They would have continued to bicker if Senator Franklin Drilon didn't move to suspend the session.
JPE's relationship with then-First Lady Imelda Marcos was complicated.
1. Juan Ponce Enrile vs. Nene Pimentel

As we all know, a smackdown is made sweeter when the two participants are evenly matched. At the time of their now-legendary skirmish, Enrile and Senator Aquilino "Nene" Pimentel Jr. were the most senior senators. This was back in 2009.
As a Philippine Daily Inquirer report related: "A heated exchange on the Senate floor between Senate President Juan Ponce Enrile and Minority Leader Aquilino Pimentel Jr. The exchange, which lasted for almost two hours, had the two Senate leaders trading barbs and calling each other names over the way the Senate committee of the whole was handling the ethics case against the absent Sen. Manuel Villar Jr.'s involvement in the C-5 project. The encounter led to an early adjournment of the chamber, wasting one of six sessions left before Congress adjourns."
ADVERTISEMENT - CONTINUE READING BELOW
Enrile had accused Pimentel of "lawyering" for Villar. He had said, "Mr. Senator from Cagayan de Oro, ipokrito ka. Nagkukunwari ka na kaibigan mo ako, ngunit pag wala ka na sa harapan ko, sinasaksak mo ako sa likuran (Mr. Senator from Cagayan de Oro, you are a hypocrite. You pretend to be my friend and yet you stab me in the back)."
Pimentel, for his part, said, "You're calling me a hypocrite?! Oh my goodness. If we talk about hypocrisy, the biggest hypocrite is the one who fakes his ambush and uses that as an excuse for the imposition of martial law!"
The barbs, of course, didn't stop there. Enrile and Pimentel also brought up martial law era issues. These days, Pimentel's son, Aquilino III or "Koko," is a senator and he hasn't had any encounters with JPE. That's not to say he never will.
ADVERTISEMENT - CONTINUE READING BELOW
Share this story with your friends!
---
Help us make Spot.ph better!
Take the short survey
More Videos You Can Watch
Load More Stories