(SPOT.ph) After their spacecraft is hit by an asteroid, teenager Kitai (Jaden Smith) and his legendary dad Cypher (Will Smith) are stranded on Earth 1000 years after humanity has left the planet. With Cypher critically injured and unable to move, Kitai must journey alone through miles and miles of hostile terrain to find their crashed ship's beacon and signal for help. Among the obstacles awaiting Kitai on his perilous odyssey are toxic plants, evolved animal species, and the bloodthirsty alien that Cypher was transporting on their ship. Rated G by the MTRCB, After Earth is a father-and-son sci-fi adventure from producer Will Smith and director M. Night Shyamalan.


PLUSES

Jaden Smith. I'm pretty sure that many movie buffs who follow particular directors wondered the same thing when they found out that M. Night Shyamalan was the director of After Earth: Why would Will Smith hire the guy who directed The Last Airbender and Lady In The Water to direct his son Jaden in a lavish sci-fi flick? I'm guessing that Smith hoped that Shyamalan would coax a performance out of Jaden Smith on the level of the one Shyamalan got from Haley Joel Osment in The Sixth Sense. But then, IMDB reports that Will Smith was Jaden's primary acting coach in After Earth! At any rate, regardless of who directed Jaden here, my two cents is that the boy is a competent  actor, Exhibit A being the scene where his hand is poisoned and he's at death's door. (And no, Jaden Smith in After Earth is nowhere near as good as Haley Joel Osment was in The Sixth Sense.)
ADVERTISEMENT - CONTINUE READING BELOW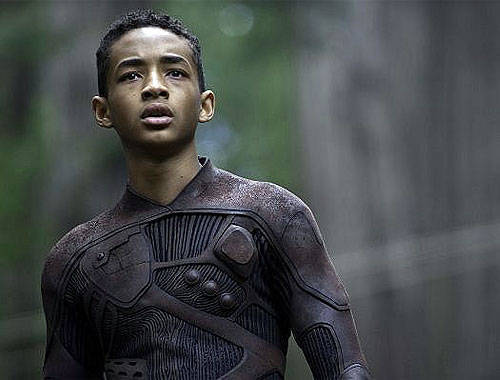 Jaden Smith: After Earth's not-so-secret weapon


The production values. With the exception of the mediocre visual effects, every other artistic visual contribution to After Earth- including production design and cinematography- is top-notch. The filmmakers make splendid use of Costa Rica and North California exteriors, evoking an Earth of the future that's as beautiful as it is hostile. As for the sets, I was struck by how shots of Kitai and Cypher inside their crashed ship made it appear as if they were in the belly of a whale. I thought this might be a Biblical allusion to the story of Jonah, until I read somewhere that After Earth has a pro-Scientology slant. That being the case, perhaps it was an allusion to Geppetto and Pinocchio being swallowed by Monstro the whale.          


MINUSES

The glacial pace. After Earth is a 100-minute film that feels like it's more than two hours long. Following the lightning-quick editing that fueled such recent crowd pleasers as Iron Man 3, Star Trek Into Darkness, and Fast and Furious 6, After Earth has, by comparison, the unhurried pace of a European art house flick, with many of the father-son dialogue scenes eating up more screen time than you'd expect from a summer movie. Not helping any is Will Smith's slower-than-normal delivery of his lines and his refusal to use contractions in his dialogue exchanges with his son. The one bright spot with the film's plodding editing? Lots of opportunities to go to the bathroom!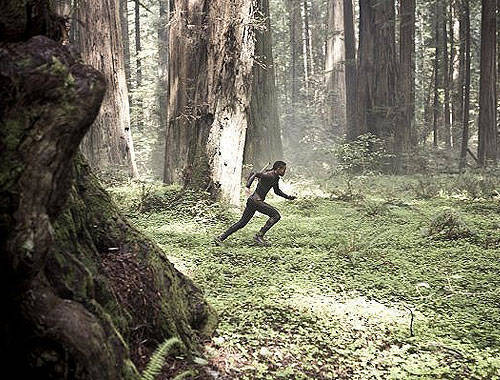 The movie doesn't run as fast as this kid here



The sloppy storytelling. Script problems, bad direction...you name it, After Earth suffers from it. Just before Cypher sends Kitai on his mission to find the other part of their ship, for instance, he warns the boy that everything on Earth has evolved to kill humans. And so, thanks to this warning, we're primed to see Kitai face a grave threat every step of his journey. And does he? By my count, he only had four life-threatening encounters in his 100 kilometer odyssey, the biggest threat of them all not even being native to Earth. That's an obstacle every 25 kilometers of the journey...hardly the wall-to-wall string of life-or-death struggles that Cypher's warning primed us for. Bad direction? There's a scene early in the movie where Kitai has to disappoint his father and admit that he can never be a ranger like his old man. And how does Shyamalan cover the scene? By never showing Kitai's face as he makes his painful admission to his dad!  


The pre-Jurassic Park visual effects. Having watched the 20th anniversary re-release of Jurassic Park in 3D before seeing After Earth, I was horrified to see how fake the creatures in Shyamalan's movie looked compared to Spielberg's dinosaurs. The monkeys, birds, and other creatures which menace Jaden Smith here are as phony-looking as the giant wolves in the Twilight Saga. They are another factor that will prevent viewers from truly immersing themselves in the story and connecting with its characters.


IN BRIEF: Though After Earth is artfully shot, creatively designed, and competently performed, the film's mediocre effects, languid pacing, and mediocre storytelling are what viewers will remember and want to forget.
ADVERTISEMENT - CONTINUE READING BELOW

Rating: 2 out of 5 spots ••
Share this story with your friends!
---
Help us make Spot.ph better!
Take the short survey
More Videos You Can Watch
Load More Stories