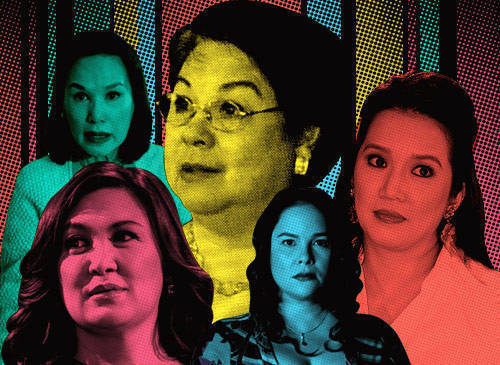 (SPOT.ph) They say being a mother is a tough job, but some moms are more than willing go beyond the call of duty. They won't hesitate to speak their mind, make a scene, or do the unthinkable in the name of maternal love. There are children who enjoy their fierce protection. There are those who suffer silently. Some fight back. Others simply run away.
As such, we list the moms who braved the harsh glare of the spotlight in order to protect their offspring-whether they liked it or not. (Note: We disqualified the moms who were already part of our first Top 10 Never-Say-Die Nanays list.)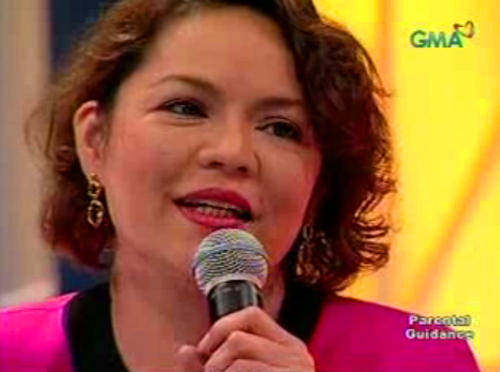 ADVERTISEMENT - CONTINUE READING BELOW
10. BING GARCIA

Claim to motherly fame: Mother of actor Patrick Garcia and actress Cheska Garcia
Stage mama moments: For the most part, Bing has stayed away from the showbiz limelight. However, she stepped out of the shadows in 2008, when son Patrick's then-girlfriend Jennylyn Mercado was pregnant with their child. The couple had initially presented a united front when they announced that they were expecting a child. But the relationship turned rocky before Jennylyn gave birth to son Alex Jazz.
Jennylyn implied that she had gotten hurt when Bing reacted to the fact that Jennylyn's ex-boyfriend Mark Herras had given her chocolate milk. Some showbiz reporters had made a big issue out of Mark's gesture. This, in turn, prompted Bing to say, "Hindi naman maganda na lumalabas na si Patrick, hindi maibigay (sa kanya) [ang milk supplement]. Hindi naman sa sinasabi kong masama 'yung ginawa n'ya, na may masama siyang intention. Pero ang tingin ng ibang tao, nilalagyan ng ibang kulay. O kita mo na, ano ba 'yan, para sa box of milk, 'yung baby 'di na kay Patrick (I don't think it's good to make it look like Patrick can't give her that milk supplement. I'm not saying that the giving of the chocolate milk was entirely bad. However, a lot of people are blowing it out of proportion. Just because somebody else gave her that box of milk, people are now saying the baby is not Patrick's)."
Things got more complicated when Bing revealed that Jennylyn had also refused the pre-need education and insurance savings plan that she had offered for Alex Jazz. Bing said, "Kaya ako nagtataka kung bakit niya dinecline. Obviously, parang iba 'yong pagkatanggap ng pag-o-offer ko. At sinasabi niya, sabi ng manager niya [Becky Aguila] na 'Bakit ngayon lang? Wrong timing.' Sabi ko, 'Bakit magiging wrong timing (I'm surprised why she declined to take it. Obviously, she was wary of my offer. Her manager Becky Aguila told me that she had said, 'Why just now? Wrong timing.' I said, 'Why is it wrong timing)'?"
In her subsequent interviews, Bing said that she no longer wanted to get involved in the Patrick-Jennylyn issue.  However, she made it clear that she was only looking out for Patrick.
Nanay verdict: Bing's just a typical mom who wants to make sure that her kid doesn't get the proverbial raw end of the deal. Although we have to say that the debacle over the chocolate milk is unnerving. Was that really just about chocolate milk? Maybe. Maybe not.
ADVERTISEMENT - CONTINUE READING BELOW
Fortunately, when Patrick became a father for the second time (his non-showbiz girlfriend gave birth to their daughter in March this year), Bing didn't grant any more interviews discussing the impropriety of receiving flavored dairy products from one's ex.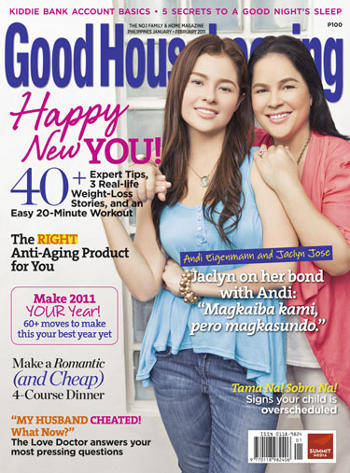 9. JACLYN JOSE

Claim to motherly fame: Award-winning actress and mother of actress Andi Eigenmann
ADVERTISEMENT - CONTINUE READING BELOW
Stage mama moments: Jaclyn has always been supportive of Andi's showbiz career, but she was never intrusive. However, she probably had no choice, but to play a more active role in her daughter's life when she revealed in a TV Patrol interview-which aired on June 29, 2011-that Andi was pregnant. She had tearfully said, "Hindi madali, pero kailangan kong tanggapin. Kasi mahal ko siya at anak ko siya (It's not easy, but I need to accept it because Andi's my daughter and I love her)." Jaclyn then went on to reveal that her daughter's baby-daddy was no longer in the picture. "Iniwanan siya nung nabuntis siya (He left her when she got pregnant). I don't want to talk about him anymore. Wala akong hinihiling sa kanila, ni ayaw ko silang makita (I'm don't want anything from him or his family. I don't even want to see them)," she said. For the record, actor Albie Casiño was named in the issue, but it looked like he wasn't keen on getting involved.
ADVERTISEMENT - CONTINUE READING BELOW
Jaclyn and Andi weathered the pregnancy issue by presenting a united front. Andi gave birth to daughter Ellie in November 2011. Jaclyn became a doting grandmother. However, things got shaky a few months later when Andi's relationship with Jake Ejercito became publicized. In an October 2012, Jaclyn told PEP.ph (albeit indirectly) that the Jake-Andi relationship didn't exactly have everyone's blessing. She quipped, "Hindi ko sinabing sila ni Jake, ang sabi ko lang, merong... Dagdagan natin-baka ayaw ng parents (I'm not saying she's really with Jake, what I'm saying is there's... Let's just say-maybe his parents are against it)." The article noted that Jaclyn implied that Jake's parents-former President Joseph Estrada and former actress Laarni Enriquez-didn't like the fact that Andi was a single mom.
Jaclyn's somewhat veiled revelation reportedly caused a rift between her and Andi. It also caused tension with Jake's parents. Andi then allegedly broke it off with Jake. By January 2012, Jaclyn and Andi had reconciled. Jaclyn later told PEP.ph that she wished Andi would make better decisions when it comes to relationships. She gave this advice to Andi: "Be wise... think 10 times this time."
ADVERTISEMENT - CONTINUE READING BELOW
Nanay verdict: We can't really blame Jaclyn for wanting to protect her beautiful daughter from heartbreak. However, she has to live with the fact that Andi is a passionate young woman who'll do what she wants to do with or without her mother's approval. Besides, Andi was already 21 years old when she herself became a mother. The best thing for Jaclyn to do when Andi gets into another complicated relationship is to say, "No comment." Because there are times when a mother can only do so much.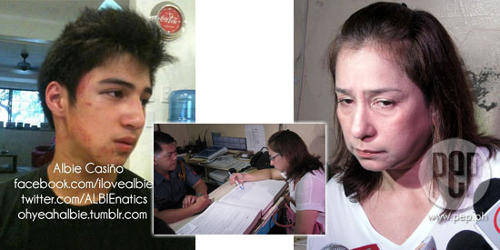 ADVERTISEMENT - CONTINUE READING BELOW
8. RINA CASIÑO
Claim to motherly fame: Mother of actor Albie Casiño
Stage mama moments: Rina was forced into the limelight in May 2012, when Albie was allegedly beaten up by a group of men in the parking lot of a bar in Makati. Albie reportedly suspected that his ex-girlfriend Andi Eigenmann's friends were behind the said attack. Rina believed him and promptly went to report the incident at Makati Police Station's Precinct 9. As it turned out, the move only signaled the early stages of her wrath.
In an interview with TV Patrol, Rina didn't hold back as she addressed all the issues that Andi had supposedly thrown at Albie. This included Andi's claim that Albie had hurt her. Rina said, "Para sabihin mo na binugbog ka ng anak ko, tama na 'yang kasinungalingan mo! (For you to say that my son beat you up, your lies have got to stop!. It's too much, Andi. Too much)!" She didn't stop there.


ADVERTISEMENT - CONTINUE READING BELOW
Rina went on to reveal some things that Andi had allegedly revealed to her in the past. She pointed out: "Ito, alalahanin mo 'yon-umiiyak ka sa akin about your mom, na alcoholic, na beating you up 'pag nakakainom kaya nila-lock mo yung door mo (Remember this-you came crying to me about your mom, saying she's an alcoholic who beats you up when she's had a drink, which is why you have to lock your door)." Still addressing Andi, she also added: "Kaya ayokong magsalita dati kasi I was still protecting you (I didn't want to say anything in the past because I was still protecting you)," she continued. "Tama na, Andi. Sinisira mo hindi lang si Albie kundi yung pamilya namin (That's enough, Andi. You're not just ruining Albie's reputation but our family's as well)."
In a PEP.ph interview, Rina continued to say that Albie didn't do anything to deserve the hostility he was getting from Andi's family. "Walang atraso sa kanila si Albie (Albie hasn't done anything wrong to them)," she kept saying.
ADVERTISEMENT - CONTINUE READING BELOW
Nanay verdict: As expected, Rina's claws came out when Albie got hurt. It seems like she exhausted every means possible to get back at those whom she thought had hurt her boy. That's well and good-but, perhaps, that boy also needs a refresher course on life in general. When a person gets involved in a relationship that leads to a paternity controversy and a trip to the police station, then there's something amiss. It's not necessarily the mom's (or dad's) fault that some kids become trouble magnets, but a mom (or dad) can step in and tell her son, "Slow down, damn you...and stop hanging out at bars." Moms should teach their kids to sniff out trouble in any form.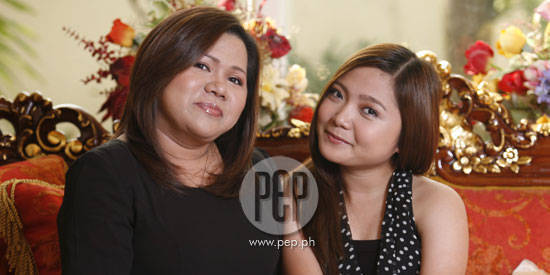 ADVERTISEMENT - CONTINUE READING BELOW
7. RAQUEL PEMPENGCO
Claim to motherly fame: Mother of international singing sensation, Charice.
Stage mama moments: Back in 2009, a fresh-faced and long-haired Charice appeared on The Buzz thanking God profusely for the overwhelming attention she was getting from the entire world. In that interview, Charice was brought to tears as she defended her mother from rather odd accusations  such as "Mahirap daw kausap ang mommy mo (It's difficult to talk to you mom)?" She even sang her own version "And I Am Telling You" and declared, "You're the best mom I've ever known."
Later on, Raquel appeared on Rated K where she stated that "Kung hindi po ako naging matatag, hindi ko pinanindigan yung pagiging ina ko...wala po si Charice ngayon (If I hadn't been strong and I didn't take being a mother seriously...Charice wouldn't be here today)."
The bond between the two seemed strong, steadily weathering the death of Ricky Pempengco, Charice's dad, in late 2011. However, things began to deteriorate shortly after. Charice got a controversial haircut that sparked debates about her sexuality and by May 2013, even the police supposedly got involved in a mysterious feud within the family.
ADVERTISEMENT - CONTINUE READING BELOW
The ordeal culminated on June 2, when Charice confirmed that she is indeed a lesbian. It was rather anti-climatic for some but what happened next stirred weird into the mix. Raquel Pempengco stated that she went through her own lesbian "phase" but that she "changed" when her mother asked her to. We're not experts but we're pretty sure homosexuality doesn't switch on and off by command.
Nanay verdict: What we can say is that Raquel Pempengco is a conservative and traditional woman who ended up marrying someone "suggested" by her disapproving and seemingly homophobic mother. Maybe that "phase" isn't really a phase.
Mommy Raquel was probably unprepared for everything else that came with Charice's introduction to the world. While Charice was getting exposed to different cultures, Mommy Raquel clung to her own beliefs. Maybe there's a hint of envy there. Her daughter is braving the water and being herself, freely loving someone who wasn't recommended by her mother.
ADVERTISEMENT - CONTINUE READING BELOW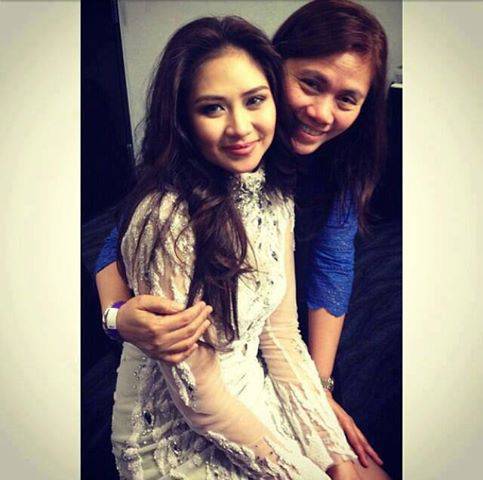 6. DIVINE GERONIMO
Claim to motherly fame: Mother of Sarah Geronimo
Stage mama moments: Mommy Divine is known for being strict. Very strict. So strict that she just might've scared Gerald Anderson off. The keyword there is "might" since Sarah still refuses to talk about what happened, stating cryptically that she just wishes she had guarded her heart a bit more.
ADVERTISEMENT - CONTINUE READING BELOW
Mommy Divine is very wary about letting her little princess have a relationship and has been quoted saying that she prefers that Sarah doesn't get involved with someone from showbiz. That still leaves about 98% of the population but we're guessing Mommy Divine doesn't want a politician boyfriend for Sarah either. And who knows what other requirement she has? Is there a form that needs to be filled out? Does age matter and if it does, younger or older?
There's also that rumor that Mommy Divine fired Sarah's long-time makeup artists for allegedly encouraging her to hook up with Gerald. Sarah openly denied this and on that note, she rarely speaks negatively about how overprotective Mommy Divine can get. In her interview on The Buzz on May 12, she claims that she understands and even appreciates what her mother has done for her. But then again, her mother was there. On set. In the shadows.
ADVERTISEMENT - CONTINUE READING BELOW
Nanay verdict: In a manner of speaking, Mommy Divine is supportive and well, she's appeared in some commercials (Selecta Milk, AjiGinisa, and Lady's Choice Mayonnaise) to fulfill that role.
She seems to be always there for her not-so-little girl. Always. On one hand, it's cute. On the other hand, it's a little creepy. Sarah says she has seen stricter mothers and Mommy Divine doesn't really seem so bad if you compare her to Mama Elena from Como Agua Para Chocolate (Like Water for Chocolate) or Dear Mother Bates from that Hitchcock classic, Psycho.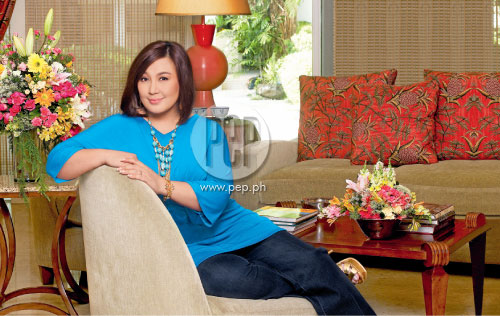 ADVERTISEMENT - CONTINUE READING BELOW
5. SHARON CUNETA
Claim to motherly fame: This award-winning actress and television show host is the mother of controversial star KC Concepcion
Stage mama moments: After the mysterious breakup of Piolo Pascual and KC Concepcion which had everyone's tongues wagging in November 2011, Megastar calmly came out to the press to reveal that she stood by her daughter who is a "strong girl, mature enough to handle any problem." She also proceeded to give Concepcion advice via the interview: "Kahit metro aide ang maging asawa niya, basta siya 'yung mahal na mahal." It should've happily ended there, but Cuneta appeared to have been bottling up her true feelings. In May 2012, Cuneta, who has since shifted to the TV5 network, was incensed when an ABS-CBN executive tweeted about Concepcion's alleged unsavory reputation. Cuneta attacked the ABS-CBN Publicity and Social Media Head with approximately 45 tweets about the subject, including a "If KC has done anything to upset anyone, or bring shame to our family, or ruin my trust in her, or ruin my NAME, AKO MISMO ANG BUBUGBOG SA ANAK KO AT HIHINGI NG TAWAD SA PUBLIKO BAGO PA MAKARATING SA MGA NANINIRA" before joking, "Isusumbong ko kayo sa lahat ng Tulfo! Hahaha"
ADVERTISEMENT - CONTINUE READING BELOW
Four months later in November 2012, Mommy Shawie again lashed out on Twitter, this time against fans of Pascual who were bashing her daughter over social networking. She hinted that she was close to revealing the true reason why her daughter broke up with Pascual. And, responding to some of the bashers individually, Cuneta tweeted: "Kung gano kabastos yang idol nyo ganun din kayo. Thank God nabuko ni KC! Hay Lord!"
In the end, a much calmer Cuneta apologized for her emotional Twitter rampage, tweeting: "And the fighter in me stands up to fight, to defend our honor... I am so sorry for having reacted in a way that may be so unbecoming of someone like me... perhaps even unworthy of your love & adulation..."
Nanay verdict: Ms. Cuneta seems to be enjoying the joys of microblogging. Like she said, she's just a fighter, but she has yet to prove it in a less passive-aggressive way.
ADVERTISEMENT - CONTINUE READING BELOW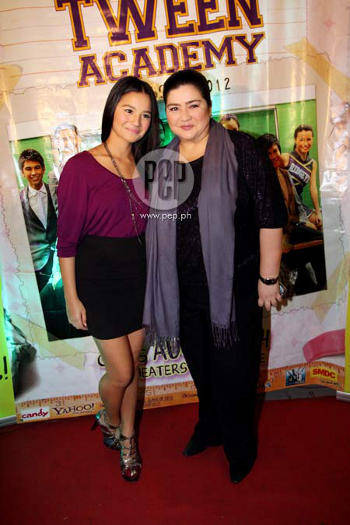 4. NADIA MONTENEGRO

Claim to motherly fame: Former actress and mother of actresses Alyanna and Annika Asistio
Stage mama moments: In December 2010, Nadia accused fellow never-say-die nanay Annabelle of child abuse. The latter had been the manager of Nadia's daughters, who were both minors. Nadia was accusing Annabelle of not compensating the girls properly and allegedly parading them before some men. As such, Nadia and Annabelle faced off at the Quezon City Prosecutor's Office. Nadia was quick to cry foul, claiming that Annabelle tried to punch her while the clarificatory hearing was going on. Nadia also charged Rama with attempted murder.
ADVERTISEMENT - CONTINUE READING BELOW
Through it all, Nadia said, "Kaya nga dinadaan ko sa ganito eh, kasi 'yung dalawang anak ko hindi naman nila kayang ipaglaban 'yung sarili nila eh, ako siyempre ang lalaban. I'm doing my job as their mother na kailangan ko namang protektahan [sila] (I'm doing all this because my two daughters can't defend themselves, so I have to fight on their behalf. I'm doing my job as their mother by protecting them)."
Nadia and Annabelle announced that they had reconciled earlier this month. They are each withdrawing the cases they had filed against each other.
Nanay verdict: It's great that Nadia tapped the court to fight the battle that she claimed she had waged on her kids' behalf. However, it didn't help that each of their court appearances turned into a circus. The fact that she was going up against Annabelle made the situation even more volatile. Was it really necessary to subject Alyanna and Annika to the whole nasty ordeal? Why not ask them to take a hiatus from their showbiz gigs and come back when they're ready to fight their own battles?
ADVERTISEMENT - CONTINUE READING BELOW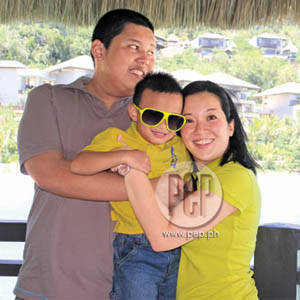 3. KRIS AQUINO
Claim to motherly fame: It's actually her kids who are reaping the gifts and curses of her infamy
Stage mama moments: We're not entirely sure how Bimby (formerly known as Baby James) will feel once he acquires enough maturity to process and store data about his mother. We really, really can't imagine how he can avoid finding out about the scandalous break-up his mother went through with Joey Marquez. The rest of the world can shut up about it, but Kris Aquino? Queen of Talk.
ADVERTISEMENT - CONTINUE READING BELOW
For the moment, we're pretty sure that kid is just utterly confused. His dad seems to be a simple man and by simple we mean easily understood and presenting no complexity. We felt pretty bad for him as he seemed genuinely surprised when Kris accused him of sexual assault. It was hinted that adoption might be the fire behind the smoke and James felt like Kris was manipulating Bimby, who she claimed may testify against him to prove her point.
Is it really a good idea to expose a five-year-old kid to this kind of circus? We're pretty sure it'll be traumatizing to find out that your dad allegedy tried to force himself on your mom at one point. On the other hand, finding out that she made it all up might not be comforting either so are we going to hope that it was true? Is that the lesser evil?
ADVERTISEMENT - CONTINUE READING BELOW
Nanay verdict: Kris Aquino doesn't really seem like such a bad momma. She frequently takes her children out of the country for well-documented moments of happiness and actively seeks out different treatments for Joshua's needs (including fitness!). The problem is when Kris starts with her hobby, which is essentially turning an anthill into Mt. Pulag. She also seems manip-oh what's that? Three more years? Okay.
2. CECILE ONGPAUCO
Claim to motherly fame: Mother of actress Heart Evangelista and potential mother-in-law of Sen. Chiz Escudero
Stage mama moments: Cecile first made headlines in June 2011 when she picked up Heart from the airport allegedly with five bodyguards (15 in some reports) to "protect" her daughter from Temptation Island co-star Marian Rivera with whom Heart had a rumored tiff. Cecile allegedly yelled at Marian to "stay away from (her) daughter." Cecile, however, later clarified that members of airport security were the ones who accompanied her as visitors were not allowed inside the airport terminal. She also denied screaming at Marian, and said she was only there to support her daughter whom the Amaya actress reportedly threatened.
ADVERTISEMENT - CONTINUE READING BELOW
The issue came to a standstill, and Mommy Cecile went back to her cave of anonymity-that is until Evangelista started dating Sen. Chiz Escudero who is 16 years her senior. Ongpauco claimed that the senator is an "opportunist," moving in with her daughter, using her car, and manipulating her to go against the family. The mommyger also told the Philippine Daily Inquirer that her 28-year-old daughter "does not have a mature mind and still thinks like a young girl." She said, "(Heart) is easily swayed by people who prey on her insecurities and lack of confidence." She also revealed that Escudero "seduced" Evangelista into thinking that she would become the First Lady come 2016, when the ambitious politician is rumored to run for the presidency.
Nanay verdict: Mommy Cecile's emotional outbursts might just be a reaction to motherly intuition, but her daughter is 28 years old. She can make her own mistakes. 


ADVERTISEMENT - CONTINUE READING BELOW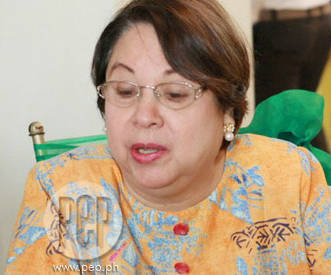 1. INDAY BARRETTO
Claim to motherly fame: Mother of actresses Gretchen, Marjorie, Claudine Barretto, and then some
Stage mama moments: Like a truly generous mother, Mommy Inday moved over to let the spotlight shine on her beautiful daughters. It was only in 2004, after a reported spat between Gretchen and Marjorie that she came out on The Buzz to proclaim support for her two younger daughters (Claudine sided with Marjorie), adding that the fight was all Gretchen's fault. After things simmered down and the sisters were seemingly friends again, Mommy Inday wrote a letter to showbiz columnist Ricky Lo, revealing to the public that Gretchen and Claudine were once again feuding. In the letter, Inday announced that Gretchen was apparently responsible for spreading lies that former soap opera queen Claudine was out to get Marjorie's daughter, up and coming actress Julia Barretto. Inday called her elder daughter "evil," and described her as a "ST (Sex Trip) Queen." With the family split between the two sisters, surprisingly, it was Gretchen and Claudine who barely spoke to the press regarding their quarrel.
ADVERTISEMENT - CONTINUE READING BELOW
Mommy Inday ended with this final note: "Just remember that my house, which you call less than your criteria, was what gave you a roof over your head, food (in) your stomach, clothes on your back when you were a nobody and had nothing! All you wanted was to hitch your wagon to a star and the world gave you the moon as well." She has also dismissed the testimonies of Gretchen's supporters, such as her son Jay-Jay and former actress Tania Montenegro, saying Gretchen had paid them.
Read our feature on the Barretto Family Feud.
Nanay verdict: Mommy Inday clearly thinks that airing the family's dirty laundry in public is a good way to...we're not exactly sure what she wants to happen. Her open letter to Lo even included some nasty details that weren't directly related to the feud. (Who cares about Raymart Santiago and the china that Erap bought?) Mommy Inday might be thinking that her daughters have had their 15 minutes of fame; now it's her time to shine.
ADVERTISEMENT - CONTINUE READING BELOW
Art by Warren Espejo, with photos from PEP.ph and screenshots from various fan-made and TV network-owned video cliops

Share this story with your friends!
---
Help us make Spot.ph better!
Take the short survey
More Videos You Can Watch
Load More Stories