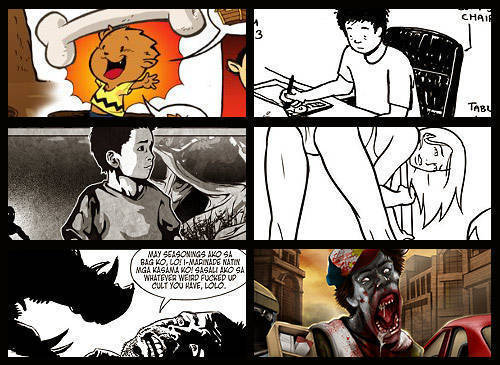 (SPOT.ph) "Komiks is dead" is something you hear just about as often as "OPM is dead," and it's just as false. While it's true that you won't find komiks in every corner, as in the days of Mars Ravelo's Ang Panday, a whole bunch of Pinoy comic book creators are keeping the comic spirit alive.
Trese and Kikomachine Komix are just the tip of the iceberg. In this season of superhero movies, we take a look at 11 other comic stories you should be checking out. From sci-fi to fantasy to straight up classic slapstick comedy, from super cute to super bastos, there's one for everyone, showing the wide range of fiction these new creators are churning out.
Since most of these are indies-that is, not backed by a major corporate publisher-it may be a bit difficult to find a copy. Comic Odyssey should be carrying a few titles, as well as Flipreads.com, but your best bet to score copies would probably be Komikon Indieket, an indie comic book market to be held on August 10 in Bayanihan Center, Pasig. Most comics retail for less than P100, and you'll get to meet the creators, too!
ADVERTISEMENT - CONTINUE READING BELOW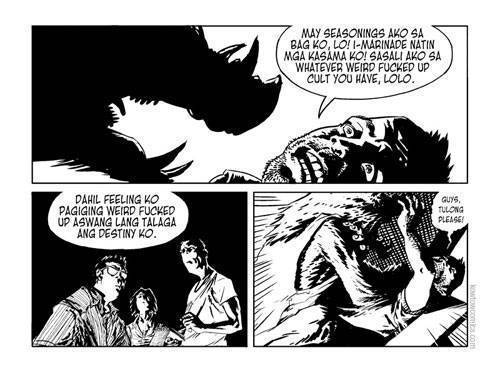 Crime Fighting Call Center Agents by Noel Pascual & AJ Bernardo
With hilarious characters cast straight out of a company payroll, Crime Fighting Call Center Agents combines team building seminars and fearsome creatures with a tongue-in-cheek tone. There's actually not much crime-fighting or call-centering going on...this hapless foursome mostly gets into trouble with aswangs. Written in Taglish and drawn in a loose, cartoony style that still manages to stay melancholic, it's funny and hip and modern and totally worth checking out.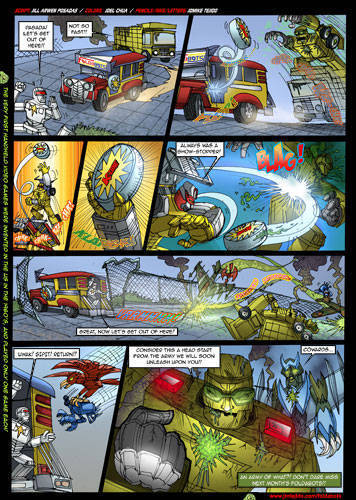 Foldabots Chronicles by Jomike Tejido, Jill Arwen Posadas, and Joel Chua
A compilation of the monthly comic strip running in K-Zone magazine, Foldabots is a distinctively Pinoy take on the Transformers concept, with giant robots that transform into Philippine eagles, manananggal, and FX cabs. Tejido and Posadas build a strong mythology, then bring it to life with action-packed pages that don't skimp on the detail. Joel Chua's colors make everything pop. Two Chronicles volumes collect a big bulk of the story, but if you really want to stay current, the latest installment comes in every issue of K-Zone, along with a brand-new Foldabot character that you can build.
ADVERTISEMENT - CONTINUE READING BELOW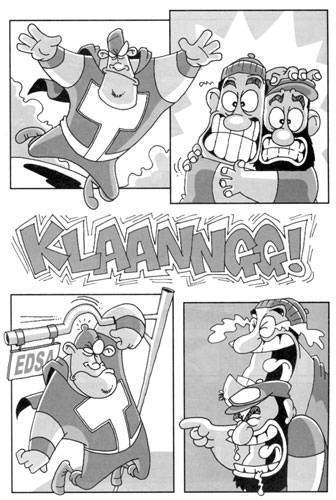 Kapitan Tog by Freely Abrigo
Creator Freely Abrigo keeps it strictly old school in this slapstick tale of square-jawed Kapitan Tog, "ang superhero na laging nauuntog!" In his less-than-competent quest to catch bad guys, Tog manages to run into every available lamppost, building, and passenger conveyance in Manila, and the villains he's chasing seem to be having as much fun as we are. Without any word balloons to distract from the action, it's a quick and funny read that's perfect for anyone.
ADVERTISEMENT - CONTINUE READING BELOW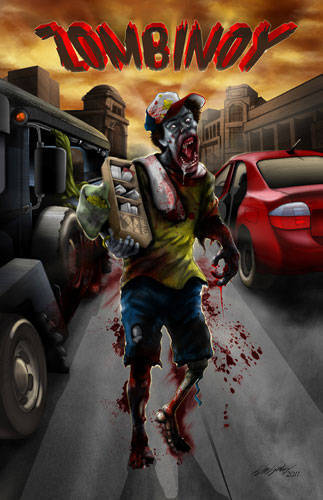 Zombinoy by Geonard Yleana and Sid Santos
Zombie plague hits the Philippines...is this a Walking Dead ripoff? Not really. A classic komiks sensibility infects the art, and a dash of topical Pinoy humor livens up the face-munching multiple subplots. It's not all karaoke jokes and sight gags (even if the creators do love putting their fans' faces in the comic panels)-social commentary comes in the form of a meddling US government who steps in to help for their own twisted reasons, along with a serious look at how we Pinoys would react if zombies actually showed up on our doorsteps. Three issues-one season, as the creators call it-are already out, and season two is coming up next.


ADVERTISEMENT - CONTINUE READING BELOW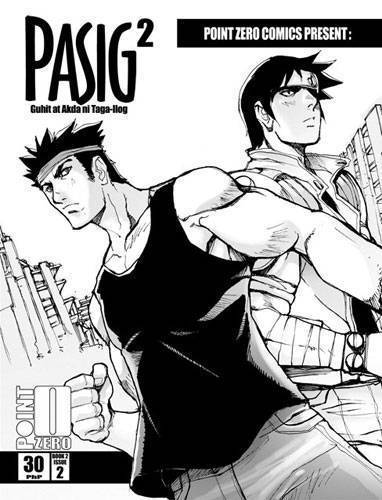 Pasig 2 by Taga-Ilog
A mainstay of the legendary manga-inspired anthology known as Culture Crash, Taga-Ilog's Pasig was cut short when Crash closed down. Years later, Taga-Ilog picks the story up again, releasing the further adventures of Mina and Dante in individual comic book issues. Set in a ruined future Philippines with bounty hunters and a new slave caste called the esclabo, it's a refreshing sci-fi-western-post-apocalyptic story, packed with dynamic manga-style panels that propel the action. Two issues are out, with more to come in Indieket.
ADVERTISEMENT - CONTINUE READING BELOW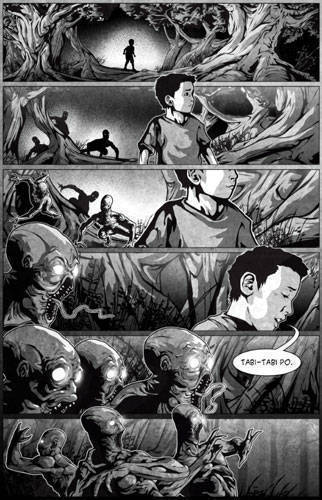 Skyworld by Mervin Ignacio and Ian Sta. Maria
The creators go for their own epic spin on Pinoy mythology in this comic tale. Ian Sta. Maria's art is up to the task-clean, richly shaded lineart with a keen eye for details. Story-wise, you really can't go wrong with a tikbalang slicing the heads off invading conquistadores during the Battle of Mactan (spoiler alert: Magellan dies). Mervin Ignacio goes for some serious world-building, as a lost kingdom of tikbalang, aswang, and various Sons of Heaven poke and prod at the unseen corners of Philippine history. A four-book volume is already out, with a full-color sequel on the way.


ADVERTISEMENT - CONTINUE READING BELOW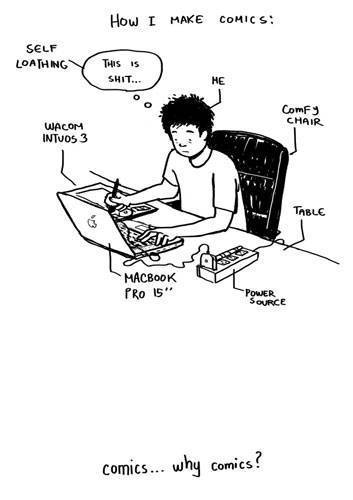 01 by Rob Cham
There's no mistaking the distinctive doodles of Baguio-born Rob Cham. You've probably seen one or two of his posters floating around the interwebs. In this comic, he starts early (he's only in his early 20s, after all) on his own autobiography-cutely drawn vignettes of a cartoonist's struggle to let his art free. Best of all, he's released it free on the web, and you can download it here. This is only one of the prolific Cham's many comic works-also check out his collaboration-slash-anthology with Apol Sta. Maria, Manix Abrera, Cel de Guzman, and Josel Nicolas, Secrets of the Universe. That is, if you can find a copy; it was completely sold out at this year's Art in the Park.


ADVERTISEMENT - CONTINUE READING BELOW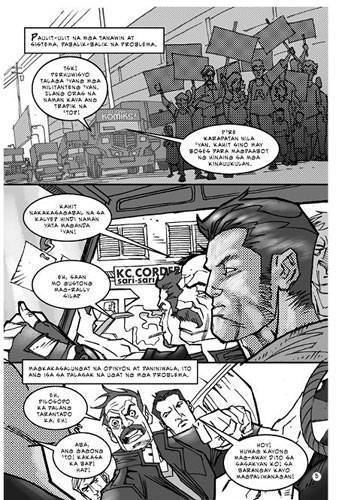 A page from Kalasag, one of the comics from the Black Ink imprint

Black Ink Comics by Various Creators
Not a comic book, per se, but an imprint from the same publisher as the Precious Hearts romances. Don't expect cheesy romances from these comics, though-Black Ink publishes graphic novels that feature a variety of creators and cut across a whole swath of genres. If you want Chinese-inspired cross-dimensional dragon fantasy, pick up Jeffrey Marcelino Ong and Gilbert Monsanto's 12-parter Hands of the Dragon. If you're into derring-do with half-men, half-beast creatures, check out Ron Mendoza and Randy Valiente's Ani-Men. And if you really want to see our national hero with magical powers, get Mendoza and Arnold Cruz's Pepe: The Lost Years of Jose Rizal. Out of all the comics on this list, Black Ink Comics are probably the most widely available-you can check them out in most major bookstores, priced at P70 a pop.
ADVERTISEMENT - CONTINUE READING BELOW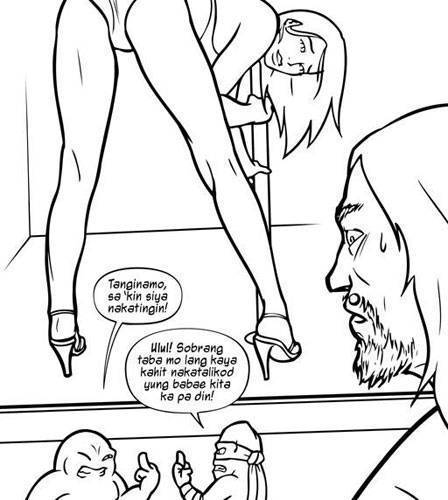 Kubori Kikiam by Michael David
Michael David's long-running and wildly bastos series stars anthropomorphic street food who indulge in bizarre adventures. Prepare yourself for sick, twisted, and ROFD (rolling-on-the-floor-dying) humor as these three wannabe superheroes ogle breasts, deal with the redundancy of gay fairies, and download Internet porn. If you're the type to be easily offended, please stay away. Issue #8, plus an omnibus of comic strips, is available now, while interactive fun for fans comes with the Kubori Kikiam adults-only coloring book, released just this year.
ADVERTISEMENT - CONTINUE READING BELOW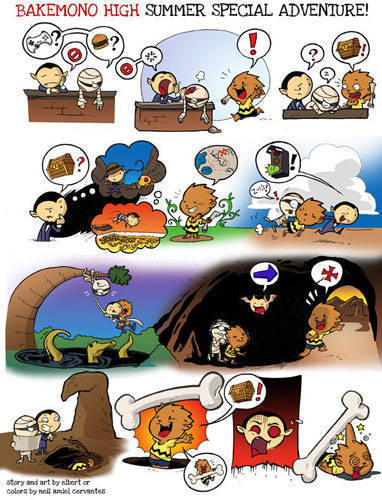 Bakemono High by Elbert Or
Bakemono High ran for a while in K-Zone magazine, and now it's back, in snazzy original graphic novel format. The adventures of the monstrously cute high school students-which include a werewolf, a vampire, a mummy, a witch, a kappa, a Frankenstein's monster, and a mad scientist-are perfect for that inner kid in you. Creator Elbert Or's eye for character design and just the right punchline transmogrify those fearsome creatures into cuteness personified.


ADVERTISEMENT - CONTINUE READING BELOW
A very cute video trailer for Hero Kitten Kuting Magiting

Hero Kitten Kuting Magiting by Robert Magnuson
A spin-off of Robert Magnuson's popular Inquirer comic strip, Shirley's Pets, Hero Kitten Kuting Magiting is another comic book so full of cuteness it's almost impossible to resist. In fact, all the copies Magnuson brought to this year's Komikon were completely sold out! The story of a superpowered cat and the dog who's tasked to raise our li'l Kuting, Magnuson is the master of taking an adorable concept and making it fly. Don't worry-he's hard at work on Issue 2.
Share this story with your friends!
---
Help us make Spot.ph better!
Take the short survey
More Videos You Can Watch
Load More Stories