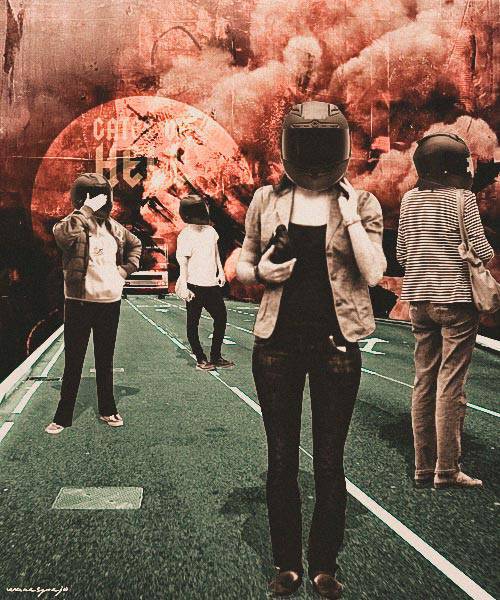 (SPOT.ph) Wear a helmet. I don't mean this for people in motorcycles, I mean this for everyone. Even pedestrians. Especially pedestrians, and even more specifically, those who have to stand on the sidewalk (or road gutter) while waiting for some form of public transportation.
Wearing a helmet not only reduces the risk of brain spilling on the asphalt in the event that you encounter a suicidal bus or jeep (seriously, these vehicles need therapy), it also minimizes the symphony of blaring horns and screaming barkers whilst protecting your heart from melting as a child begs you for money (no food, cash only). Come to think of it, it might also help filter the air you're breathing.
This thought occurred to me as I was driving along Commonwealth. I am on the outermost lane and this bus speeds past me, sharply shifts to my lane, and then stops right front of me, causing me to quote what my father said that time he accidentally hit his thumb with a hammer: "Prutas ng ina!"
ADVERTISEMENT - CONTINUE READING BELOW
My brake worked perfectly, but even with my seatbelt on, I shot forward far enough that the tip of my nose touched the steering wheel. I wanted to give the bus driver a piece of my mind but I saw this sticker on the rear: Jesus is my co-pilot. I'm aware that a bus is not an aircraft but I sure as hell am not going to shout at people affiliated with someone that influential.
Plus, nagtatrabaho lang naman sila. 'Di ba? What right does a privileged citizen like me have to tell them off? I don't want to be accused of being elitist.
So I spent a good 15 minutes stuck in my lane as more and more of these buses and jeepneys swerved to get prime passenger pickings. I've installed a laptop tray on my dashboard and with the help of pocket WiFi, I use my time stuck in these jams to get some work done. Again, I'm not an elitist so if you don't have a laptop, bring a book or play some games on your smart phone (I know you have one). If you want to be less productive or entertained, buy a stand for your tablet (or again, your ginormous phablet) and play something. You'll manage to squeeze in an episode or two of your favorite show, I guarantee it.
Mind you, this only works when the traffic comes to a complete halt. When there's flow, you need to be alert. Constantly.
I'm grateful that all of my lights work because I think there's been some manufacturing glitch somewhere as very few cars on the road seem to have a functioning turn signal. This forces people to turn or unceremoniously edge into your lane, catching you off-guard and leaving you with a panic-induced seizure. I'm pretty sure they don't mean to be rude. Why else would they get mad at you if you yell at them?
I did that once and this guy got so angry. I ended up apologizing because he made me feel like I wasn't aware that turning without signaling was the norm. I figured I was the problem. I might have road rage, I don't know. My friend is helping me with it, she bakes these brownies for me-made with medicinal herb that she gets from Sagada. It calms me down. She's very sweet but her brownies aren't. They taste funny but they help.
ADVERTISEMENT - CONTINUE READING BELOW
Because I also usually get rather upset about these motorcycles racing past me left and right. Now, I take it as a sign from God that I need to be more conscientious and considerate. I do not own the road. I am planning to install a camera where my blind spot is for their benefit. I don't want them to die or worse, get injured. Not only is that a burden on my soul, it is also a burden to me financially. I understand that I am more fortunate because I earn a whopping P15,000 a month and I guess I can pay for a funeral if I live like a monk for a few months but medical bills? Oh boy.
Speaking of which, the increasing number of motorcycles on the road is another reason to wear a helmet all the time. People alighting from buses need this since it's kind of hard to tell if the motorcycle will speed up or slow down at the sight of a person getting off a bus. Don't take your chances, just wear proper headgear. I'm sure you'll crack a rib or two if you do get hit but at least your head is safe.
ADVERTISEMENT - CONTINUE READING BELOW
I'm also thinking of petitioning for safety bars. Installed in buses, like those in roller coasters? I occasionally take the bus, sometimes late in the evening, and man, are these drivers trained or what? I was thoroughly impressed. It's amazing how they choreograph the stunts they do on the road!
I gave them a standing ovation one time, when the bus that I was riding went through the extremely narrow path the two other buses on either side made. The side mirror was shaved off and the bus driver went down to yell at the other bus drivers. I couldn't hear it clearly but I presume he was lecturing them on the importance of attending rehearsals. It was still good, so I didn't really think he should've gotten that angry.
But yeah, safety bars for the passengers. Just so everyone can enjoy the show without worrying about death. Who wants to worry about death?
ADVERTISEMENT - CONTINUE READING BELOW
Just look at the pedestrians crossing the street. Look at how carefree they are, running through 18 lanes in the dark. Cheers to these brave men and women with their children! I'm not sure how much help a helmet is going to be if a truck hits you, but yet another benefit is that your face will likely be recognizable. We'll be able to identify you and celebrate your bravery!
Share this story with your friends!
---
Help us make Spot.ph better!
Take the short survey
More Videos You Can Watch
Load More Stories