7 Things We Learned About P-Noy in the July 2013 Issue of Esquire Philippines
P-Noy on the cover of the July issue of <em>Esquire</em> Philippines
(SPOT.ph) On the cover of this month's Esquire Philippines-dubbed as its "How to be a Man" issue-is none other than the President of the Republic of the Philippines, Benigno S. Aquino III. "Coming from two months of having ladies on the cover, we knew we had to put a 'strong man' this month," says Jonty Cruz, Esquire's Managing Editor. "During the editorial meeting, our features editor, Audrey Carpio, said something like, 'the only man people are talking about is the President.' It clicked,'" Cruz narrates. Indeed, it does; the President is set to deliver his third State of the Nation Address on July 22.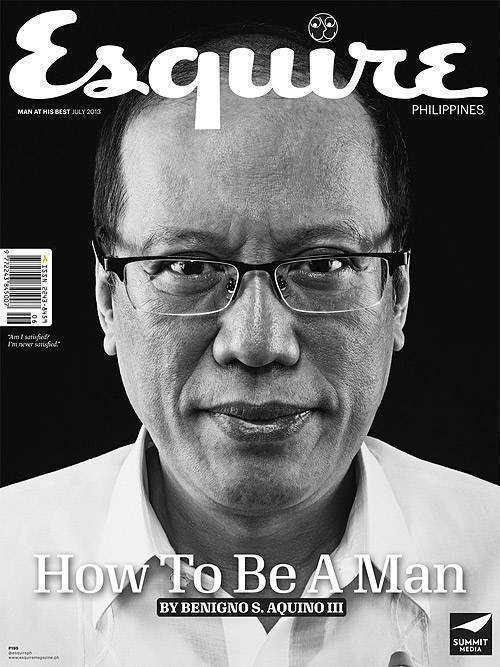 ADVERTISEMENT - CONTINUE READING BELOW
The team started putting together the shoot at the end of April and went through the red tape arduous process of scheduling an appointment with the President. The fact that Cruz is P-Noy's nephew didn't help. "It was a long process, almost a month and a half," Cruz says. They finally nailed a date: June 27, Thursday. It was cutting it close so the team did everything they could, from praying to St. Jude to buying the President cronuts from Wildflour.
Photographed by Francisco Guerrero, we must admit this might be the best we've seen of the President. The cover story is written by Vannie Sequera, and we finally learn something about the President besides his love life. Below are seven:
1. The President is looking forward to the day he becomes a regular citizen. "I'll need one year to recover," he says. After his term, P-Noy plans to take a little break and "do a lot of things." As Chief Executive, P-Noy only gets 10-second glimpses of the country during visits to provinces. Post-presidency, he plans on "becoming a domestic tourist" and getting 10-minute glimpses.
ADVERTISEMENT - CONTINUE READING BELOW
2. He is already "stockpiling on books" for that little break that 2016 promises. He doesn't name any specific titles or authors, but mentions working with Undersecretary of Presidential Communication Development Strategic Planning Office, Manuel Quezon III, on writing a memoir.
3. He was 12 years old when Martial Law was proclaimed.
4. Doesn't claim to have the best memory but the President will remember things that catch his interest, the things he notes on paper, and promises made-especially promises made.
5. He's never satisfied. "Unless we are already in heaven, then there are always things that can be improved."
6. He was ambushed on August 28, 1987, during one of the coup attempts mounted against his mother, President Cory Aquino. "We were five against 94 soldiers," he reveals. In that ambush, three men died, one lost an eye and took three bullets. President Aquino, then 27 years old, took five bullets.
7. He was saved by Samuel Santos, a marine sergeant, who was to turn a year older two days later.
ADVERTISEMENT - CONTINUE READING BELOW
Apart from the P-Noy, Esquire's "How to be a Man" issue features interviews with Bamboo, Erwan Heussaff, TV5's Patrick Paez, Atom Henares, and Jose Maria Sison.
Recommended Videos
Load More Stories