Apl.de.Ap Wants You to Buy Macaroons for a Cause
Red Ribbon, Franklin Baker Company and the Apl.de.Ap Foundation have created this seemingly innocent sweet treat to bridge the education gap in the country...wait, what?
(SPOT.ph) We've seen the Maalala Mo Kaya episode dramatizing the struggles he went through when he was a young boy named Alan Pineda Lindo in Pampanga, but we discovered a few more amusing things about Apl.de.Ap at Teatrino in Promenade on July 4.
We realized that he's got the kenkoy gene, which was evident when he shyly walked up to stage, awkwardly saying, "Hello po, ako ulit."  He gave a performance immediately after he gave a speech and had to be reintroduced. That's another thing we found amusing. He was introduced maybe three or four times within the course of the program. This seems extra strange considering that he has long been a source of grade-A Filipino pride for being a member of the internationally acclaimed music group, The Black Eyed Peas.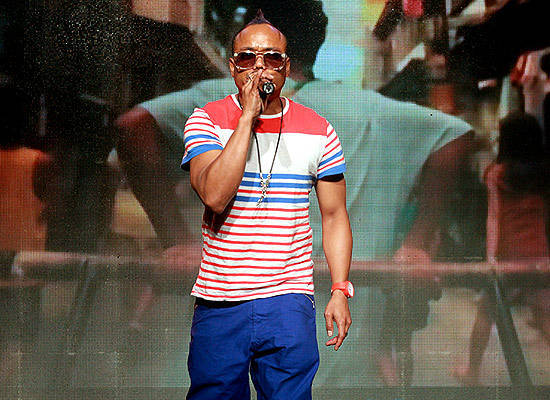 ADVERTISEMENT - CONTINUE READING BELOW
CONTINUE READING BELOW
Recommended Videos
Apl.de.Ap (member of The Black Eyed Peas) entertains the crowd
The thing we found most interesting is the simplicity in his speech. No cue cards, and a speech littered with "ums" and "you knows," revealing to us that it was unrehearsed. We felt like what we really should be admiring about Apl.de.Ap is not his achievements in the music industry but his genuine desire to help. He nonchalantly stated, "I was one of those kids, now I'm giving back. I have the resources and opportunities."
We have such a soft spot for social entrepreneurs (hello there Human Nature) and organizations that help build the nation (and hello to you too, Teach for the Philippines). Now, Apl.de.Ap and the people helping him and his foundation are joining the movement to better the living situation of those with fewer opportunities in life.
What better way to do that than with food?
ADVERTISEMENT - CONTINUE READING BELOW
The Philippines is among the top five countries where kids don't have access to education and while this is a sad statistic, it is now the main driving force for the Apl.de.Ap Foundation, Franklin Baker Company, and Red Ribbon to join forces in launching "Red Ribbon Macaroons for a Cause."
With each pack sold of Red Ribbon's macaroons, 14% or P7.00 will go directly to the Apl.de.Ap foundation to help in building public high schools for students to gain access to education and to pursue their interests on a global scale. "I don't know, I just keep thinking: programming. I just feel like someday we'll have programmers and maybe something like Silicon Valley here in the Philippines."
When that happens, we can imagine a kid tearfully saying, "It all started with macaroons!"
We got to try these soft, dense, and moist coconut macaroons and they did not disappoint! They may be small but they pack not just the rich flavor of coconut and butter but a taste of what being a good person is like. Yummiest feeling on the planet.
ADVERTISEMENT - CONTINUE READING BELOW
Head over to your nearest Red Ribbon bakeshop and buy a pack for only P50 and support this cause.
Photos courtesy of Green Bulb Public Relations
Load More Stories