Mascots and Manly Cheerleaders: A Casual Runner's Experience
A casual runner checks out what goes on in a marathon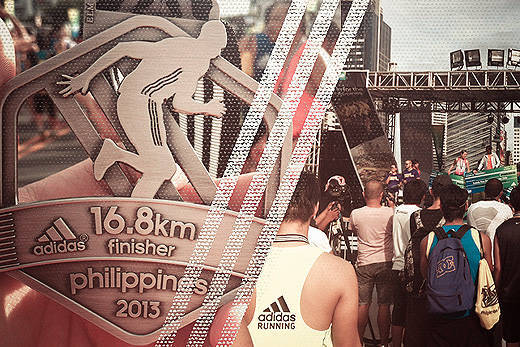 (SPOT.ph) There are some people, no matter how long they've been running, who will always consider themselves casual runners, unconcerned with personal records or podium finishes. Casual runners are the type of people who are more concerned with taking selfies at the end of each run (and at times, during), always in search of those elusive (and oftentimes, picky) event photographers. I am proud to say I am part of that "elite" group. So as a casual runner, any distance greater than 10 kilometers is a daunting task.


ADVERTISEMENT - CONTINUE READING BELOW
CONTINUE READING BELOW
Recommended Videos
In all the races I've joined, I've ended up with numerous injuries: patellar pains, stiff knees and most recently, a mild case of Iliotibial Band Syndrome (ITBS) while running on the Skyway. I wanted to take a break from all these competitive runs...but I got an invite to the Adidas King of the Road. True to its name, it is considered royalty among local running events, and I just couldn't miss it. So armed with a handful of Runner's World magazines and The Big Book of Marathon and Half-Marathon Training, I was determined to come out of this race unscathed.


I had taken up running only last year as a way to get rid of my beer belly. I started with 1 km each day and gradually increased distance and confidence every week until I eventually lost 40 lbs or 23% of my body weight. With enough confidence to join fun runs, I started with 6 km, then did several 10 km runs with 5 km fun runs in between.
ADVERTISEMENT - CONTINUE READING BELOW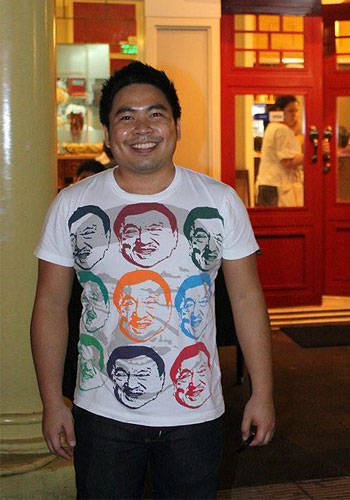 Me, before I took up running
I started my official training for KOTR in April and my only goal was to strengthen the muscles around my knees so that I don't injure them any further. My routine was composed of light long runs followed by short hard runs every other day, pairing each session with a good 15 minutes of lunges and squats. Nothing scientific, just breezy and not too stressful, the way fun runs are supposed to be trained for. I repeated this process, adding just 10% of my total distance to each week and by the time race week came, I gave my body a break and focused various stretches, mainly so that I do not aggravate my ITB or tear my meniscus.



ADVERTISEMENT - CONTINUE READING BELOW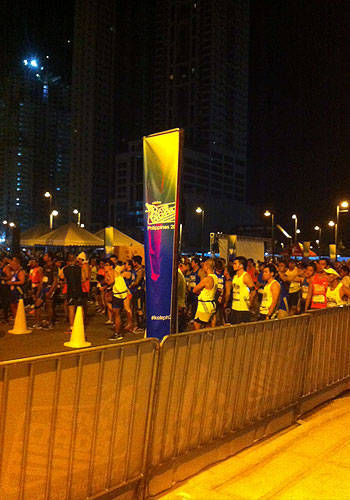 The competition
Raceday: It was almost 4 a.m., just a little before the crack of dawn and as the previous night's partygoers filed out of High Street, the King of the Road participants started pouring in. Adidas Philippines country manager Georges Youseff said it best in his opening speech: "You are all winners in a race before you born, it was against 180 million participants."


The horn sounded and I was immediately overwhelmed by the up-and-down bouncing of runners outdoing one another and trying to get a good head start. It's a common scene in big races and it never gets old, I always think I'm part of an angry mob, charging furiously at an unknown enemy.


ADVERTISEMENT - CONTINUE READING BELOW
One can judge how prestigious a race is by how serious the runners are. In KOTR, the runners were dead serious. No one was letting up and there was a general feeling of preparedness. The norm is that once you hit the 5 km mark, that's when you see droves of people slowing down into an eventual walk. I was ascending the Kalayaan flyover, which was near the 7 km mark, and there was just no sign of these walkers. The participants were really pushing the pace. I then knew it was game-on from start to finish.


The pace kept up and I found myself in familiar territory: the middle of the pack which, in my opinion, is the ideal position to be in. There was no pressure to stay ahead and no lagging behind watching the whole world pass you by. I was on cruise control from the 10 km mark onwards, and though I felt my chest tightening near the 12th kilometer and my calf stiffening up while going back up Kalayaan, I was able to keep moving, thanks to the gimmicks the organizers had in store: cheerleaders in almost all corners of BGC, very respectful race marshals, kind hydration station assistants, and the mascots (yes there were two of them in fact, surprising and yet refreshing to see).
ADVERTISEMENT - CONTINUE READING BELOW
I saw Jollibee, which wasn't too strange. But Elmo? Was I hallucinating?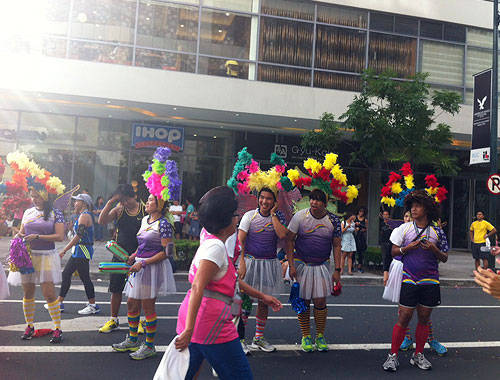 How can you not be inspired when being cheered on by these "ladies"?
ADVERTISEMENT - CONTINUE READING BELOW
Finally, the last marker: 16 km, with only 800 meters to conquer. Nothing beats the feeling of crossing the finish line and lining up to receive that beautiful medal. The triumphant feeling of doing your best and finishing strong is incomparable and never gets old. Even the most casual of runners know the triumphant feeling of the runner's high.


The launch of the new Adidas Boost running shoes was the highlight of the post-race activities. The Boost enjoyed limited release in the first quarter of 2013, but is now back with an enhanced version which has Formotion padding at the soles for extra stability. I was able to try them out and they seem ideal for heel strikers. You do feel that extra energy with every stride and a nice bounce with every step (think a cushy version of the pogo stick underneath your feet).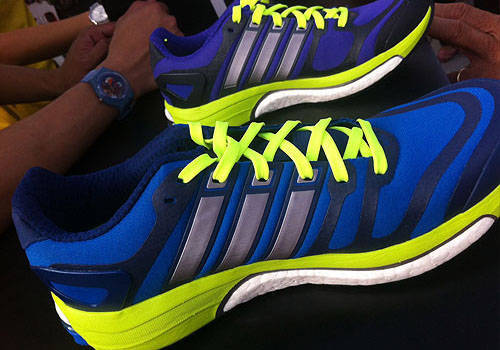 The new Adidas Boost
ADVERTISEMENT - CONTINUE READING BELOW
Personally, this race was extremely memorable as I had accomplished the goal I had set out for myself: no injuries whatsoever. I ran hard and I'm still standing, walking and in a few hours, back running again. I clocked in a decent 1 hour and 49 minutes (6.5 minutes per kilometer). Definitely not material for royalty; if this were a chess game, I'd probably just be the Pawn or some other lowly servant, but at least KOTR made me feel that I am the king of MY road.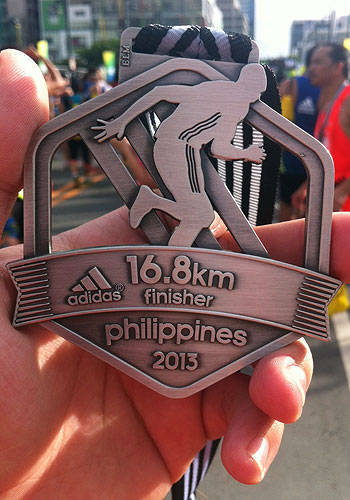 What a beaut!
ADVERTISEMENT - CONTINUE READING BELOW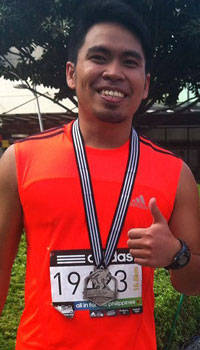 Liro Mangubat is a Senior Associate at NASDAQ OMX. He believes in the power of God, Mother Mary, and sisig. He is currently single and running is his girlfriend. When he is not running or chugging down beers in cheap carinderias, he's on Twitter (@LiroMangubat). You can reach him at liromangubat@gmail.com.
ADVERTISEMENT - CONTINUE READING BELOW
Load More Stories