Hot on Spot: 10 Questions to Ask Yourself Before You Star in a Sex Video
Think before you make like a porn star.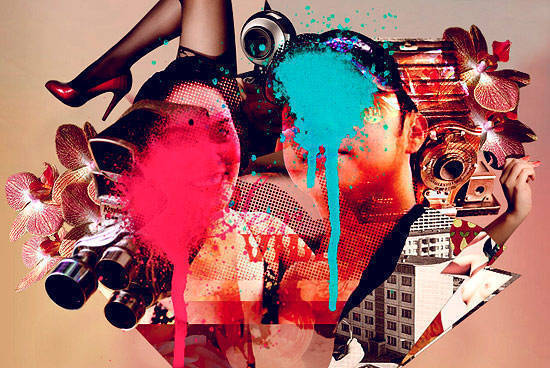 (SPOT.ph) The latest sex video leak involving 37-year-old Parokya ni Edgar frontman Chito Miranda and his 27-year-old girlfriend Neri Naig once again had us asking, "Why do couples take videos of themselves having sex, anyway?" Don't tell us it's for posterity because they could easily write each other passionate love letters or commission a photo shoot with a Lord of the Rings theme. But, no, they go for a DIY sex video.
Thanks to wild online porn, the world isn't exactly going to be shocked by sex videos anymore. (To demonstrate: Google the word "bukake.") However, that doesn't necessarily mean shooting your very own sex video is the wisest thing to do. Here are 10 questions you should ask yourself before you agree to make like a porn star.
1. Do you both want to do it? Consent is key. If you're gung-ho about it but your partner is going all Maria Clara on you, then don't do it. The f*****g footage must be approved by both parties or it's just plain foul. Bottom line: You both say go or no sex video.
2. Why are you doing it? Come clean about your reason for wanting to star in a sex video. It's understandable if you're pushing 40 and you want to remember your 39-year-old self doing intricate bed moves without getting injured. It's OK if you're terminally ill and want to remember one last bed session where you were able to give Maria Ozawa a run for her money. It's cool if the world ends in seven days and nobody will care what you do. And so on. To each his or her own logic. Stand firm on your pure (or impure) intentions so you won't end up sounding pathetic when a leak occurs. We'll mark the day when someone says, "Yes, that's my sex video. It got stolen, but so what? I had a great time. Inggit lang kayo." Sex happens. Why should anyone apologize for it?

ADVERTISEMENT - CONTINUE READING BELOW
3. Will you be keeping the footage in a robbery-proof place? Somebody pointed out that all the leaked sex videos featuring Pinoy celebrities always originated from a robbery of some kind. If you have the means to keep your sex video file safe forever, then go ahead and get it on. If not, maybe you should be content with doing the deed in front of a large mirror. Or, better yet, have a mirror installed on your bedroom ceiling. It's the same effect minus the risk of a leak.
4. Are you famous in some way? If you've gained some sort of fame, it's best not to indulge your sex video urges. In the event of a leak, your sex video footage is sure to go viral. A sex video, like death, magnifies the fame you have. So, even if you're just remotely popular, your sex video will get downloaded and uploaded over and over again. Just say no to the sex video...unless, of course, you really want the attention.
CONTINUE READING BELOW
Recommended Videos
5. Would you be able to handle it if your parents saw the video? If you're sure your parents won't have fatal heart attacks when they see you in action, then get ready for your O-face close-up. You can take more comfort in the fact that your parents probably wouldn't want to see you in such an X-rated state even if your sex video were in their posession. Isn't it ironic how the people who had sex to create you don't want to see you having sex? It works both ways. You don't want to see them in a similar situation. It's the kind of scene that would make you want to gouge out your eyes.
ADVERTISEMENT - CONTINUE READING BELOW
6. Have you thought about the future? Once it's leaked, there's no way of completely destroying all the existing files of your sex video. It will always be out there. Let's say you have a kid and when he or she is around 18, he or she comes across your sex video in the Vintage Porn section of YouPorn.com. If you can live with that possibility, then what's stopping you from enjoying your porn star moment?
7. Will it make your lives better? Aside from stroking your egos, does your sex video have financial potential? If you're not famous, are your bedroom antics so extraordinary that you can actually sell your video to adult entertainment companies? If yes, then by all means go all the way.
8. Are you planning to keep it? You can have your cake and eat it, too, if you and your partner just view your intimate footage once and then delete it. Keeping it isn't a good idea, as you or other people may be tempted to use it for blackmail. Just ask Hayden Kho Jr.
9. Isn't there any other decadent activity that would make you happy? How about living dangerously by eating meat-like steak, for instance-that would actually give your body some proper protein? There are a lot of munchies that are tagged as "better than sex." Chocolate is one of them. Still, it all depends on what kind of sex you're having. If it's the Fifty Shades of Grey kind, then no chocolate will make up for it.
ADVERTISEMENT - CONTINUE READING BELOW
10. Are you religious? If you fancy yourself as a prayerful person, keep in mind that God will be watching you do everything. That includes having sex. Indeed, even if you don't make a sex video, there will be a master copy of your encounter in Heaven...or wherever those things are kept in the realm of the divine. Thus, a sex video would be redundant. You should just stick to the dirty movies in your mind. Those are pretty much leak-proof.
Art by Warren Espejo
Share this story with your friends!
---
Help us make Spot.ph better!
Take the short survey
Load More Stories