Public Speaking: 10 Cliché Political Phrases and What They Really Mean
You always have to read between the lines.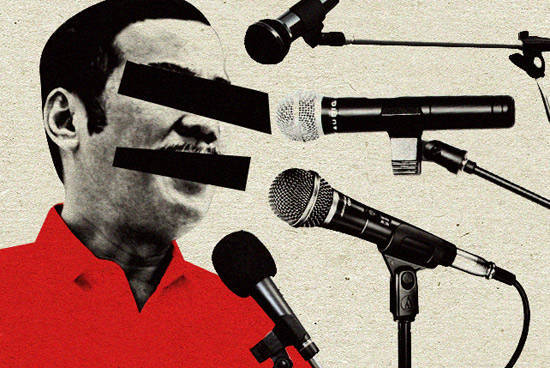 (SPOT.ph) In showbiz, when someone says, "We're just friends," nobody believes it. Everyone thinks it's just a coy way of saying, "Yes, we're exclusively dating" or "We've moved in together and already have a secret love child." Aside from the default "friends" statement, there are so many more vague quips associated with the people of the entertainment industry. We hear a similar tune from the realm of politics, which is pretty much the same banana as showbiz.
We list 10 often-heard, standard issue statements and offer these close approximations of what they really mean.
Sometimes, they say it best when they say nothing at all. Unfortunately, they always say a lot even when they don't have much to say. (Disclaimer: This year's SONA was fine enough, but we prefer Ramon Bautista's seconds-only version. Read on. It's down there somewhere.)
The denial
What they say: "I categorically deny any involvement in the issue."
What it could mean: "Pakshet, I hope you don't find out that these people you're accusing of being involved in the scam are my friends!"
Private life

What they say: "We do not issue official statements on the mayor's love life."
What it could mean: "Hayan na ang headlines n'yo for the next six weeks so you'll leave us alone to implement all the illogical ordinances we want."
Investigative ventures

What they say: "We must refrain from making accusatory statements because the investigation is still ongoing."
ADVERTISEMENT - CONTINUE READING BELOW
What it could mean: "Wait lang, ha? We're giving the people involved, who are our allies, a chance to redeem themselves before we tell everyone a partial version of what happened."
National condition

What they say: All the SONAs
What it could mean: "Guys, relax. OK ang bansa natin. Palakpakan naman d'yan." (This statement was tweeted by comedian Ramon Bautista.)
Group work

What they say: "We shall be forming a study group/technical working group to look more closely into the matter."
What it could mean: "Ano ba talaga kasi yang punyetang matter na yan?!"
Negotiation blues

What they say: "We're hoping that the negotiations will yield favorable results."
CONTINUE READING BELOW
Recommended Videos
What it could mean: "Malabo pa rin pero negotiate lang nang negotiate para 'di sabihing walang ginagawa."
Change agent

What they say: "The new administration shall be instituting significant reforms."
What it could mean: "We're gonna totally undo everything the past administration has done because we hate them. They can't sit with us because we're destroying their chairs!"
Happy ending

What they say: "At the end of the day, we will still be dealing with these issues in our best capacity."
What it could mean: "Mga alipin, tumahimik na kayo at tapusin na ang pesteng press conference na ito! Alam naman natin na kahit anong sabihin o gawin n'yo ako pa rin masusunod dito."
Incident report

What they say: "We assure the public that we have the situation under control."
What it could mean: "Sa totoo lang, we don't."
ADVERTISEMENT - CONTINUE READING BELOW
Fight club

What they say: "We just have a difference in opinion on some issues."
What it could mean: "We hate each other's guts."
And an extra cliché from the public political hearings:
Discreet Confession
What they say: "I invoke my right against self-incrimination."
What it could mean: "Guys, obvious ba? Hindi ko aaminin pero ako nga ang nagnakaw at nagwaldas ng pera n'yo."
Share this story with your friends!
---
Help us make Spot.ph better!
Take the short survey
Load More Stories