MOVIE REVIEW: The Conjuring
Need to stay awake? Watch this film.
(SPOT.ph) Rhode Island, 1971. When the Perron family is terrorized by a demonic presence after they move into an old farmhouse, mom Carolyn Perron (Lili Taylor) begs paranormal investigators Ed and Lorraine Warren (Patrick Wilson and Vera Farmiga) to help them. Based on a true story. Rated R-13 by the MTRCB.
PLUSES
The lean and mean script. Having helmed two of the best horror flicks in recent years prior to The Conjuring-Saw and Insidious-director James Wan surely knows that a very thin line separates a script that explains plot points just enough with one that's too verbose. The script for The Conjuring, credited to Chad Hayes and Carey Hayes, gets it just right. Potentially tricky details such as the Devil's obsession with 3 a.m. and the number three in general are discussed briefly but clearly, as are such things as the three stages of  possession and the differences between ghosts and demons. But for all the terrific qualities of The Conjuring script, my favorite is the absence of skeptics from the story. If you like scary movies, you've surely seen more than your fair share of "Doubting Thomas" characters who dismiss the supernatural occurrences until he or she gets a rude awakening and a nasty comeuppance in the end. How refreshing it is that The Conjuring has no such clichéd cynics in its 110-minute running time.
The convincing ensemble. Props to the actors and actresses who played the Perron parents and their three young daughters for making it easy for viewers to suspend their  disbelief and quickly accept the performers as a family. There are no only-in-the-movies precocious kids or bratty teens here...just girls who behave and react to situations in this reel world the way their real-life counterparts would. Special mention goes to the fright flick's two moms-Vera Farmiga as paranormal expert Lorraine Warren and Lili Taylor as the terrified Carolyn Perron-for their grounded, sensitive portrayals of women who would bargain with the Devil for the sake of their children. Thanks to their affecting portrayals, it wouldn't have been inappropriate for The Conjuring to be released as a Mother's Day treat. This is one horror flick that deserves a nomination from the Screen Actors Guild for Best Ensemble!
ADVERTISEMENT - CONTINUE READING BELOW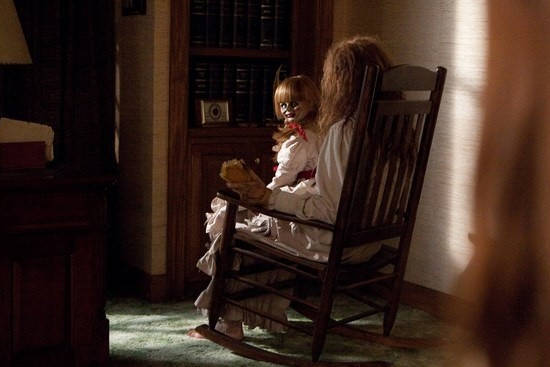 CONTINUE READING BELOW
Recommended Videos
The creepy children's toys and games. Anyone who's seen the "hide and clap" game that figures prominently in The Conjuring's unnerving trailer won't soon forget those pale clapping hands that appear in the near-darkness. But the filmmakers employ other childish/child-like devices to strike unholy terror in viewers' hearts: there's a muddy blonde doll that's scarier than Chucky (from Child's Play) ever was, not to mention a jack-in-a-musical box that's used to blood-curdling effect in a couple of scenes. Also bone-chilling are the sleepwalking scenes of one of the Perron girls.
The efficient scares. With the exception of the frightening "clap clap" shots, there's not much else in Conjuring's arsenal of scare tactics that's new. Credit, however, must be given to director James Wan for making the stomach-churning suspense and surprising reveals work effectively despite the fact that we're expecting them. We know that we're going to be jolted by a loud sound sooner or later when the sound track goes eerily quiet. We know that a wide shot cutting to a close-up will be punctuated by someone or something suddenly entering the frame. But even though we're used to such horror movie staples, Wan manages to make most of it work like gangbusters.
ADVERTISEMENT - CONTINUE READING BELOW
And where does this efficient horror machine sputter?
MINUSES
The use of unconvincing CGI. IMDB reports that James Wan wanted The Conjuring to look like a horror movie from the '70s, particularly1973's The Exorcist. Given this 20th century aesthetic, it's hardly surprising then that the film is let down by 21st century computer-generated imagery (CGI). Mercifully, the phony-looking CGI is used only briefly in two shots: one showing a bed sheet billowing in the wind, and the other depicting a flock of suicidal birds. However short those shots are, however, they still aren't shown briefly enough.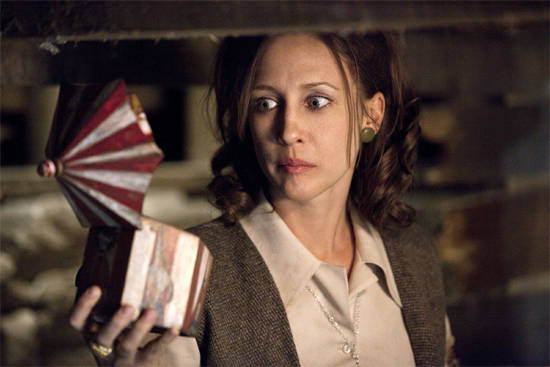 Do you really want to see what she sees?
IN BRIEF: The Conjuring is a frighteningly effective scare machine, and perhaps one of the best haunted house movies ever made.
Rating: 4½ out of 5 spots •••.
Share this story with your friends!
---
Help us make Spot.ph better!
Take the short survey
Load More Stories