PORK CHOP: 10 Things We Learned from Benhur Luy
Because not everyone has the time to follow everything on the news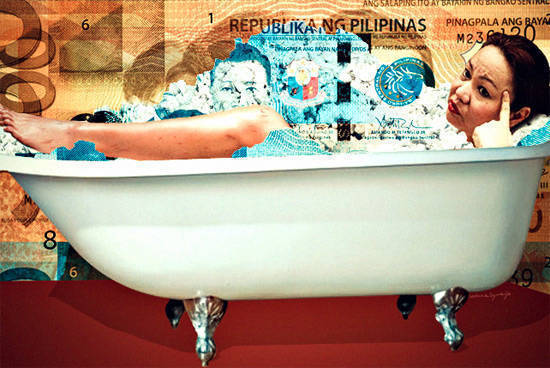 (SPOT.ph) There is a lot to keep up with in the news lately, especially since we have such amazing lawyers who find loopholes in everything (good job, guys). We're hoping that the (lack of) support for the EDSA Tayo protest was due to logistics and not a waning interest in making some positive changes in the way our money is handled. It is, after all, our money.
With all the formal and rather grim revelations from Grace Pulido-Tan, we were amused to hear whistleblower Benhur Luy dishing out the dirt about the Janet Lim Napoles money-making scheme. He was so candid about everything that we almost forgot that he was helping "Ma'am Janet" take our money.
In his testimony (and in the subsequent Q&A portion), Luy detailed how they got away with bringing wads of cash to the Napoles household. Unfamiliar terms like SAROs (or Special Allotment Release Order) and other documents that had to be fabricated had us reading up on legal terms, but while we may not have understood everything completely, we've learned a few things from the senate hearings.
Here are 10 things we learned from whistleblower Benhur Luy!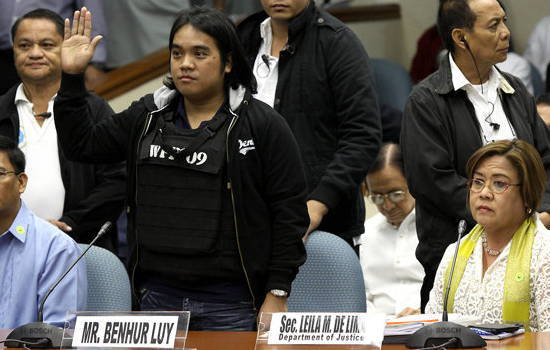 ADVERTISEMENT - CONTINUE READING BELOW
Photo from Yahoo.ph
1. Benhur Luy needs to improve his forgery skills.
When asked by Senator Chiz Escudero about how well he can copy signatures, he replied "Okay lang."
2. On the other hand, Janet Lim Napoles needs to invest in more vaults.
Luy states that Napoles had so much cash, they had to put the money in the bathtub. Talk about naliligo sa pera.
3. Napoles also needs to be nicer to her staff.
Luy revealed that Napoles would be saying things like, "Ano ba naman kayo, sinuswelduhan kayo, hindi kayo nag-fo-follow up [on SAROs]."

CONTINUE READING BELOW
Recommended Videos
4. Prior to 2002, Luy claims that he was helping the Napoles children sell ballpens.
We wonder if Jeane Napoles sold ballpens, too. Or maybe it was pens worth P65,000, which Napoles gives as gifts to her friends.
5. Benhur Luy's official salary from Napoles is P45,000.
He started with P8,000 in 2002 and about 10 years later, he was earning P45,000. That's the minimum fee for keeping your mouth quiet while your boss withdraws P75,000,000 from the Magdalena branch of Metrobank in Binondo.
ADVERTISEMENT - CONTINUE READING BELOW
Senator Jinggoy Estrada denies that he received any form of payment from the bogus NGOs and though he admits that he has lost weight, he also denies being "Sexy."
6. Have you ever noticed how Jinggoy Estrada's figure has improved?
When asked why a male senator was dubbed "Sexy," Luy explains that this male senator was previously more hefty but has since lost weight. People turned their attention towards Jinggoy Estrada, who happens to be male and who has lost a significant amount of weight.
7. Napoles sounds like a snoop and kind of paranoid. Ang magnanakaw nagagalit sa kapwa magnanakaw?
"Si Miss (sic) Napoles kasi mahilig mag-basa ng mga cellphone ng mga empleyado. Kapag naiwanan, kapag nakita niya kukunin niya at babasahin niya."
Senator Grace Poe asked Luy to confirm if Napoles was beginning to grow paranoid and was speculating that he was "being an agent" i.e., conducting his own deals with her clients.
8. The name game: cooks, drivers, and various relatives were named presidents of NGOs
The NGO Saganang Buhay Sa Atin Foundation is headed by Lilian Español, Napoles' cook according to Luy. Napoles' driver, Eulogio Rodriguez, is the president of Gintong Pangkabuhayan. Even Luy's mother, Gertrudes Luy, was named President of Bukirin Tanglaw (named Gertrudes Kilapkilap in the documents).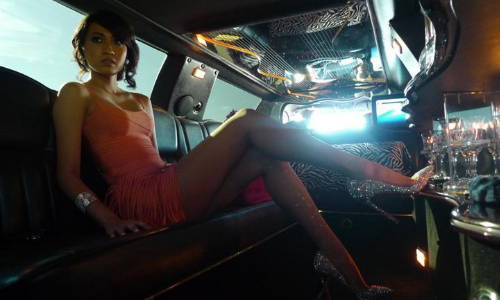 ADVERTISEMENT - CONTINUE READING BELOW
Rags-to-riches? From selling ballpens to this? Wow.
9. Burn Notice: when a bogus project gets exposed, just fabricate a new one!
"Kapag nasunog-o kapag nabisto, sabi niyo nasunog pero actually nabisto yun-gagawa kayo ng bagong foundation?" asks Senator TG Guingona.
Luy confirms that yes, indeed, they invent new NGOs. They have a masterlist of recipients from LGUs, which Napoles offers funding for from the senators' PDAF.
10. The no pork diet won't work, the money isn't stricly from PDAF!
The saddest piece of information we've heard is that Janet Lim Napoles was also involed in the P728 Million Fertilizer Fund Scam from 2007 and 12 of the bogus NGOs benefitted from the Malampaya Gas Project all the way from Palawan.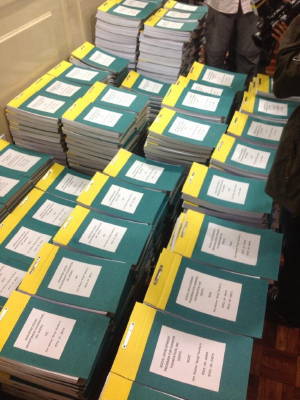 Photo by Niko Baua of ABS-CBN News
The Office of the Ombudsman received 750,000 pages of evidence against Senator Juan Ponce Enrile, Senator Jinggoy Estrada, and Senator Bong Revilla on September 16, 2013. We're not sure how long it will take them to read everything but we're just hoping that the paper trail leads them somewhere. Senator Franklin Drilon said that the three senators will be suspended only after a warrant of arrest has been issued by the Sandiganbayan. Stay tuned, folks!
ADVERTISEMENT - CONTINUE READING BELOW
Share this story with your friends!
---
Help us make Spot.ph better!
Take the short survey
Load More Stories