SPOT.ph's Pork Barrel Scam Glossary: Words We Should Know Well By Now
We translate some big, bad words.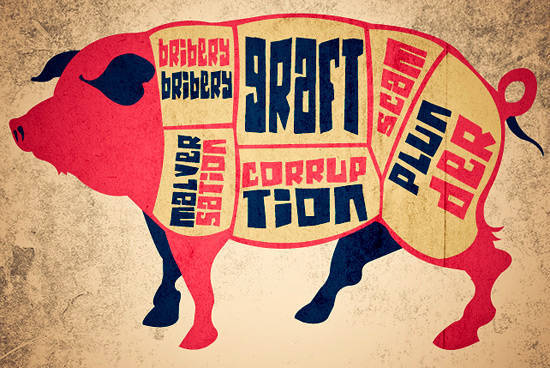 (SPOT.ph) With various public officials getting embroiled in controversies, Pinoys should have these words committed to memory by now.  The pork barrel scam inspired us to look up these words. (Good news! We finally found out what the hell differentiates plunder from plain old stealing.)
BRIBERY. This is when a person offers, gives, receives, or solicits something of value for the purpose of influencing the action of a public officer's performance of his or her public or legal duties. This is tagged as a corrupt practice. Sadly, most of us may be guilty of this. Yes, when you attempted to give that traffic enforcer P500 to let you get away with speeding, that was bribery. Congratulations, you're on your way up the corruption ladder.
CORRUPTION. When a public office engages in acts for purposes of personal gain that besmirrch the reputation of his office. The buwayas in the government refer to this as "Business as usual." Corrupt practices include the following:
1. Persuading another public officer to do something evil. (Translation: "Hey, let's just punch in our time cards at the office and then we can go watch a movie!")
2. Directly or indirectly requesting or receiving any gift or benefit in connection with any contract or transaction between the government. (Translation: "Hindi ba may isa pa kayong unit sa bagong condo na 'yan?  Baka naman pwede n'yo ako patirahin dyan muna. Sigurado kayo agad ang i-re-refer ko 'pag naghanap sila ng security agency." )
ADVERTISEMENT - CONTINUE READING BELOW
3. Directly or indirectly requesting any gift or material benefits from any person for whom the public officer has secured or obtained, or will secure or obtain, any government permit or license. (Translation: "Birthday ng anak ko sa Saturday. Baka naman may extra Porsche kayo d'yan na pinagsawaan n'yo na. Gusto kasi ng anak ko ng kotse. Madali na lang itong permit na pinapagawa n'yo.")
4. Accepting or having any member of his family accept employment in a private enterprise which has pending official business with him during or within one year after its termination. (Translation: "I-hire n'yo na 'yung anak ko as editor. Mas bibilis ang processing ng papers n'yo.")
CONTINUE READING BELOW
Recommended Videos
5. Causing any undue injury to any party, including the government, or giving any private party any unwarranted benefits, advantage or preference in the discharge of his official administrative or judicial functions through manifest partiality, evident bad faith or gross inexcusable negligence. (Translation: "Mamaya ka na. Uunahin ko si Mrs. Churabel kahit hindi s'ya pumila kasi she will give me a Prada bag.")
6. Neglecting or refusing, after due demand or request, without sufficient justification, to act within a reasonable time on any matter pending before him for the purpose of obtaining from any person interested in the matter some material benefit or advantage. (Translation: "I won't process your papers so you'll get impatient and will end up offering to give me money so I can expedite the matter.")
ADVERTISEMENT - CONTINUE READING BELOW
7. Entering, on behalf of the government, into any disadvantageous contract or transaction.(Translation: "I speak for the Philippine government when I say we need to purchase 100,000 videoke microphones for entertainment purposes.")
8. Directly or indirectly having financial or pecuniary interest in any business, contract or transaction in connection with which he intervenes or takes part in his official capacity, or in which he is prohibited by the Constitution or by any law from having any interest. (Translation: "Kunin n'yo na akong supplier kasi ako rin naman ang mag-a-approve n'yan.")
9. Directly or indirectly becoming interested, for personal gain, or having a material interest in any transaction or act requiring the approval of a board, panel or group of which he is a member. (Translation: "I guarantee that you'll get cleared by the board. I can convince the rest of colleagues to give the rest of the funds to you for processing using your fake NGO.")
10. Knowingly approving or granting any license, permit, privilege or benefit in favor of any person (and representatives thereof) not qualified for or not legally entitled to such license, permit, privilege or advantage. (Translation: "I'll give you a driver's license even if you don't know how to drive. How cool is that?!")
11. Divulging valuable information of a confidential character, acquired by his office or by him on account of his official position to unauthorized persons, or releasing such information in advance of its authorized release date. (Translation: "Yes, the star witness is now in QC.")
ADVERTISEMENT - CONTINUE READING BELOW
DEFAMATION. This is when you spread any false communication, whether written or spoken. If you're Jeane Napoles, this is one of the cases you can file against all those people who are envious of your posh lifestyle.
GRAFT. This is when an individual gets unfair advantage-accrued without any exchange of legitimate compensatory services-over others just because he or she is connected to a person who has a position of public trust or confidence. An example: When your mom tells you, "Call your Tito Jojonoy. He can give you a job as Senate staff even if you don't know how to write captions for photos."
HEARSAY. It's defined as "an out-of-court statement, made in court, to prove the truth of the matter asserted." This refers to a testimony or claim made by someone other than the witness being examined. This is what many embattled politicians like to call statements about their outrageous practices. Like when you say, "I heard Benhur say the cash was kept in the tub."
ILL-GOTTEN WEALTH. This refers to assets obtained by a person directly or indirectly through dummies, nominees, agents, subordinates, or business associates by any combination or series of evil, dishonest, or corrupt practices. Your Prada bag that your mommy got you after she disposed of pork barrel funds? Yes, that's ill-gotten wealth, too.
LIBEL. This is the malicious publication of an account that is perceived as damaging to a person's reputation. If you write a statement saying, "Mayor X is in cahoots with Napoles" just because you don't like the mayor, then that's libel. (On the other hand, truth is a defense against libel.)
ADVERTISEMENT - CONTINUE READING BELOW
MALVERSATION. This is when a public officer who has the custody or control of funds or property by reason of the duties of his office takes, misappropriates, or consents to or, through abandonment or negligence, permits another person to take the said funds. This is when you say, "I am not obliged to verify if the NGO that's getting my pork barrel money is legit."
PLUNDER. This is an act done by any public officer who-by himself or in connivance with members of his family, relatives by affinity or consanguinity, business associates, subordinates or other persons-acquires ill-gotten wealth with the total value of at least P50 million. The prescribed punishment for the crime of plunder is reclusion perpetua to death. Any person who participated with the said public officer in the commission of an offense contributing to the crime of plunder shall likewise be punished for such offense. Bottom line: If you're going to be a thief, steal big so you'll have a chance of getting away. Plunder can be done through a combination or series of these overt criminal acts:
1.  Through misappropriation, conversion, misuse, or malversation of public funds or raids on the public treasury;

2.  By receiving, directly or indirectly, any commission, gift, share, percentage, kickbacks or any/or entity in connection with any government contract or project or by reason of the office or position of the public officer concerned;

3.  By the illegal or fraudulent conveyance or disposition of assets belonging to the national government or any of its subdivisions, agencies or instrumentalities or government-owned or controlled corporations and their subsidiaries;

4.  By obtaining, receiving or accepting directly or indirectly any shares of stock, equity or any other form of interest or participation including the promise of future employment in any business enterprise or undertaking;

5.  By establishing agricultural, industrial, or commercial monopolies or other combinations and/or implementation of decrees and orders intended to benefit particular persons or special interests; or

6.  By taking undue advantage of official position, authority, relationship, connection or influence to unjustly enrich himself or themselves at the expense and to the damage and prejudice of the Filipino people and the Republic of the Philippines.
ADVERTISEMENT - CONTINUE READING BELOW
SCAM. This  fraudulent scheme is also called a "confidence trick." This means you exploit the fact that a number of people trust you to do things for them. You say to them, "I am an honest politician. I use your taxes for building real roads and paying employees who actually work for me." For instance, people entrust their money and other assets to you for investment and other such purposes. Or so they think. Little do these people know that you're actually using their money to fund your lifestyle.
SLANDER. The act of uttering a false statement that may be damaging to a person's reputation. This is when you point at some congressmen and say, "Ang baboy n'yo." Then again, they're used  to this.
WHEELCHAIR. A chair with wheels originally intended for people who are injured or are unable to use their legs. It has now become the favorite prop of Pinoy politicians who are facing all sorts of charges.
Art by Warren Espejo
Share this story with your friends!
---
Help us make Spot.ph better!
Take the short survey
Load More Stories