Hot on Spot: 10 Things You Need to Know About the Freedom of Information Bill
Yes, we have the right to know it all.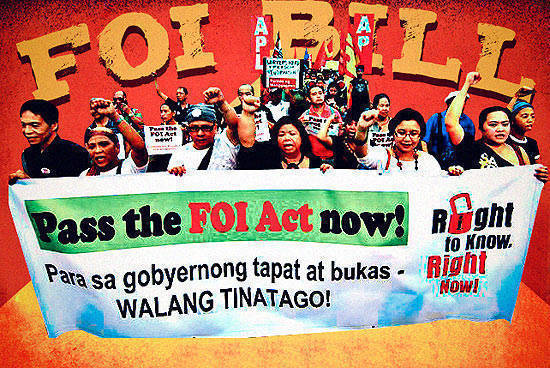 Screenshot of photo by Danny Pata (as published on GMA News Online) with graphic art elements added
(SPOT.ph) These days, everyone seems to be hot under the collar about the Freedom of Information (FOI) Bill or House Bill No. 3732. Rep. Lorenzo "Erin" Tañada of Quezon province's 4th District is identified as the principal author of the bill and around 117 solons are said to be backing it. Despite the clamor for the bill, it's still in limbo, prompting many to tag it as "the new RH Bill."
Here are 10 things you should know about the most controversial bill of the moment.
1. It's a law that makes perfect sense. The FOI Bill is intended to reinforce people's right to gain access to all forms of information on transactions and other proceedings that affect public welfare and interest. People should have the right to these things in the first place. But alas, there are those who would make us believe that we have to go through layers of red tape before we get what we want.
2. We're not the only ones who want it. Many countries around the world have their own legislation similar to the Freedom of Information Bill. Some countries refer to them as "sunshine laws." Investopedia defines them as "regulations requiring openness in government, mandating that meetings, records, votes, deliberations and other official actions be made available for public observation, participation or inspection." Ideally, if we invoked our right to examine the papers documenting government transactions, we may prevent pork barrel scammers from screwing us all blind for 10 years.
ADVERTISEMENT - CONTINUE READING BELOW
3. We recognized the need for an FOI Bill decades ago. In her article, "The Philippines: A liberal information regime even without an Information Law," journalist Yvonne Chua noted: "The Supreme Court as far back as 1948 recognized the importance of access to information and has issued a series of rulings. The Court ruled in 1987 that the right could be applied directly without the need for an additional Act." OK, so we knew we needed the bill but we just didn't formalize it. Perhaps, in the past, we had more faith in our public officials.
4. It won't let political crooks flourish. The FOI Bill is envisioned to apply to "all government agencies," including the offices of Congress, the Senate, as well as the Supreme Court and lower courts. Bottom line: If the agency is connected to the government in any way, then it's included in the FOI Bill coverage.
CONTINUE READING BELOW
Recommended Videos
5. P-Noy thinks the FOI Bill may be misused. In 2011, in a forum where Southeast Asian business leaders gathered, President Benigno "Noynoy" Aquino III was asked about the FOI Bill. He said, "A freedom of information act sounds so good and noble but at the same time, first of all, you'll notice that here in this country there's a tendency of getting information and not really utilizing it for the proper purposes." His statement sparked debates, as some sectors believed he wasn't honoring his promise to treat the Filipino people as his "bosses." (Remember his famous "Kayo ang boss ko" declaration? His 2011 statement about the FOI Bill was comparable to him declaring, "Ako naman talaga ang tunay na boss dito." He had a point, but perhaps he could have said, "We just need to add safety features to the law" instead of making an outright declaration that it's not happening anytime soon. Sometimes it's not what you say, but how you say it, Mr. President.
ADVERTISEMENT - CONTINUE READING BELOW
6. It's not entirely free. Section 10 of the bill points out: "Government agencies may charge a reasonable fee to reimburse the cost of searching, reproduction, copying or transcription, and the communication of the information requested."
7. It obligates government agences to be organized with their records. The FOI Bill mandates government agencies to make their records and other pertinent information easily accessible to the public. They have to use filing systems that make sense to everyone else. They can't implement their own informal "Nandy'an lang 'yan" scheme.
8. It penalizes lazy or incompetent government employees. The bill states that "the penalty of imprisonment of not less than six (6) months but not more than one (1) year" shall be imposed upon any government employee who refuses to help people get the information they want. The reasons may range from laziness or malicious intent. It doesn't matter. If you don't help, you get jailed. Those who are likewise involved in delaying the retrieval of information will be suspended from office for "not less than six (6) months but not more than one (1) year."
9. It says you can get compensated for getting inconvenienced. The bill states that "in case a request for information is denied but is subsequently reversed by the Ombudsman or the courts, the government agency shall pay the requester damages in the amount of P1,000 per day from the date of notice of denial until the date of compliance with the request." For example, you made the request to see some papers from a government agency. They denied your request. You get the notice of denial on, say, July 4. You then seek help from the Ombudsman, who agrees that you should be given the papers you wanted. The government agency finally hands you the papers on December 4. That means, you get P1,000 for each day since you got the notice of denial (July 4) until you got what you wanted (December 4). This means we all have a shot at becoming millionaires.
ADVERTISEMENT - CONTINUE READING BELOW
10. There are exceptions to the rule. Your request for information will be denied if  "the revelation of the information will create a clear and present danger of war, invasion, or any external threat to the State." This is determined by the Office of the President or the Department of National Defense. Requests for information involving foreign trade and other such matters may also be denied.
Art by Warren Espejo, with screenshot of photo by Danny Pata (as posted on GMA News Online)
Share this story with your friends!
---
Help us make Spot.ph better!
Take the short survey
Load More Stories