Top 10 Strangest Claudine Barretto Moments
Her life would put telenovelas to shame.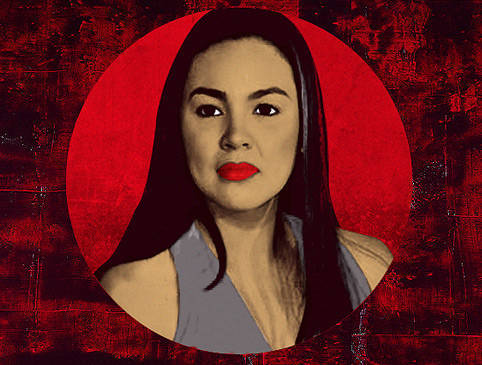 (SPOT.ph) To those of us who experienced Claudine Barretto's reign as ABS-CBN's Teleserye Queen (from the late '90s to the early noughties), it's painful to see her now. Instead of weeping over imagined slights from fictional characters, we see her crying her eyes out due to the alleged attacks of her family members. We get it. She is not perfect. Sometimes she acts strange. In fact, the issues that she's been involved in range from the uncomfortable to the disturbingly bizarre. Read on and try to find out what's eating our heroine. On the bright side, at least her drama is still on national TV, right?
10. Claudine curses on national TV

In the April 13, 2003 live broadcast of ASAP, Barretto slipped as she stepped down the multi-level stage. She didn't fall, but she ended up blurting out, "Putang ina!" Unfortunately, she was holding a microphone when she said it. Claudine quickly said, "Sorry" after she uttered the cuss phrase. Naturally, her gaffe became the talk of the town. Indeed, it was strange to see such a delicate-looking young lady cuss. Then again, this was one of her least disturbing antics.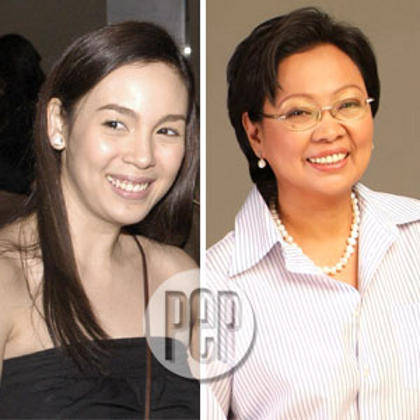 ADVERTISEMENT - CONTINUE READING BELOW
9. Claudine and the Hi! magazine dilemma

According to an article written by Candice Lim for PEP, this issue started thus: "After Hi! magazine published the photos of Claudine's adopted daughter Sabina in its July 1 to 15, 2005 issue, the actress filed a law suit against Jo-Ann Maglipon who was then executive editor of the now-defunct magazine." Claudine claimed that the photos were published without permission, so she asked the court to issue orders for Maglipon and all those acting under her control and direction "to desist and be forever restrained from getting within 250 meters of Claudine, her immediate family, and her places of residence." Maglipon, who is also the editor-in-chief of Yes! magazine, also sued Claudine for libel. By 2007, though, both parties had dropped their cases against each other.
CONTINUE READING BELOW
Recommended Videos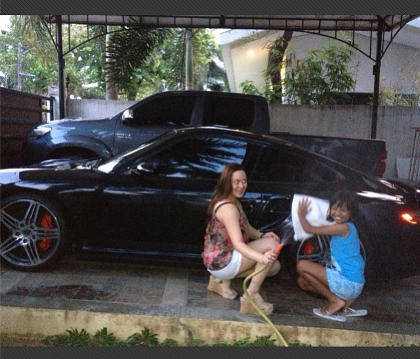 8. Claudine and the controversial Porsche

Claudine and her sisters, Gretchen and Marjorie, seem to be constantly feuding. These days, Instagram has become one of their battlegrounds. Claudine has been accused of registering under different names and then leaving nasty comments on her sisters' Instagram pages. In April this year, a troll (username @btchjuliaisbitch) left some scathing comments on Gretchen's Instagram page. She, along with sister Marjorie who also left comments on the page, suspected that the troll was actually Claudine. Gretchen had addressed the troll with this comment: "Yuck. You know what yuck is? Your husband walked out coz [of] you[r] violent ways. What exactly did you do to his Porsche? His laptop? Etc. oh pls reflect and go to your happy place..Medical City." Soon enough, Claudine posted a photo of herself with her daughter Sabina and the so-called "controversial" Porsche on her own Instagram page.
ADVERTISEMENT - CONTINUE READING BELOW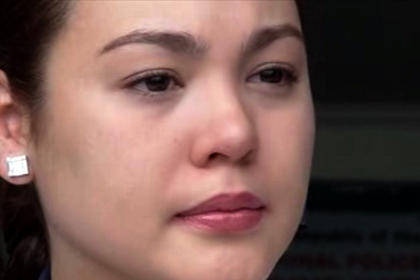 7. Claudine gets sued for libel and perjury

On March 11, 2008, Claudine's former personal assistant Nancy Jiji Cruz filed libel and perjury charges against her before the Quezon City Prosecutor's Office. This was Cruz's response to Claudine accusing her of stealing things.
Claudine charged Cruz with qualified theft in January that year. She said that Cruz stole P27,000 in cash, three sacks of Folded & Hung apparel, including shirts; a boxful of Secosana bags and wallets, Randy Ortiz gowns, South Sea Pearl earrings, which allegedly cost P500,000, and insurance papers. Cruz denied the accusation.
PEP's Nerisa Almo noted in her report: "Cruz claimed in her complaint-affidavit that Claudine knew that there were no stolen or missing items in her house at No. 18 Nova Scotia Street, Loyola Grand Villas, Quezon City, and that no witness to the alleged theft was positively declared."
The report added: "In a separate complaint-affidavit, Cruz also charged Claudine with violation of the Social Security Act of 1997. She claimed that Claudine allegedly failed to report her employment and services for coverage with Social Security System (SSS) after she was hired as a personal assistant and domestic helper in March 2001." There have been no further reports about this issue.
ADVERTISEMENT - CONTINUE READING BELOW
6. Claudine gets sued for theft

This year, Claudine engaged in a legal debacle with another former personal assistant, Desa Patilan. Earlier this year, Claudine had accused Patilan of stealing from her and had filed the appropriate charges. By September, Patilan responded by also suing Claudine for theft, saying that the actress had stolen some of her personal belongings worth P13,550. Claudine has shrugged off the allegation and insists that Patilan is just using "delaying tactics."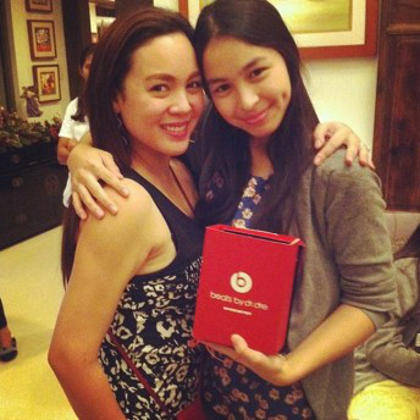 5. Claudine and her alleged anti-Julia plans

Claudine's sister Gretchen has accused her of being jealous of their niece, Julia, who is their sister Marjorie's daughter. Addressing Gretchen in a scathing open letter, Inday Barretto, the matriarch of the family, pointed out: "You claim Claudine said, '(I) will block Julia's entry to Star Magic.'  Who did Claudine say it to... you? Or did you just make this up to put Claudine in trouble with Star Magic and make Julia's big following angry with Claudine? You did that before." It's quite hard to believe that a 34-year-old woman would go after a 16-year-old girl, who also happens to be her niece. Alas, the allegation exists.
ADVERTISEMENT - CONTINUE READING BELOW
4. Raymart submits evidence to prove allegations that Claudine is a junkie with violent tendencies

Things have gotten more horrible in the ongoing Claudine vs. Raymart battle. Raymart is no longer living with Claudine, who has accused him of inflicting "physical, sexual, psychological, and economic" abuse on her throughout their marriage. Claudine wants to keep him away from their kids, Sabina and Santino. To counter her claims, Raymart has submitted photos and videos to back up his claim that Claudine has allegedly hurt him physically and that she is a drug user. Raymart said he had initially balked at the thought of exposing his estranged wife's secrets, but he claimed he had no other choice as she was making all sorts of accusations against him. Among the materials he submitted to support his case were affidavits from Claudine's own siblings JJ, Gretchen, and Marjorie.
3. Claudine vs. Angelica Panganiban and Mrs. Martin Castro

The tiff between the two actresses started when Claudine accused Angelica of spreading the nasty rumor that she was having an affair with a businessman named Martin Castro. The guy was the friend of Claudine's husband Raymart Santiago and Angelica's then-boyfriend Derek Ramsay. Castro's wife, Cris, disproved the rumor. In the first place, she said she didn't believe that Panganiban would spread such a rumor. She also claimed she was certain that her husband wasn't having an affair with Claudine. However, Cris revealed that Claudine sometimes called her husband "30 times a day." She believed she was asking him about business matters.
ADVERTISEMENT - CONTINUE READING BELOW
At the height of this particular controversy, Angelica stayed silent. Star Magic boss Johnny Manahan came to her defense. He sent this text message to entertainment website Philippine Entertainment Portal (PEP): "The only reason Angelica has not come out to defend herself against Claudine's accusations is because of what she has to say would be so devastating to Claudine's career. That is why she has chosen the path of silence. Angelica still has compassion for Claudine and rejects all the falsehoods attributed to her." Shortly after Manahan's text message was was publicized, Claudine curbed her Twitter tirades against Angelica.
2. Claudine's bank meltdown
On October 25, 2011, a GMA News TV crew was present when Claudine had an episode right outside a bank in Quezon City. She claimed she had just learned that ₱5 million was missing from a savings account where Raymart was her co-depositor. The fact that Claudine was accompanied by her lawyer Atty. Agnes Maranan during her disastrous bank run reinforced the public's assumption that the couple had already split up. However, shortly after this incident, Claudine and Raymart issued a statement saying that they were still together. It's no longer clear what happened to the money. What's even more curious are the rumors that it was Claudine herself who had called the TV crew so they could "witness" what happened at the bank.
1. Claudine in the "Thrilla in NAIA."
On May 6, 2012, Claudine, along with Raymart and some of their friends, got involved in a smackdown with journalist Ramon Tulfo.
ADVERTISEMENT - CONTINUE READING BELOW
The violent encounter happened at the Ninoy Aquino International Airport (NAIA) Terminal 3. It all started when Claudine berated a Cebu Pacific ground crew member because their baggage had been off-loaded back in Caticlan. Tulfo, who didn't know it was Claudine who was making a fuss, thought she was just a random "matrona" (his words, not ours) who was being abusive towards the Cebu Pacific ground crew member. He decided that he would discuss the incident in his column. So, he brought out his mobile phone and started taking pictures. This irked Claudine, who thought he was getting everything on video. Raymart, presumably under Claudine's orders, approached Tulfo and demanded that he stop taking the video. Santiago also allegedly wanted Tulfo to turn over his mobile phone to them. Tulfo refused. It wasn't long before the fight broke out. One of the couple's friends, who was later known as "The Guy in the Pink Shirt," also joined the smackdown.
Both parties each accused the other of starting the fight. They've also sued each other. Now, with Claudine in the middle of an acrimonious split from her husband, it's not clear whether the cases arising from the "Thrilla in NAIA" incident will still flourish. Apparently, the family that brawls together doesn't stay together.
Share this story with your friends!
---
Help us make Spot.ph better!
Take the short survey
Load More Stories