Megan Young's Miss World win draws racist comments on Facebook
If ignorance is bliss, this woman must be orgasmic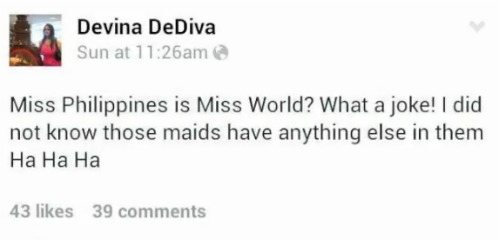 A post from ChikaBits.com has drawn attention to a post made by Facebook user Devina DeDiva regarding Megan Young's recent win in the Miss World pageant. DeDiva made a general statement that all Filipinas-or perhaps the entire Philippine population-are employed as household help. Several people attempted to correct DeDiva's assumptions but she remained undeterred and proceeded to call Filipinos "poor," "smelly from cleaning toilets" and "uneducated."

ADVERTISEMENT - CONTINUE READING BELOW
DeDiva claimed that she has the right to air out her opinion as "the world is democratic in freedom of speech!!!"

For more on this story, log on to ChikaBits.com.
Load More Stories