Questions We Couldn't Help Asking About Harry Potter, The Filipino Edition
With quotes from the actual book!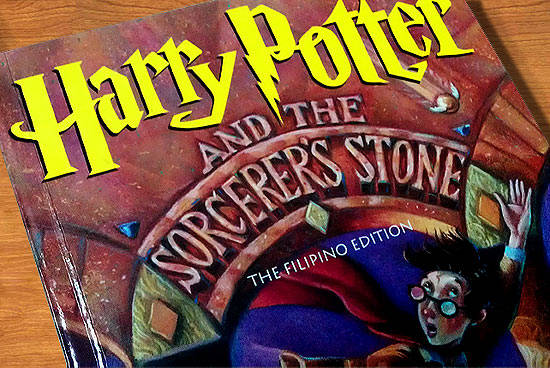 (SPOT.ph) Why didn't they translate Sorcerer's Stone to Ang Bato ng Pantas...or even better, Ang Bato ng Pilosopo? We'd love to speculate but we're not Becky Bravo and it's wasn't really our decision to make. If you ask us, we would have gone ahead and translated The Leaky Cauldron to Ang Palayok na May Tulo. We'll even do our best with Wingardium Leviosa and come up with Bagwisan Lipadosa.
You don't have to be a linguist to know that translation is an actual art, meaning that we know Bagwisan Lipadosa sounds utterly silly. And to call The Mirror of Erised Ang Salamin ng Asanangap...hm, that one actually sounds alright. In any case, what we mean to say is that Harry Potter is an entire magical world that is heavy on British sensibilities. It's not simply a matter of finding the words-it's appropriating the essence of a sentence. And, since this story has centaurs and Quidditch, the thought of it in a language that isn't English will make you cringe. However, we know that you are also helplessly curious.
We know you have a few questions, too. Here are some of the answers-from the book itself.
Do they use bruha or mangkululam?
"Ah, ilublob ninyong dalawa ang ulo niyo sa kumukulong tubig," sabi ni Hagrid. "Harry-isa kang wizard."
"Ano ako?" singhap ni Harry
"Isang wizard," sabi ni Hagrid[.]
p. 63, Chapter Four: Ang Tagapag-Ingat ng mga Susi, Harry Potter the Filipino Edition
What about words like "blimey," how did they translate that?
"Kahit si-blimey-kahit si Dumbledore, narito siya para manuod!"
Nag-tumbling ang puso ni Harry.
p. 282, Chapter Thirteen: Si Nicolas Flamel, Harry Potter the Filipino Edition
What? Okay, so sounds from lines like "WHAM - a thud and a nasty crack and Neville lay facedown on the grass in a heap" are untouched?
BOG! Nagkaroon ng isang lagapak at malakas na lagutok, at nakadapang bumagsak si Neville sa damuhan.
p. 187, Chapter Nine: Ang Midnight Duel, Harry Potter the Filipino Edition
What do they call Harry's lightning-shaped scar?
Hinawi ni Harry ang buhok niya sa noo para ipakita ang pilat na korteng kidlat.
p. 124, Chapter Six: Ang Biyahe Mula sa Platform Nine and Three Quarters, Harry Potter the Filipino Edition
"Nakita mo ba 'yong peklat niya?"
p. 166, Chapter Eight: Ang Potions Master, Harry Potter the Filipino Edition
Do they really call Voldemort Alam-Mo-Na-Kung-Sino?
ADVERTISEMENT - CONTINUE READING BELOW
"Hindi na po kailangan humingi ng paumanhin, dear sir, dahil walang makasisira ng araw ko ngayon. Tayo ay magbunyi, dahil sa wala na sa wakas si Alam-Mo-Na-Kung-Sino! Dapat ding ipagdiwang ng mga Muggle na katulad mo ang araw na ito ng ubod ng saya!"
p. 6, Chapter One: Ang Batang Nabuhay, Harry Potter the Filipino Edition
Wait, they didn't translate "dear sir" in Filipino? Is this book in Taglish?
Sa sobrang lapit ni Harry sa salamin ay halos nakadikit na ang kanyang ilong sa kanyang repleksiyon.
"Mom?" bulong niya. "Dad?"
p. 265, Chapter Twelve: Ang Salamin ng Erised, Harry Potter the Filipino Edition
Whoa man, are they, like, conyo?
"Hey, Potter, bumaba ka na riyan!"
p. 212, Chapter Ten: Halloween, Harry Potter the Filipino Edition
"Puwede ka ring magtanong sa mga magulang mo kung kilala nila si Flamel," sabi ni Ron. "Safe na tanungin sila."
"Safe na safe nga, dahil pareho silang dentista," sagot ni Hermione.
p. 252, Chapter Twelve: Ang Salamin ng Erised, Harry Potter the Filipino Edition
Aww, so they didn't translate the names of creatures and the spells?
"UP!" sigaw ng lahat.
p. 186, Chapter Nine: Ang Midnight Duel, Harry Potter the Filipino Edition
Load More Stories