10 Most Inspiring Pinoy Teachers in the News
SPOT.ph pays homage to the educators who go beyond the call of duty to be worthy of the profession.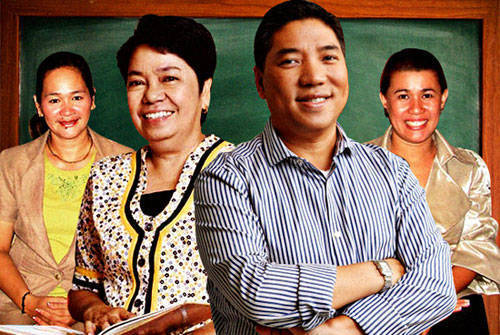 (SPOT.ph) To celebrate World Teachers' Day, SPOT.ph pays homage to 10 exemplary Pinoy teachers (in no particular order) who have studiously strived to be worthy of the profession, even going beyond the call of duty. They may not have been recognized by CNN like "street educator" Efren Peñaflorida, but they're definitely heroes in our eyes.
This article was originaly published on October 5, 2010.
Ana Kristina Arce
"We may be Deaf persons, but we can also do anything you can do, except hear. Communicating with our hands should not make a difference," Ana Kristina Arce says in her graduation speech on October 17, 2009.
Arce isn't a certified educator but she definitely has a lot to teach us. 24 Oras reports that she is the first Deaf (the Deaf community prefers that the word be spelled with a capital D) person to graduate magna cum laude from the De La Salle College of Saint Benilde (DLS-CSB) with a Bachelor in Applied Deaf Studies degree. With the help of an interpreter, Arce was even chosen to deliver the graduation speech in their commencement exercises in 2009.
Arce was born Deaf but did not show signs of deafness until she was 18 months old, according to Inquirer.net. She mentioned in her graduation speech, that before she entered DLS-CSB, she experienced discrimination: "I found out that we (Deaf students) were excluded in meetings and group projects. I tried to show my hearing peers what I could do, but they never gave me a chance to prove myself to them." But their prejudice did not dampen her spirits. Today, according to TEDxFortBonifacio.com, Arce is an active Deaf advocate. She does volunteer work for various Deaf communities and aims to integrate the different Deaf communities in the country.
ADVERTISEMENT - CONTINUE READING BELOW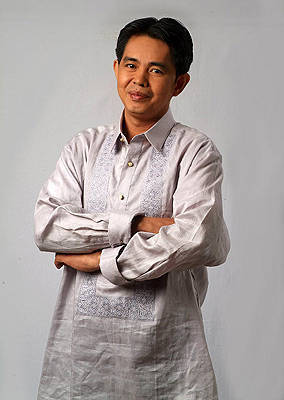 CONTINUE READING BELOW
Recommended Videos
2. Efren Bino
"I came from a big family. We were a brood of six and we weren't well off. Teaching became my life's ambition because I wanted others to see that poverty can be overcome and that they can finish school," Efren Bino tells The Philippine Star. Photo from A Tribute to Teachers.
Multitasking may be Bino's middle name. From 1996 to 2008, he served as the teacher, principal, property custodian, and security guard at the Mataas Elementary School in Bacacay, Albay. In the beginning, he traveled eight kilometers and took a 40-minute boat ride every day to get to the school. When the cost and the strain of the daily commute proved too much for him, he decided to live in the school during weekdays. He experienced handling combination classes, where he had to teach students from different grade levels. Aside from becoming a father figure to some of his students, he worked on developing the school's facilities and increasing its staff by appealing to the Department of Education and private sponsors.
ADVERTISEMENT - CONTINUE READING BELOW


Now, Mataas Elementary School has three teachers who handle combination classes composed of 96 students, he told Manila Bulletin. He said his students have graduated already, and some have become teachers as well. For his efforts, the Bato Balani Foundation Inc. (BBFI) honored him with "The Many Faces of a Teacher" award this year. Currently working at the Pili Elementary School in Bicol, he is now focused on taking care of his parents and pursuing his masters.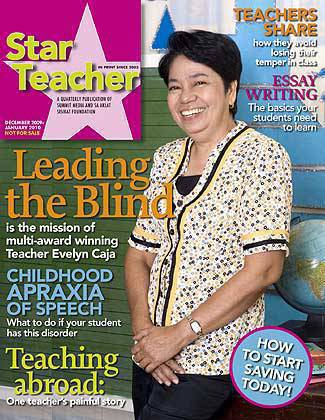 3. Evelyn Caja
"Nothing is impossible when you love your work," Evelyn Caja tells Inquirer.net. Photo from Star Teacher.
Dubbed the Anne Sullivan of the Philippines, Caja has nurtured the visually impaired like Roselle Ambubuyog, who graduated summa cum laude with a degree in Mathematics from the Ateneo de Manila University in 2001, and Carolina Catacutan, who graduated cum laude with a degree in Mass Communications from the University of the Philippines in the '90s. Caja has been a Special Education teacher for over 35 years, focusing on Math. The subject, she told Manila Bulletin, is the most difficult for blind students because it is "highly visual with numbers and symbols." Inquirer.net wrote that Caja has received all the awards she could possibly get as a teacher in the country, such as the 2009 Award for Continuing Excellence and Service, and the 2004 Outstanding Manilan Award.
ADVERTISEMENT - CONTINUE READING BELOW
She had the opportunity to work abroad in 1995 but, she told Star Teacher, she does not regret staying in the country. "I would not have stayed this long in the program if I have not been enjoying my work. There is no greater satisfaction in life than seeing my blind students transform and succeed," Caja said in the December 2009-January 2010 issue of Star Teacher.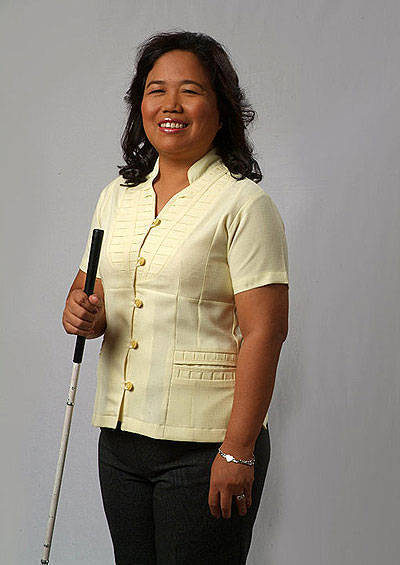 4. Ma. Cristina Medina
"I did not want to go blind. But then I asked myself, 'Bakit ako magpapatalo? Ma. Cristina Medina tells The Philippine Star. Photo from A Tribute to Teachers.
One thing is clear about partially blind educator Ma. Cristina Medina--she loves teaching. According to PhilStar.com, the single mother of one started going blind in 2003 because of Macular Dystrophy, a genetic eye condition wherein cells in the retina are damaged causing loss of vision. Despite her condition, Medina continued to teach at the Laguna Resettlement School. Today, she handles Special Education (SpEd) classes as well as regular classes. In her regular classes, Medina uses a Braille seat plan. She also memorizes the names of her students and associates them with their voices.
ADVERTISEMENT - CONTINUE READING BELOW
Medina's moving story is proof that passion knows no limits. In Starweek's September 26 issue, Medina said, "I will serve and teach because it is my calling. My impairment gave me an opportunity to become a better teacher. If anything, it has made my vision clearer."
5. Ambeth Ocampo
"I have been described as the poster boy of Philippine history," Ambeth Ocampo tells Star Teacher (June 2009).
It's not surprising that Ocampo has bagged another award this year. According to PhilStar.com, the professor, historian, columnist (Philippine Daily Inquirer), book author, and National Historical Institute (NHI) Chairman was named as the one of the five "Many Faces of the Teacher" honorees by the BBFI and Diwa Learning Systems Inc. (DLSI) in September. Ocampo has received other awards like the Ten Outstanding Young Men (TOYM) in 1997 and the Metrobank Outstanding Teacher Award in 2006. He also served as the Chairman of the National Commission for Culture and the Arts (NCCA) from 2005 to 2007. Currently, the accomplished educator lectures at Ateneo de Manila University (ADMU) and University of the Philippines Diliman (UPD).
But perhaps Ocampo's most notable and inspiring contribution to the Philippine education system (and society) is reviving the interest in history and giving history a new look. In the June 2009 Star Teacher issue, Ocampo described his role as a national historian: "As (a) national historian, I try to encourage research and popularization of history." Ocampo also does this as a teacher. In a Starweek feature dated September 26, 2010, Ocampo said, "If you think history is boring, you definitely had a bad teacher. History is about life and if the teacher cannot make it relevant to students, something is wrong."
ADVERTISEMENT - CONTINUE READING BELOW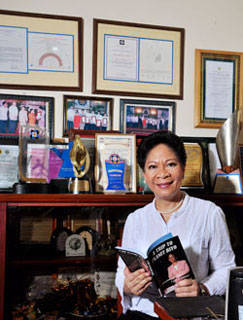 6. Dr. Josette Biyo
"Being world class doesn't mean going international and showing our best out there. Being world-class is passion and commitment to our profession. Being world-class is giving our best to our country and our people. For teachers, being world-class starts right inside the classroom," says Josette Biyo in Balbido's Iskolar ng Bayan into Alumni via Smart.com.ph. Photo by PhilStar.com
Dr. Josette Biyo holds the recognition of being the first Filipina and first Asian Grand Winner of the Intel ISEF Excellence in Teaching Award (2002) according to PhilStar.com.The educator, with a PhD in Biology, also has a minor planet named after her--Planet Biyo or Planet 13241 located between Mars and Jupiter. According to PhilStar.com, Planet 13241 was named after Biyo in 2002 by the Massachusetts Institute of Technology, Lincoln Laboratory, U.S.A. Biyo told PhilStar.com that "the tribute was given for facing the challenge of motivating students to engage in scientific pursuits and for my contribution as an educator."
ADVERTISEMENT - CONTINUE READING BELOW
Though her achievements have made her notable in the international academic scene, Biyo continues to teach at the Philippine Science High School in Iloilo. According to PhilStar.com, during the Intel Awards panel interview, Biyo was asked by one judge: "You have a PhD in Biology, why do you teach in high school and not even in the capital city?" Biyo answered, "And who will teach these kids? I did not get my PhD to check papers. I got it to teach children."
7. Ronyla Santiago
"No one will admit that he is illiterate. Encouraging those who have never had schooling to learn is very hard, because they will not exchange the money they can make to attend your class," Ronyla Santiago says in an Inquirer.net report. See Santiago at the 4:09 mark in the montage of the "Tribute to Teachers" program in 2007.
For teaching rebel returnees for a cause, among other reasons, Ronyla Santiago was named one of the honorees of "The Many Faces of the Teacher" award in 2007. Among her experiences in providing basic education to people aged 16 and above, she recalled having to school former members of the Moro National Liberation Front in 2002, according to Inquirer.net. "Standing before 58 rebel returnees was so scary. One of them said he will take me home. Even if I was terrified, I told him that he should respect me because I'm his teacher."

The mobile teacher also walked great distances--nine to 10 kilometers every day--to reach her students in the mountains of Palayan City in Nueva Ecija. She has also educated abandoned street children and victims of rape and prostitution, according to Tribute to Teachers. Her former students have improved their lives, she said, and some have even become mobile teachers themselves.
ADVERTISEMENT - CONTINUE READING BELOW
8. Christopher Bernido and Ma. Victoria Carpio-Bernido
"We were both surprised. At the same time it brought a sense of responsibility that we have to live up to expectations," says Christopher Bernido to Inquirer.net. Time stamp: 2:37.
The Bernidos, both physicists, are among the winners of the 2010 Ramon Magsaysay Awards, a recognition that has been dubbed as the "Nobel Prize of Asia," according to Inquirer.net. The couple's inspirational story began in 1999 when they decided to leave behind their comfortable lives in order to run a school at the town of Jagna in Bohol--the Central Visayan Institute Foundation (CVIF)--owned by Christopher's mother. Christopher served as the president, while Victoria stood as the principal.
The pioneering work of the Bernidos is the CVIF Dynamic Learning Program (DLP), a method of teaching science and non-science subjects wherein 70% of class time is used for student-driven tasks. According to Inquirer.net, the program resulted in the "radical improvement" of the performances of CVIF students in their national scholastic aptitude and university admission tests. In 2006, the Bernidos also came up with the "Learning Physics a One Nation" project to aid the shortage of qualified Physics teachers in the country. Both projects of the Bernidos are being used in a large number of schools in the country today.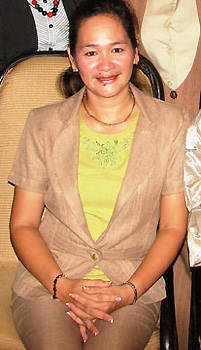 ADVERTISEMENT - CONTINUE READING BELOW
9. Estrelita Peña
"I am an unknown teacher from the distant province of Zamboanga Sibugay. (The Metrobank Foundation Outstanding Teacher award) serves as an inspiration to my colleagues that despite our distance, we still have an opportunity for our efforts to be recognized," Estrelita Peña says in a Manila Times report. Photo from Metrobank Foundation, Inc.
Braving possible abduction by secessionist groups according to Inquirer.net, Estrelita Peña has sought to help out Sardos (Students at Risk of Dropping Out) in Kabalasan, Zamboanga. She founded the Sagip-a-Student Drop-Out Reduction Advocacy Association Inc., which has helped over 600 Sardos finish high school. At the Kabalasan National High School, where she has taught English for 12 years, the dropout rate has gone down from 7.25 percent to 3.5 percent, according to Inquirer.net. Peña recently received the Metrobank Foundation Outstanding Teachers award, which she hopes could help her build a dormitory and learning center for Sardos.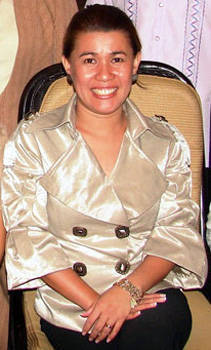 ADVERTISEMENT - CONTINUE READING BELOW
10. Mercelita Labial
Mercelita Labial was named one of the Outstanding Teachers of 2010 by the Metrobank Foundation. Photo from Metrobank Foundation, Inc.
One of the 2010 Metrobank Foundation Outstanding Teachers awardees, Mercelita Labial spearheads the Literacy Program for the Advancement of DSWD Girls (Lipad) in Cagayan de Oro City, according to Inquirer.net. Lipad teaches literacy and communication skills to victims of rape and abandonment, among others. At the same time, the program aims to increase the self-worth of the girls who survived different kinds of abuse.
Labial has taught English and literature at the Xavier University High School for 16 years, sometimes meeting her students virtually through e-groups and social networking sites. She also helps teachers from indigenous groups in Bukidnon attend training workshops for free.
SPOT.ph wants to know: Know any more teachers that have inspired you?
Artwork by Warren Espejo. Photos from Metrobank Foundation, Inc., PhilStar.com, A Tribute to Teachers and StarTeacher.ph. To subscribe to Star Teacher, log on to StarTeacher.ph and call 889-8135 or 0917-8818740.
Share this story with your friends!
---
Help us make Spot.ph better!
Take the short survey
Load More Stories