Keeping It Cool: Things We Want to Say To...
We try to avoid altercations and stretch our patience but sometimes...it just snaps.
(SPOT.ph) The eyes say a lot, this we know too well. In the spirit of kindness, they speak for us most of the time because in the fast-paced city, stopping to have a fight just won't do. Plus, there's that risk of your bad day turning into a viral video and we'd like to think that a scandal is still something most people try to avoid.
But when someone at the cashier clicks his or her tongue at you when you hand them a big bill, don't you sometimes feel the need to give them a piece of your mind? Otherwise, something like a literal kick on the arse can happen!
This woman in France receives a not so gentle nudge on the backside for holding up an entire train
We're pacifists so we prefer a nerdy word battle and thus, here's your chance to get those sentiments off your chest, too! We'll get the ball rolling with these things we want to say to service people, fellow commuters, and random city folk! We'll do our best not to neutralize the snark and if you find yourself wanting to say these, commit to it and say it in all fake ignorance and seriousness!
Let it all out in the comments below!
Disclaimer: This is done in the name of entertainment. We hope it amuses you and we don't encourage being rude to people who are also hard at work and may just be having a bad day, impairing their usual sunny mood.
ADVERTISEMENT - CONTINUE READING BELOW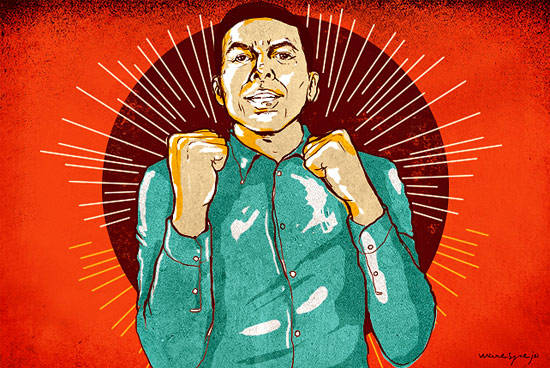 CONTINUE READING BELOW
Recommended Videos
1. To the saleslady who keeps following you around in the shop, "Crush mo ba ako?"
2. To the security guard who insists on stabbing the precious contents of your bag, "Don't worry, Kuya.Kalat lang ang nasa bag ko."
3. To the airport security asking you if you're carrying a deadly weapon inside your teeny-tiny-wee-little purse or murse (man-purse), "Fear not. My aim is to disarm people with my dashing good looks and pleasing personality."
4. To the bus driver who seems hell-bent on breaking a world record in speeding, "Gusto ko po makarating sa bahay, hindi sa langit."
5. To the service crew engaged in banal banter behind the fastfood counter while lackadaisically taking and serving orders even as the line grows increasingly longer, "Masarap kayo pakinggan, kaya lang hindi nakakabusog."
6. To everyone at the MRT during rush hour, "Guys, gawa kaya tayo ng Cirque du Train? Okay itong mga contortions natin, baka pwede pagkakitaan."
ADVERTISEMENT - CONTINUE READING BELOW
7. To the taxi driver who is blaring his horn at you, even when you've already told him you're not getting in,"Manong, sa Batanes po?"
8. To the lady at the cashier asking you if you have change, "Naubos na sa mga street children atsimbahan." (GUILT TRIP!)
9. To the barker, insisting that one more person can fit in the 10-inch gap between you and the other person inside the jeep, "Kuya, baka dapat mag-iwan ng space para sa Holy Spirit. Always save room for Jesus."
Alternate: "Kuya, pwede piliin niyo yung cute? Para kakandong na lang ako sa kanya?"
10. To the traffic enforcer who isn't helping alleviate the traffic jam, "Good job sir! Enforced niyo angtraffic!"
11. For the ladies: to the man making rude and persistent passes at you because you're wearing something attractive, "Ay! Tenks! Sasabihin ko kay doc! Galing niya magtago ng lawit!"
12. To the woman whose long, flowing but slightly damp hair is in your face...literally, "Miss, anongshampoo gamit mo? Try mo yung ginagamit ko, madaling matuyo."
13. To the people loudly and animatedly discussing the fine details of their private lives in public places, "Uy, nangyari din sa akin yan!" (And then, preferrably, make up fictitious equally embarrassing things to share!)
14. To the person who just stares at you while you're running to make it to the elevator and the doors are closing,"The devil is inside there with you! I could have saved you!"
ADVERTISEMENT - CONTINUE READING BELOW
15. To the people in the elevator or MRT or any crowded space who are blocking your way out, "I'M FEELING GASEOUS, MOVE OR SUFFER THE CONSEQUENCE!"
Bonus:
In the event that something tragic happens to you and a reporter asks you how you feel about it, don't say anything. Stare at them and blink. Buffoonery should be met with bewilderment and not much else!
Art by Warren Espejo
Your guide to thriving in
this
strange new world.
Share this story with your friends!
---
Help us make Spot.ph better!
Take the short survey
Load More Stories