SPOT.ph's Top 10 Trolls We Love to Hate
They spice up our online life with their nasty antics.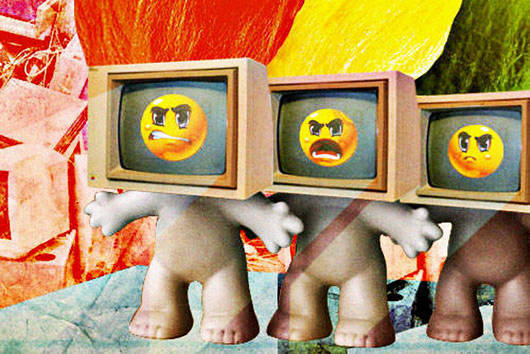 (SPOT.ph) When life throws you lemons, make lemonade. So the saying goes. In the spirit of that can-do adage, we came up with a list that would classify the faceless and anonymous creatures who spice up our online life in so many ways. We've let them slam us so many times, so we sure hope they can take what we dish out as well. As Rudy Fernandez said in Markang Bungo: The Bobby Ortega Story: "Walang personalan, trabaho lang (It's not personal, it's just work)." And, as this list proves, that's truly literal on our part.
Note: For brevity, we're using the pronouns "he" and "his" to refer to all trolls.
This article was originally published on May 14, 2012.
Fan muscle. Never underestimate what a very loyal fan would do for his idol.

10. SUPER FAN TROLL

Characteristics: He loves his idol and won't think twice about flaming anyone who says anything negative about them. He also seems to have a talent for honing in on negative comments anywhere online.
ADVERTISEMENT - CONTINUE READING BELOW
Sample comment: "Sino ba itong 'Worst Dressed List' fashion expert ninyo na galit na galit sa sequins at ruffles?!!" or "You keep criticizing my idol when I'm sure you also don't know how to act!"
What we want to say to them: Please don't hate us because your idol needs a stylist...or more talent workshops.
Information desk. When it comes to some questions, we're actually more like the Magic 8 Ball-our answers are limited.

9. QUERY TROLL
Characteristics: He asks questions like the comments section is his own personal information desk.
Sample comment: "Are there still tickets available for this concert?" or "Can you give me a price list for your party packages?"
What we want to say to them: As much as we like the fact that you think we're all-knowing and all-powerful, we're not. Sadly.
Anywhere but here. All we know is this: It's not the location, it's the mindset.
ADVERTISEMENT - CONTINUE READING BELOW
8. JETSET TROLL

Characteristics: He always knows something or someplace better, usually abroad...and always, always shares it.
Sample comment: "The best cheesecake that I've ever tasted is in a small café by the Eiffel Tower in Paris," "This is old news, this was done in the UK 10 years ago," or "The moment that store has a branch in the Philippines, I'm going to stop buying their products."
What we want to say to them: Thank you for constantly sharing your experience with all things foreign...on a website that's tagged as a Metro Manila-focused lifestyle guide.
News content. Yes, we admit it we don't feature enough "important news" about wars, famine, religious persecution, and murders.
7. CITIZEN PA-TROLL
Characteristics: They don't just blindly read the stories; they don't just randomly laugh at the jokes. In fact, they skip the Who, What, Where, and When, and immediately proceed over to the Why, How, and most especially, the So What. Self-proclaimed editors, they cross-reference the sources and check the facts. Being politically and socially conscious themselves, they know when stories are sensationalized and which are your run-of-the-mill news reports. They wonder why,with the limited bandwith, we use them to write about kooky writeups and mouthwatering food lists when there are wars and murder going on out there.
ADVERTISEMENT - CONTINUE READING BELOW
Sample comment: "You call this journalism?! Check your facts," "I don't see why this is classified as news," or "What is the national relevance of this story?"
What we want to say to them: Extra researchers welcome. Care to volunteer?
Puppet allegations. If we had one peso for each time someone thought we'd been paid by so-so to write this and that, we'd be able to buy a fancy trash can. Disclaimer: This is not a subliminal product placement.
6. CONSPIRACY TROLL
Characteristics: Nothing is ever too simple for this group. For them, every story, every feature has some huge corporation, politico, or VIP backing it.
Sample comments: "Si Carlos Celdran ba ang may-ari ng SPOT.ph? Kasi ang raming features on him" or "Binayaran ng TV network ito kasi maraming reporters nila nakasali sa Top 10 Cutest Newswomen list."
What we want to say to them: If we were pulled on strings, we probably wouldn't be able to spoof so many things. (Nobody has to pay us to identify who's the cutest newsman or newswoman, we do it gladly.)
ADVERTISEMENT - CONTINUE READING BELOW
Violent corrections. Which country are we in? We thought Pinoys were one of the friendliest people in the world. Stop the hate!
5. GRAMMAR TROLL

Characteristics: They seem to know Strunk and White's Elements of Style well-too well, actually. They spend every waking hour checking prepositions, punctuation, and subject-verb agreement. Is peanut-butter and jelly singular or plural? They're so engrossed in the nitty gritty details that they lose track of the story; but then again that's not why they're there. Sometimes, though, they're so engrossed in grammar and typo gaffes that they commit their own when they write their scathing "correction" in the comments section. Oops.
Sample comments: "Check your spelling, SPOT," "Criteria is plural, criterion, now that's singular," or "Proofread, SPOT."
What we want to say to them: There are nice people who say, "SPOT, there's a typo in this article. Please check." Why the hate? Do you need a hug? We can hug you. *Hugs*
ADVERTISEMENT - CONTINUE READING BELOW
The power of one. It's pointless to pretend that you're several people. 

4. MULTIPLE TROLL
Characteristics: Using different usernames, he floods articles with comments that reflect what he wants other people to say as well. He wants to make it seem that so many others think the way he does. This type of troll also builds his own fan club. He has one main identity but he creates others to look for him, greet him, or praise him. It's him showing love for...himself. You could say it's a form of emotional masturbation.
Sample comments: First comment: "Grabe, I hate this article." Second comment: "Yeah, me, too, I hate this article so much." Third comment: "Hate ko itong article na ito." These comments are usually written within minutes of each other. Using the same IP address.
What we want to say to them: Thank you, and your other personalities, for commenting. Feel free to come back, over and over and over again.
ADVERTISEMENT - CONTINUE READING BELOW
Reverse snobbery. Nobody wants to be poor, not even people who are poor.
3. POOR ME TROLL
Characteristics: He always boasts about how he can make do with less. He always glorifies what he claims is his impoverished existence. Well, if you're working hard to make ends meet, would you really have the time to troll? Don't get us wrong, cheap things are great...but not-so-cheap things have feelings, too.
Sample comments: "Bakit ako bibili ng chips sa supermarket? Mas gusto ko yung mga chicheria na nilalako sa bangketa tapos nilalagay lang sa lumang newspaper" or "Ang mahal naman ng mga ensaymada na nasa listahan na ito. Masaya na ako sa panaderia."
What we want to say to them: Okay, you're cheap. Congratulations! Would you like an award?
Keep right. There are people who want to think that they're always right. Who are we to destroy the delusion that's keeping them alive?
ADVERTISEMENT - CONTINUE READING BELOW
2. KNOW-IT-ALL NEGA-TROLL
Characteristics: He always has something bad to say about anything and everything. On top of that, he knows he is always right...about everything.
Sample comments: "This actress can't act," "He isn't cute, he looks dumb," or "Why must we applaud the success of Pinoys abroad?"
What we want to say to them: Have you been having a bad day every day for the last 15 years? Mag-milk tea muna tayo!
To read or not to read. The normal thing to do is read first and whine later.
1. LAZY TROLL

Characteristics: He just complains about articles without reading them.
Sample comments: "Bakit wala si Lucy Torres?" (For an article listing the prettiest politicians, which had an introduction stating that showbiz personalities-turned-politicians were purposely excluded from the list.)
What we want to say to them: Thank you for pretending to read SPOT.ph!
Art by Warren Espejo
ADVERTISEMENT - CONTINUE READING BELOW
CONTINUE READING BELOW
Recommended Videos
Share this story with your friends!
---
Help us make Spot.ph better!
Take the short survey
Load More Stories