Trajectory of a Tragedy: Your Stolen Taxes and The Super Typhoon
A timeline of what went on before and after Yolanda/Haiyan.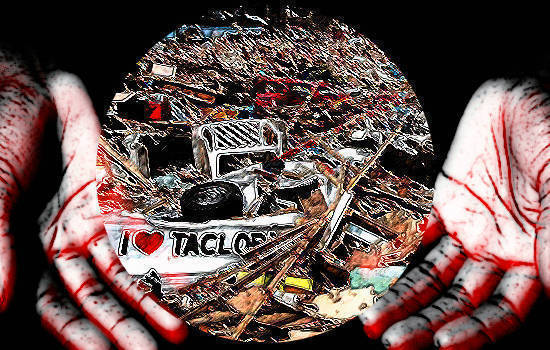 (SPOT.ph) The line between criticizing and bashing is thick and it takes effort to cross. By now, some of you may have felt that SPOT.ph takes lifestyle to mean more than just food and trinkets. Within the website, we have satirical pieces and articles done in the name of humor-something all of us need, regardless of time or place.
We also recognize the need for a sobering look at what has happened during the past weeks that has left many distraught. But despite this distress, the nation is also feeling a surge of solidarity as pieces that once seemed disjointed begin to fit together. No, we don't mean a conspiracy theory. We mean that problems are linked and sometimes, we need to take a step back to see the big picture.
Here is a map of the trajectory of a tragedy-a calamity and a man-made disaster.
November 5: Tropical Depression 31W
ADVERTISEMENT - CONTINUE READING BELOW
Joint Typhoon Warning Center (JWTC) in Hawaii tells us, "Hey man, this Tropical Depression 31W is looks like bad news. We're going to start calling it Haiyan because we're getting stormy feels from it."
PAGASA was like, "Well, it kinda looks big but guys, we get storms a lot. You're on H-names and we're on Y already. Your supers move at 185 and that's pfft. Call us back when it gets to about 215 and then we'll talk, okay, dudes?"
However, because PAGASA's not as bad as most people think they are, they send out warnings against "heavy rains" and "strong winds"
Source: 'Wilma' weakens but 'Yolanda' threatens PH; PAGASA clarifies Yolanda strength
November 6: From Haiyan to Yolanda
PAGASA doesn't take the storm lightly, although it's still not quite sure about that "super" classification. They start telling people about what Yolanda's itinerary for her vacation here:
Topple or uproot trees
Ripout roofs
Cause landslides
Water, water, water
ADVERTISEMENT - CONTINUE READING BELOW
Classes were suspended in areas that would be hit by the "super" typhoon and residents enjoying the coastline were forced to evacuate. Not to be outdone, NDRRMC also tries to do its job right by placing nine regions under blue alert. They send a special love note to Bohol, since the area was still recovering from an earthquake.
The two agencies project the landfall and trajectory of the storm and cautions the public, "Dudes, this is a big one. Heavy rain, strong winds!"


Source: DOST: 'Yolanda' can topple, uproot coconut trees, rip out roofs; Brace for super typhoon Yolanda - Pagasa.
On the next page: The calm before the storm
November 7: The calm before the storm (and the clamor in the Senate)
Satellite images of the storm circulates online. The entire Philippine archipelago is almost obscured by the spiral and the sheer size of it brought back the original meaning of the word "awe" to the table. The storm looked magnificent from afar but the knowledge of its impact stirred fear in people's minds.
ADVERTISEMENT - CONTINUE READING BELOW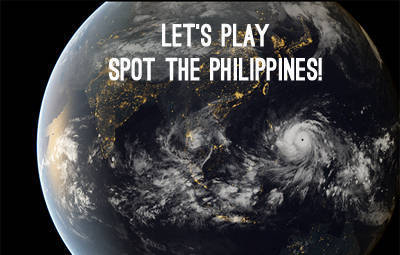 (Image captured by the geostationary satellites of the Japan Meteorological Agency at EUMETSAT via Flickr)
We don't usually rank high on positive lists and yet again, as a bummer, the United Nations Office for Disaster Risk Reduction (UNISDR) officially states that the biggest storm of the year is set to hit the Philippines. The organization acknowledges the government's effort to set-up evacuation centers, urging the people in charge to transfer people to safe places immediately. Bicol and Albay respond. The article affirms that we have the following:
ADVERTISEMENT - CONTINUE READING BELOW
300 coast guard boats on standby for rescue;
the activation of the national police's disaster incident management task group;
USD 4.4 million of emergency relief on standby from the Department of Social Welfare and Development;
Philippine Red Cross rescue equipment:

including rubber boats
generator sets
fuel and vehicles set for deployment
We turn to the President and this is what he had to say: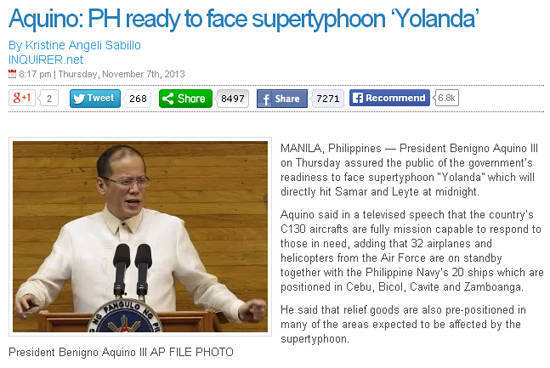 ADVERTISEMENT - CONTINUE READING BELOW
(Screencap of Inquirer.net article on President Aquino's speech)
P-Noy assures the Filipino people that they are preparing/prepared for the super typhoon. In a televised speech, he states, "Storm surges in Ormoc, Ginayangan Ragay Gulf in Albay and Lamon Bay in Atimonan will bring grave danger. And waves in these areas may reach up to five to six meters high."
We're paraphrasing but he also said, "Mga boss, this is stronger than Pablo. To my fellow public officials-slash-employees, let's tell our constituents that the danger that they're facing is grave. I'm looking at you, LGUs."
In Metro Manila, the grey skies were the only indication that one of the biggest storms in history was about to enter the Philippine Area of Responsiblity because the political storm with the name Janet Lim Napoles, bringing with it tropical depressions Sexy, Pogi, and Tanda had just entered the Senate Area of Responsibili-senselessness (no such word exists, we're making it up).
ADVERTISEMENT - CONTINUE READING BELOW
We were reminded of how much of our taxes went nowhere. Politicians were doing what they could to make themselves look like the good guys. Those who wanted to look best rallied behind "scrap the PDAF" while the call to use the pork as Calamity Funds were dismissed as a cop-out. Hate is blinding and the Pork Barrel is subject to so much of it. We just want it out of our sight. But where do we put it?
On the next page: The day of the storm and the aftermath
November 8: The Day of the Storm
The typhoon made landfall as early as 4:30 a.m. and 58 areas were placed under storm signals, with 21 under Signal No. 4. Things felt pretty normal in Metro Manila even when the earliest casualties were reported. The number was surreal-two or three-and the fatalities were caused by lightning.
When Atom Araullo's video surfaced and his daring coverage was praised but the nation was still largely unaware of the devastation in Tacloban and other areas. Yolanda made several landfalls, but silence fell after the power outage and communication became difficult, if not impossible. On November 14, InterAksyon.com would publish a list of journalists who lost their lives in their attempt to cover the storm.
ADVERTISEMENT - CONTINUE READING BELOW
Source: Yolanda hits land, 58 areas under storm signals; Super Typhoon Haiyan, one of strongest storms ever, hits central Philippines; 3 dead, thousands flee as Yolanda blasts Philippines
The Aftermath
After the skies cleared and the destruction was revealed to the nation, the online world was abuzz with calls for aid. Almost all the major publications focused on calls for help (and how to help). Stories of frustration and hope floated from the wreckage.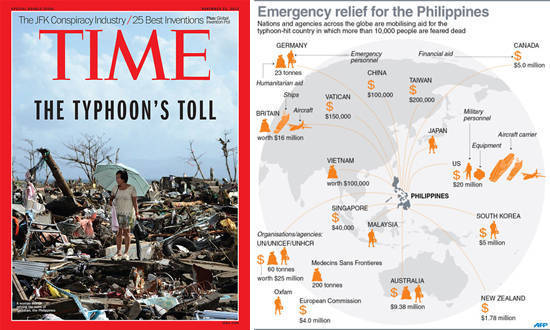 ADVERTISEMENT - CONTINUE READING BELOW
(TIME Asia Cover; Pledges from country as collated by the Associated Foreign Press)
Local and foreign aid poured in-a show of both goodwill and political force. China caught flak for its modest donation of $100,000 and the pressure from the global community encouraged them to donate more. Hong Kong residents were reportedly warned against insulting victims of the typhoon, a constant danger due to the friction the Manila Hostage Crisis created. The Kingdom of Saudi Arabia pledges $10 Million for Yolanda relief, overshadowing the ongoing deportation cases against OFWs in the region. In this time of crisis, it becomes evident that diplomatic relations are important. The world is a high school classroom.
The credibility of the government's initial statements was soon under fire. President Aquino received heavy criticism for both the "slow response" and for alleged tantrums he threw, as he reportedly walked out of a conference in Tacloban. The Palace immediately dismissed these allegations. He just needed to pee. Tragedies have that effect on people's bladders.
ADVERTISEMENT - CONTINUE READING BELOW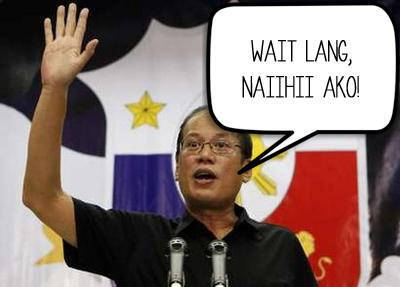 Recently, Aquino turned the attention to the LGUs-reiterating his initial call for the local government to prepare for the storm that he feels were not taken seriously. The United Nations makes a statement that "this is not the time for finger-pointing or bickering" but while it is sensible advice, this is also not the time for pride and denial.
ADVERTISEMENT - CONTINUE READING BELOW
It is clear that the storm was underestimated and it wouldn't hurt for someone to admit, "We didn't really take the 'super' part seriously." Because super is a pretty funny and positive word. The only other "super" we know is "man" and he's an okay guy...and well yeah, in the last movie he totally obliterated a town, too. Crap.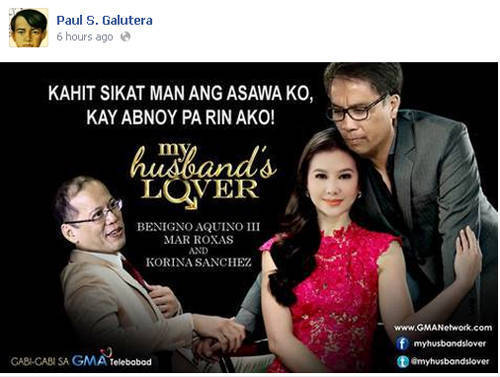 ADVERTISEMENT - CONTINUE READING BELOW
Screencap of meme from Paul S. Galutera
The foreign media, blissfully unware of the political climate in the Philippines, described the situation with shock and horror. They were confused and they didn't know what was going on but that's okay. The government didn't know what was going on either.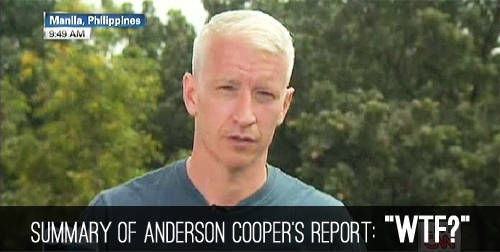 ADVERTISEMENT - CONTINUE READING BELOW
The disorganized relief efforts elicited remarks from CNN's Anderson Cooper that did not sit well with local media. Korina Sanchez took particular offense and engaged in a passive-aggressive fight with the blonde newscaster. Sanchez is now reportedly on leave for a week, after receiving negative feedback for her statements.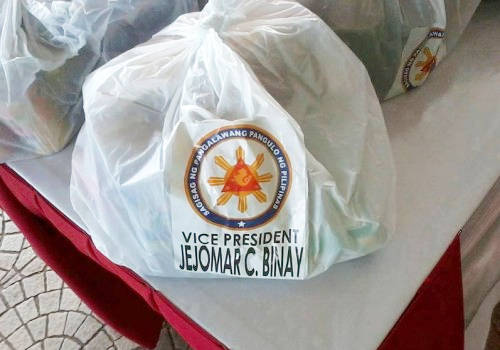 (Photo of the alleged relief goods from the Vice President's office circulating in various social media sites)
ADVERTISEMENT - CONTINUE READING BELOW
Amidst all these, reports about the heavy odor of political branding competed with the stench of death on the road (the situation as described by CNN's Andrew Stevens). The Office of the Vice President flatly denied the allegations of "electioneering."
Reports of rape are largely overlooked. The reports remain unverified, but who talks about rape? Reports of looting were and are still rampant but citizens were more concerned about where their donations are going.  A Philippine Daily Inquirer opinion piece reads, "Corruption magnifies effects of typhoon Yolanda."
On top of that, BIR made statements about taxing donations that upset citizens. Not wanting to appear like they are under a heartless dictatorship that chase small fishes while they let sharks get away (based on at least one report), the agency later clarified that when coursed through the right agencies, cash donations are tax-exempt.
Congress waived P11 to P12 Billion of unused PDAF from members of the House, proposing that it be used for the rehabiliation of areas affected by super typhoon Yolanda. Meanwhile, Senate President Franklin Drilon proposed a P10 Billion allocation for the same use, while other senators move that their PDAFs be realigned to Calamity Funds. It's pogi time!
ADVERTISEMENT - CONTINUE READING BELOW
On November 11, our senators were tasked to write a formal letter to make their stand on the PDAF official. While millions of Filipinos from all over the world were busy trying to help those in need in any way they could, 24 people debated on what to do with billions of pesos. Almost all of them made official statements by November 15 and then, on November 19, the PDAF was officially declared unconstitutional by the Supreme Court. It's a full circle at this point but where is all that money going now?
Mainstream media reports that there is a message of hope in each individual and the will to survive is strong-even for those who lost everything. Whether or not you feel genuine sincerity from all the glitzy reports being manufactured from the ruins is entirely up to you because we only know one thing for sure: It is tremendously sad that these people, who probably want no more than a roof over their head and a guarantee of a decent (not extravagant) meal, are caught between political brouhaha and headline grabbing. These things aren't mere headlines and these issues aren't faceless.
ADVERTISEMENT - CONTINUE READING BELOW
Words like waterpoof and resilient have been abundant but let us not forget: vigilance. It has a nice ring to it, especially when people start declaring that where they're from, everyone's a hero. This is not an opinion piece because we don't want to tell you what to think. We encourage you to think. This is what happened over the past two weeks, and somewhere inside you, you know that the typhoon alone didn't do the damage. Heck, you might even feel like the damage was there before the typhoon even hit. The question is, how do we prevent history from repeating itself...again?
CONTINUE READING BELOW
Recommended Videos
Your guide to thriving in
this
strange new world.
Share this story with your friends!
---
Help us make Spot.ph better!
Take the short survey
Load More Stories