Manila in Hashtags, 2013
Otherwise known as the year in social media, when words like #selfie, #ootd, and #medyobadboy became part of everyday life.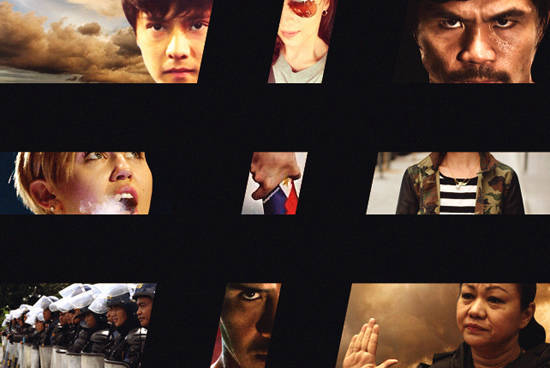 (SPOT.ph) It was a good year for hashtags. First, because people post on Twitter and Instagram like it's second nature, and because finally the function is now allowed on Facebook. Hashtags were created to make it easier to search for a particular topic or thread on social media. But like every other successful enterprise, it's evolved to become so much more: hashtags are used to express emotions ("Just received word of Paul Walker's accident #sad #shocked"), relay commentary ("Blew a tire on a pothole #wheredomytaxes go), decode cryptic posts ("Sometimes, you have to stand on your own two feet #breakup).
ADVERTISEMENT - CONTINUE READING BELOW
We've seen liberal use of hashtags-from meaningful to useless-and we made a mix of the in-between to narrate how the year went by in social media.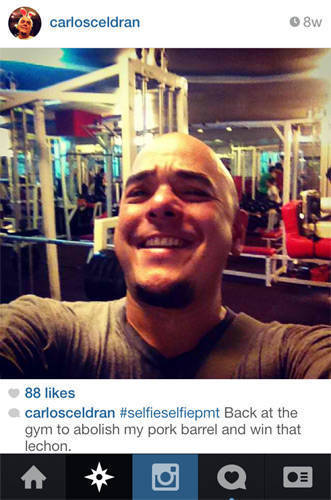 When Carlos Celdran does it, it's more fun than annoying.
1. #selfie
If you see an influx of faces on your feed, it's because of this new phenomenon, the word of the year, the #selfie. This abomination, which cloaks self-love under a layer of honest confidence, makes vanity seem acceptable.
ADVERTISEMENT - CONTINUE READING BELOW
Variations: #selfiesunday #selfiesaturday #selfietime #selfieswag #groupselfie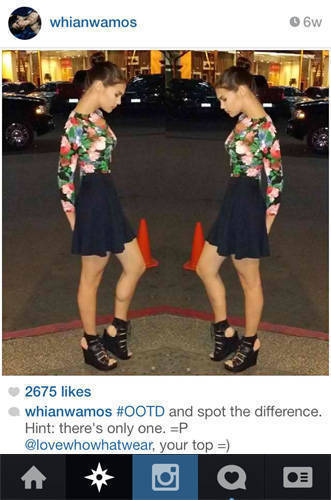 It's double trouble for Rhian Ramos.
2. #ootd
If you're not a stylista, you might have, on more than one occasion, asked yourself what this acronym meant. It's "Outfit Of The Day," for those of you who still live under a rock. Like its predecessor, this four-letter hashtag is another representative of the current "Me Generation," showing off the poster's current ensemble usually followed by #(dressbrand), #thrifted #shoebrand.
ADVERTISEMENT - CONTINUE READING BELOW
Variations: #fotd (face of the day, illustrating makeup) #ootn (outfit of the night)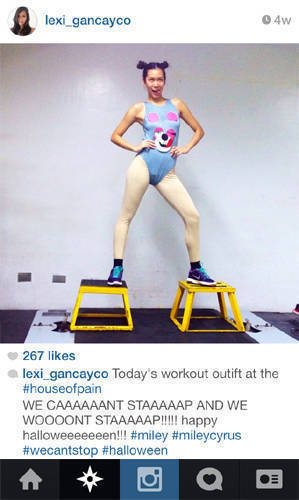 Blogger Lexi Gancayco dresses up as one of this year's most popular costumes, the infamous Miley at the VMAs.
3. #mileycyrus
Entertainment magazines should write Miley Cyrus a check for giving them a lot of material. As the year's main headliner, Cyrus understands that the ingredients to having the spotlight aimed at you is a checklist of nudity, tongue, love problems, sex-implicit choreography, and dancing teddy bears.
ADVERTISEMENT - CONTINUE READING BELOW
Variations: #twerk #bangerz #savemileycyrus #partyintheusa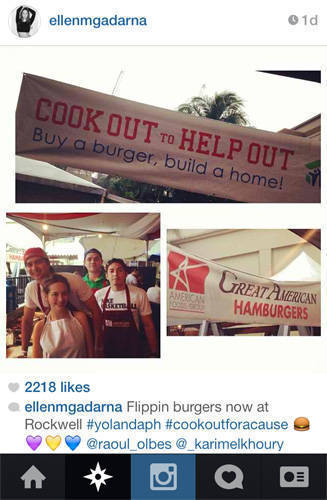 Several weeks after the super typhoon hit, help is still pouring in for YolandaPH victims. Ellen Adarna posts a photo from last weekend's Cookout For A Cause.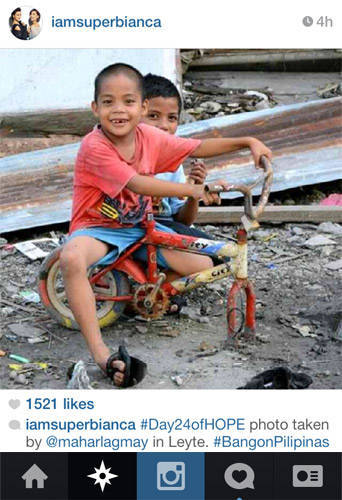 ADVERTISEMENT - CONTINUE READING BELOW
When you fall, there's no choice but to rise up again.
4. #YolandaPH
The whole country united under this hashtag and its variations (see below) when super typhoon Yolanda (international name Haiyan) wiped out several Leyte towns in one night. The year 2013 has been a persistent test on the Filipino spirit, with destructive typhoons and a huge earthquake that really did its best to shake us up. But as we've proven time and again, we know how to rise again and again.
Variations: #tindogtacloban #reliefPH #bangonpilipinas #bangonleyte #tindogbohol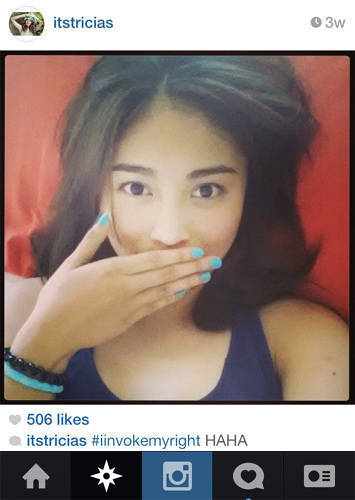 ADVERTISEMENT - CONTINUE READING BELOW
PBB's Tricia Santos invoking her right to look cute.
5. #iinvokemyright
The court hearing that had the entire country watching television on a particular afternoon in November left the entire country just as they were before-aggrieved. Wanting answers, netizens burned social media lines when Janet Lim Napoles not only come out with canned phrases like "I invoke my right to self-incrimination," it didn't look like she knew anything either. Including what she and her husband did for a living.
Variations: #hindikopoalam #selfincrimination #gomiriam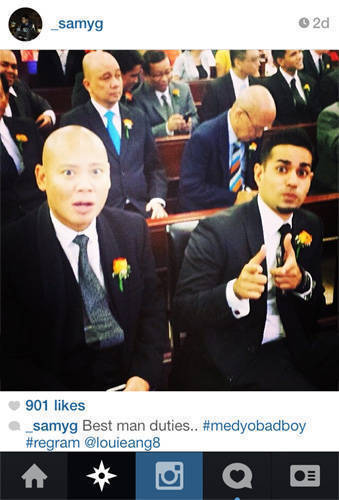 ADVERTISEMENT - CONTINUE READING BELOW
Best men Sam YG and Tonytoni goofing around at Slick Rick's wedding on November 30.
6. #medyobadboy
Trust the country's leading bad boy, Daniel Padilla (way to keep it in the family, Robin!), to spawn an entire school of hashtags. Extra little thrills-from cutting in line to bungee-jumping-are only so when you announce it via a hashtag.
Variations: #badboy #medyobadboylang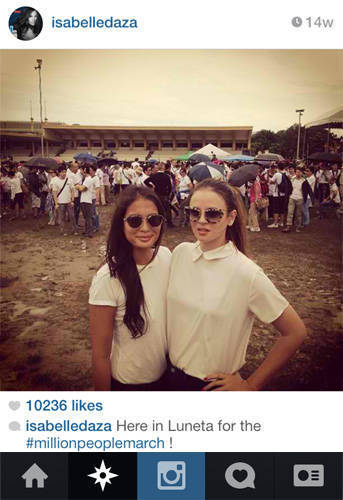 ADVERTISEMENT - CONTINUE READING BELOW
Cousins Isabelle Daza and Georgina Wilson adding heat and fashion in Luneta.
7. #millionpeoplemarch
Because the government can't seem to move fast enough, the population has taken it upon themselves to act against the misused pork barrel funds. We've proven the power of the people in 1986 and we constantly reaffirm its effectivity in times of national crises.
Variations: #scrappork #downwithpork #notopork #pdaf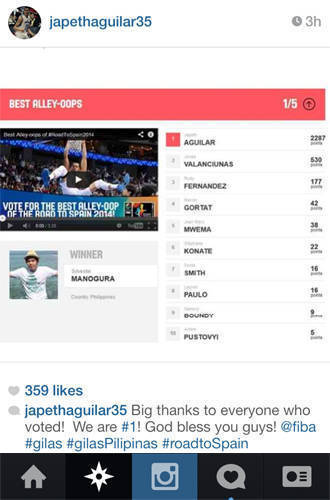 ADVERTISEMENT - CONTINUE READING BELOW
Months after, people are still celebrating. Cager Japeth Aguilar is happy about being voted Best Alley-oop.
8. #GilasPilipinas
It was a great year for the country's national basketball team. They grabbed second place at FIBA Asia, winning themselves berth on the world championships next year for the first time in history.
Variations: #FIBAPhilippines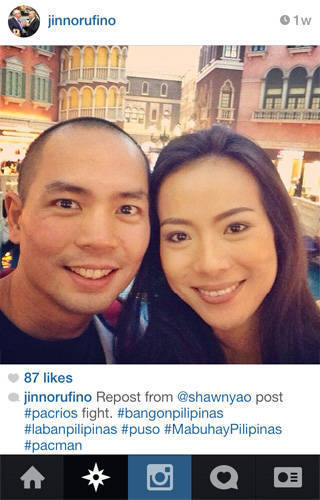 ADVERTISEMENT - CONTINUE READING BELOW
Hashtagging has become so overblown, a photo doesn't even have to show Pacquiao or Rios to be tagged #pacrios. Here, Jinno Rufino and Shawn Yao enjoy a moment in Macau.
9. #pacrios
Once again, Manny Pacquiao manages to come in to give Filipinos a much-needed ray of sunshine. After two controversial losses, the Pacman's victory against American Brandon Rios became all the more important. But the victory ended on a sour note when, upon returning to the Philippines, Pacquiao met a bigger opponent in the Bureau of Internal Revenue.
Variations: #pacmanrios #pacquiaoed #pacquiaorios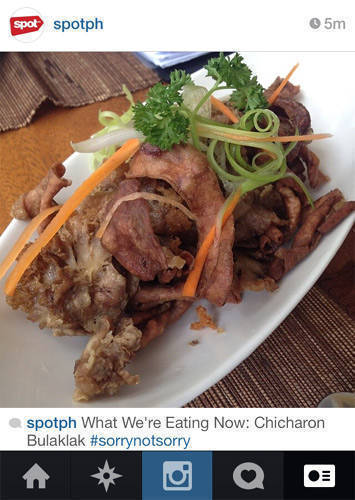 ADVERTISEMENT - CONTINUE READING BELOW
We're still not sorry.
10. #sorrynotsorry
What does this hashtag even mean? Otherwise known as Kanye West's motto in life, this non-term is in the same vein as "no offense," softening an insult-or something similar-before the actual blow.
Recommended Videos
Load More Stories