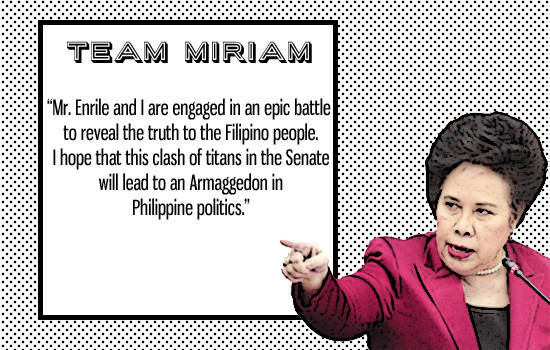 (SPOT.ph) First, it was a simple row between two (arguably) great minds. Senator Miriam Defensor-Santiago has made a name for herself for always speaking her mind and though she might have had dubious moments (remember when she said she'll jump off a plane?), she is without a doubt one of the most beloved politicians-at least as far as social media is concered. Generally, she has a great sense of humor to go with her brilliance (evidenced by her classic pick-up lines) but when the PDAF Scam exploded...well, so did she. Gloves came off and all her claws were out to get to the bottom of the shameless stealing. Her target? Alias Tanda, who we now know is former Senate President Juan Ponce Enrile.
The fight has been going for a long time, if you can recall the Christmas "bonus" issue when Enrile gave the senators he favored a million while the rest received a meager sum. Santiago gave the money back and from then, things just went from bitter to completely sour.
ADVERTISEMENT - CONTINUE READING BELOW
When Janet Lim-Napoles made her infamous appearance in the senate, Santiago gave her sound legal advice and then fearlessly declared that she knew the real mastermind behind the billion-peso robbery. She dropped Enrile's name without blinking and even revealed to the public that the "old man" goes to the bathroom with armed guards.
Enrile was quick to defend himself shortly after the meeting and then on November 27, delivered a half-hour speech to address the allegations Santiago made. In return, Santiago scheduled her own privilege speech and unearthed dirt that goes all the way back to the Martial Law era.
It's one of the spiciest senate smackdowns we've seen and here are their statements against each other: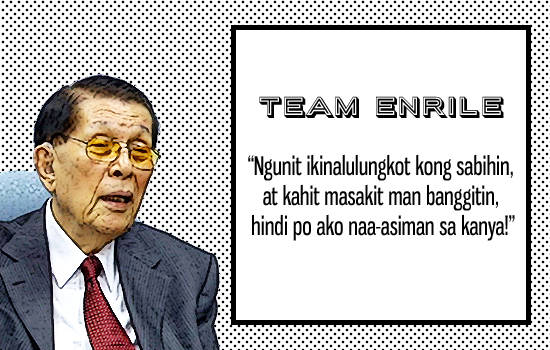 Wordy War: Enrile and Santiago accuse each other of fallacious arguments, with both sides accusing the other of spewing nothing but false and malicious statements.
Team Enrile: "After all, according to them, the abusive words were from an inane and bitterly hostile mind. I pondered over their unsolicited counsel and appreciated their concern for me."
Team Miriam: "His speech amounted to verbal violence against a woman confined to her sickbed, while he preened in the Senate, demonstrating his skill as the Drama King of corrupt politics."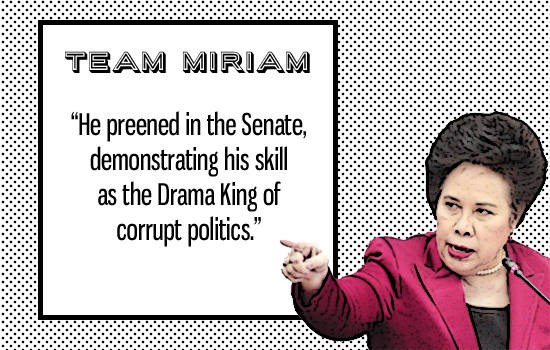 ADVERTISEMENT - CONTINUE READING BELOW
Dial M for Murder: We're all very aware that politics is messy but while Enrile tries to wipe his hands clean of sin, Santiago adamantly states that there can be no forgiveness for the role that he allegedly played in the implementation of Martial Law.
Team Enrile: "Mr. President, I never murdered anyone during all of my almost 90 years on this planet."
Team Miriam: "Enrile's hands are forever stained with the blood of close to 4,000 people 'salvaged' during Marcos' reign of terror."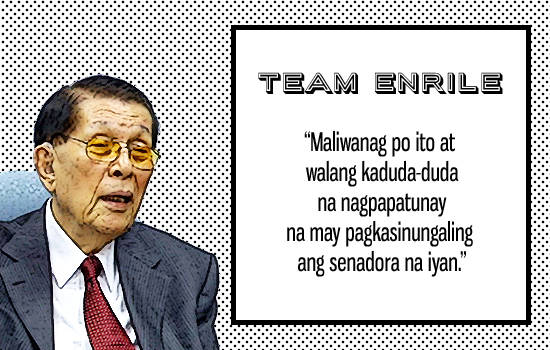 ADVERTISEMENT - CONTINUE READING BELOW
Passion and Aggression: Enrile expresses his confusion over Santiago's aggression towards him and in response, Santiago asks why he was conducting a smear campaign against her instead of clearing his name from the accusations.
Team Enrile: "But why is this senator so obsessive and bitter against me? Many, especially my friends and followers, have repeatedly asked me this question. Mr. President, I do not know for certain the answer to this nagging question. I, too, am puzzled. I know of no harm that I did to her to arouse her vile anger and hostility against me."
Team Miriam: "In the midst of all the damning evidence against him, Enrile has kept silent as a cowering mouse. He could very well have delivered a privilege speech proving his innocence. Instead, his speech was directed at me, rehashing black propaganda invented against me during the 1992 presidential campaign."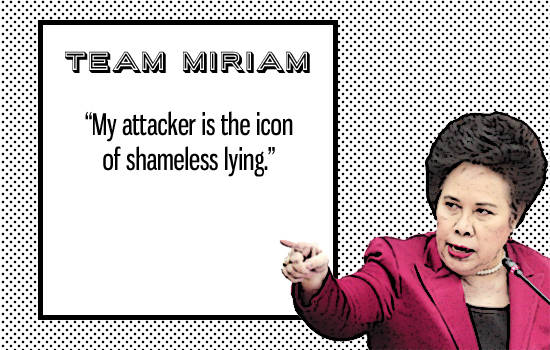 ADVERTISEMENT - CONTINUE READING BELOW
College Matters: They're going as far back as college! Enrile blasts Santiago for having a low mark for certain subjects and in defense, Santiago makes fun of Enrile's "habitual" compulsion to mouth off about his martial arts skills-which we have yet to see.
Team Enrile: "I asked her also what grade she got in her bar examination. She replied that she got 76%. That meant that she obtained low grades in all her bar subjects. In fact, I remember that she got a grade of 56% in Ethics, the easiest bar examination subject."
Team Miriam: "In his speech, as is his annoying habit, Enrile praised himself by boasting of his alleged martial arts prowess, which he has never displayed. He also boasted of his high grade in the bar exam, with the non sequitur that I had a low grade. In U.P., at that time, many of our professors taught us to devote ourselves to the Socratic method, and pay no attention to the bar, which they belittled. So I paid no attention, particularly since what I wanted to do, contrary to my father's wishes, was to avail of a rare scholarship to Moscow."
ADVERTISEMENT - CONTINUE READING BELOW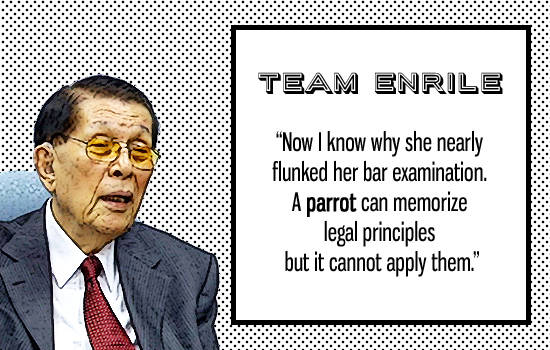 Closing Remarks: Enrile says he's telling the truth, Santiago tells him to "get real" and prove to the people that he isn't the mastermind of the pork barrel plunder.
Team Enrile: "Mr. President, what I said in this speech is the naked truth and nothing but the truth. No fabrication and no invention in it. I wish to put these remarks in the official record of this Senate for posterity to read. Some day, perhaps, our people will eventually unmask who was lying and who was telling the truth."
ADVERTISEMENT - CONTINUE READING BELOW
Team Miriam: "After his poisonous personal attacks against me, Enrile expects that I shall be cowed into silence by his usual bluff and bluster. That is not going to happen. He made no mention at all of the sizzling talk of the town that he is the real mastermind of the pork barrel plunder. Enrile should get real."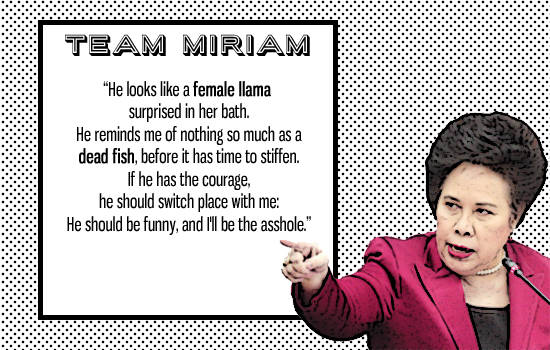 ADVERTISEMENT - CONTINUE READING BELOW
Share this story with your friends!
---
Help us make Spot.ph better!
Take the short survey
More Videos You Can Watch
Load More Stories